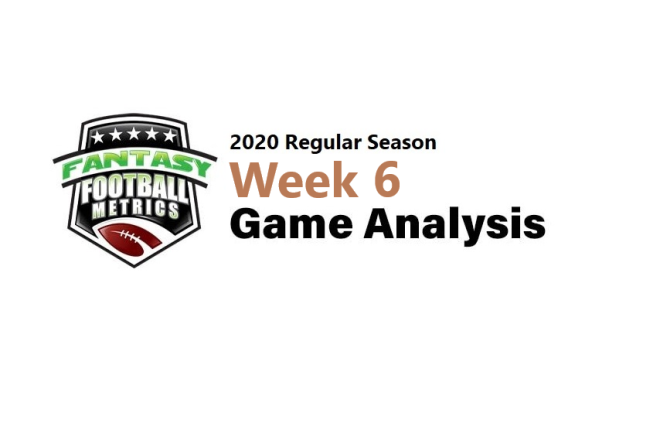 R.C. Fischer
FFM
20 October 2020
2020 Dynasty/Fantasy Week 6: Game Analysis: 49ers 24, Rams 16
I take notes during the live watch. I re-watch the game on tape looking for hidden clues to report on. Here are my notes/takes on what I saw and how it related to FF 2020. I write anywhere from 1,000-3,000+ words on each game, and I have to move fast to get to all of them through the week…so, please forgive any typos/grammar.
Going into this game…
-The 49ers were crushed by Miami prior week and Jimmy G. effectively quasi-benched for poor play and the SF defense giving up points like crazy.
-The Rams being argued as the best team in football by some (not me) and was favored to put SF out of their misery in this game.
In this game…
-The 49ers blew the doors off of the Rams…the final score not indicative of how outcoached, how out-planned, how out-efforted the Rams were by the 49ers.
I'm stupid…
-Last week, I thought the 49ers were on the brink of season over and should sell-off and prep for 2021 and that Jimmy G. might be benched/traded with another bad game/loss.
BUT…I did bet on SF + the points, because the NFL does the opposite of what you think, always.
The delicate genius (Sean McVay) was put in his place by the better, true young-genius head coach…Kyle Shanahan. It was 21-6 SF at the half and the Rams held down the 49ers in the 2nd-half, just a FG for scoring for SF in the 2nd-half missing Raheem Mostert to an ankle injury, but the Rams couldn't score a TD until 3+ minutes left and then couldn't stop the 49ers to get the ball back. A 38-22 minute time of possession advantage for the 49ers…and the 22 minutes the Rams had the ball was Jared Goff playing as bad as Jimmy G. did the week prior.
The 49ers keep their season alive…a loss would have really sent them reeling. The 49ers are now (3-3) with a tough stretch the next six weeks (at NE, at SEA, GB, at NO, BYE, at LAR…four road games, two in Eastern time zone, all with playoff expected teams). We are projecting SF to 8-9 wins now, but 7 wins in play still. Tough schedule, many injuries to deal with…it's an uphill climb for the 49ers.
The Rams fraud season got exposed. (4-0) vs. the NFC East so far…and (0-2) against everyone else. Bad news…no more NFC East on the schedule the rest of the way…and a VERY tough schedule ahead. We project the Rams for 8-9 wins…with 7 possible, and 10 wins not out of the question…depends upon what the delicate genius does at RB ahead.
Fantasy Player Notes…
 -- I don't know what to say about the chronicles of Darrell Henderson (14-88-0)…he's a starter, no he's splitting, wait he's an RB1 of the future, no…switch that -- trade him hot off his 2 TD game, but wait here comes Cam Akers, no…Akers plays 1 snap and DH is the clear starter. It's a whipsaw.
All I know for the future is what happened in this game:
Henderson started, played 53% of the snaps (Brown 45%), took the huge bulk of the touches. He looks and feels and sounds and quacks like a main carry starting RB…so, he must be one?
I also can say – he looked fantastic in this game and if they would've pushed him more the game outcome might have been different but they went heavy Jared Goff early, and he was a disaster, and then they were down and chasing. DH had a sweet 5+ yard TD run here…but called back for penalty.
Unless Sean McVay says something different…I'm sucked back in for Week 7, with him as an RB1. I'm also back buying him low if possible…because the FF game tally here was just 8.8 pts., so there may be some complacency with him. I'm not buying at all costs because if DH works a 50/50 split with Akers next week we'll all be crying again.
Henderson has a tentative hold on the 'main workload' role, right now.
 -- The two best RBs (ignoring the great Derrick Henry), visually, as an experienced scout, that I'm watching every week are…
#1b) Darrell Henderson (not joking or being a DH homer) – the toughest runner in the NFL, period…with explosive speed/burst and excellent interior vision.  
#1a) Raheem Mostert (17-65-0, 2-11-0/2).
Mostert is getting faster with age. He is running like he's floating on air and always has space to get ramped up it seems. I watch David Johnson run into brick walls the moment he gets the handoff, while I watch Mostert get a five-yard head start on every one of his runs.  
*I wrote the following before I knew Mostert was going on I.R.*
I want to buy all the Mostert stock I can…if his ankle is OK. He came out of the game 2nd-half and his status for Week 7 is unknown. He was still dressed, standing on the sidelines at the end…not carted off or anything. However, the Rams closed the lead to 8 and had the ball with 3+ minutes left and if the Rams stopped the drive they could've had a shot to win…a big, crucial drive…and UDFA rookie JaMycal Hasty (9-37-0, 0-0-0/1) was in to close it out (and looked very solid). That's pretty good trust for a UDFA rookie who has barely played…which scares me on Mostert's ankle.
Four thoughts:
1) I want Mostert…only once I know his ankle is not something tragic/bad.
2) If Mostert has to miss a week, I bet JaMycal Hasty leads the 49ers in RB touches Week 7. Unless…
3) If Tevin Coleman is really back Week 7 (and I think he will be, but not 100% sure), then it might be a Tevin/Hasty 50/50 split…and a Mostert-Tevin 70/30 split for the future.
4) Jerick McKinnon seems dead to Kyle Shanahan. I've thought that for two weeks now. He will make the backfield a trio if Mostert out and Tevin back.
*Obviously, I'm not investing in Mostert now. He'll miss at least 3 games. If Tevin Coleman is back, he'll be the starter.
Yards before contact per attempt 2020 (2.0+ yards are what you want to see for good blocking for the RB, and I rarely ever see 2.5-3.0+):
4.9 = Mostert
3.0 = Henderson
--------- (some context names below) ----------
3.1 = Derrick Henry
1.8 = Zeke Elliott
1.6 = David Johnson
0.9 = Singletary
 -- JaMycal Hasty looked very energetic and confident with his big chance. He looks like a real/useful NFL RB. He's like a (old) Devonta Freeman 'try hard' RB not as athletic but high effort's his way through things. He'll be solid if forced into action, like most decent RB prospects.
 -- I loved what I saw from Darrell Henderson and Raheem Mostert in this game (and this season), but maybe the most impressive here: Deebo Samuel (6-66-1/6).
Deebo is being used as a quasi-RB with all those short pitch passes in motion coming across the QB and with his jet sweeps. He's also being used like he IS the most important thing in the offense. WRs are slave to their QB for FF…and slave to the opposing coverage, weather conditions, score/game flow, etc. -- passing can be amped or throttled back depending upon score but Deebo gets his touches like a quasi-RB, so he's not as tied to the aerial assault need.
Deebo might, like this game, 'catch' 3-4-5 passes a game on these little push passes in the backfield before we get into regular pass routes or jet sweeps. Which means Deebo is in the WR1 race for the ROS.
 -- I thought Jimmy Garoppolo (23-33 for 268 yards, 3 TDs/0 INT) looked about as bad as he ever had last week…and that his job might be on the line in this game. Well, he played as good a game here as I've seen him the past 10+ games.
Jared Goff (19-38 for 198 yards, 2 TDs/1 INT) looked as bad here as Jimmy G. did last week…and, at least, JG had the excuse of coming off an injury last week. Watching Goff in this game…I know he's a solid QB talent, but he's not a QB as built for this new era of mobility and athleticism. He's going to be good but never elite in his career, not in this era. He'd have been really good in the 90s and 00s, and early 10s (like a Matt Ryan).
 -- The quintessential Tyler Higbee (3-56-0/4) 2020 game…which is why I was jumping off last week. The Rams WRs were getting killed/squashed all game, and there was never a shift to more Higbee. Actually, this was a 'big move' to Higbee for the Rams…4 targets.
 -- Rams LB Micah Kiser (13 tackles) was back in the lineup from injury and starting and getting his big tackle counts again. Troy Reeder is a distant memory…just a spot start last week.
 -- One of the reasons the 49ers defense was tight on the Rams WRs? The renewal of Jason Verrett (3 tackles, 2 PDs, 1 INT) at CB. The 49ers have stuck with him for years letting him recover from multiple ACLs, and he is now starting and has allowed a shockingly low 12.0 QB rating in his 4 starts.
I watched some of Verrett's coverage in this game…it was good but not 'wow', but I also noticed Goff staying way away from him. If Verrett is back to being a shutdown corner than that changes the 49ers downfall in the secondary…awaiting a Richard Sherman return.
I still believe the 49ers defense just gives up too many points, as I chronicled last week…they've been terrible their past 10-15 games. Now…no Bosa, no Sherman, Buckner traded, linebackers hurt every other week. All I can assume is this Rams game was an outlier…because it was. Only 2 QB hits and no sacks for the SF-DST and yet Jared Goff played like he was facing the 85 Bears. I don't believe the 49ers-DST turned a corner here, but they did stop the bleeding.
Snap Counts of Interest:
35 = Mostert
23 = McKinnon
15 = Hasty
32 – Henderson
27 = M Brown
01 = Akers