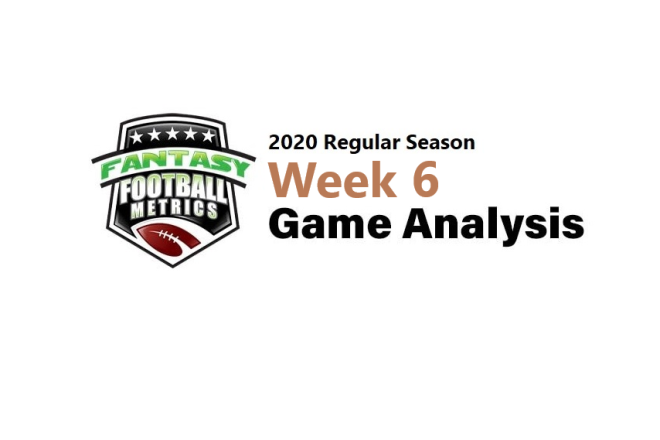 R.C. Fischer
FFM
23 October 2020
2020 Dynasty/Fantasy Week 6: Game Analysis: Bucs 38, Packers 10
I take notes during the live watch. I re-watch the game on tape looking for hidden clues to report on. Here are my notes/takes on what I saw and how it related to FF 2020. I write anywhere from 1,000-3,000+ words on each game, and I have to move fast to get to all of them through the week…so, please forgive any typos/grammar.
Was this that the Buccaneers are so good…and the Packers are frauds?
Was this just a lucky/blip game by Tampa Bay…and an unlucky blip by Green Bay?
A week+ ago, the Bucs scuffled and lost to the Bears and no one thought them to be killers…now, this week, they're headed to the Super Bowl. That's football fan life.
The Packers were going to be the #1 seed, now people are wondering if GB will be a wild card behind the Bears winning the NFC North.  
I think  the story is… The Buccaneers have a pretty salty defense, as we've been saying all season. Now, everyone agrees/sees. When you have a physical, daunting defense…you're a bad matchup for finesse teams. The Packers are a finesse team…they are S-A-W-F-T. That's why the 49ers kept embarrassing them last year. And why the Chargers whooped them last season out of nowhere. The Packers didn't beat an out-of-division playoff team in the regular season last season except KC, and that was barely beating the Mahomes-less/Matt Moore Chiefs late game comeback. The Bucs are better built for NFL success as we go…Green Bay has the better QB vs. Tampa, but lesser everything else.  
The Packers are going to be hard-pressed to cruise to the NFC North title…because the Bears are not super talented, but they have grit. They are not S-A-W-F-T. They might punch the Pack in the mouth Week 12 on a Sunday night in their first of 2 matchups. It's still a 10-11 win Packers team. A good team, not a great team. Likely the NFC North champs, but not assured.
Tampa Bay is the class of the NFC South. The Saints peaked a year or two ago and are slowly gliding downward. The Panthers are a year away from doing battle with TB for king of the NFC South, which will be Carolina by 2022…for a long run of dominance under Matt Rhule. The Bucs will win 10-11 games this year, and this TB win may come back to haunt Green Bay – if the Packers could force the Bucs to go to Wisconsin in January, huge advantage…and the opposite is true if they have to go to warmer Tampa. Tom Brady is not great in the cold, been that way for a few years.
Fantasy Player Notes…
 -- Why isn't Gronk (5-78-1/8) a TE1 from here on in?
#1) The bar to be a TE1 these days, after the top 3-4 guys…it isn't very high. So most warm bodies can be TE1s.
#2) He's playing 80%+ of the snaps in games…he's out there/available for stats. He's not rotating/playing 60% of snaps in games. He's the best blocker and top target TE.
#3) Once O.J. Howard left things started perking up even heavier on snaps and targets. And the Bruce Arians offense that eschews the TE…it's not Arians' offense anymore…to no one's surprise.
Gronk's last 4 weeks: 3.8 rec., 51.7 yards, 0.25 TDs per game…6.7 FF PPG/10.5 PPR PPG. The #9 TE in FF since Week 3.
#4) This is the X-factor… Tom Brady is looking for him A LOT the last few weeks and it's growing as we go…because Gronk is getting more in shape/knocking off the rust as we go (he looked terrible Weeks 1-2). When Brady drops back, if Gronk's on a route (not blocking), I think Brady prefers him to Mike Evans, which is ludicrous but true.
Since Week 3:
15 catches, 24 targets, 207 yards, 1 TD = Gronk
15 catches, 23 targets, 175 yards, 4 TDs = Evans
With each passing week, Brady's BFF's numbers trend higher…as Evans sinks lower. The past two games, Evans has 3.0 rec., 25.5 yards, and 0.50 TDs per game.
Evan Engram can be as physically talented a TE as there is…but you want the TE whose QB is in love with him, and Gronk + Brady is definitely 'sittin' in a tree'.
 -- Speaking of evolving TEs…Robert Tonyan (3-25-0/4) is starting to make more sense to me. The 3 TD game against Atlanta got everyone's attention but, hell, Tyler Higbee had a 3 TD game Week 2 and it meant nothing after for increased usage.
I saw a continuation of Rodgers seeking, trusting Tonyan here. The Falcons game was a joke/a party/not necessarily reality, per se. But within this blowout, early on…I saw some of the Rodgers-Tonyan connection when it mattered, in a grind/against a tough defense, just in little simple passing plays – all of which helps confirm their growing relationship.
I was a Tonyan believer, in his sleeper talent, for 2+ years…fighting everyone about Jace Sternberger being lesser than Tonyan. I wasn't a Tonyan-Rodgers connection believer after the 3 TD game, but now I am. Late to the party, but at the party. And because he's still not really 'believed in' nationally, because there are so many Dalton Schultz, Drew Sample, Mo Alie-Cox type TEs that pop up for a moment and then disappear soon after (even if good players, the targets/action isn't there)…Tonyan feels like one of them. He might be, but I'm starting to think he's got a brighter future than all the others like him.
The good news…he's fairly available in a deal. No one strongly thinks they have their TE1 for the ROS in most cases. He had a weak FF-game Week 6 to help foster doubts…but note he sprained his ankle early on, played through it some, then the game was a blowout and no need for him to push it. A down game causes fear that 'he's not real'.
Also, helping…he'll be no practice or limited practice and questionable all week – but I think he'll sit out all week to heal his ankle. I saw the sprain; he'll need 4-5 days off it to get as fully ready as he can for Sunday. His 'questionable' label + not really practicing so far this week + forgetting the 3 TD game from eons ago creates more 'doubts'. This week is your chance to strike if you believe.
 -- A rather odd pattern to the Packers RB rotation, and one we've seen before…
I saw a lot of Jamaal Williams (4-34-0, 0-0-0/1) in the backfield early; it felt like…not getting big touches, but in for a lot of snaps. You'd think we'd see more Aaron Jones (10-15-1, 3-26-0/5) in a trouble game like this. It was likely more that the game was getting away and GB needed to pass and they like Jamaal protecting Rodgers better in known passing spots.
But to add to the furrowed brow…A.J. Dillon (5-31-0) has barely played this year, mostly taking final drive garbage/run out the clock touches. In this game, he was in the game taking carries early…looking like a chance to try and get the run game going with a more physical back. He looked good too. But it was only a blip and then he was the garbage man at the very end with the backup offense.
I think A.J. Dillon moved a step closer to starting to make Aaron Jones owners nervous. Still many more steps to go before it's a real fear -- but Dillon is slowly popping up more and more and could be soon casting a shadow on just taking 5-10% of the touches in key parts of games.
 -- Davante Adams (6-61-0/10) was back from his injury. He looked fine. Just CB Carlton Davis (6 tackles, 4 PDs) is a top cover corner now, as we were discussing this preseason…now everyone 'knows it'.
 -- Mike Evans (1-10-0/2) is the stud WR with issues from this game. His issue is one man too, but it's not a cover corner…it's Tom Brady. They have yet to look in sync and Brady prefers Gronk. If Evans wasn't getting a bunch of 1-yard TDs he'd be the most depressing fantasy WR play of 2020.
Not sure I see the upside ahead either. It's a Brady thing.
Chris Godwin (5-48-0/7) may suffer from the same affliction. Keelan Cole and Travis Fulgham are going to outscore Godwin for FF in 2020 on a per game basis – can you even mentally digest that? It doesn't even seem possible. It's a Brady thing, change has come. Jameis Winston is not walking through that door.
 -- Ronald Jones (23-112-2, 2-8-0/2)…did I not say that he was looking great after Week 1? That he was the better of the two Tampa backs? Now, that's not even a question.
The questions have gone from "Jones or Fournette" to "Should I drop Fournette?" Leonard's value is only as the handcuff if RoJo goes down. Fournette will get some pity work, so as not to offend him…but this is RoJo's backfield right now. Clearly the better back in the year 2020.
RB things change like the wind, so Fournette is not totally dead…but is making funeral arrangements for his FF 2020.
 -- Equanimeous St. Brown (0-0-0/2) got active and they tried to get him integrated but he was miscommunicating with Rodgers on their couple of throws. No advancement of the ESB cause here.
 -- You know who looked good at ILB, which is a kiss of death when I like a lowly UDFA ILB, usually…Krys Barnes (10 tackles, 0.5 TFLs). I've been pointing him out since Week 1…just the odd pattern of his playing time (in a good way) and the tackle counts he was getting in limited time.
Barnes played 88% of the snaps here, was the starter…and looked darn good. Looked like the new starting ILB for GB, not Ty Summers. Barnes impressed me on tape here. I'm buying in that he's going to rise from here, but not a stone cold lock.
Snap Counts of Interest:
36 = A Jones
32 = Jam Williams
10 = Dillon
54 = Gronk
23 = Brate
36 = RoJo
19 = McCoy
10 = K Vaughn