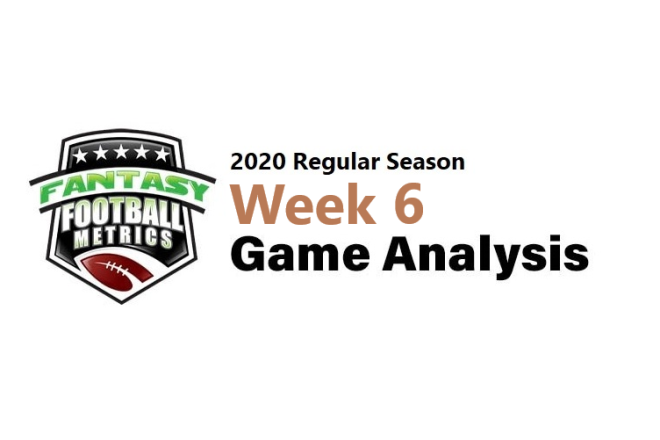 R.C. Fischer
FFM
22 October 2020
2020 Dynasty/Fantasy Week 6: Game Analysis: Broncos 18, Patriots 12
I take notes during the live watch. I re-watch the game on tape looking for hidden clues to report on. Here are my notes/takes on what I saw and how it related to FF 2020. I write anywhere from 1,000-3,000+ words on each game, and I have to move fast to get to all of them through the week…so, please forgive any typos/grammar.
I think the spread for this game started at -10.0 before the COVID stuff reemerged and it ended up -7.0 for the Pats, and that was off by only 13 points of margin. There was a big expectation for the Patriots to smoke Denver here. Why? We still think of New England like it's 2-15 years ago, in a sense…and everyone thinks the Broncos stink.
The Broncos aren't bad. They have their issues, but they're well coached and usually fighting all comers down to the wire. Denver is a last wild card spot kinda 'good' team.
So, if the Broncos are an OK team…then Denver going to New England and handling them might mean the Patriots are no longer that good. They are about as good as the Broncos on any given day…fringe wild card, an (8-8) team. The Cam experiment isn't really working. Belichick's legacy is about to be questioned. There is some peril in New England, right around the corner…especially the better and better the Buccaneers look.
The Patriots' season likely comes down to Week 8 at Buffalo, a game I think they will get rocked in. If NE beats SF this week (a big IF), then loses to the Bills, then beats NYJ, then loses to BAL Week 10…they will be (4-5), potentially 2-3 games out of first place…and the season slipping away from them. We see the Pats finishing with 6-7 wins tops and making a QB change after a Week 10 loss to Baltimore.
Denver is (2-3)…they should be (3-2). They've lost to division winning/top NFL teams and beaten NYJ and NE on the road their last two games. Their schedule ahead/division is so tough it likely keeps them out of the playoff picture. Until Drew Lock is gone, this team is held back on its own. We see 5-6 wins this season, that low only because all they play is playoff-level/quality teams for most of the rest of the season.
Fantasy Player Notes…
 -- The first thing to know about this game…the sudden rise of rookie Albert Okwuegbunam (2-45-0/6). The former college teammate of Drew Lock shined in his 'debut' of sorts. Lock went at him with targets, early and often.
Albert O. caught two of six targets, for a decent/muted FF week…but it's what the other four targets were that changes the thinking.
First off, realize that Lock was going at Albert right away. Not in a hurry up, not because nothing else was there…Albert ran specific/nice routes you design for a speedy TE and Lock went after it – which was brilliant of the coaching staff to try to catch the Pats off guard, because Albert O. has barely played this season.
The first missed target (1st series)…27-yard wheel route bomb to the end zone that was underthrown/knocked away by the defender.
The second missed target, 2nd series, another 27-yard bomb that was well covered and knocked away.
The third missed target, 3rd series, after two 10-15+ yard passes to AO, a 7-yard high point throw in the back of the end zone to a well-covered AO on a ball put where only Okwuegbunam could catch it but he leaped up and got his fingertips/hands on it but he couldn't get two hands on it.
The fourth missed target, late 3rd-quarter, a timing pass to the sideline in the end zone from 6 yards out… Okwuegbunam makes the nice high point/leaping tight window catch…but while falling down, the defender swung his hand right onto the ball and perfectly knocked it out, and as Okwuegbunam crashed to the ground the ball was stripped out. No catch/TD.
Some fantasy sites mocked Okwuegbunam for butchering two catches and labeling him as 'can't catch'.
1) They were tough catches/not drops at all. Not even close.
2) The key is…the two almost-catches and the two uncatchables…all TD shots. You might be starting TEs for fantasy this week that haven't had four end zone shots this season total. Okwuegbunam got 4 shots in his first three quarters of real NFL action.
If Noah Fant is out…I'm hot for Okwuegbunam as a sleeper this week.
It will be cold and snowing…making Okwuegbunam the perfect 'go get it' matchup throw or neat bubble screen weapon on a safer/shorter pass in the snow and let a 260+ man with 4.49 speed try and run through people.
The last time the current Broncos O-C was calling plays for a speedy TE…it was Evan Engram who was a top 3 FF TE in 2019 with Pat Shurmur until EE got hurt and left the season. I saw a lot of plays/work with Okwuegbunam like Engram/2019 this game.
If Noah Fant can play…then 80% of all this enthusiasm gets transferred to Fant.
 -- I'm in on Tim Patrick (4-101-0/8) as a solid WR3 with upside. He is the Broncos store brand Courtland Sutton while Sutton is out, and it works better with Lock than Rypien. This week in the snow v. KC is probably not a great spot but going forward he's still of interest to me when people start giving up on him.
 -- I want to get more excited about Fant/Okwuegbunam-Patrick but Drew Lock (10-24 for 189 yards, 0 TD/2 INTs) is failing fast and cannot support many weapons for FF results.
Lock has played 7 games fully in his NFL career. He has thrown for less than 220 yards in six of them.
3 TDs/3 INTs in his last 6 games. He is a better-looking version of Daniel Jones…meaning failure is coming. Denver should try and trade for Ryan Fitzpatrick to save their season.
Lock throws a lot of deep passes up for grabs to his taller targets out of fear/lack of ability to read defenses – which is good for Tim Patrick and the speedy TEs.
 -- And then there's the mess that is Cam Newton (17-25 for 157 yards, 0 TD/2 INTs, 10-76-1). 2 TDs/4 INTs for the season. 11 TDs/14 INTs in his last 12 NFL games. Three games under 170 yards passing out of 4 games played this season.
Cam is becoming 'Bad Cam', and all the Patriots' WRs are dead because of it. None are worth anything right now.
Damiere Byrd (3-38-0/4) is their best WR now.
James White (4-8-0, 8-65-0/9) is their best FF receiver, in general, as Cam can only complete RB swing passes anymore. White's last two games (he missed a few games prior with a death in the family): 7.5 rec., 51.5 yards, 0.0 TDs per game.
 -- Damien Harris (6-19-0, 1-14-0/1) looks fabulous…but he's going nowhere for FF because James White takes all the passes and Cam Newton all the short yardage/goal line work. Harris will put up Sony Michel numbers at best in this offense…minus the TDs. Harris is for the future, not the now.
 -- Congrats to Phillip Lindsay (23-101-0), a 100+ yard rushing day. Lindsay is a talent that Denver should just embrace, but never fully does. He's the heart and soul of the team.
He's also an excellent receiver, which is why it makes so much sense he has 1 target in 59 snaps played this season.
I assume when the great Melvin Gordon returns, it's back to a split for Lindsay.
 -- Pats rookie SAF Kyle Dugger (5 tackles) is playing more and more snaps, but only about 40% of the snaps – and in the limited snaps he's making tackles. 4.0 total tackles the last 4 games in 40% of the time played. If you put him up to 100% of the snaps/as a starter…he'd be tracking 9-10 tackles a game at his pace. He's not ready for IDP starting yet…just one to watch, waiting for him to start.
 -- I want to get behind a very stout Denver-DST, but their schedule won't let me. Here's the QBs they will face through Week 16: Mahomes, Herbert, Ryan, Carr, Tua, Brees, Mahomes, Teddy, Josh Allen, Herbert.
One start-able week (Tua).
Snap Counts of Intertest:
35 = Izzo
24 = Asiasi
31 = J White
18 = Burkhead
12 = Dam Harris
40 = Lindsay
25 = Freeman
39 = Butt
29 = Vannett
24 = Okwuegbunam