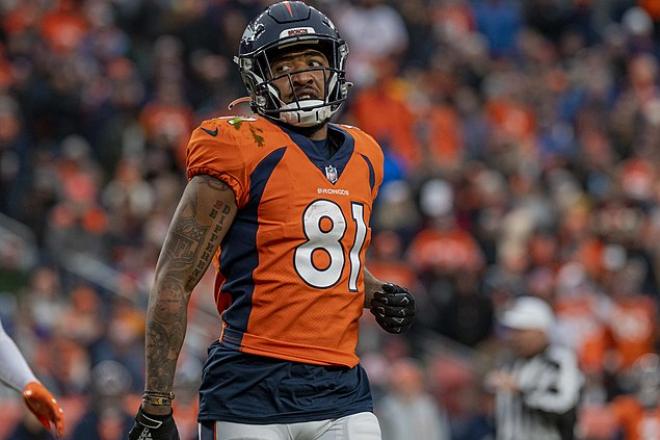 R.C. Fischer
FFM
05 August 2022
Denver Broncos Insider (8/4) Practice Notes (post-Tim Patrick fallout)
I've had some observers pass me notes on practice, so I am passing them onto you…
Why do I keep hitting on Denver notes? Well, it's got arguably the most interesting and Fantasy relevant things going on/up in the air.
Who will fill-in for Tim Patrick? Will it be someone who goes to the slot and pushes Jeudy outside?
Is Javonte in a split with Gordon or not?
Is Albert O. about to take-off as a TE1, not hindered by the rookie they just drafted?
It's very intriguing and potentially moneymaking what's going on in Denver, so we're staying on top of it.
What I (think I) know…
1) WR notes, with Tim Patrick gone…
First things first, we've had over a day since the event happened and I've not seen/heard Nathaniel Hackett leap out and proclaim anyone (*cough* K.J. Hamler) by name as the obvious new/expected starter.
I have floated the idea that Kendall Hinton has a shot to be 'the guy'. However, just my luck…Hinton got hurt in practice as well a day or so ago…and is being held out for precaution.
Per the observers, K.J. Hamler was working the most as that '#3'. One of the observers mentioned that Hamler was really involved, getting better treatment/importance than Jerry Jeudy. Hamler worked some as an outside receiver, and some as a slot with Jeudy kicked outside.
Until Hinton is back, I won't commit to Hamler or Hinton…but I acknowledge the 'smart money' is probably on Hamler…but we'll see. It's not a long shot, in my mind, on Hinton's chance here. It might be that they split the role.
More on Hinton v. Hamler as I get more info.
2) RB Notes…
Just further reinforcement of a theme even the mainstream keeps reporting/harping on -- Javonte Williams is working as the CLEAR #1 RB, and Melvin Gordon is not getting anywhere near the same treatment…he's getting #2 treatment. They are not 'co-starters'.
I can wait for the first depth chart before their preseason game to see if they really come out and show Javonte as the lead, or if they do the respectful 'co' #1 RBs, which doesn't mean Gordon is a 'co' -- but if they snub Gordon on the depth chart then you know it's game-on with Javonte as a 70/30, 80/20 lead dog RB.
3) TE Notes…
Albert Okwuegbunam is working as the clear #1 TE. Rookie Greg Dulcich has been hurt and is just getting up to full speed now. He's lost a lot of valuable camp time. We have to see if this holds in the next week or two, before we get fully excited about Albert O. + Wilson - Patrick.
The Dulcich headline roto-blurb about him filling in for Tim Patrick is misleading and silly.