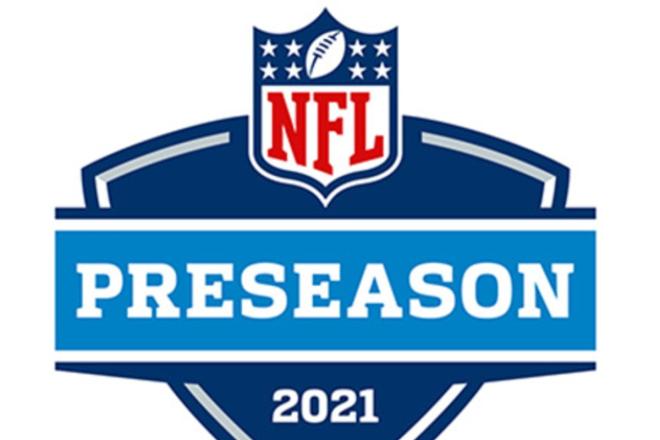 R.C. Fischer
FFM
14 August 2021
‍
2021 Dynasty/Fantasy Preseason Wk1 Game Analysis: Bills 16, Lions 15 (By Ross Jacobs)
Good lord this game was a snooze. No Josh Allen. No Zach Moss. No D'Andre Swift. No Stefon Diggs, Emmanuel Sanders, or Cole Beasley. No Breshad Perriman or Quintez Cephus, Jacob Hollister, or TJ Hockenson. If Gabriel Davis played I didn't see him.
I especially wanted to see the Lions players, but I guess it will have to wait.
– Bills RB report
The Bills started off with a heavy dose of Devin Singletary (8-42-0, 1-6-1/1) who gashed the Lions front seven repeatedly. Singletary looked bouncy and quick, but it might be more a statement about how bad the Lions defense is going to be. Singletary looked good but he was also left in the game until well into the 2nd quarter. A protected starter would not be playing that long which makes me think somehow Moss is going to be the lead back at least at first.
Matt Breida (10-27-0, 2-15-0/2) came in after Singletary and also got several rapid carries back to back. He looks like the Breida I remember from SF even though there wasn't much room to run by then. The Bills 2nd team offensive line isn't good.
– Two QB projects for Buffalo
Mitch Trubisky (1-2 for 10 yards, 0 Tds/0 INTs) looked a touch shaky but he threw all of two passes so it might be nothing. Hopefully a couple years in Buffalo can get him back on the right track. Hope to see more of him next week. He's clearly the #2 behind Josh Allen.
Davis Webb (11-16 for 90 yards, 1 TDs/0 INTs) came in after Trubisky. He's competing with Jake Fromm (8-13 for 65 yards, 0 Tds/0 INTs) for the 3rd QB spot with Buffalo. It doesn't look close. Webb is clearly better than Fromm. I was pleasantly surprised to find that Webb is much more athletic than I thought. He took off on a scramble and later a QB draw and looked decently quick. Here I was thinking he was a statue.
– Detroit's WR situation
Tyrell Williams (2-30-0/4) is the easy #1 guy. Goff was looking his way almost every throw and only if Tyrell wasn't open did he move through the progression to Kalif Raymond or Amon-Ra St Brown on a checkdown. His first catch he settled down between coverage on the left sideline and made a nice toe tap catch. His second was a short catch and run where he broke a tackle. He looks healthy, fast, and strong. Not sure what kind of volume he'll get or how he'll handle being covered by top corners, but this is his chance to show something. So far so good.
The biggest surprise of the night came when Kalif Raymond (1-5-0/1) was the other wide receiver on the field with Tyrell Williams in two WR sets. It looks like he's going to get some playing time and it may come at the expense of Breshad Perriman if he can't get healthy. Raymond wasn't on the field for long but he looked like he belongs. Personally, he'd be my starting slot receiver, but I think the coaches have a different idea.
Much hyped rookie Amon-Ra St. Brown (2-12-0/2) got a couple of short catches out of the slot and lost a third to a holding penalty. He's going to be involved sooner rather than later and might even be the starting slot receiver if the team has Raymond working as an outside receiver in Perriman's absence. I'd like to see how they all rotate when everyone is healthy. Brown looked ok overall. He's exactly as projected, a nice safe chain moving slot guy. Don't think he's a star but he will likely be Goff's security blanket by the middle of the year, if not sooner, and a decent ppr option in 2022-23.
Detroit slot receiver Tom Kennedy (4-46-0/6) made a few good plays. He looks like your typical Julian Edelman slot guy although none of those types are ever as athletic as Edelman himself. Kennedy isn't either but he is tough and works hard. He's going to have a tough time making this roster considering St. Brown and Raymond are the first two slot receivers, but he might make the cut as the last receiver based on his play. He's a good special teams guy if nothing else. If he does get cut he might be able to work his way onto another roster in the future with a precision QB that loves working the slot.
--Detroit's offensive line
One group I was really excited for this year was the Detroit offensive line. They had a pretty good group last year and added much-ballyhooed rookie Penei Sewell to anchor the right side. I was hoping to see them blowing Buffalo off the line but no such luck. They had their hands full and really weren't opening up any lanes against the first team defense. I'm not closing the door on them yet, but my enthusiasm has waned. Jamaal Williams (9-15-0, 0-0-0/0) started in place of Swift and did his usual thing...plow straight ahead with some ok power. He's going to get a significant amount of carries this year but I don't see him doing much with them if this is the best the line can do.
--Goff is way worse than Stafford?
Detroit's newly acquired QB Jared Goff (7-9 for 56 yards, 0 TDs/0 INTs) looked sharp in his debut. He's the same guy we watched carve up defenses with the Rams for years now. A good but not great arm, smart, works through his progressions and delivers an accurate, catchable ball. He's not elite but he's certainly good enough to win some games. LA better hope Stafford is everything they think and more or this trade is going to look even more ridiculous than it already does.
--Detroit's young defensive talent
A couple of young Lion defenders stood out a little bit tonight. DT Kevin Strong played a very nice game racking up 5 tackles, much of that coming against the Bills 1st team offensive line. Strong was an UDFA out of UT San Antonio in 2019, made the team and debuted against the Cardinals before going down with a season ending injury in November. He bounced back and forth from the practice squad to the active roster in 2020 and now seems to have earned a spot in 2021. He moves well at 285 lbs. I'll be watching him the next few weeks.
The second Lion defender that flashed a bit was 2020 3rd round pick Julian Okwara, younger brother of fellow Lion Romeo Okwara. Apparently he wants to join his brother as another underrated Detroit edge rusher. Julian looked long and lean but quick around the edge. He was giving the backup Buffalo left tackle fits all day.
One young Detroit defensive player that I was excited for was linebacker Derrick Barnes. The announcers hyped him up and he played ok, but I didn't see the explosive athleticism I was hoping for. It's still early for him though. He should be starting for Detroit next season but how good he might be is still up in the air.
--Dynasty deep dives
Buffalo rookie receiver Marquez Stevenson (3-50-0/3) was a guy RC and I had our eyes on early in the draft process, but he fell off somewhere along the way. He was in very late for Buffalo returning punts and catching a few late passes from Fromm (sorry not sorry). He's definitely not as fast as RC and I first thought and looks to be pretty well buried at the moment. Maybe he can grab a special teams role as he tries to work his way up.
And finally the most exciting player of the night...Detroit RB Craig Reynolds (6-49-1, 1-(-1)-0/1). Never heard of him? Me either. Apparently he played for some tiny Div II team and is on his fourth team in three years. He's 5'10" 220 lbs, very well built, not the fastest guy ever but fast enough and has a little wiggle to him. Looks good enough that you'd think someone would at least give him a couple of meaningful carries to see if he's for real or not, but he's a nobody so of course he gets completely ignored no matter what. Detroit just signed him a couple days ago and with no preparation, practice time or anything he was the most exciting thing on the field. If you think any RB desperate teams are actually watching for guys like this to poach you're sorely mistaken. Reynolds will almost certainly be cut in a couple weeks and move on to his next practice squad. The NFL never changes.
-- by Ross Jacobs
‍