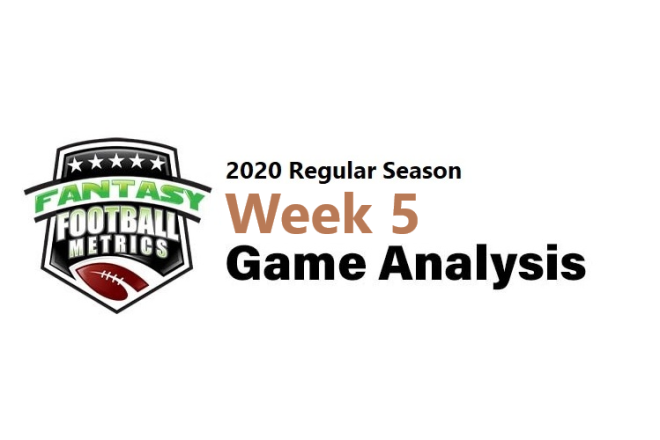 R.C. Fischer
FFM
15 October 2020
2020 Dynasty/Fantasy Week 5: Game Analysis: Browns 32, Colts 23
I take notes during the live watch. I re-watch the game on tape looking for hidden clues to report on. Here are my notes/takes on what I saw and how it related to FF 2020. I write anywhere from 1,000-3,000+ words on each game, and I have to move fast to get to all of them through the week…so, please forgive any typos/grammar.
This was no fluke…the Browns just played a better game. I don't know that it confirms that the Browns are good because it could just mean we just saw the swan dive of the Indianapolis Colts happen right before our very eyes. The Philip Rivers-led Colts are going NOWHERE. It's getting so bad that I don't think you can count this as a 'quality' win for the Browns, per se. Actually, it is a quality win…the Colts are dying but OK/strong defense – and the Browns just beat them from the opening kick.
I mean, look who the Browns have beaten…
They scuffled with but beat Cincy Week 2. They were losing in the 4th-quarter to Washington before rallying. They needed a bunch of turnovers and gadget plays to hold off bad Dallas. Here they beat a dying Colts team (because of Rivers…and Reich). We'll see how good they are at PIT, at CIN, LV the next three weeks. Especially at PIT Week 6 is a huge litmus test. I'm on the fence with them…I think once they start losing, they will collapse in on themselves. If they keep finding a way to win, they almost have a college enthusiasm they're playing with right now to ride for momentum for a while.
The Colts have the opposite of that. Frank Reich is stoic…and the Colts have taken on that personality. Philip Rivers is dying off right in front of our eyes, and the entire team knows it…but they also know Reich is not removing his friend. It's going to get painful in Indy until they make the Jacoby Brissett move, which may be weeks away. They can beat Cincy Week 6, then hopefully beat DET Week 8 (Week 7 is a bye). Those two un-quality wins would take them to (5-2). Then they may lose three of 4 with BAL-@TEN-GB-TEN and be (6-5) with a decision to make Week 13 at HOU…on whether they're better off with Brissett. With Rivers all the way through we project them to 8 wins in the end. A later season change to Brissett puts 9 wins in play. If they changed now, they could be a 10 win team.
It is that bad with Rivers right now…and nothing can fix what's wrong except facing weaker opponents.
Fantasy Player Notes…
 -- The main reason why the Browns are (4-1) is because the old Baker Mayfield (21-37 for 247 yards, 2 TDs/2 INTs) is starting to appear a little bit.
There's an energy, a pace, a swagger that Baker has when he's rolling that can carry an offense/franchise. Signs of it showed in his record-setting 2018 rookie season. It got taken away in 2019. He was also M.I.A. Week 1 getting brutalized by the Ravens.
Then, starting Week 2, the winning started. The heretofore problem WR duo of OBJ-Landry started playing with more pep when they started winning. OBJ looks like he cares a little bit suddenly. Against a very good Colts defense, Baker was masterful in many spots. Making the throws he did at Oklahoma and his NFL rookie season – frozen ropes to the right option at the right time. This peppy Baker Mayfield can get Cleveland to the playoffs, maybe.
The problem is OBJ and Landry are still a problem. When opposing/good teams can get up quickly and with some margin -- I think the OBJ-Landry duo will shrink and the current upbeat Browns team vibe will start to corrupt. A 2-3 game losing streak could flush them down the toilet totally/return them back to their loser ways. Winning cures everything but their schedule is going to turn tougher…and I'm not sure they can cope with the challenge. This week with PIT is a huge test of their mettle.
Baker is back, to a small degree…he still has issues and a heavy run game design to block huge FF upside, but he's showing a pulse again.
 -- T.Y. Hilton (6-69-0/10) caught a few easy, garbage passes from Rivers to go with a few medium route throws to put together his first decent FF day…I'd sell it hot this week if you need to.
The Colts will likely stick with Rivers until at least Week 8, with a change more likely Weeks 11-12…but it's possible they just go all the way off a cliff with him. TYH suffers, is a WR3-4, with Rivers. He has a name and a good game, and people think they are buying low. There's a thousand WRs on waivers, likely/depending on your league, that are in the 'Flex' range of Hilton.
I see a few people booking deals for Stefon Diggs or Keenan Allen this week using Darrell Henderson (for the RB needy) combined with Hilton (name appeal) to trade up for the better PPR WRs. Hilton as an add on that's not really one is a savvy way to play it.
Hilton is better but still erratic with Brissett…and we could be several weeks from that, if ever in 2020.
 -- Everything is fine with Jonathan Taylor (12-57-1, 2-17-0/3) except Frank Reich isn't pushing him as his only hope. He still thinks Rivers-led is the way to go. I suspect as we go this season, Taylor will see more and more touches – out of Indy need. He would also benefit from a change to Brissett, I think.
 -- D'Ernest Johnson (8-32-0, 1-4-0/1) was a big flop from the hopes of many with him off waivers last week. I wouldn't close the door all the way on him yet.
Every time he entered this game, the Colts swarmed the run game (as they did to Hunt too…just 3.6 ypc for Hunt here)..or there was a penalty to take the touch away (it seemed). He could never get started, but late in the game Hunt had to leave and lie down holding his leg – and it was Johnson that ran well and salted the game away.
They tried to get Johnson some touches early, but they definitely favored Hunt heavy all throughout until he physically had to come out. Johnson then shined late to help them win – for the second week in a row Johnson was the late game hero, of sorts.
Hunt may be more hurt than we realize…and could be inactive…or just gets reaggravated in-game this week.
 -- Odell Beckham's (5-58-0/9) season minus the Jarvis Landry TD pass Week 4…
20 rec., 257 yards, 2 TDs in 5 games
4.0 rec., 51.4 yds, 0.40 TDs per game…7.5 FF PPG, 11.5 PPR PPG…which is a WR3 or worse type WR in PPR
His Week 4 trick play pass and end-around run TD are fluffing up a hard truth – he's not very good/great anymore. He's mostly 'name', not reality.
 -- After an FF-terrible/sluggish first 3 games…Austin Hooper (5-57-0/10) is coming alive the past two weeks…5.0 rec., 45.5 yards, 0.50 TDs per game on 8.5 targets per game.
The activity is up and I think Hooper has a chance to matter as the WRs usually wind up let down and it's a safe place for Baker to go…but also note David Njoku 1-6-0/1) returned to action this week…and rookie Harrison Bryant (0-0-0/1) has been playing good snaps as well.
Still, in a sea of problems at TE…Hooper doesn't look terrible right now.
I wouldn't be surprised if Njoku was traded before the trade deadline to go back to Bryant as the 2nd-TE and the Miami Dolphins or Washington FTs take a look.
 -- Can you trust the Indy-DST after this mess?
It's like the Chiefs getting whacked by LV…in this era, things happen on offense against a decent opponent. About the only sure bet right now is facing a New York team, or the Jets + any NFC East team.
The schedule is unkind after this week. You got the BYE Week 7 and then at DET is OK Week 8…then doom: BAL-@TEN-GB-TEN-@HOU-@LV-HOU@PIT. Not many favorable/sweet matchups ahead.
 -- Might the Browns-DST be in-play?
Later, maybe. Not now. @PIT, @CIN, LV, BYE the next four weeks…really nothing good in there and the Browns defense is not awesome. They struggled with every team they've played (on defense) except Philip Rivers. Not a great 'sign'.
Snap Counts of Interest:
58 = Hooper
29 = Bryant
21 = Njoku
51 = Hunt
22 = D'Ernest
31 = Taylor
21 = Hines
02 = Wilkins
34 = Doyle
25 = Burton
21 = Alie-Cox