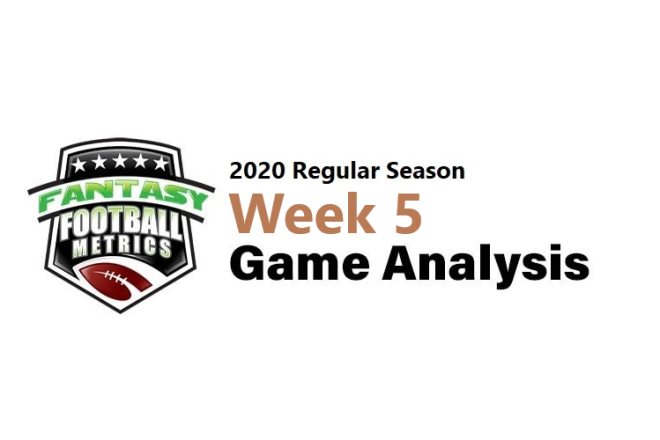 R.C. Fischer
FFM
16 October 2020
2020 Dynasty/Fantasy Week 5: Game Analysis: Texans 30, Jaguars 14
I take notes during the live watch. I re-watch the game on tape looking for hidden clues to report on. Here are my notes/takes on what I saw and how it related to FF 2020. I write anywhere from 1,000-3,000+ words on each game, and I have to move fast to get to all of them through the week…so, please forgive any typos/grammar.
Here's what we really need to understand about this game, in three parts…
1) Jacksonville entered missing it's top/elite pass rusher (Allen), it's top ranked (by PFF) linebacker (Jack), and its shutdown corner (Henderson). The heart and soul of defense…gone…and it just happened this week/game. Plus, they lost their top slot corner (Hayden) coming in (on I.R. now) and were down to a backup safety starting…who they then lost in-game, going to their 3rd/4th-string rookie.
A so-so/erratic/young defense lost 4-5 of its best players for this one game (and maybe more ahead).
2) In this game, right before the half, under a minute left…the Jags missed a 24-yard FG which would have tied things at 10-10. Houston took over and tried to race downfield for a score before-half FG, but Watson threw a horrible pass and was picked. The Jags were set up for another FG to tie it before half…missed again.
In the 3rd-quarter, the Jags were driving for a TD to take the lead late in the quarter…they refused to kick a short FG (because of the prior issues) and went to do a trick RB-pass play and the RB fumbled and the deep drive ended with no points. Houston won the game from there.
3) The Jags were devastated on defense, and still Deshaun Watson struggled, threw two picks (and many other poor passes) for about 3.5 quarters. Watson put two TDs on demoralized JAX late and it looked like a big win/nice Watson stats. It wasn't as good as it looked. Houston should be embarrassed by this game performance considering the backdrop.
Houston finally gets a win, but it was ugly. This team, this offense, this defense…ugly. Their season comes down to Week 6 at TEN. A win there actually keeps the dream alive. A loss there puts a bullet in their 2020 and they might as well dump everything to prep for 2021.
You could see Will Fuller and David Johnson get traded, among others if they lose Week 6.
Jacksonville lost, but, as always, tries hard. They were the better team for the most part, just undermanned and hurt by their 4th kicker (due to a rash of injuries) for the young season. The Jags have so many key injuries right now, I'm not sure when they'll be healthy or win a game next.
Fantasy Player Notes…
 -- D.J. Chark (3-16-0/4) had a down game (off his 2-TD day the week prior). Couple notes on it…
1) It was as feared/as predicted, they tried to avoid the WR covered by Bradley Roby.
2) Chark left the game late with an ankle injury, but it's supposedly not that bad and they had no reason to push him back in because the game was functionally over. I think he might play in  Week 6, if you see him practicing 'limited' FRI.
3) Minshew took two shots at Chark in the end zone from short range in this game…missed him on one (ruled a throw away/non-target but it wasn't), didn't have him open on the other but almost.
Minshew is just throwing to whatever is open, not forcing things because he's having to throw a ton. Roby provided good coverage on Chark + there were some double teams on him. The rest of the field was bountiful for Minshew so Chark had a weak day.
Risk of this happening again Week 7 at LAC, Week 10 at GB, and trouble Weeks 15-16 (BAL-CHI). Otherwise, Chark is the team's best WR…but Minshew is not slavishly working him when it doesn't make sense, but it's his best look when he sees the right coverage.
 -- Laviska Shenault (7-79-0/8) becomes the easy look when a top corner is working Chark, so Minshew took it. Shenault is a solid WR3 every week with a pinch of upside.
Keelan Cole (2-25-1/6) always looks great on the field but usually has just 1-2 catches for 3.5 quarters and then gets a bunch of junk late 4th-quarter when way down, and gets an extra catch or two. Then in their late hurry up, down two scores with less than a minute to go, we saw three throws to Cole in desperation, all incomplete. Cole is a WR3-4, who has WR2 talent, but WR4 targeting but WR2 TDs thus season so far.
 -- Gardner Minshew (31-49 for 301 yards, 2 TDs/0 INT, 4-18-0) is working as a solid QB2…QB1 hope in good matchups.
Minshew is 11th in the NFL in passing yards per game and 7th in passing TDs.
Note…just ahead of him in those categories is Derek Carr, for the season.
…and Teddy Bridgewater is coming on strong and ahead of him in passing yards per game but behind him in TDs.
 -- Deshaun Watson (25-35 for 339 yards, 3 TDs/2 INTs) is just ahead of Minshew in passer yards per game, but it's looked terrible/been a lot of garbage that I see.
TO my eye, Watson is playing terrible football. It can work for FF because of garbage (like 330+ yards here against a stripped defense)…but Minshew-Carr-Teddy all look better on-field/on tape and have similar/better numbers.
 -- David Johnson (17-96-0, 2-7-0/4) had a few 10+ yard plays in this game. There were some openings to run through late, as the defense was worn down – and they were worn down, in part, by DJ's physical running all game.
Many of us own DJ and want to trade him off/banish him/punish him for not dancing for us on command. We do that a lot in FF…something has a few bad result weeks, and we urgently want to sell it for some other pipe dream. You are in pain over DJ, I get it. But I could rattle off a long list of other RBs with big names who are failing in fantasy but getting good touches/snaps.
Joe Mixon, CEH, Drake, Gaskin, J. Kelley, A. Gibson, Le'Veon, D Montgomery…to name a few. Josh Jacobs and Miles Sanders are really struggling, but it's glossed over by several short TDs to pump FF numbers. DJ is not getting to the goal line often to juice his numbers with the easy TDs so far.
It's also been mentioned by me, now chronicled by others in the media – Watson has misfired passes to a wide-open David Johnson in the end zone/easy TDs on three different occasions this season.
DJ is 26th in PPR PPG among RBs with 3 or more games played and are not on I.R. currently. If Watson completed just two of those easy TD passes, DJ would be sitting #17 among RBs in PPG…about one more TD away from the top 12.
Do you really have a David Johnson problem? Is he 'bad'. I don't see it. Just unlucky so far…not his fault. I'm a 'buy low' still.
 -- James Robinson (13-48-0, 5-22-0/7) is starting to see his numbers sag as we go. He's another guy owners are getting fussy about – no TDs, now you're mad at him. Guys like JRob and DJ – they ARE their team's main guy and eventually TDs will fall their way, by random luck of the universe course correcting opportunities. You have to believe it…even if it doesn't happen. They are getting touches that warrant more FF scoring.
JRob has the 11th most carries by an RB this season. David Johnson 13th.
 -- Brandin Cooks (8-161-1/12) had a big game, but the Jags were running two backup/backup-to-the-backup level CBs, so the opportunity to pick on them with Cooks was there (because the one good, remaining, Jags CB was on Will Fuller). No sudden return to greatness here.
 -- With the need for so much passing by JAX, Chris Thompson (3-35-0/3) has caught 3 or more passes in three of his last 4 games…with a high of 5 catches Week 3. Not saying anything special is happening here, but he is playing like 40% of the offensive snaps now. He's a lesser J.D. McKissic.
 -- HOU LB Tyrell Adams (12 tackles, 1 TFL) took over when Benardrick McKinney went down and out. He is the assumed starter for him now. Solid enough grinder…not necessarily a future star, but gets a shot at playing time/IDP opps now.
 -- JAX rookie SAF Daniel Thomas (7 tackles) was forced into action with the in-game injuries. I'm a fan of Thomas. He could work if starting/while Andrew Wingard is out…but it's risky because Jarrod Wilson (4 tackles, 1 INT) is back now too…and he'll be the more experienced SAF.
Snap Counts of Interest:
45 = Dav Johnson
17 = Duke Johnson
60 = Cole
52 = Shenault
50 = Chark
24 = Conley
23 = Collin Johnson (caught a TD pass…is an end zone weapon at 6'6", but still inexperienced otherwise in routes, etc., with Minshew)
42 = J Robinson
30 = CH Thompson