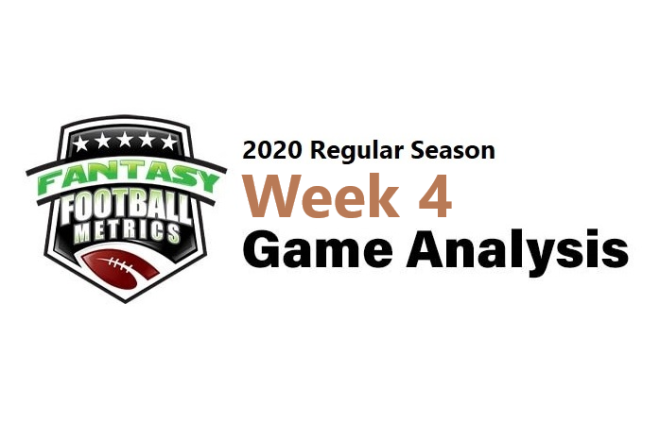 R.C. Fischer
FFM
06 October 2020
2020 Dynasty/Fantasy Week 4: Game Analysis: Panthers 31, Cardinals 21
I take notes during the live watch. I re-watch the game on tape looking for hidden clues to report on. Here are my notes/takes on what I saw and how it related to FF 2020. I write anywhere from 1,000-3,000+ words on each game, and I have to move fast to get to all of them through the week…so, please forgive any typos/grammar.
Well, well, well… Arizona not looking so hot anymore, no? Hard to say which way this is breaking…breaking bad or breaking OK/good -- four games played, 2 wins, 2 losses, looked good for a game (Week 1)…looking worse as we go (Weeks 3-4). Where are they headed? Well, my sense is – the Kliff Kingsbury (negative) effect is settling in.
This Arizona team is looking progressively worse every week. This offense is as limited and un-fun to watch as it was last year. Same tired routes. Same missed deep balls. Every so often there's a moment where Kyler can sit in the pocket for a breath and throw a laser strike, and it sucks you back in…but mostly this is a dink and dunk offense heading nowhere fast – it goes as far as Kyler's running and Hopkins YAC will take them…and that's not all that far in today's NFL.
The defense was looking stout for about two games, and now it has lost the best defender/Budda Baker for some time and it is fading. There's little 'real' run game (outside of Kyler), the defense is leaking, the offense is boring, the O-Line is degenerating – it's a battle to (8-8) now.
This wasn't even a game – Carolina jumped out to a 14-0 and 28-7 lead before giving up some junk to a merciful end. This game was never in doubt. Matt Rhule has his undermanned, young team on the rise…Kingsbury has his unit in decline. The story of these two teams of the next few years will be – Kingsbury fired and a total chaotic mess ensues in Arizona in 2021 or 2022 while Rhule goes on to rule the NFC South for years to come and becomes one of the best head coaches in football.
This game may have marked the intersection where Rhule already jumps past Kingsbury on his ladder climb to becoming one of the top young coaches, if not THEE top young coach in the game. It's a Week 4 win for Rhule and foreshadowing of where these two teams are headed.
Arizona gets a HUGE break with a game with the Jets next week…the bleeding might stop there, and then there's trouble ahead with the schedule. We are projecting them (8-8) with a (7-9) bias right now. Gone is the 10+ win hope/excitement after Weeks 1-2. If they lose to the Jets Week 5…all hell will break loose in Arizona.
Carolina has a chance to be (3-3) after Week 6, before the schedule comes after them. A 7-8 win season is not out of reach for them, but 6.5 wins this year would be my marker right now.
After two weeks, we all thought Arizona was going to the playoffs and maybe winning the division…and Carolina is rebuilding effort, just lost CMC, and will be lucky to win 2-3 games.
My how things change in two weeks… (keep that in mind if you're scuffling in fantasy right now)
Fantasy Player Notes…
 -- As always, we begin with 'The Kyler Murray (24-31 for 133 yards, 3 TDs/0 INT, 6-78-0) Report'.
Another flimsy passing effort from Kyler…in output. He looks fine enough as a passer, but this offense, this route tree is the worst. The scheme and weak O-Line is forcing Kyler into a 200-250 or less yards per game passer in an era where 300+ yards is normal, even for rookies debuting who didn't know even know they were starting until 15 minutes before the game have 300+ yards passing as like the minimum expectation. But not for Kyler in year two of this 'amazing, innovative offense'.
Kyler's TD rate has gone up…so he's progressing there. No more always-stalled drives near the goal line like 2019. Kyler's running output is way up…and that's keeping his FF numbers propped up, which is good for us. He's a nice fantasy QB, but so-so NFL QB right now…because of the offense he's playing in.
One thing about his running…on Kyler's big run of the game, a 40+ yarder, he broke away from the 2nd-level and was off to the races. I thought a 70+ yard TD run was about to land for our FF teams. Instead, he was caught from behind by Donte Jackson (a 4.3+ runner, so it made sense) but also 235-pound linebacker/D-End Marquis Haynes (2 tackles) came from 5+ yards deficit and caught Kyler too. Anyone who tries to tell me Kyler is a 4.3 or low 4.4 runner…go watch his big run in this game. He's not…not with pads on.
My big fear is, with Kyler, that we're moving closer into a Kliff Kingsbury on the hot seat situation…and when Kingsbury goes…we're all screwed with Kyler for FF potentially. I think he can only run this specific (crap) offense and would be constricted and flustered in a real/typical NFL offense. Just a hunch. And Kyler is a baby…he'll pout at the drop of a hat. If they dump Kliff…Kyler might want to be traded or go to baseball. I don't know where he thinks he could be traded to that works?
Arizona has a massive problem on its hands if this season starts getting away because they are fully leveraged into Kliff + Kyler…held hostage, really. I think the duo get to the end of the 2021 season before Arizona gives up on Kliff. A bad 2020 probably means the GM is getting the axe…and then the replacement GM has to deal with Kliff. Not going to be easy/fun if Arizona doesn't start winning, like right now.  
I maintain the following: I love Kyler, but in Dynasty…I'll make a deal and sell high. Not sell at any cost, sell high. He's going to be productive for FF no matter what, I think…until Kliff gets in trouble/is gone. Then it will be a mystery.
The good news ahead is...
Here's Kyler's upcoming schedule of pass defenses to face by passing yards allowed ranking the six games…
#17/NYJ
#23/DAL
#32/SEA
BYE
#29/MIA
#28/BUF
#32/SEA
 -- Kenyan Drake (13-35-0) was cleared of any injury issue, so there will not be a ton of speculation about his Week 5 status…which sends me back to my Monday 3 things/5 players report/thinking on Chase Edmonds maybe making a push to grab this lead role.
Drake is averaging 3.8 yards per carry with no 100+ yards games, 1 TD, and 1.25 catches per game. He's an RB3 this year so far.
With the losses…I'm sure Kingsbury's patience is running thin, and Kliff changes his mood on players on a dime. Edmonds may start going from a 70/30 split to a 60/40 to a 50/50 soon. Edmonds is the better back to me as it is, so if you're in a position to make the investment…consider Edmonds, especially as useful/has a pulse regardless for BYE weeks ahead, etc.
 -- Reggie Bonnafon (10-53-0, 2-18-1/2) got some nice work here and looked good+ as usual. If Carolina puts him back on the practice squad this week and no one picks him up/poaches him off in the NFL – then I don't even know why I waste time watching/studying football because the NFL doesn't study anything.
I mean the Jets pounce on Ty Johnson when DET cuts him, but lets Carolina just move Bonnafon up and down off the practice squad weekly with no diving in? That's why they're the Jets. But any team could claim this guy and he'd be better than most of their RB depth chart day one. I guess the Giants are too chocked full with RB talent to make room…
As soon as CMC returns, Bonnafon will be back to a bench player. But probably not going to practice squad anymore because someone has had to notice this in the past two weeks (they should've the last two months!).
 -- Not only is Robby Anderson (8-99-0/11) the #1 WR for Teddy but note that he just missed on two more catches for 50+ yards on overthrows by Teddy. Robby is becoming the star. Most people thought D.J. Moore (4-49-0/6). I thought Curtis Samuel (3-51-0/4) might work the slot more (and Robby strictly outside) + take more jet sweeps and be a guy to have – but Robby was the right answer. Anderson is working the slot type role a bunch now…because he's Teddy's guy.
I don't know if Teddy Bridgewater (26-37 for 276 yards, 2 TDs/1 INT) needs more time to get in sync but he is misfiring pass all over, but still landing enough. He's getting a bit less erratic every week. He's also starting to get into a useful FF QB discussion. He has games with ATL two of the next 4 weeks, but tough matchups otherwise.
 -- What does Andy Isabella (2-3-0/3) get after his bit two-TD week last week? Three targets for two catches and 3 yards. What a breakout star!!! Kyler really knows how to use his weapons.
To be fair. Kyler hit him on the button for a 50+ yard play in the bag but Isabella tripped over his own shoelaces and face planted just as the ball was coming in to his full-sprinting arms.
Christian Kirk (3-19-1/5) being active hurt any hopes of more Isabella snaps/targets.
Neither Kirk or Isabella can be relied upon beyond a hail mary hope it's the game they catch the one golden bomb shot Kyler gives them per game.
 -- You can use the Arizona-DST if needed this week…facing the Jets. But then it is over…
The schedule the next six weeks is lethal, mostly…
Week 6 = at Dak
Week 7 = R Wilson
Week 8 = BYE
Week 9 = Miami
Week 10 = J Allen
Week 11 = R Wilson
Snap Counts of Interest:
55 = Mk Davis
21 = Bonnafon
54 = Hopkins
53 = Fitzgerald
36 = Kirk
24 = Isabella
37 = Drake
21 = Edmonds