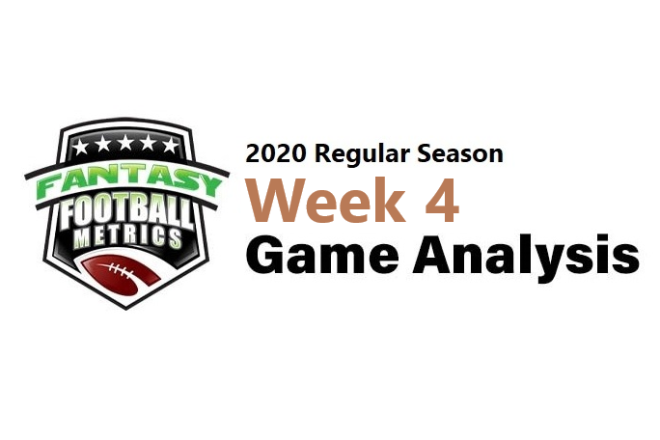 R.C. Fischer
FFM
09 October 2020
2020 Dynasty/Fantasy Week 4: Game Analysis: Vikings 31, Texans 23
I take notes during the live watch. I re-watch the game on tape looking for hidden clues to report on. Here are my notes/takes on what I saw and how it related to FF 2020. I write anywhere from 1,000-3,000+ words on each game, and I have to move fast to get to all of them through the week…so, please forgive any typos/grammar.
Bill O'Brien deserved to get fired after this game…but the defensive coaches should've gone with him. Houston had one of the worst coached, worst planned game plans I've seen this year…which is a continuation of one of the worst coaching jobs of 2020.
Why?
1) How do you possess David Johnson, trade for him, and don't know how capable he is in the passing game and thus design plays for it? I've seen 2-3 purposed screens this year…otherwise they did not even try anything unique with him – and he's made some surprise/bailout catches downfield off Watson scrambles/2nd-3rd-4th-looks…but no one thinks to try things on purpose. It's stunning…and then again, not stunning…to be expected.
2) Vernon Hargreaves is one of the worst corners in the NFL…and they keep playing him. Kirk Cousins would look/throw to wherever Hargreaves was most of the night (and try to avoid Bradley Roby). The Texans ran a bunch of zone coverage to try to make up for their overall coverage issues but there were several breakdowns of communication and Adam Thielen made a huge, wide-open play within that.
With all that…The Texans had a chance to tie the game late, but on 3rd & goal from the 1-yard line they tried a read option pitch that was dangerous, David Johnson took his eyes off the pitch to see what was between him and the end zone and he botched it. On 4th-down, they couldn't get it done…and ball game, loss by 8 for Houston.
Should an NFL head coach get fired after 4 games into a season, after what he's accomplished the past few years? I get a notion of sticking by him for history's sake -- but with the godawful planning anyone close to the team could see was lacking, the weak GM-ing people have hated, and then a verbal fight with J.J. Watt…there's no coming back from that when JJW turns on you. You have to be smarter than that. They might as well make the change now and start moving on…don't drag it out. Romeo Crennel is not going to do anything either, so this thing will continue to head down the tubes.
Minnesota wasn't great here, but they were solid…and they just let Houston faceplant on themselves over and over.
The Vikings are (1-3), and not a very good team/just beat one of the worst teams of 2020 who then fired their coach afterwards it was so bad. Their next three games are @SEA, ATL, @GB – it's their season the next three games, and if they lose the road games (likely) they will be (2-5) heading into an easier stretch of schedule, and hopefully getting Danielle Hunter back, but by then it will be too late most likely. We project a 6-7 win finish for 'OK' Minnesota. I think the Vikings could be on the verge of a similar head coaching issue that Houston just went through – an unlikable head coach, who gets more unlikable with each loss, and a roster trending down not up…Zimmer could be in hot water if this season turns south hard.
I would assume that Houston will make absolutely no innovative changes with their 'soft'/sleepy substitute teacher coach. The Texans season will come down to Weeks 5 and 6. Maybe they beat JAX Week 5, maybe with the joy of no Bill O'Brien, and thus the bleeding stops. Then beat Tennessee Week 6…and maybe the season is back on track – the Texans could be (2-4) after Week 6 with (3-2) TEN or (4-2) IND in 1st-place…Houston just a game or two out with 10 games left and two Indy matchups to go. It's hope/do-able…but if Houston loses Week 5 or 6, it's pretty much over.
Fantasy Player Notes…
 -- As I do, I watched every David Johnson (16-63-0, 2-29-0/3) carry intently…looking for clues, for worries, for hope – looking for the truth. All I can tell you is – everything looks fine. His legs, his speed is good (not as great as it used to be…but he rarely gets room to roll to see), especially his agility/bounce in his step and cutbacks are as good as ever.
He has no space to run. That's the problem. And they don't throw him the ball with any purpose…that's a Fantasy killer.
Just so it doesn't sound like I'm making things up from biased memories, I checked some numbers on DJ and used his opposing RB here (Dalvin Cook) to check some data…
Using the stat 'Yards Before Contact' (per attempt), which is how people try to gauge how much room/opportunity an RB has to run before defenders are making contact, here's Cook v. DJ the past three years in 'Yards Before Contact' (and you want to see 2.3-2.5+ to feel good about things)…
Dalvin Cook:
2018 = 2.6
2019 = 2.2
2020 = 3.0
David Johnson:
2018 = 2.1 (this was the one year with the Steve Wilks disaster)
2019 = 1.9 (Kliff's 1st-year in Arizona)
2020 = 2.0 (the Texans era)
I tried to think of other good backs stuck behind a troubling O-Line in recent years to compare. Here's a few I looked at…
Joe Mixon:
2018 = 2.7
2019 = 1.8
2020 = 2.4
Leonard Fournette:
2018 = 1.6
2019 = 1.4
2202 = 1.7
Ezekiel Elliott:
2018 = 2.8 (best O-Line in football year?)
2019 = 2.3 (lost some OLs)
2020 = 1.7 (lost A LOT of OLs and his rushing numbers are paying a price)
Some of these lower numbers can probably be attributed to 'running style'…power backs get sent at a wall, other RBs get more mix of outside runs but low 'Yards Before Contact' is also an indictment of the O-Line, QB, and play calling – mostly O-Line.
Jonathan Taylor is being sent headfirst into stacked lines and has a 2.4 number YTD – better than most. Why? Don't we love their O-Line? It shows in his number…and his number has been rising as the season goes on.
I was thinking of another RB who is just 'OK/good' but I think benefits from the O-Line…Raheem Mostert. His three-year numbers:
2018 = 4.2
2019 = 3.5
2020 = 5.3 (has that untouched 80-yard run in there to fluff it)
So, the 'O-Line' could be a viable explanation for DJ…but it still leaves the problem – he has an issue that is not easily overcome. However, look at Derrick Henry's numbers…
2018 = 1.9
2019 = 1.9
2020 = 1.7
You can overcome a weak O-Line, for FF, with a lot of touches and an offense that gets you down to the goal line for easy scores (for FF).
You just have to keep FF-grinding with DJ hoping for those TDs to come and maybe a change in offensive style to free him in some way. I can tell you, the first four games of his usage looked like 2018 with Steve Wilks – up the middle, and everyone knew it, and it went nowhere, and DJ was making +1-2-3 yards on plays with sheer effort/determination.  
DJ might be 'screwed' for FF 2020 because of this, we'll see -- but he's not 'shot'…if that's what you're asking/wondering. Not that I see.
 -- Everyone is excited by the possibilities of Kirk Cousins' (16-22 for 260 yards, 1 TD/0 INT) schedule the next two weeks – vs. the #32 pass D of Seattle and then vs. the #31 pass D of Atlanta. How could this not work for FF?
Well, it makes sense on paper…but also note that Mike Zimmer would rather win these games with 30+ runs a game, and less Cousins…regardless of the defense.
You know what NFL team has the least amount of pass attempts in football right now? You guessed it – the Minnesota Vikings.
It should be good for Justin Jefferson (4-103-0/5) and Adam Thielen (8-114-1/10) too but watch out. Jefferson looks great, but I fear what will happen to him when the schedule turns tougher and Zimmer tries to run through it (which was Stefon Diggs' complaint all along).
 -- I know, you hate Jordan Akins (3-46-0/3) now because he is not repaying your love. Flash in the pan, RC!!!
Let me just say – he looked great here. His numbers, all before halftime and then with a minute left before the half, Harrison Smith crowned him helmet-to-helmet and sent him out of the game. Akins was pacing for a 6-92-0/6 day or better, when you just double his 1st-half.
I love the way Akins looks with Deshaun Watson this year. Don't give up on it yet, if you can help it. Buy it cheap in Dynasty if you need it…or any league where you need/can store depth.
Akins probably misses this week's game with that concussion, but I hope not.
 -- I was asked about HOU DT P.J. Hall (7 tackles, 1 sack, 1 TFL) on the Tuesday Video Chat – is he breaking out/finally fulfilling the promise of his Draft/prospect hopes from a few years ago?
I don't think so.
I took an extended look at his work here, and nice DT IDP numbers got the game but…
He definitely is playing good NFL ball…he's a load clogging up space in the middle. He is fighting at the LOS very well, but he's just clogging the interior and things come near him and he made some plays. His sack here was not impressive…a QB flushed into Hall's area. I saw a good for the NFL, weak for IDP number production player on tape.
He is not-nothing. He is starting now (last 3 games). He has made it to 'viable NFL DT', but that athletic freak we all wondered about years ago – I don't see it.
 -- Bradley Roby (7 tackles, 2 PDs) is to be feared for the opposing #1 WR across from him. He allowed just 3 catches for 14 yards, and 1 TD to WRs he was covering here.
Oddly, HOU went to some zone and/or was having Roby pass off Thielen to the safeties who looked clueless 40% of the time and Jefferson-Thielen had some monster plays from it – but not off Roby.
Roby has allowed 33 yards in a game, for the 'high/most' allowed this season to WRs he covers – and that was Week 1 v. Tyreek. D.J. Chark gets this Week 5…but note that DJC could thrive/do OK if Roby hands him off to dumb safeties like he did with Thielen here sometimes.
Snap Counts of Interest:
36 = David Johnson
25 = Duke Johnson
52 = Fells
19 = Akins (knocked out before halftime)
61 = Cooks
50 = Fuller
48 = Cobb