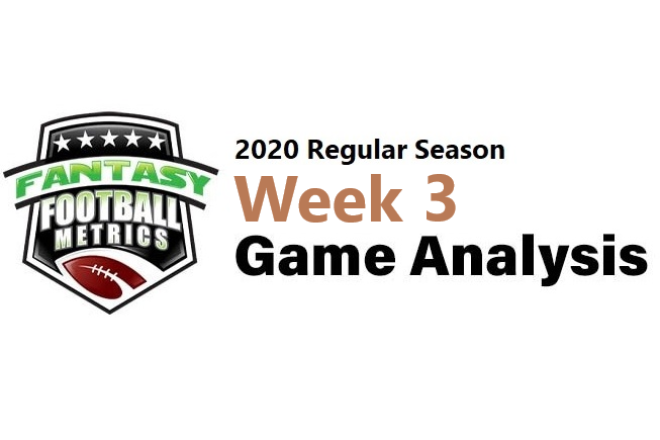 R.C. Fischer
FFM
01 October 2020
2020 Dynasty/Fantasy Week 3: Game Analysis: Colts 36, Jets 7
I take notes during the live watch. I re-watch the game on tape looking for hidden clues to report on. Here are my notes/takes on what I saw and how it relates to FF 2020. I write anywhere from 1,000-3,000+ words on each game, and I have to move fast to get to all of them through the week…so, please forgive any typos/grammar.
Pretty straight forward game – Colts jumped all over the Jets, and NYJ had no real answer and the two pick sixes on top of the general domination allowed the Colts to play half-interested on offense all game and eventually playing backups mid-3rd-quarter.
I thought there might be nothing to really discuss from this game, but actually there were a few items of interest. We'll get to those in the next section.
The Colts are now (2-1) and we don't know how truly 'good' they are because their opponents are a combined (1-8) this season. The schedule is their friend for a few more weeks -- @CHI, @CLE, CIN, bye, @DET. Four winnable games ahead that they'll likely find a way to lose one of them. They should be (5-2) heading to a showdown with BAL Week 9. We are projecting them between 8-9 wins at this stage…and 10-11 wins possible. The schedule is about to turn on them in the 2nd-half of the season, but they may be a much better team by then and maybe get some lost WRs back.
I have no idea what week/game the Jets will win a game this year. This team is so troubled, but they will probably win a game or two. This Week 4 TNF game should be cancelled for virus issues…because it's going to make us ill having to watch that mess.
Fantasy Player Notes…
 -- Just a quick note on T.Y. Hilton (3-52-0/3), and I know many of you are vested and been let down so far…and thus we're all questioning if TYH is more 'done' than not…
I was encouraged, for the first time this year, by what I saw between Rivers and Hilton this game. It wasn't big numbers, because the Colts were scoring defensive TDs and then pulling starters…in-between that they didn't need to risk putting the ball in the air much.
There were the first signs of some comfortable pitch & catch here between them. There is hope here, especially in better/favorable matchups…and now that all the Colts have are practice squad type WRs for Rivers to rely on…which he won't.
 -- The biggest shock for me in this game re-watch?
Kalen Ballage (2-8-0, 5-44-0/5) looks like he's trying to be a real/useful RB here…not just some warm body. Look at the catch count.
It wasn't garbage time either. It was several real, designed plays for him out of the backfield faking a block then swinging around into screen position and getting the ball and going strong, and quick.
He was entering the game early, rotating in and out, and then was taking turns with him and La'Mical Perine (7-21-0, 2-0-0/2) as the main RBs playing. The second half was like an extended practice for Perine-Ballage.
But here's the thing…Ballage 'looked' really good, because he's a good 1st-impression size/speed RB, visually. Ballage has some small-scale Antonio Gibson in him (great, big, fast athletes…but suspect instincts and mental acumen and determination). Perine looked less impressive of the two, because he's less athletic/big/fast and isn't designed to be a main carry/between the tackles guy.  
If the Jets 'move' Le'Veon before he can get active Week 5, and why they wouldn't -- will be beyond me when/if they do nothing, then the Jets will have Gore-Perine-Ballage going forward. In a lost season, do we need more Gore? We'd likely be looking at a battle/tryout between Perine and Ballage as the season wears on…and that's a battle Ballage can win. Worst case it's a split. In deeper leagues, don't lose sight of the fact that Ballage may be useful ahead in PPR.
The Jets/Adam Gase (drafter of Ballage in MIA) could care less about (my love) Josh Adams but the second he added Ballage, Kalen was playing and in Week 3 he's the lead PPR back on a team needing to play small ball to protect Darnold. Ballage has some stroke with Gase, he will get a chance to show what he can do.
 -- UDFA rookie WR that I like, Lawrence Cager (2-35-0/4) was pressed into action…and he didn't look bad at all considering the circumstances. He's not quite ready yet and will go back to the bench or practice squad when Crowder-Perriman returns, but at least he's made it up one step of the ladder…which is hard to do for any UDFA skill player.
 -- Braxton Berrios (4-64-1/4) had another Cole Beasley-esque/really solid, quality game here…two weeks in a row now. Can it hold up? No. Not once Jamison Crowder is back. Berrios may still play a lot but not enough passing numbers with too many mouths to feed.
 -- Michael Pittman (3-26-0/4) is our latest fallen WR soldier from the Colts. He joins Parris Campbell as being out until midseason at best. Parris is supposedly going to try and get back midseason, we'll see…it might be more Week 10-11+ for him. If Parris can get back, we want in on that.
 -- Mo Alie-Cox (3-50-1/3) split time with Jack Doyle (0-0-0/0), in Doyle's return. We don't know if that's a sign of things to come or if Doyle is not 100% yet. We'll see more this week if the Colts aren't playing in a laugher and pulling players late. Trey Burton could be coming back any week now too.
 -- Here's how bad the Jets defense has now fallen/what they have to do given the personnel they have…
Usually a team will get 3-4-5+ QB hits on the opponents in a game and around the same amount of TFLs as a unit. Typically, the combine number for QB Hits + TFLs is between 7-11 for a team for any game. Between 5-15 combined will cover most every game output for teams.
The Jets had '1' total…one QB Hit and no TFLs. That may be the lowest number I have ever seen from a team in a game.
 -- Nice game from the Colts-DST. Not a bad 'last pick' DST from us this offseason, no? We were going Colts or Rams off the jump for the schedule analysis opportunity, and the Colts are really paying off for those who chose that path and stuck with it after Week 1.
The Colts are the #1 scoring DST in fantasy after the first three weeks.
How long can you ride them for FF?
Well, you need a DST to cover them for Week 7 (BYE), Week 9 (BAL), and Week 11 (GB) at a minimum. In-between all that and to the end of the season they get OK-ish matchups with the likes of TEN 2x, HOU 2x, LV, DET. After Week 6, you have a choice to keep or move on due to the choppy schedule ahead. We'll see as we get closer if they are a true shutdown defense…or if it's just 'good schedule'. I think it's more schedule based right now.
The only natural pairing, on a defense sometimes available is IND+LAC, but LAC is taken more than not. If LAC is gone, it falls to NYG then Philly as available pairings that are decent…but I don't love it.
For now, we ride Indy and see what happens in a few weeks.
Snap Counts of Interest:
36 = Alie-Cox
32 = Doyle
24 = Taylor
20 = Hines
17 = Wilkins
52 = Berrios
51 = Hogan
38 = Malone
29 = Cager
26 = Gore
21 = Perine
19 = Ballage