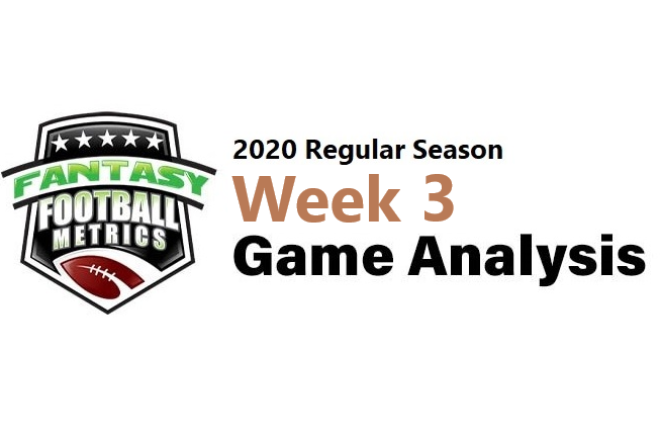 R.C. Fischer
FFM
01 October 2020
2020 Dynasty/Fantasy Week 3: Game Analysis: 49ers 36, Giants 9
I take notes during the live watch. I re-watch the game on tape looking for hidden clues to report on. Here are my notes/takes on what I saw and how it related to FF 2020. I write anywhere from 1,000-3,000+ words on each game, and I have to move fast to get to all of them through the week…so, please forgive any typos/grammar.
This was a game outcome/result/tape that should've made the Giants realize they made a MONSTEROUS mistake drafting Daniel Jones and they need to scrap this current offensive and completely rebuild it for the future. There are things to keep, but many things need changing…and QB is at the top of the list, and O-C should be the next change along with it, Saquon should be the next to go – but, instead, they'll shove him a $100M+ contract because 'the fans' and 'those quads'.  
The thing is, the Giants are playing with a scrappy good defense…they aren't terrible. If they had a decent coaching staff and a better QB, they could have hung in the dreadful 2020 NFC East. But Peyton Manning knows his QBs, and you took his terrible advice, so you reached for Daniel Jones and now you're paying for it. And when will teams ever learn about 'team building' not to waste high picks on running backs? Answer…never. Actually, 'smart' teams figured it out years ago…the dumb teams haven't and won't…or then they wouldn't be dumb teams anymore. You think the sun will stop rising every morning?
The Giants will win a game this year, maybe 3-4-5 of them, they are not terrible…Daniel Jones is terrible, not the whole team (more on that in a second). At LAR, at DAL the next two weeks will likely not be one of those first wins.
The 49ers are incredibly banged up and went into the game thin and many big money bettors bet the Giants because of it – and the 49ers breezed to victory. Hats off to Kyle Shanahan…coaching matters. No more so on display than with wounded SF this Week 3. It's also 'luck' because at the same time all the injuries hit…they got the Jets and Giants on the schedule. With a different schedule, the season could already be over for SF. The hope ahead continues because of a gift schedule with a three-game homestand with PHI-MIA-LAR.
Fantasy Player Notes…
 -- This game tape shows the end, the reality, the real problem with Daniel Jones (17-32 for 179 yards, 0 TD/1 INT), as I predicted ahead of his career (as did others) – Jones cannot work under pressure (real or perceived).
Every QB looks better when defenses are sold out to 10 in the box to stop the known running play/big carry RB offense. Ryan Tannehill just set up his family for three generations+ because of his ability to work efficiently when the defense is hyper-focused on Derrick Henry all game. Daniel Jones only looked mildly good with the benefit of all teams crowding Saquon every game. Now, with Saquon gone, and teams playing more balanced defense against him – Jones has no answer, no 'other gear'. He's a backup QB mentality…yes, sir/no, sir, in the facility by 3am, leaves at 2am, knows the playbook, and shits his pants when a defender gets within his vision. Sorry, I had to use the S-word because it made sense to do it.
Jones backpedaled, threw off his back foot, threw into traffic the entire game…and he also missed wide open throws because he got jumpy and misfired to open receivers. This game was a mess, and it's going to be the norm for Saquon-less Jones.
They are going to have to dumb down the offense and put a bunch of screens and predetermined slants in because he cannot be a real pocket passing QB if pressure is coming. I hoped he would thrive in the 2nd-half of games against less pressure/prevent but it didn't happen here. It might happen ahead (you hope for the FF WRs/TE involved).
 -- The Jones problem creates problems for two key receivers…
1) Darius Slayton (3-53-0/7)…Slayton works downfield more, which means Jones has to wait for that to develop, but Jones is in pre-shart mode if he has to wait on something downfield.
Darius Slayton looks really good to me, and did so again in this game – when he has an incoming pass he adjusts to off-target throws so well. He could really be a future #1 WR, but it's going to be choppy here with DJ. He's still a raw #2 WR thrust into a role he's not ready for with a QB who can't help him.
If you think the Giants will get garbage time numbers as we go – buy low on Slayton. He'll be the dude, but he's also the one teams will cover with their #1 CB – like Ramsey this week will wipe out Slayton.
2) Evan Engram (3-22-0/5) is going to waste here because Jones has no patience or vision for a tight end running a smart route. Engram looks fine, is getting open, but Jones is misfiring to him often.
How about a bubble/tunnel/screen pass to your speedy TE? How about a jet sweep? Wait, it's Jason Garrett at O-C…he went to Princeton, so he's smarter than me. I should shut up. Jason Garrett is really smart – because he's literally stealing money in broad daylight on a daily basis in this league via a hefty paycheck.
I want to believe in Slayton and Engram, but it's not working now…so why would it ahead? Maybe when the Giants hit the schedule stretch after this week or after Dallas Week 5 they might start garbage timing.
Garbage time is all we got here…but that's a real thing. Ask 2019 Mike Evans and 2019 Chris Godwin.
 -- Some quick NYG RB scouting…
Wayne Gallman (4-7-0, 2-7-0/3) was the starter this game, but he isn't a real NFL starting RB, but I bet (low amount) that he will be in a few weeks…for whatever that is worth.
Why?
Devonta Freeman (5-10-0) looks/ran like he ate another Devonta Freeman before the game and then tied a third Devonta Freeman to his back, and then decided to go give football another try.
I don't know what kind of contract Freeman got, besides I know it's like it's $3M total. I'm going to go look…if NYG guaranteed his contract then Dave Gettleman should be fired today. *Going to go look*
OK, it was what I was hoping – Freeman 'only' got a $1.35M deal, with $17K per game active incentive, with performance opportunities to get to $3M. They can cut him with almost no ramifications. I don't think he will see Week 8 as a Giant, I bet (low amount). Not what I saw in this game. But it's his first game, so we'll see if it was rust. But he wasn't any good for the past few years…I don't know what magic rust-remover could happen now.
Gallman starting here tells me that's their mindset when Freeman fails. Dion Lewis is meaningless.
 -- Not one of the Giants current rostered RBs could make the 49ers RB depth chart…a depth chart five RBs deep. But there's some news to report/worry about the 49ers' backfield, from my scouting eye.
Let me just blurt it out: I don't think Jerick McKinnon (14-38-1, 3-39-0/4) looks very good. I mean that from a sense of what he used to be and just in general. He looks a bit slow and stiff, as you would think with two years of knee surgeries and rehabs.
I'm mentioning this because…
It means Jeff Wilson (12-15-1, 3-54-1/3) will split time with him again…he's not going anywhere, and he looks fresher/quicker. Not saying McKinnon is going to die or that he won't be the lead this week…just note that the McKinnon I see is not that awesome. Not as good as the numbers are showing early. He's fine, just not the 'wow' we remembered from years ago and assumed by his resurgence so far in 2020.
If I'm right, then McKinnon is a 'sell high' because without Mostert it's a split for JMK (which is still kinda FF useful/good on SF) but when Raheem Mostert returns…it's Mostert's ball game with McKinnon in support with Jeff Wilson. When Tevin Coleman returns…JMK is just a lesser Nyheim Hines.
The current rise of McKinnon is sellable high. It also is casting some doubt on Mostert when he returns…what will the touches be?, Mostert owners might worry. I think it's all-in on Mostert as the thing to have working behind the best O-Line in football. Buy low and sit and wait on Mostert to return if possible.
 -- Brandon Aiyuk (5-70-0/8, 3-31-1) was more involved here than I remembered from the live watch. Aiyuk got Deebo Samuel-type work…simple passes, several jet sweeps. It should continue to be solid for FF until Deebo (and JG) comes back and claims the top role.
I'd sell Aiyuk 'high' in redraft off this.
 -- I bailed on the SF-DST for things like IND, TB, KC in recent weeks. Too many injuries for SF, but that was a minor mistake because they are tearing up the New York teams.
They will likely do the same to Philly and Miami and then they will get rocked for the next 8 weeks after that. The time is short with SF-DST, but it's working now. It's a sell high after next week if you got in a place to do so.
 -- I'm impressed with the Giants defense. It's why laying 12.5 with the Rams this week is a bit sketchy. Now, the Giants offense isn't helping them, but this defense has got talent and is working very hard. When great matchups offer up – this might be a streamer.
#10 in pass yards allowed right now.
#20 in rush yards allowed, but #8 in rush yards per carry allowed.
Their issue right now is…#32 in 3rd-down conversions for their defense allowed.
They are flashing some hope, not imminent greatness. They've also played teams that are a combined (8-1). They won't get a schedule break until Week 6 v. WASH, maybe.
Snap Counts of Interest:
20 = DLewis
18 = Gallman
15 = D Freeman
48 = McKinnon
23 = J Wilson
06 = Hasty
64 = Bourne
56 = Aiyuk
30 = Taylor
20 = Sanu
08 = Pettis