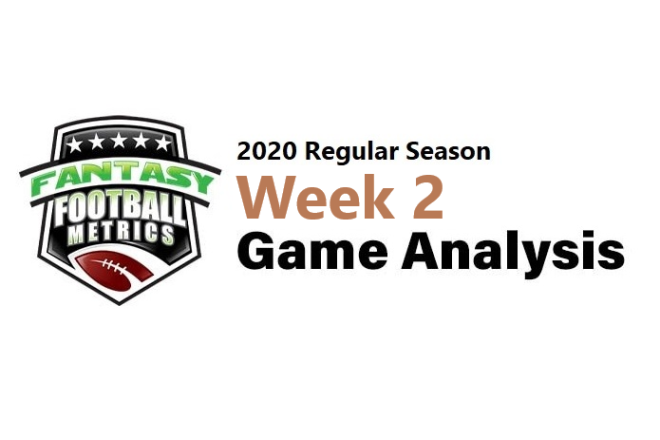 R.C. Fischer
FFM
28 September 2020
2020 Dynasty/Fantasy Week 2 Game Analysis: Ravens 33, Texans 16
I take notes during the live watch. I re-watch the game on tape looking for hidden clues to report on. Here are my notes/takes on what I saw and how it related to FF 2020. I write anywhere from 1,000-3,000+ words on each game, and I have to move fast to get to all of them through the week…so, please forgive any typos/grammar.
The Texans were never in this game, really…but they weren't 'out of it' for most of the time. They were just undermanned/under talented/under-gunned/out-coached. It's not a crime. The Ravens are blowing through all comers. And to no surprise, the Ravens blew through the Texans.
We don't know how good or bad the Texans are because they've played the two best teams in football Weeks 1-2…the clear, beyond two best teams in football. Their crime is losing to both. They have a do-or-die game with Pittsburgh this week that I wouldn't be surprised if they smoked the Steelers with their backs against the wall.
If Houston can get to (1-2), then a 9+ win season is very possible ahead and playoff hopes. If they dig an (0-3) hole, they are going to have to work to get to 9 wins/the playoffs. Huge game here.
Baltimore can go all-in Week 3 vs. KC…they have at WAS, CIN, at PHI the following three weeks. I have a feeling the Ravens are going to put on a show vs. KC, but KC also doing showtime as well. It's going to be an epic game of the two best teams in football…again…with no one else in the discussion.
Fantasy Player Notes…
 -- If you got Jordan Akins (7-55-0/7) last week, ahead of this game, as we were hinting strongly at…you got a star FF TE in the making on your team. He looks fantastic. The best 'out of nowhere' TE that I have seen this season. Some TEs are up on a blip for the moment, a good game/play/matchup or even the QB choice (like C.J. Uzomah was blipping, but he's not 'good', per se…or Mo Alie-Cox)…but Akins is for real. I would dare say he's Deshaun Watson's favorite receiver right now.
I think you can have some pretty nice PPR TE1 trust…a guy who will go 5+ catches every game and get 5-7 TDs on the season. He looks and is playing great.
 -- You know who will be great? J.K. Dobbins (2-48-0, 1-13-0/1).
We're all celebrating and chasing Joshua Kelley and Jonathan Taylor and D'Andre Swift and Clyde Edwards-Helaire or James Robinson for various reasons and most all of them warranted. JKD's crime is he's stuck on the Ravens's roster/depth chart.
I'd argue Dobbins is the best-looking runner of the ball of the group – him and Taylor. Whenever Dobbins gets unleashed, which may not be until 2021, he might lead the league in rushing or just runs over 20+ yards. He's a great fit in a great offense…once they give it over to him, which might happen in-season later..
 -- Not the best-looking back this day…David Johnson (11-34-0, 2-16-0/4).
I watched every single run of his here, most of them I looked a 2nd-time in slow motion to see what he was seeing/missing or was it the blocking. I thought DJ, overall, did fine. He just had little space to run. He made a few 'something out of nothing' runs but also missed a few holes (maybe). He looks fine+ physically, power-wise, and nimble. I'm not concerned about him at all.
I'm am concerned about two things with DJ:
1) Don't like the Steelers matchup at all. He's DJ, so he could do something magical or fall into the end zone for a TD…but it's a bad mix, on paper, for Houston's run game vs. the #1 run defense in the league. If the Steelers watch this tape vs. BAL, they'll copycat it and shut down the run game.
2) Deshaun Watson is not throwing to him on purpose at all. No set plays on screens from Bill O'Brien. I have no idea what the Texans could be thinking, except being blind to your own talent is a proud motto in the NFL.
Watson did have him open for an easy TD toss off a scramble but then Watson slipped on a banana peel and slid to the ground and threw the ball 10 feet short of an open-in-the-end-zone DJ – we got robbed of a DJ TD.
DJ also lined up outside as a WR one play and beat his safety deep, like he could every play if they looked at it, but Watson threw it five feet over his head…a missed 25+ yard pass easy.  We had 10-11 points stolen from us by the FF gods that absolutely hate me right now. I'll have my revenge…the real God will help me, no need to fear!
 -- A quick note on each QB…
1) Deshaun Watson (25-36 for 275 yards, 1 TD/1 INT, 5-17-0) looked a bit better on tape than my mind thought live. I mean that from a running standpoint…Watson had a little juice in his legs. It's just the  Ravens were just turned up to '11' and the Texans were helpless to respond.
Kind of a do-or-die game Week 3 at PIT. I bet Watson runs a lot to try to save the season – when he feels urgency, he adds more running to his game. This could be a decent FF week on that front…or the PITT-D is too good, like Baltimore and it's another dud. Hope and fear.
2) Lamar Jackson (18-24 204 yards, 1 TD/0 INT, 16-54-0) didn't have a huge game and thus people with him lost their fantasy game to other big QB performances. Lamar and Deshaun killed their owners Week 2…not only with their duds here but the fact so many other QBs are now rising up to do the same FF-thing (big running, decent passing) this whole season.
You thought Lamar was on a pedestal as a runner-thrower and then Watson was a step behind in the same way, but Cam Newton and Josh Allen are rolling better numbers as runner-passers so far. Their rise takes the value out of Lamar/Deshaun…Deshaun-Lamar are not in a class of their own, others are joining…it's like the fed printing money and inflation ensues.
You need these guys running big because they aren't typically passing for their FF stats. I fear Watson got paid and ultimately his urgency, in general, still seems down. Lamar is trying to get paid, so I think you'll see his numbers pop ahead as he takes TDs and rush yards to try to get to the next $500M contract. He can't afford for Cam to be a $500M less cost/same value version.
I'm really worried Deshaun is the lesser runner and lesser passer than Lamar, Kyler, Josh, and Cam…and then when Mahomes, Russ, Dak, Tannehill enter the discussion…it pushes Watson further down the chain of FF QBs. You might need a strong Plan B for Watson in case he's a #10-15 QB this season…not #3-6.
 -- Brandin Cooks (5-95-0/8) had a solid game for Houston, after a Week 1 dud. Will Fuller getting smoked by Ravens coverage pushed Cooks, and then Fuller checked out with injury (because that's his norm).
I don't think you can count on Cooks as any more than a random WR3-4…guys like Keelan, Gage, etc. are going to be as good.
Will Fuller is proving out to be nothing but a hoax. You can only work him in great matchups. Cooks is useful when Fuller gets tough matchups.
 -- Three IDP notes…
1) BAL LB Tyus Bowser (3 tackles, 1.0 sacks, 2 QB hits) has a sack each game this year. He has nice pass rush skills and is playing a little more. Maybe he's in for an 8+ sack season. His sack here was 'lucky'.
2) J.J. Watt (2 tackles, 2 sacks) is 'back' in a sense…2.0 sacks this game (first two of the year) but note he has 5 QB hits so far this year…among the league leaders. He's playing DT in various spots and that's a nice mix up for him/offenses to contend with.
3) HOU CB Bradley Roby (2 tackles) is entering the shutdown corner conversation. Nice job with Tyreek Week 1 and Marquise Brown (5-42-0/6) here.
Week 3 – Who Roby chases is going to matter for FF Week 3…is it JuJu or Diontae? I think it will be JuJu but Roby will mix things up or not chase time-to-time to give a window to the opposing WR. You hope for your PIT WR that Roby is not chasing them.
Subsequently, whomever gets Vernon Hargreaves on them…a big winner. It might be Washington/Claypool…more Claypool.
Snap Counts of Interest:
56 = David Johnson
53 = Cooks
49 = Akins
24 = Fells
27 = Ingram
20 = Edwards
20 = Dobbins