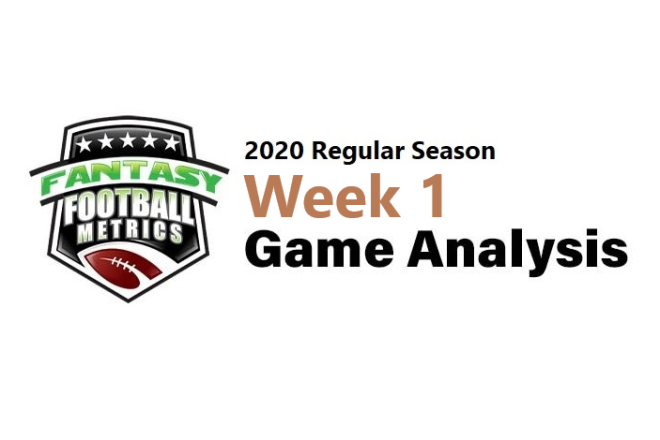 R.C. Fischer
FFM
17 September 2020
2020 Dynasty/Fantasy Week 1 Game Analysis: Cardinals 24, 49ers 20
I take notes during the live watch. I re-watch the game on tape looking for hidden clues to report on. Here are my notes/takes on what I saw and how it related to FF 2020. I write anywhere from 1,000-3,000+ words on each game, and I have to move fast to get to all of them through the week…so, please forgive any typos/grammar.
For Week 1, ahead of time, I wanted to play/bet/pick on games where I thought there was a huge gap in coaching in the matchup. With months to prepare, gimme the genius/savvy over the sloppy/weak/dumb. It was a brilliant plan…
I won the Rams outright as a dog with McVay over Ralph Kramden/Mike McCarthy.
Easy survivor pick win of Tomlin over Judge/Garrett.
Harbaugh over Stefanski was free money even with the big line.
McDermott over Gase was child's play.
On that same vibe, I was even more sure (going in) Kyle Shanahan would wreck Kliff Kingsbury with months to prepare.
Well…you can't win them all, R.C.
I have to call it as I see it…Kingsbury ran circles around Shanahan here. Better game plan. And more importantly…better team/effort/talent/play.
I want to see Week 2, to see if Week 1 was a hoax, as it can often be…but…
I can see the Cardinals as potentially being better, overall, than the 49ers now. Not just because of this 'win'. You know that's not how I roll. It could've been a fluky win with lots of weird turnovers/the better team found a way to not win (like the Bengals v. LAC or IND v. JAX)…but it wasn't that. This was the Cardinals outplaying, outsmarting the 49ers. Words I NEVER thought I would type, but here we are. The Cardinals have offensive firepower…and the 49ers, well…don't.
Before Bet The Close Podcast's Chris Bilello gets too big a head about it…don't forget your (-8.0 favorite) Colts lost straight up to the Jags. We all have our losses… But Chris was right all along (after one week) – the Cardinals improved their defensive talent and Kyler is good enough to carry the offense and the O-Line. At times, I watched the All-22 tape of this one with no sound and just watched the O-Line v. D-Line, and the Cardinals were the better team in the trenches…and that is sobering news for the 49ers (but it could've been one game, one plan, or wildfires).
It's potential playoff ticket time for Arizona, and I couldn't be happier about being wrong about Kliff/his koaching or the Kardinals. I bow in respect and humility to Kliff (for this week).
Next week, it might be 'see, I told you Kliff can't koach'…that's if they lose to the then-will-be 2-0 'Football Team'.
The 49ers took a quick 10-0 lead in this game and I was like…see, I told you so. Then the Cardinals blocked a punt to set themselves up in the red zone and changed the whole game landscape/feel and wrecked the 49ers from there. The Cards beat/handled the 49ers, at SF. We'll see how much of that is – the 49ers are far more inferior than anyone realized and how much is the improved Arizona Cardinals, as time goes on. Right now, I'm very impressed with the new look Cardinals and I'm taking back my 49ers NFC Super Bowl rep. pick…except I'm not sure exactly who to give it to. Maybe the Cardinals? Let's not go that far after one whole week…
Don't be surprised if the 49ers struggle with the Jets this week, and then all panic will ensue…and then Shanahan should consider firing his D-C Robert Saleh (being extremely physically fit, shaving your head, and constant fist pumping does not necessarily equal 'great coach').
The Cardinals face the heavy pass rush, and nothing else, of Washington Week 2. The quick passing game of Kyler may neutralize and thump the Football Team back into their hole this week…and then a 5-0 start is staring Arizona in the face from there.
Fantasy Player Notes…
 -- Let's begin, as we do with Arizona recaps the past year, with my heavily personally invested Kyler Murray (26-40 for 230 yards, 1 TD/1 INT, 13 -91-1) stock report…
Good news/bad news.
Good news = This is the most I've seen Kyler Murray run the ball with purpose and more willing to scramble and go than I can recall vs. 2019. We're going to get a big year for fantasy if he is willing to run like this all season.
Bad news = This passing game looks a lot like last year's passing game…a bunch of short passes, not a ton of time to sit and survey and throw. I haven't seen a chart of it but I'm not sure Kyler threw a pass over five yards more than 4-5 times it seemed.
*now going to look for data to support that, or not* Kyler's air yards per completion (yards past the LOS the ball travelled on completed passes) was 3.7 yards in this game. He averaged 5.4 yards in that last season. I pulled a random example to compare: Aaron Rodgers averaged 5.6 air yards per completion in 2019, 6.5 air yards per in Week 1 of 2020. It was a dink and dunk festival for Kyler here.
Now, it may have been by plan to neutralize the pass rush…not giving the one thing SF had on defense over ARI (the pass rush front) a chance to materialize. Which makes me think of Jared Goff v. DAL this week, who did the same thing on purpose, so let's go look at his air yards per completed pass…
Goff bested Rodgers and Murray last year with 6.1 air yards per completion in the 2019 season. But he only pulled a 4.0 in Week 1 vs. Dallas…and he was doing that on purpose. Kyler had the same low number Week 1 v. SF…so, it looks like 'by plan' to neutralize the opposition's pass rush/protect your weak O-Line. If so, Kliff Kingsbury is a genius head coach; like I've always said.
It was there, free and easy, so Kyler just kept quick firing to DeAndre Hopkins (15-151-0/16). Why? Because he could. If teams now overplay Hopkins, it's going to be bombs away with Kirk-Arnold-Fitz.
This Kyler 'bad news'…is actually not bad news at all, potentially. Week 2 v. WAS is another high-pressure front…let's see what Kyler does there.
 -- I was stunned to see the disparity of touches between Kenyan Drake (16-60-1, 2-5-0/2) and Chase Edmonds (6-26-0, 3-19-1/5). I thought, before seeing it, that they were more 50/50. I think that happened in my mind because Edmonds is better than Drake, in general, and just stood out more.
This is a 67/33 backfield…until it isn't. I think Edmonds might end up forcing a 50/50 at some point…neutralizing both to 10 +/- carries and 1-2 targets a game. But, for now Drake is the one to own.
 -- Christian Kirk (1-0-0/5) will likely be traded before the trade deadline…Arizona will have needs/holes to fill and Kirk is mostly meaningless to them. They could get many other WRs to play his same role. This is Hopkins's team now.
You want to play Kirk/ARI when Arizona faces a low-pressure front D-Line and Kyler doesn't have to quick pass all the time, and Kirk not running deep as a decoy every play.
 -- Dan Arnold (2-21-0/2) is more important to this passing game than Kirk, right now. Arnold is strongly in the TE2 conversation and potential bye week fill-in. He'll have a hard time being a consistent TE1 for FF in this particular offense, but he's going to have a splash game soon and send people chasing into him for their rosters…and then they'll drop him soon after.
There is upside hope here. He looked really nice in his two targets, the way they use him. He could be a TE1 on just 4-5 targets a game and being their end zone threat.
 -- The SF story of the game was the backfield…
Raheem Mostert (15-56-0, 4-95-1/5) played the heavy lead role because Tevin Coleman (4-18-0) had health issues that limited him. Mostert had a kinda broken coverage 76-yard TD. Outside of that, 71 total yards and 3 catches.
Outside of that big play, SF had less than 300 yards in this game.
The big story here is the return of Jerick McKinnon (3-24-0, 3-20-1/5). He looked really good. He was a key part of the game plan. He's going to be the receiving back and will keep working his way into touches. Mostert's upside is limited on this…and Tevin Coleman is really hurt by McKinnon's rise.
 -- George Kittle (4-44-0/5) may miss Week 2, in which case another return-from-long-time-injury guy has a spotlight chance to have FF impact…Jordan Reed (2-12-0/2). He only played 10 snaps and saw two targets…but watching his routes and cuts, he looks really good. Really sharp. A steal for SF if he stays healthy.
If Kittle misses this week, Ross Dwelley would probably start, and Reed play a lot more passing downs and two-TE sets.
 -- I have to say this…
R.I.P. Dante Pettis's career. It officially ended here.
A guy so maligned for effort, etc., and then having this chance (with all the SF injuries) to clap back at his critics and show his coaches – well, mid game Pettis sprinted deep, got open by 2-3 yards, Jimmy G. launched one right to him…all he had to do was reach out and grab it. Pettis never seemed to lift his arms to even attempt to catch the pass. In some way, it could've been the play that cost SF the game.
That was Pettis's one and only target this game…and, possibly, this year with SF.
 -- Let's talk SF-DST…
This group was already a bit of a cornerback concern but now Richard Sherman (4 tackles) is out and this group is going to be reeling and I don't think D-C Robert Saleh has any answers for anything besides lifting more reps in the weight room, eating a protein bar, drinking a red bull, and pumping his fist extra hard for Week 2. I'd almost say it's time to bail on the SF-DST but they face Darnold, Dan Dimes, Wentz, Tua the next four weeks.
 -- Let's talk about the better defense this day, the Cardinals-DST…
Free agent acquisition De'Vondre Campbell (7 tackles) deserved a share of the MVP trophy for this game. The defense that couldn't cover the TE in 2019…was a whole lot better this game…I mean, a whole lot better and it was thanks in most part to Campbell. Great game by him.
BUT I THOUGHT Isaiah Simmons (3 tackles) was going to save the day!!! He was the guy who got burned so badly on the Mostert long TD…we didn't see much of him after that. Not a fan of what I saw of Simmons here at all.
Imagine if the Cardinals had drafted an O-Lineman instead?
Snap Counts of Interest:
61 = Kittle
10 = Reed
07 = Dwelley
37 = Mostert
19 = McKinnon
06 = Coleman
58 = Drake
28 = Edmonds
45 = D Arnold
43 = Maxx Williams
14 = Isabella
18 = I. Simmons