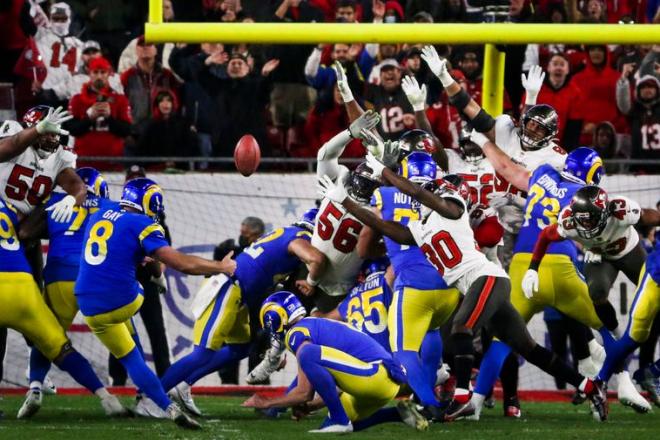 R.C. Fischer
FFM
29 January 2022
‍
2021 Dynasty/Fantasy Game Analysis Divisional Playoffs: Rams 30, Bucs 27 (by Ross Jacobs)
This game was 27-3 with 5 minutes remaining in the 3rd quarter. It had been a completely one-sided affair with the Bucs looking sloppy, taking penalties, and being completely unable to stop Stafford.
Tampa finally broke through with a TD to make it a 14 point deficit after a couple of turnovers, and the crowd and every fan at home was thinking the same thing...Tom Brady is going to bring them back to win this game...
We knew it just as surely as we had already seen it. And he nearly did.
The two teams scrambled back and forth over most of the 4th quarter. Every time TB would get the ball back they would get stopped or turn it over again. Some of the momentum started to die.
After multiple failed drives, Brady finally hit Mike Evans for a 55 yd TD over Jalen Ramsey, and the Bucs were back in business. 7 point deficit with just 3 minute remaining.
The Rams played scared and desperately trying to hold on, and then Cam Akers fumbled the ball while trying to run the clock out. Of course the Bucs pounded the score in with Fournette and it was a tie game with 40 seconds left.
LA had been shut down for several quarters at this point, but somehow Cooper Kupp managed to get wide open twice for deep shots. They quickly spiked the ball and kicked the field goal...ball game.
The Rams move on and face their bugaboo over the last few seasons...Kyle Shanahan and the 49'ers, a team they haven't beaten in their last 5 tries. LA is favored but I don't know how you can take them in this spot.
The biggest things I noticed from this game, what allowed the Rams to build that huge lead, was 1) the Rams getting far more pressure on Brady and allowing almost none on Stafford and 2) they came out throwing while the Bucs decided to pound the ball with Fournette. It was only after getting into a massive hole that the Bucs had the genius idea to let the greatest QB of all time throw every play to try and get them back into it....what a novel concept. And someone is going to hire Byron Leftwich to run their team....
The 49'ers aren't going to let Stafford sit back and carve them up. That's been his kryptonite all year, as it is for most QB's. Pressure the QB and good things happen, and the 49'ers have been one of the best at pressuring the QB lately.
For fantasy this week I'd be wary of Higbee and Akers against the 49'ers. They have a really good front seven and are quite good at stopping the run and defending TE's. If the Rams are going to win this game they need to get the ball to the WR's, specifically a long TD to Van Jefferson could help break the game open and get the 49'ers pressure to slow down a little.
Fantasy Notes
--The big question coming out of this game is obviously the future of Brady. Will he retire? Will he stay? I'm going to go with 75% stay. I don't think he's ready yet. He's always going to want that one more Super Bowl to make his record unassailable. They'll have to drag Brady's corpse off the field before he'll quit.
*RC NOTE: I thought 75% Brady back as well, but it was announced Saturday he is retiring. We'll break all this down for TB for FF, etc., ahead in the days/weeks to come this offseason.
--What does the TB offense look like next year? Chris Godwin is probably gone. He's due a big payday. Gronk, Evans, and Fournette are all back if I had to take a guess. Fournette could probably get a larger contract somewhere else, but I bet they scrape up the cash to pay him decently. He wants to stay with Brady I think. Gronk is attached to Brady like Adams is attached to Rodgers.
I bet they bring in another WR though because Brady looks like he's fed up with Tyler Johnson and Scottie Miller is ok but limited. They'll look for a short pitch-and-catch option for Brady to work in the slot, the Godwin replacement. Jamison Crowder, Zay Jones, Christian Kirk, and Jakobi Meyers all come to mind as possible options.
--Cam Akers took the full workload as predicted. He'll be a top 5-8 back in fantasy drafts next year.
--There are some people predicting that Kupp will be the #1 overall pick in fantasy drafts, but I disagree and I drafted him on every team I had this past year. People love their RB's too much and a lot of people won't trust Kupp for a couple of obvious (and stupid) reasons.
For one, he wasn't a mainstream media endorsed 1st round pick, and thus this season will be seen as fluky. Prepare to hear "regression to the mean" a lot when talking about Kupp this off-season. Tell that to Derrick Henry...
*RC NOTE: If they wouldn't buy our Davante Adams #1 overall debate last year – then they (the FF masses) won't buy it in 2022. 
--I'm still not apologizing for my takes on OBJ/Stafford because I still stand by the points I made about them. I didn't say they couldn't play or succeed. I said OBJ was overrated (he is) and I said Stafford is overrated and prone to mistakes (he is). When Stafford is allowed to sit back and play 7-on-7 he's as good as any QB in the league. That was a big part of why I drafted Kupp this year. But we've seen it too many times when he's under pressure...he makes mistakes. Don't be surprised when the Rams lose this game with Stafford trying to force it to OBJ on a dumb play this weekend.
*RC NOTE: I'm more forgiving here. 
I hated the way the whole Stafford thing went down and didn't believe he'd much more than Jared Goff at his best, but Stafford has gotten through two rounds so far and won the division – so kudos to McVay and Stafford…and their Cabo romance. 
2021 Stafford (reg. season) = 67.2% Comp. Pct., 287.4 yds passing, 2.4 TD/1.0 INTs, 12 wins 
2018 J. Goff (reg. season) = 64.9% Comp. Pct., 293.0 yds passing, 2.0 TD/0.75 INTs, 13 wins 
What happens if Stafford falls short of the big game, but Goff got there? Is there much of a difference in their peak performances?
And OBJ…hey, he's not great but he's back to trying and with Woods gone, LAR needed OBJ more than they could've realized because Van Jefferson is playing his way out of the league (as a starter) since Woods got hurt/out. In retrospect, given the situation…kudos to mcVay. The Stafford and OBJ moves both worked out…for 2021…if they fall short with the price they paid to get Stafford maybe there will be some debate.
IDP Notes
--Jalen Ramsey was actually back to playing a lot of CB in this game, and he was playing mostly on Evans but way, way off of him for some reason...and he got absolutely torched. Evans was abusing him on short passes and obviously the long TD. Not sure what's up with Ramsey but if the coaching staff knows his coverage skills are deteriorating that could explain the move to LB for most of the season. His dead cap hit would be $35 million if they cut him so he's for sure coming back for another two years minimum.
Snap Counts of Interest
58 = Akers
14 = Michel
64 = Evans
54 = Miller
40 = Johnson
62 = Fournette
9 = Bernard