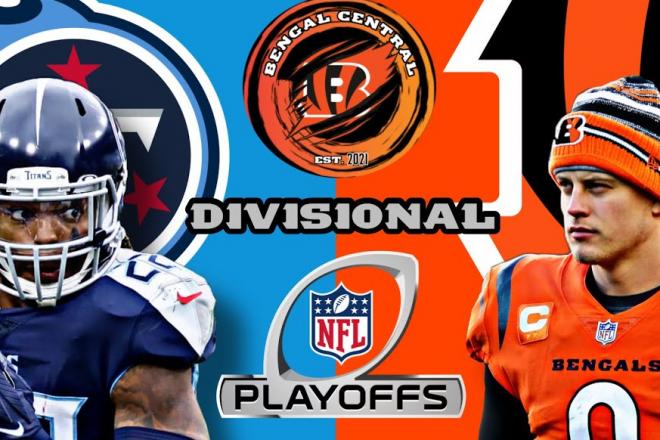 R.C. Fischer
FFM
24 January 2022
‍
2021 Dynasty/Fantasy Analysis Divisional Playoff: Bengals 19, Titans 16
This game outcome is going to be rocket fuel for fans of all non-playoff teams to complain about their sad/bad team in the offseason…the Bengals rapid turnaround gives hope that no matter how sad your franchise has been for years, in any NFL city (no matter how crappy the weather/geography), no matter how bad the roster foundation – if you can land a franchise QB and have a smart free agent offseason (signing lesser-lauded media names at bargain prices), then your team could be 'fixed' in a year or two…no matter how bad your O-Line or head coach might be.
...or it could be Joe Burrow is the generational talent in our midst…not Tua, not Trevor, not even Justin Herbert.
Burrow gets sacked 9 times…and wins. Stunning. Imagine if Cincy had drafted a franchise offensive lineman instead of a good/speedy/easily replaceable WR with the #5 pick in the draft in 2021? Doesn't matter right now…Burrow has put everything on his back and is pulling it forward.
What's more important in building an NFL franchise?
Offensive line?
Defense?
Pass rush?
Coverage group in the secondary?
'Weapons'?
Team speed?
Head coach?
Nope…it's still and always will be 'Quarterback'. And then everything else (but protection with the O-Line ahead of the pack).  
Cincinnati has arguably the best QB of the new era, and that makes them the new power in the AFC…whether they make it to the Super Bowl this season or not.
Tennessee has the top running back of maybe our generation, and they'll have the Coach of the Year…but Ryan Tannehill is not good enough to make Tennessee a for-sure AFC power over the long haul. They're pesky. They could stumble and luck their way to win a/one Super Bowl with this current group. But their clock is ticking…while the Bengals clock just got wound up to run for next 10+ years.
Fantasy Player Notes…
  -- Joe Burrow (28-37 for 348 yards, 0 TDs/1 INT) got hit 13 times, sacked 9 times…but completed 75.7% of his passes and threw for 348 yards despite it all…but zero TDs. Considering the constant pressure that he was under; it was a minor masterpiece.
The final four for the Super Bowl are teams without flashy runners at QB, but guys who are 6'2"+ and very comfortable in the pocket passing and are leaders on their team.
It makes me think of two things (because the NFL is a copycat/'me too' league)…
1) I wonder how much Kyle Shanahan is regretting his 2021 offseason hissy-fit of 'I wanna cool mobile-QB to dream up crazy cool plays with' and thus trading assets away to move up to take Trey Lance?
2) There's only one college/2022 draft prospect QB who fits this generic/desired QB profile perfectly, and College Football Metrics subscribers know who that is and why it is important.
FYI…
Burrow has thrown for 300 or more yards in five of his last 7 games. 
Patrick Mahomes threw for 300 or more yards six times all regular season.
 -- Derrick Henry (20-62-1) looked fine in his return, just the Bengals (smartly) keyed all over him and all teams do that, but Cincy was successful at it.
D'Onta Foreman (4-66-0) took a few relief touches and reeled off a 45-yarder…he looked good too, but the Cincy D wasn't keying on him, obviously. Foreman now enters clean free agency – and he's what the Buffalo Bills are looking for, if you ask me, to team with Devin Singletary…what they wanted Zack Moss to be.
 -- The Titans tried to clamp down on Ja'Marr Chase (5-109-0/6) more as the game wore on, which then led Burrow to go back to Tee Higgins (7-96-0/9) as his top throw.
Both of these WRs have a chance to be WR1s in PPR next season. From Week 12 to Week 17, the hot stretch for Burrow to end the season, the Cincy WR scoring…
20.9 PPR PPG = Tee Higgins (#4 among all WRs)
19.8 PPR PPG = Ja'Marr Chase (#6 among all WRs)
On the whole season (thru Week 17 not 18), Chase ended up the #5 PPR WR in PPG…Higgins #12 (with an injury game hurting his average).
 -- C.J. Uzomah (7-71-0/8) scored 5 TDs in a 4 game stretch Weeks 4-7, one of the top 10 fantasy TEs for a stretch. Then he disappeared until the offense got super-hot Week 16 into the playoffs. In that four-game stretch to end the season, CJU averaged 5.5 rec. (7.0 targets), 50.8 yards, and 0.25 TDs per game.
CJU is a free agent this offseason. Who knows if he'll return? If the Bengals go after an established TE or hot rookie…that TE will have some serious FF heat for 2022. Still, a returning Uzomah would be more high-end TE2 than back-end TE1, you'd have to believe.
 -- These two defenses played great football here. They are defenses of the future for the NFL/FF…especially what Tennessee is developing.
The Titans sacked Burrow 9 times, but also shut him out of any passing TDs and held the Bengals to just 19 points. The Titans have a lot of nice, young talent to grow with. They've been one of the best run stopping units at the end of the 2021 season.
The Bengals D held Derrick Henry to 3.1 yards per carry, stuffed him on a huge 4th & 1 play late in the game, and picked off Tannehill 3 times.
For the most part, these two teams are bringing back the core of their defensive units for 2022.
 -- Was there anyone in Dynasty/Fantasy analysis pushing Evan McPherson (4/4 FGs, 1/1 XPs) like FFM and CFM was all year? We had him as a top 60 Dynasty Rookie Draft prospect and a top 60 Dynasty Stash throughout the 2nd-half of the season. Kickers don't matter! Let's talk for 9,000 more hours about RB depth!!
McPherson developed into one of the best kickers in the NFL in the 2nd-half of the season and helped carry some of you to and through the FF playoffs. Every little thing matters in Fantasy…there's as many kickers as TEs you start week-to-week (most leagues). Every 3-5-7 point edge per week you can get at a position matters.
I wish I would have been as excited about the Bengals' rookie WR as their rookie kicker, and thus I bring myself back down to earth...
‍
Fantasy Notes for Cincy going to KC for the AFC finals…
 -- Last time these two played, the Bengals didn't try to get cute by running the ball and trying to hide from KC…they just went toe-to-toe through the air, and Burrow racked up 446 passing yards and 4 TDs and crushed Mahomes's output. If the Bengals cannot get control of the game early and then try and run and hide from KC…then I expect they just go bombs away like what Buffalo and KC did in a Sunday night epic shootout.
 -- Ja'Marr Chase burned KC for 266 yards and 3 TDs last time they played, so BET THE FARM on the Chiefs double and triple covering Chase, which then makes Higgins-Boyd-Uzomah interesting alternatives for the week.
NFL teams love to proclaim they aren't letting ____ beat them, and they end up holding ___ down while the rest of the team goes off and scores 30+ points on them. BUT ___ didn't beat them!!
Tyler Boyd is about due for a 5+ catch, 1-2 TD game as the WR opponents don't focus on with Cincy these days.
 -- In the playoffs, Logan Wilson is averaging 10.0 tackles per game.
Snap Counts of Interest:
46 = Mixon
14 = Perine
04 = Chris Evans
43 = Swaim
21 = Izzo
14 = Firkser
30 = Henry
11 = Hilliard
11 = Foreman