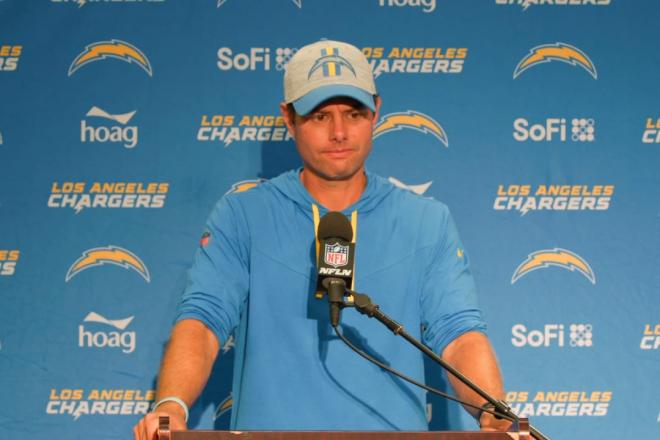 R.C. Fischer
FFM
06 July 2022
‍
2022 REWIND: 2021 Dynasty/Fantasy Game Analysis Week 16: Texans 40, Chargers 29
I've started re-reading back through my 2021 game reports looking for good and bad scouting instincts on things I might have lost track of, whether for Fantasy or just the team in general. I especially wanted to focus on the L.A. Chargers' 2021 season…because my first computer simulation of the season showed them as the 2022 Super Bowl champs. From not making the playoffs in 2021 to the Super Bowl in 2022.
The Chargers didn't change their coaching staff this offseason and they didn't overhaul much of their offensive core, but they have dramatically boosted their defense this offseason. So, in theory, this team should be gelling and taking a step forward from a 9-win team last season to what I think will be a division winner and serious Super Bowl contender this season. At a minimum, it's a playoff team (if Herbert stays healthy). 
For some summer reading material, I'll be looking back at my Chargers' game reports from last season week-by-week and writing/typing some instant reaction notes (forgive any typos) to what I'm re-reading and then publishing that full 2021 game recap for LAC from each week of 2021 season WITH the 2022 reaction notes. 
We'll start with Week 1 and go through each game week, one game post per day for the next 16-17 days.
A total embarrassment by the Chargers…that could've been avoided. Two things really stood out to me here that the Chargers did to themselves. Not that they would have shined if they made two specific changes in this game, but maybe they would have won.
(1) They have transitioned All-American, 1st-round draft pick 2020 Kenneth Murray from interior LB, where he fits, to now trying to make him an edge rusher.
Murray has no clue of what he's doing at edge rusher. About every time he was in this game the Texans ran it his way…to/through wide-open holes. The Texans left tackle had his easiest day of blocking ever. Murray is a great prospect, I think, but he looked like a total idiot trying to pass rush. He's a linebacker not an edge rusher. His career is evaporating before his very eyes. Why the Chargers staff doesn't see this is beyond me.
(2) Even worse, because it's been an all-year problem – Jared Cook is killing this offense. They insist on him as the lead TE in the passing game, and he's so slow (age has caught up) that he can't get to the spots he's supposed to be fast enough, can't beat coverage enough, and does nothing with the ball after the catch. Remember his twisted body drop in the KC game/loss for an easy (lost) TD, but his tin man body couldn't get in place to make the easy catch? He had a few plays like that in the KC game that hurt the team in low key/subtle ways.
In this game, in the 4th-quarter with LAC trying to speed their offense down two scores with only minutes remaining…Herbert threw him a pass on a medium route where Cook was running ahead of coverage (shock) but then Cook inexplicably slowed-stopped/sat down on the route he was running open, as Herbert fired a laser to where Cook was going if he stayed in-stride, but Cook had stopped, the ball sailed right to a DB 5+ yards behind the play for an easy pick-six, and squashed the ballgame.
I thought Brandon Staley would be the star coach of this 2021 rookie crop…he's turning out to be just another guy who really loves football but has no clue on personnel and keeps making the same mistakes over and over and over every week – my guess is he is afraid of the veteran players and non confrontational with his staff (just a pure guess). He's supposed to be a defensive guru, and yet their defense gets worse every week. His O-C is killing the offense…how do you ruin Justin Herbert? By trying to 'get Jared Cook going' for starters…as Mike Williams is a decoy/blocker. Josh Palmer is an impact WR for them right now…and he can't even start unless COVID forces it…and then he barely gets the ball enough.
Everything that could be done wrong seems to be done wrong by the Chargers right now. This loss was devastating to their playoff chances. They have to win out to get in, lose this week to Denver and they are probably cooked for a wild card. It didn't have to come to this. They're doing it to themselves.
Houston (4-11) took the gift from LAC and are now on a two-game win streak…which probably gives David Culley another year. A 'win' that is a 'loss' for the Texans future, but I have to say – the Texans have played hard enough under Culley to warrant another year…and Davis Mills is turning out to be better than most of the high pick rookie QBs, so in the grand scheme of all coaches suck anyway…why not give Culley one more year? He was put into an impossible situation to begin with. He hasn't been any worse than Brandon Staley…just Culley tried to push Tyrod Taylor, while Staley has the safety net of Justin Herbert.
Culley getting Houston to 4 wins is more impressive than Staley coaching his team down to 8 wins, currently.
LAC is (8-7) and plays a do-or-die game with Denver Week 17…and I think they're in trouble of getting knocked off and kicked out of what should have been an easy playoff season. The Chargers have to win out to get to the playoffs now. A lot of what Brandon Staley has as a leader of men plays out the next two weeks of games he should win, he must win.
*2022 JUNE NOTE = Well, David Culley was mistreated by Houston management and fired (shocker). He isn't a good NFL head coach...but who is? And if they moved Culley because they had a hot candidate in their grasp, then I get it...but you dump Culley for Lovie Smith?
Culley defeated, outcoached boy wonder Brandon Staley...who I lose a little more faith in with every week of re-reading my 2021 season reports as the week's go on. This game was where the Chargers should have come to grips with a lot of staff changes for the season ahead...instead they changed defensive personnel. We'll see if it works.
‍
Fantasy Player Notes…
 -- No need to do anymore Justin Jackson (11-64-2, 8-98-0/9) FF victory laps. The 'stars aligned' for the big FF week…and now they don't, for JJax. Austin Ekeler (DNP) is back, and they'll do a 70/30 split Ekeler/JJax and that's that. Fun while it lasted for JJ.
This RB run we are on through the FF playoffs…it's a mental note of how, in most typical-sized leagues, the RB position does not warrant the preseason/redraft hysteria that we all give it. Whatever breaks at RB, you can fix it. Having the dominant WRs and high-end QB gets you by until you get the RB slot figured out week-to-week. …and just when you think you got the RB position settled for your FF team, you don't…so stop being paranoid about it. You can't tame it. You just close your eyes and 'use the force'. Do the best you can at the start of the season, and know we'll fix it by the middle and end with guys who weren't even a thought in August during your redrafts…because there's always options as they all get injured, COVID, stuck behind broken O-Lines, have 3rd-stringers come in due to injury and outperform the original NFL starters in September. You need an RBBC not CMC.
*2022 JUNE NOTE = No truer words were ever spoken about the FFM 2021 FF season. If I don't out-draft them in the preseason, I'll out-maneuver them in-season. Fantasy Football is not a draft and go to sleep event...nor is it a 'read an article on Tuesday night for Tuesday night waivers' and then check in again on Sunday morning ESPN TV for sit-start help...winning FF is an everyday, every hour of the day move and countermove war. If you don't put in the time, someone else in your league will. Fantasy is a war of time/persistence and information. There is no magic formula to put your team on autopilot.
Secondly, remember this Justin Jackson event at just the right time for many of your teams. One of the most critical events of 2021 was this JJax week.
‍
 -- Hell, you could even get a big week out of Rex bygawd Burkhead (22-149-2, 2-0-0/2). Did I mention how bad the Chargers run defense is? Houston has not been able to take advantage of any good matchups all season with an F- minus (by us) graded O-Line. Except here, the RB group combined for 35 carries for 190 yards and a 5.3 ypc clip.
Javonte Williams will have a field day against them in Week 17.
You don't even need an RBBC or CMC…you just need to have your RB with matchups against L-A-C.
…or Houston.
I would not trust Rex is going to do a repeat of this output against SF this week.
*2022 JUNE NOTE = Rex had 16 carries for 47 yards in a dud the following week. But Javonte also had a dud...16 carries for 30 yards against this terrible LAC run defense. LAC bounced back hard off this embarrassing, season crushing loss and smoked Denver the following week.‍
‍
 -- Three starts in a row for Davis Mills (21-27 for 254 yards, 2 TDs/0 INT) since taking the starting job from Tyrod Taylor. In that span, he's posted a (2-1) record with 5 TDs/1 INT. Mills v. SF Week 17 isn't a terrible matchup.
*2022 JUNE NOTE = Mills had a 'meh' game Week 16 v. SF, but then another nice one Week 18 for a 9 TD/2 INT finish over his final 5 games of the 2021 season.
‍
 -- Josh Palmer (5-42-1/6) had a so-so game here, salvaged by a late garbage-time TD. However, the tape of him…the simple plays he made, the movement after the catch…it's stunning the Chargers aren't starting him and getting him the ball. However, seeing what the LAC staff has done with decisions all year…it's actually not stunning at all.
Palmer + Herbert into the future is going to be a good thing. Just not reliable Week 17 with Big Mike and Guyton back.
*2022 JUNE NOTE = Palmer + Herbert has the potential to pop, but it might not be until 2023...
‍
 -- Side note…you wanna know how bad this loss was? Houston crushed LAC without three of their best defenders (Greenard-Grugier-Hill-Lopez) active (out with COVID).
This loss and the Bills loss to Jacksonville are the ugliest losses of 2021…and this one may take the cake with the COVID inactives for Houston.
 *2022 JUNE NOTE = I forgot about this factoid. I just lost more confidence in Staley a bit more than I had three sections ago...
‍
‍
Snap Counts of Interest:
60 = Palmer
55 = Keenan
45 = Jason Moore
39 = J Cook
22 = Stv Anderson
15 = McKitty
42 = Rex B
24 = Royce Freeman
01 = Jaylen Samuels
‍
‍