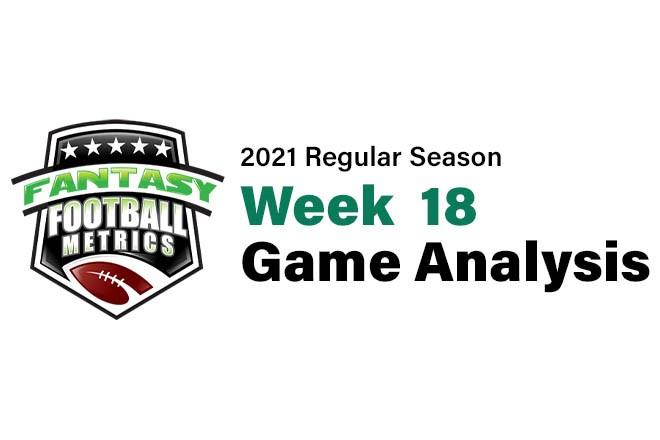 R.C. Fischer
FFM
16 January 2022
2021 Dynasty/Fantasy Game Analysis Week 18: Cowboys 51, Eagles 26
Dallas played this game to win it…for better seeding potential. The Eagles had little reason to play, having clinched a wild card already, plus an outbreak of COVID positives, so they did the smart thing and took Week 18 as a BYE week for their key players and didn't worry about +1 seed move potential.  
Philly goes to Tampa Bay round-one of the playoffs…and I think the Eagles could be a sneaky option to take down a wounded Tampa team in the rain…with Philly as fresh as they can possibly be.
Dallas 'wins' this game and thus draws SF instead of Arizona, and all things considered…I think Dallas would rather have lost and played Arizona…because I think San Fran, one of the hottest teams in the NFL, is going to take them down.
Fantasy Player Notes…
 -- Gardner Minshew (19-33 for 186 yards, 2 TDs/1 INT) got the start and played well, but working with backups all over and the backup defense giving up score after score to Dallas 1st-team (and then 2nd-team)…no chance Philly/Minshew was winning this game.
Minshew had a third TD pass in the bag, but J.J. Arcega-Whiteside botched it…right in his hands in the end zone. There is no worse offensive player in the NFL than Arcega-Whiteside. A 2nd-round pick of the Eagles, mind you, with most all of the scouting world onboard with it.
Minshew is one of the 30 best QBs walking the planet earth, but he'll be stuck behind Jalen Hurts for another season (and Hurts is a top 20-30 QB walking the planet as well) and then Minshew-Mania will hit free agency in 2023. He will not challenge for the Philly starting job…Hurts is the Philly franchise QB.
Minshew has 41 TDs/12 INTs in 27 NFL games/22 starts…and yet cannot draw more than a 6th-round draft pick in a trade this preseason. What do NFL scouts and GMs look at all day, all month, all year?
 -- I really was excited to rewatch this game, primarily, to see QB-turned-TE Tyree Jackson (3-22-1/5) starting and seeing actual targets!
He scored a TD on a simple TE shuffle pass mid game…and at least it was something, but later in the game, running down the sideline, he tore his ACL…non contact.
So…in the 2021 season, in August Tyree broke his back in a preseason game. Rehabbed his way back midseason, only to tear his ACL at the end. The new 'Jalen Hurd'.
I was a huge fan of what I saw from Tyree in the preseason, but a broken back…and then an ACL (which will likely linger into 2022 season being it was a late season ACL), I'll do a Shark Tank 'I'm out'. I/we (Dynasty players) have him on many deep-deep roster Dynasty teams. I'm OK to hold at a certain point, but my initial wild enthusiasm and 'next Waller' claims have been undercut by the injury bug/monster.
 -- With the Eagles top three starting RBs all out Week 18, Kenneth Gainwell (12-78-1, 4-9-0/7) was set to be the lead…and he did fine, but the RB who caught my eye was Jason Huntley (13-51-0, 0-0-0/1). I think he caught Nick Sirianni's eye too because Huntley got more and more time in this game as it went on because he looked so strong.
I'm bumping up Huntley's projections for the future in our Dynasty Offseason valuations – which will debut in the DOBB area after the Super Bowl, the top 600 offensive players by our computer model dynasty values.
Huntley looked capable enough to be a #3 RB in 2022 with Scott-Howard potentially gone via free agency, but Huntley is a free agent as well. Huntley returned three kicks for a 28.0 yard average in this game as well…he can be the primary KR in 2022 as well, if Philly retains his services.
 -- Think of all the WRs that have hit in the NFL the past two years, guys just entering into the league and impacting at a high level…Justin Jefferson, Ja'Marr Chase, Darnell Mooney, Tee Higgins, Michael Pittman, etc. WRs are walking into the league and producing…there is no more 'you know WRs in year three' theory anymore – the NFL has evolved past that.
And then there's CeeDee Lamb (2-45-0/2)…the media's favorite 2020 WR/'generational talent' hitting the league.
Working a very solid offense, with a #1 WR (Amari) taking all the top coverage heat and Michael Gallup being out for a stretch, and Lamb was pretty inconsequential this season…and his output faded off as the season wore on.
Lamb scored 2 TDs in his final 10 games of the 2021 season. He went over 70 yards in a game just twice in that 10-game span. He has not been a difference maker…just a guy on the field who is fine/solid/capable. I'd argue Cedrick Wilson (5-119-2/6) works harder and better when he's pushed into a starting role for Dallas…and I've speculated on that going back to 2020 on Wilson v. Lamb. I think the Dallas offense looks better with Wilson in Lamb's spot, and Lamb out. In 2021, working together…Wilson seems more interesting.
I'm doing a redo Dynasty Rookie Draft on CFM and DOBB right now, a mock draft using just the 2020 and 2021 rookies…and I don't know if Lamb will make the top 20…or even make the official top 25 (which is how deep this particular mock will go). I've made 10 picks (posted) so far, as of this writing, and Lamb is nowhere to be found…and isn't on my short list for the next 5+ picks.
Would you rather have Amon-Ra St. Brown or CeeDee Lamb for Dynasty going forward? If you don't own CeeDee, you probably knee-jerked and thought 'CeeDee, of course'…but that's because we're all affected by the media hype/coverage of him and playing for the Cowboys adds more hot sauce (in our minds) -- but you don't know the reality. Lamb owners would likely be less likely to leap at Lamb over ARSB right now…and that's just one example.
Darnell Mooney or Lamb? Easy choice for me, Mooney is far superior.
There's a CeeDee Lamb issue happening/he's not living up to expectations. At least Jerry Jeudy can blame his offense/QB. Lamb has no excuse for his mediocrity…except he's mediocre, he always was.
 -- Will Ezekiel Elliott (18-87-0, 1-3-0/3) be a 1st-round pick in redrafts next year? The easy thing to do is pile onto his bad 2021 season and say 'no', but…
1) People love to take RBs, for redraft, in the 1st-round…so much so the mere proposition of a WR or QB or TE 1st-round makes most FF player's butt cheeks pucker up. I've seen and lived with that mindset for people for 5+ years now. It's really weird how institutionalized we are on the Fantasy RB.
2) People also LOVE 'Zeke'…remember that time he jumped in the Salvation Army bucket? Oh, those were the days.
Saquon is probably OUT as a 1st-round belief in redraft 2022…but Zeke still has enough heart strings pulled, and he's a COWBOY so that's a +1 value boost. He'll probably be in most late-1st-round rankings in the mainstream, and thus the reality.
One thing I can guarantee you about Zeke in 2022…you will not see us with him in our 1st-round valuations, nor will I ever suggest you draft him in 2022. Let him be someone else's problem or salvation (Army). There's better RB value out there.
 -- For whatever it is worth, I think the Eagles are starting to explore Jalen Reagor (3-10-0, 2-19-0/3) as their 'Deebo Samuel'…and you know what? Reagor looks really good running the ball.
Three carries in this game…one of them was him as a straight-up running back/lone setback in the backfield. He's failing as a traditional WR, but if they get him involved in a totally different way…jet sweeps, regular RB totes, and designed bubble screens…and just drop the regular WR stuff…maybe they get a weapon for the playoffs that will shock the Buccaneers as something they didn't see coming.
But that's just me…using logic…applying it to a league, a business, a thing that rarely uses logic.
FYI, Reagor has caught 57.4% (2020) and 57.9% (2021) of his pass targets in his two seasons in the NFL. Not good enough. Will the Eagles ever live down that they took Reagor in the 2020 NFL Draft…and then Justin Jefferson went in the next pick?
FYI #2: Had Jefferson gone to Philly we would not know him as the Jefferson we do today.
 -- IDP note…
Eagles rookie DT Milton Williams (3 tackles, 2 TFLs, 1 PD) is perking up…the Pro Day measurables attention-getter in 2021 – Aaron Donald like measurables, but not an Aaron Donald-like college career.
In Williams's final four games of the 2021 regular season: 2.3 tackles, 1.0 TFLs, 0.50 PDs, 0.75 QB hits, 0.25 sacks per game. He's starting 'out athlete' blockers in spots later in 2021…and encouraging sign/hope of something for the future.
Snap Counts of Interest:
69 = Reagor
43 = Ward
31 = Quez
14 = Devonta
39 = Gainwell
31 = Huntley
49 = lamb
46 = Amari
42 = C Wilson
37 = Zeke
17 = C Clement
**College Football Metrics 2022…new season signups have begun**
The new season of CFM will be starting up in January, as always. A little different schedule this year as the NFL extended their season by a week and the Senior Bowl was bumped back a week as well. We should have a Senior Bowl, NFL Combine…it looks like it will be a normal scouting year!
The NFL Draft, Dynasty Rookie Draft, and regular season ahead rookie analysis all gets started through CFM in January with our usual season starter -- the past two years/2020-2021 Mock Rookie Draft re-do, along with in-depth Senior Bowl analysis, and full QB scouting reports and much more as we build towards the NFL Combine and all the other positional scouting reports. Football study never ends…
Thank you for your support of CFM for the past decade now…wow, time flies.