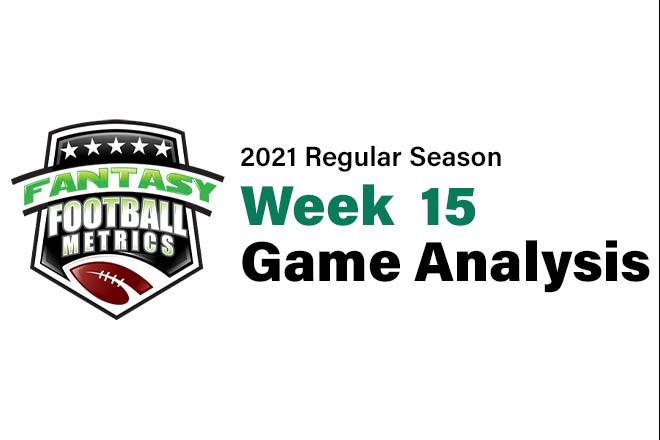 R.C. Fischer
FFM
29 December 2021
2021 Dynasty/Fantasy Game Analysis Week 15: Falcons 20, Lions 16
Another week where the Lions play better than their opponents and have a shot to win late but blow it…down four with under a minute, and driving, and then they throw an interception at the goal line…ball game. The Lions could have a .500/winning record this year, with the way they've played/ the games they had in their grasp…but it's been coached/(bad) lucked into a 2-12-1 record instead.
The Lions are a half a game behind from the #1 pick in the NFL Draft, but there's little/no chance Jacksonville will do them a favor and win a game…but getting the #1 or #2 pick doesn't mean much, since most high draft picks are butchered and the best players from drafts typically are not from the top 10…or even in the 1st-round. But it is an asset to trade, so getting to the #1 spot is something to shoot for…but I don't think Detroit will get to it.
The Falcons are now (7-8)…the worst (7-8) team in the history of football. AND they still have a chance at the playoffs if they win out…but they won't – facing at BUF and NO to finish the season. The Falcons need a lot of overhauling this offseason – they need a new QB, a makeover of the O-Line, and a change of head coach…but it's possible they will do none of those three.
Urban Meyer was the worst coach in football this year, and David Culley is trying to grab that mantle…but the worst coach I've seen this year from a scheme, and usage, and relation to the players standpoint is by far Arthur Smith. This will not end well in time…unless he gets an elite QB to save him from himself for 2022+…or if the Titans trade him Derrick Henry.
Fantasy Player Notes…
 -- Cordarrelle Patterson (7-14-1, 1-0-0/1) in his last 4 games (since Week 13)…
7.8 FF PPG (9.8 PPR PPG) on…
11.8 carries, 42.5 rush yards (3.6 ypc), 2.0 rec. (4.5 targets), 5.8 rec. yds, 0.50 TDs per game.
If I wanted to push an RB (or WR) getting 40-50 total yards a game and two catches a game for you to start this week, you would think I was crazy. If you WANTED an RB/WR who was getting 50 total yards a game with 2 catches per…I could name 25+ names off waivers who could accomplish that.
Thus, is the recent plight of CPatt, recently.
He's rushed for a couple short scores to make it not horrible for FF a couple of those weeks, but his recent results are FF-terrible compared to where he was at to start the season. His PPR points in each game the last four games: 12-14-4-8
It's not CP's fault. When he goes in a direction off the snap…half of the defense heads in the same direction. He has little blocking, defenses are stacking him some, and defenses don't respect his QB so they will stack CP. Arthur Smith is too stupid to use him in the pass game more to free him up. Patterson has been under 40 yards receiving in eight of his last 9 games…after starting the season with 55+ rec. yards in four of his first 5 games.
The trend has been winding down for several weeks and has been a disaster the past two weeks. I have no idea why it would turn this week…in 'feels like' 5-10 degree weather in Buffalo Week 17.
 -- Kyle Pitts (6-102-0/6) finally had another spike game. Just two targets at halftime…and then a floated bomb down the sidelines in the 4th-quarter that he caught one-handed for 35 yards took this from another 'meh' game to a solid TE1 effort. Nothing that different happened here than in his recent duds except he wasn't doubled as much/broke away from it a few more times…and got the one-handed bomb catch to push the numbers. The intent of the offense, the direction of the game plan…same old, same old.
Kyle Pitts has scored 1 TD this season…one.
Kyle Pitts hasn't scored a TD in his last 10 games.
PPR points in every game since Week 8 = 3-9-10-6-4-5-9-11-12-18. Usually under 12 points in any game and would've been near it in this game if he didn't stab that 35-yarder with his big mitt.
The trends say Pitts is a TE2 more than TE1…so, how will he be that big of an FF-opportunity in Week 17 in 'feels like' 5-10 degrees against a smart BUF defense that will double him (like everyone), and has the manpower and coaching to do it effectively? He's just a random hope Week 17…the hope that he has that 'one play' to tip the scales.
The thing is…Kyle Pitts is probably the best single rookie talent from this 2021 class. A 'generational' receiving TE. It's hard to bench him because he can be special at any moment. With most TE1 hopes, you get a guy you know catches 3-5 passes for 30-50 yards and you hope gets a TD to make him a great FF-play that week. Pitts is a rare TE that you don't know if he might go 6 catches for 100+ yards in-game at any moment. I know Gerald Everett or Cole Kmet or Tyler Higbee or Tyler Conklin or Pat Freiermuth or any number of guys are not going there like that each week, or any week that I'd expect it…but Pitts has that hope every week that he might no matter what the circumstances. And if I told you in any given week a TE went off for like a monster 7 catches for 200 yards type of game…you would guess it to be Pitts before Kelce or Knox or Gronk, etc.
Pitts is going to be special, but there's work to do at QB to help him…then at WR…then at RB to change the scenario so teams can't always double Pitts, and even when they do he has to have a QB that can deliver laser beams to him in tight windows. Matt Ryan is not that guy.
 -- Because Pitts spiked up Week 16, Russell Gage (4-37-0/5) dipped down a bit in output…he had been a WR1 for the past few weeks, but the Falcons barely had the ball (42 offensive plays for ATL) and with limited output from the offense, and Pitts having a bigger week…Gage suffered.
I like Gage as a talent, but you can't trust him Week 17 in the cold at Buffalo. You can't trust this ATL offense as a whole.
 -- OK…OK…I'm on board with Amon-Ra St. Brown (9-91-1/11). Just 2-3-4-5 weeks too late.
I still don't get it. I watched him a lot on tape the past few weeks. He's not doing anything impressive or amazing, just simple routes, easy passes, the option is there, it's like a running play, the Lions take it. For FF, it's been wonderful…so, ride it while you can.
This Week 17 at Seattle…possible rain…should be OK.
 -- Tim Boyle (24-34 for 187 yards, 1 TD/1 INT) played a solid game…until he threw the late pick to cost the team the game. Honestly, you could not tell much of a difference between him and Jared Goff. Boyle is a perfect backup…not good enough to really start/head up a franchise, but good enough to work fine in an emergency. He's not better/worse than Taylor Heinicke.
 -- The reason the Lions lost this game was not because of the Boyle pick late at the goal line. No…it was the inexplicable decision by Dan Campbell to push Jamaal Williams (19-77-0) working more over Craig Reynolds (11-29-0, 3-22-0/4). The whole offense slowed down when Williams got the ball. Reynolds fought for/made key first downs and made nice catches in the passing game. Had the team just started Reynolds and let Williams watch, the Lions would have won and Reynolds would have had 150+ total yards and at least one score.
Swift, Williams, or Reynolds…I take Reynolds for the future, but the Lions will go heavy Swift. Reynolds has been that impressive, to me, as an all around back.
I will be a full believer in Dan Campbell if he fires Anthony Lynn at the end of the season. He already took the offense away from him, in large part. I'll believe Campbell is a man of his word, and has a brain, if he dumps Lynn right after the season ends. I suspect part of Detroit's overall 2021 issues winning games has to do with Lynn as a butcher of NFL offenses.
Snap Counts of Interest:
26 = Mike Davis
25 = Patterson
(another reason not to trust CPatt next week…inexplicable)
01 = Ollison
40 = Zaccheaus (played 15 more offensive snaps than Patterson)
40 = Gage
36 = Pitts
28 = Jamaal Williams
27 = Craig Reynolds
10 = Igwebuike
**College Football Metrics 2022…new season signups coming in January 2022**
The new season of CFM will be starting up in January, as always. A little different schedule this year as the NFL extended their season by a week and the Senior Bowl was bumped back a week as well. We should have a Senior Bowl, NFL Combine…it looks like it will be a normal scouting year!
The NFL Draft, Dynasty Rookie Draft, and regular season ahead rookie analysis all gets started through CFM in January with our usual season starter -- the past two years/2020-2021 Mock Rookie Draft re-do, along with in-depth Senior Bowl analysis, and full QB scouting reports and much more as we build towards the NFL Combine and all the other positional scouting reports. Football study never ends…
Thank you for your support of CFM for the past decade now…wow, time flies.