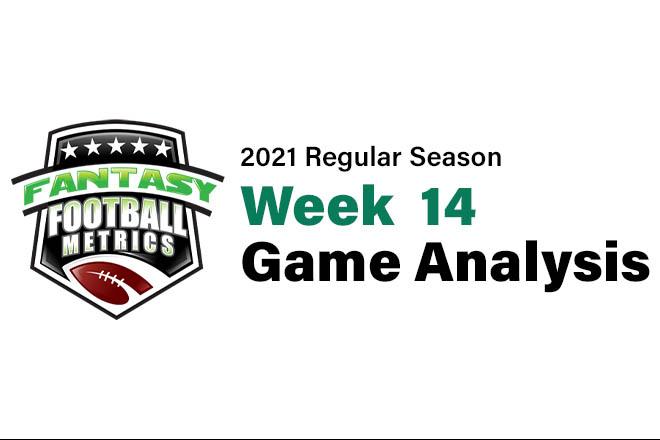 Ross Jacobs
FFM
16 December 2021
2021 Dynasty/Fantasy Game Analysis Week 14: Seahawks 33, Texans 13 
I don't think I need to tell anyone that neither of these teams are very good. The Seahawks won by 20 but I would not call this a dominant win. They muddled around with Houston for 3 quarters before finally slamming the door shut late. It wasn't pretty.
Davis Mills was running roughshod over the Seattle defense much of the game and it wasn't anything great he was doing. I think this defense is about to get lit up by the Rams.
The Seahawks get to 5-8 with some playoff delusions in mind. The reality is that they still have to play the Rams and Cardinals, neither a likely win. That leaves the Lions and Bears as the two most likely remaining wins which would get them to 7-10, a respectable total considering Wilson's absence in the middle of the season, but still not remotely good enough to win this division much less make a run at a Superbowl.
Changes will be coming to Seattle this next year, and I think that's going to start with Pete Carroll getting fired right after the season is over. It's either him or Russell is going to demand a trade. Something's got to give. And if you're Seattle management, it's a no-brainer, you release Carroll and give Russell whatever he wants. Anything else would be a shock.
Houston...I don't know what to say about them anymore. It's a dumpster fire down there. It was a dumpster fire coming into the season and everyone knew it. This team is untalented, missing draft picks, no real future at QB, and a weak head coach. I see no good coming to the Texans for several years at least.
Fantasy Notes
--All bow before the great and powerful RC! Rashaad Penny (16-137-2) was a godsend for many of us at RB this week. I personally debated Penny versus Foreman quite hard and was ultimately swayed by my supreme trust in RC. It doesn't always work out, but more often than not it does, and this is one of his best. I was actually texting him early on how angry I was for trusting him as Foreman scored an early TD while Penny was rotating carries with Collins and Dallas...and then Penny scored to even it up...and then scored again late to finish with a monster day!
Before we get too carried away with our brand new RB1 toy however, I have to caution everyone that this may not be as great as we're all hoping. RC warned us that the Penny play might be a one week thing only, and after watching this game I would say that's a fair warning.
Yes, Penny is going to get a decent crack at seizing the starting workload after this performance. Yes, he looks much better than any other option Seattle has. But...we still have a few problems.
First, Penny looked good but he didn't look that good and he was still being rotated out an awful lot. Penny took the first couple carries, then Collins got a few, then Dallas, and it was a Penny lead but Collins mixed in after that. My eyes tell me this was as much a Houston run defense problem as anything Penny was doing. Mostly he just ran straight ahead and it worked out well because he's decently strong and decently fast. Collins had some good holes too. He just doesn't have Penny's speed to take advantage of them. You'd think Carroll would commit to him after this but we can't take that for granted just yet.
The second problem is that the Seattle offensive line still isn't very good and now they have to face the 7th ranked run defense of the Rams. The Texans are dead last in run defense for the record.
And our third problem is that Collins just got put on the COVID list. But Ross, that sounds like good news! Less competition for Penny. No, and here's why. Penny already beat out Collins for the job. However, now that Collins isn't available that means that Adrian Peterson is very likely going to be elevated from the practice squad, and we can't be totally sure that Carroll won't still have his head shoved all the way up Peterson's ass. I suspect that Peterson isn't going to just stand idly by as Penny takes 25 carries this week. He's going to play and take carries. How many carries is the question.
If you made me put a number on it, I would guess that Penny is a 70-30 lead over Peterson. That's just my guess however. If the Seahawks get down early to the Rams which is very likely, then it's very possible Penny doesn't even take but 10-12 carries. In that scenario he would need a TD to be a viable play, and note that he wasn't remotely involved in the passing game so we can't count on catches to supplement his stats either.
It's a risky play this week. There is upside hope that Seattle can hang around and run the ball well to control the possessions which could lead to a big game for Penny. But we could very likely see Seattle down early and abandoning the run in which case Penny likely finishes with 40-50 yards and we're all left disappointed. This call is going to depend on the state of your rosters, your opponents' lineups, and how much risk you're willing to tolerate. There's no one magical answer as to whether you should start Penny or not. I'm sure we'll be talking with RC a lot about this in the coming days, so be sure to tune into the video Q&A's as we dive deeper into the issue.
--Davis Mills (33-49 for 331 yards, 1 TD/0 INT) had himself a nice day. Is this an emerging talent or should we be skeptical of Mills against better defenses?
I'm going with skeptical for now. I didn't see anything special Mills was doing here. He just distributed the ball to wide open players most of the day and it still only led to 13 points. Mills isn't bad at all. He's plausible.
He's in the game manager category with Mac Jones. I would say Jones knows the X's and O's better, knows where to go with the ball and when, but Mills isn't as jumpy and willing to quickly ditch the ball at the first sign of an open receiver. Neither has a huge arm, but Mills is a bit stronger. Neither is mobile. I think Mac probably has a higher ceiling if he can work on his arm strength, but he should get better as a downfield passer with time. Mills looks a bit limited to me in that he doesn't get through his progressions as fast and tends to lock in on one guy a little too much. You could certainly do worse though.
I haven't decided yet if I think Houston will roll with Mills in 2022 or replace him with a rookie. It could go either way and likely will hinge on what they think of the rookie QB class. There's simply too much risk and no perceivable upside to stashing Mills in dynasty though. Spend that last roster spot on someone that has a better chance to crack through.
--Rex Burkhead sustained an injury during this game and will be out against the Jaguars. That means that Royce Freeman (11-15-0, 6-58-0/8) is going to be involved, but David Johnson's return complicates things. How much is Freeman's role worth? Hard to say.
The Houston line is very bad and there's just not much room to run. Jacksonville doesn't have an atrocious run defense but they aren't great either. The interesting thing is that Freeman got some pretty good ppr receiving work at the end of this game while Houston trailed. Will they be trailing against the Jaguars? Maybe. It'll probably be a competitive game.
If we knew Freeman was going to be the strong lead I'd say he could be in line for some decent work. In the Texans two wins this season, their lead RB averaged 22 carries per game. The second back averaged 10.5 per game. In their next most competitive game against the Patriots, Ingram logged 16 carries. Now nobody ever gets many yards on those carries because the offensive line is so bad, but it's fairly safe work nonetheless.
My guess is that Freeman is going to function as the lead power back with Johnson as the change-of-pace and 3rd down back which has been the pattern with Johnson when he's played with Burkhead and Ingram all year. If that happens and Houston can keep this competitive, then I would expect 15-20 carries for Freeman to go along with 2-3 catches. That should net him somewhere around 50-65 yards and maybe 20 yards through the air. In ppr that works out to 10-12 points and then maybe he gets lucky and falls in for a TD? Not bad.
To clarify, there's not much upside here. This offense stinks and Freeman isn't going to magically cure that. But if your RB spot has been decimated by injuries/covid and you're debating guys like Travis Homer or Corey Clement or Craig Reynolds, then maybe Freeman is an upgrade over those options. Of course this all depends on my assumption that Freeman will be the lead over Johnson being correct. I'll be discussing this option more with RC soon.
*RC NOTES: I'm not sure what HOU will do at RB this week, but my early lean would be more David Johnson than not…Culley wants to win. And Freeman isn't great and the Jags D-Line/run D is OK and now fired up minus Urban…and I'm warming up to Craig Reynolds in garbage time. 
--Nico Collins (5-69-0/10) has definitely established himself as the #2 option behind Brandin Cooks and is looking better and better every week. I'm not sure star is on the table just yet, but he's moving around so much better and more confidently than he was early in the season. He won't be a totally crazy play against the Jaguars honestly. He's a WR4 but going up against a weak secondary with a good shot at a TD this week.
--Like I mentioned last week, the future at TE for Houston is Brevin Jordan (4-26-1/7) and the future might be here already. Don't see anything special about him or this situation though. I have zero interest in him in dynasty or redraft.
IDP Notes
--Kamu Grugier-Hill was off to another good day before getting injured. His knee injury was feared to be quite bad at first, but it looks like he could be back sooner rather than later. Unfortunately, he was placed on the COVID list shortly after, so he's likely out this week. Christian Kirksey is the likely beneficiary if KGH can't play. Kirksey would be a decent streaming option at LB against a Jaguars team that is likely going with a heavy James Robinson plan this week in the absence of Urban Meyer.
Snap Counts of Interest
66 = Brandin Cooks
57 = Nico Collins
46 = Chris Conley
52 = Pharaoh Brown
29 = Brevin Jordan
35 = Rashaad Penny
14 = Alex Collins
11 = DeeJay Dallas