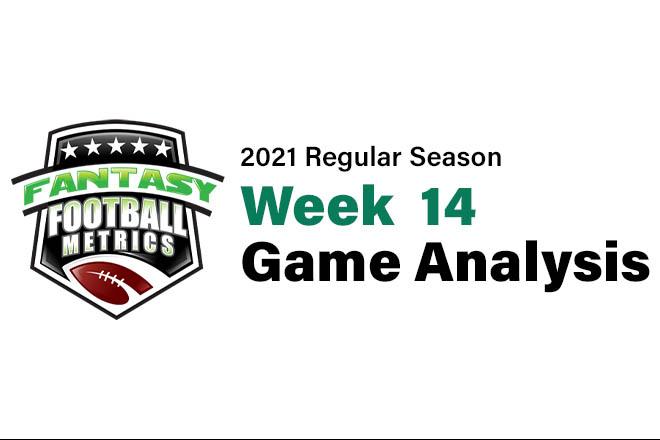 R.C. Fischer
FFM
18 December 2021
2021 Dynasty/Fantasy Game Analysis Week 14: Browns 24, Ravens 22
Lamar Jackson got hurt early in the game, and all seemed lost for Baltimore. The Browns were playing solid football…and they got all the breaks early (dropped INT by BAL, ill-timed penalties, etc.), and then Lamar was gone. It looked hopeless. Cleveland was up 17-3…and 24-6 at the half…and 24-9 at the end of three quarters. Everything seemed under control for the Brownies.
But credit the Ravens for not quitting…they started to climb back into this game in the 4th-quarter. Credit the Ravens, credit a 'gamer' performance by Tyler Huntley, credit an overrated/mediocre Browns team desperately trying to hold onto the luck that got them to the early lead.
With a 1+ minute remaining, Baltimore scored a TD to draw the game to 24-22 Browns -- and on the ensuing onsides kick…a perfect bounce hitting a Browns player in the chest and ricocheting to Baltimore for the recovery. With 1:15 left, and the ball at midfield…and possessing Justin Tucker – it looked like a miracle Ravens come-from-behind victory/total Cleveland collapse. The Browns got a crucial sack, forcing the momentum against Baltimore who then had to throw deeper to get a 1st-down, and they couldn't keep the drive alive, and the Browns held on.
Neither team was good here. It was an old-fashioned AFC North plodding/grinding slugfest (more slug than fest). The Browns win to keep their AFC North title hopes alive.
Cleveland is now (7-6), a game behind Baltimore with four games to-go. Week 15 hosting Las Vegas should be a win, but the Browns have an unknown roster due to COVID (as of this writing), and likely Baker Mayfield and Case Keenum are out, and Nick Mullens will come up from the practice squad to start. If the Browns lose this Week 15 game, the easiest game they have left on the schedule, then they will likely finish with 8 wins and out of the playoffs…but 9 wins is quite possible. It will be a dogfight to the finish.
Baltimore falls to (8-5) with three games ahead that they will be underdogs in: GB, at CIN, LAR. I would project them to lose each one of those and possibly play a winner-take-all Week 18 vs. PIT for the AFC North crown. We project the Ravens finish (9-8) and yielding the AFC North title to Cincy but getting a wild card with already-booked key wins over DEN and IND helping push them in the wild card tie breakers.
Fantasy Player Notes…
 -- First, allow me to say this… Tyler Huntley (27-38 for 270 yards, 1 TD/0 INT, 6-45-0) played a very solid, admirable game in relief of Lamar. Huntley is like an 80%+ version of Lamar. If Huntley had a better/stronger arm, he might be as-good, better than Lamar.
Huntley is a capable+ runner, but a shade slower than Lamar and without all the highlight reel runs that bluff people into thinking Lamar is better than he is (*see, also: Michael Vick). Huntley is a better/smarter passer…he just doesn't have the arm strength or rapid release of Lamar.
I say all this to note…
1) When Lamar is out…Huntley is the perfect fill-in. Not much of an overall drop-off at all.
2) In 2021, Huntley has been forced to start once for Lamar COVID (earlier this season) and then played most of a game here…two real meaty games of action for Huntley. In both games he threw the ball 35+ times (36 and 38 times), and with that he completed 71%+ of his passes each event. He doesn't have the arm, but he does have the anticipation and vision. He's not bad.
3) Bad draw to play Green Bay Week 15…Lamar is going to be out (as I broke a few days ago) and Huntley gets a real start, but the Packers defense is very good and might have Jaire Alexander back. It's a tough spot for Huntley to shine.
 -- It's clear to me that Rashod Bateman (7-103-0/8) is better than Marquise Brown (5-41-0/8) already, but I also know I'll be moaning about Bateman's underutilization for the next 2-3 years.
Lamar Jackson is a very limited, low volume passer. Everything he does is to Marquise Brown or Mark Andrews (11-115-1/11)…it's what he's comfortable with, no shame in that…and the way Bateman works, as a technician, is the completely wrong style for Lamar as an improvised deeper ball thrower. Whatever FF heights Bateman hits the next 1-2 seasons with Lamar, he will be a level lower than he should…because of Lamar.
I imagine Bateman will see more and more targets, over time, with Lamar…but that just means instead of Marquise as a WR1 and Bateman a WR3…they might both become FF-inconsistent WR2s.
I'm pro-Bateman, and he played an excellent game here – and he's better with Huntley because he has a connection with him more than Lamar, logically from time on the 2nd-team this year together.
I'm anti-Bateman with the Ravens/Lamar, in general, ahead…for Dynasty, etc.
The way that Bateman could flip the script is Marquise gets hurt for a while, as he does, and then Bateman is discovered by Lamar and a relationship is changed/formed. I'm not against possessing Bateman for such a hope, but if I had to bet on the future – I have to bet against Bateman being nothing more than a WR2-3, more WR3 in this offense.
The biggest takeaway is…the rise of Bateman pulls off of Marquise Brown's value/output into the future.
 -- Rashod Bateman looked good here, as was just mentioned…but, honestly, the most impressive WR to me here was Donovan Peoples-Jones (5-90-0/7) – and it's the second time in the past two months that I 'get this feeling' on him. There's something here. There's something bigger than the situation – I hate the CLE passing game (for FF). I hate the CLE passing game in December/January. I know the Browns want to run-run-run, but with all that…DPJ is sticking out like a star-in-waiting. Not just good WR in the right place at the right time, but more of a…this dude might be a #1 WR type profile, an alpha.
Here's a re-reminder that shocked even me, because I forget how athletic DPJ is (sing Bateman 'just because' we're talking about him in this report…
6'1.5"/212, 10.1 hands, 33.5" arm, 4.48 40-time, 44.5 vertical, 11'7" broad (no agility times) = DPJ (2019 Combine)
6'0.3"/190,  9.5" hands, 33.0" arm, 4.43 40-time, 36.0" vertical, 10'3" broad (solid agility) = Bateman (2021 Pro Day, so factor in some fluff).
In this game, I marveled at DPJ racing deep down the sidelines and Baker lofting one out to him, tightly covered, and then DPJ just flew into the sky, over top of the DB by a foot+, to make the beautiful snatch…but landed out of bounds – or it would have made his day 6 catches and 100+ yards and even more FF-heat on him.
I need to focus more on DPJ and less on how I hate the CLE passing game (for FF). Bateman is at risk of being buried in BAL. Whereas Peoples-Jones will be entering his 3rd-year with Baker in 2022, and rookies and/or free agents coming in around him could force DPJ to be Baker's #1.
I want to love DPJ more to the FF finish, but Week 15 he'll have Nick Mullens at QB in the cold/wind/light rain of Cleveland.
Week 16 with Baker back…vs. Green Bay in the cold, not good at all.
Weeks 17-18 with PIT-CIN are OK, but also getting colder outdoor games.
DPJ is a good, cheaper Dynasty stash for 2022.
 -- With Kareem Hunt continually getting hurt, D'Ernest Johnson (4-22-0, 1-7-0/1) is getting more and more action and he is really starting to grow/gain confidence in his play. He's not getting the same treatment as Hunt used to as the '1b' with Chubb, but Johnson is growing in baby steps in the secondary role.
I don't think D'Ernest has a lot of FF use for this season, but he's not a zero. I think he's getting the attention of people around the league…but it would take a big leap of faith to make a bid on him as a restricted free agent in 2022. And the Browns will not dump Hunt before the 2022 season because he is their heart & soul on offense. Chubb is their best player, but Hunt is their spiritual leader.
D'Ernest is buried, sadly, for the foreseeable future.
 -- IDP Grant Delpit (11 tackles, 1 INT) was once hailed as the top safety prospect in college football…a top 5 mock draft pick.
I can tell you this – he sucks. He's a mediocre coverage safety who doesn't look like he knows what he's doing all the time. Wildly unimpressed with him. How he got credited with 11 tackles in this game…I have no idea. His pick was a pass thrown right to him with no one else around.
Snap Counts of Interest:
60 = DPJ
54 = Landry
24 = Higgins
43 = Chubb
14 = D'Ernest
13 = Hunt
06 = Felton
70 = Mq Brown
49 = Duvernay
48 = Bateman
23 = Watkins
49 = Devonta
20 = Latavius
**College Football Metrics 2022…new season signups coming in January 2022**
The new season of CFM will be starting up in January, as always. A little different schedule this year as the NFL extended their season by a week and the Senior Bowl was bumped back a week as well. We should have a Senior Bowl, NFL Combine…it looks like it will be a normal scouting year!
The NFL Draft, Dynasty Rookie Draft, and regular season ahead rookie analysis all gets started through CFM in January with our usual season starter -- the past two years/2020-2021 Mock Rookie Draft re-do, along with in-depth Senior Bowl analysis, and full QB scouting reports and much more as we build towards the NFL Combine and all the other positional scouting reports. Football study never ends…
Thank you for your support of CFM for the past decade now…wow, time flies.