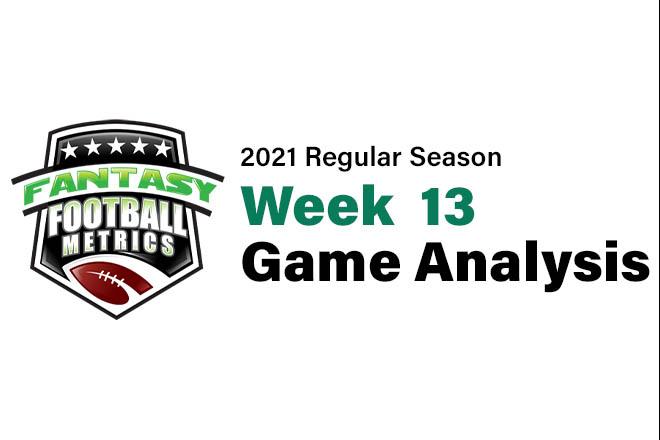 Ross Jacobs
FFM
10 December 2021
2021 Dynasty/Fantasy Game Analysis Week 13: Patriots 14, Bills 10
This game was without a doubt the most entertaining, interesting, and at the same time infuriating game I've ever watched.
What's that phrase RC and I always use? Belichick isn't a genius, he's just the smartest guy in a room full of idiots. Indeed.
So this game was played in some of the worst weather I've ever seen. 30 mph winds were whipping the ball all over the place. The kickers were missing 30 yard kicks in warmups. It was clear what the strategy would be. Run game and good defense, Belichick's specialty.
So the Patriots began pounding the run. Over and over and over and over. At one point they had called something like 30 straight running plays...and yet the Bills didn't adjust until very late in the game. It was bizarre to watch Sean McDermott, one of the smartest coaches in the league, consistently leave 2-3 guys playing off the line of scrimmage as if the Patriots were going to pass the ball. There was no way Mac Jones was going to be throwing the ball downfield with his popcorn arm, and yet the Bills would not stack the line and thus the Patriots averaged nearly 5 yards per carry for the game despite everyone knowing they were running every play.
And what was McDermott's plan of attack on offense? He tried to replicate what the Patriots were doing, but instead of a great offensive line and Damien Harris and Rhamondre Stevenson as his RB's, McDermott tried to power run behind a terrible offensive line, Devin Singletary and slow ass Zach Moss.
Great plan Sean. You deserved to lose. You deserve to be in 2nd place in the AFC East behind the Patriots. You deserve all the losses in big games you've ever had to the Chiefs. You deserve all this because whenever you face actually good teams you crumble under pressure. You get complacent and conservative. You don't play to your team's strengths.
You know what they should have done? They should have run Josh Allen into the ground. They should have called power runs for Allen, option runs for Allen, rolled him out, moved the pocket, anything to get him on the move and let him use that cannon arm to cut through the wind on simple route concepts. They should have stacked the line on defense with every player they had and told their guys to shoot every open gap.
This game was winnable for the Bills. It should have been won. They are the more talented team. But they failed, again, because the coach didn't have a plan for an obvious bad weather game. He didn't have a plan for the obvious plan that Belichick was going to run. He didn't adjust when it became painfully obvious to every soul watching that game that the Patriots were laughing themselves silly watching their RB's run straight at the Bills time and time again.
Belichick isn't a genius. He's just the smartest guy in a room full of idiots. And now he's going to win the AFC East and grab the #1 seed in the entire AFC with a weak-armed, rookie QB that nobody else wanted and a bunch of B and C grade free agents. Congratulations NFL. You guys never cease to amaze me with how horribly you run your franchises. Hope you're ready to be Belichick's b***h for another 20 seasons.
The Patriots are up to 9-4 and have the inside track to the top seed, but they do have 3 potentially tough games remaining against the Colts, the Dolphins, and the Bills again. There is a lot that can happen, but I'll guess they finish out 2-2 for an 11-6 overall record (covering my over bet that I caught so much crap from RC and Xavier for...) which might be good enough but might be a 2 or 3 seed. Either way they are going to the playoffs and you really don't want to play them as usual.
Are they good enough to win a Superbowl? Yes. Are they the favorites? Unlikely. This team is a carbon copy of their early 2000's teams that won 3 championships, so obviously anything is possible.
The Bills fall to 7-5, but their remaining schedule is much easier than the Patriots. There is still room for them to snatch the division away, but they absolutely have to beat the Patriots in the rematch game. They also have to win their 3 cupcake games against the Panthers, Falcons, and Jets. They can afford to drop the game against the Bucs this week, but getting a win there would give them more breathing room obviously. I think they have a great chance to go 4-1 or 5-0 to finish the season and take the division on tiebreaks, but it's going to be close.
Fantasy Notes
--What do you want me to say about this one? Mac Jones literally just won a game while throwing 3 passes for 19 yards.
Josh Allen only completed half his passes for 145 yards.
The Patriots ran the ball 46 times for 222 yards.
Nothing about this game was typical or likely to be replicated.
--The most significant thing to happen was Damien Harris getting hurt. He's dealing with a hamstring injury, but we're still waiting on an update for that. Hammies are notoriously finicky though, so I'm going to guess he'll be out for at least a week to rest.
If so, Rhamondre Stevenson is a must start against the Colts. Honestly, he's been the more impressive back of the two for several weeks now. Whatever questions he had before the draft about his athleticism have been answered. The man looks like a sleeker version of LeGarrette Blount, a powerful, bruising runner but with surprising agility for his size. He also has very good hands for such a big man. If I were re-ranking all the rookie backs, Stevenson would be 2nd only to Javonte.
--If Harris is out Stevenson takes over primary duties, but don't overlook Brandon Bolden possibly getting 5-8 carries and 3-4-5 catches too.
--The spontaneous decision to essentially bench Matt Breida cost me a win this week...I'm not bitter. I'm not really sure what happened with that as Breida looked like he had earned a larger role in the offense the prior two weeks. Perhaps it was just a function of the Bills trying to lean on the power run game...I honestly don't know. I do know you can't trust Breida now.
Situations like this are why I typically try to just avoid messy, hot-hand, or rotational RBBC situations. Sometimes you guess correctly for a week or two, but too often you just get burned. Better to find guys that are the sole back in their offense no questions asked.
Snap Counts of Interest
28 = Devin Singletary
24 = Zach Moss
7 = Matt Breida
55 = Stefon Diggs
46 = Emmanuel Sanders
40 = Cole Beasley