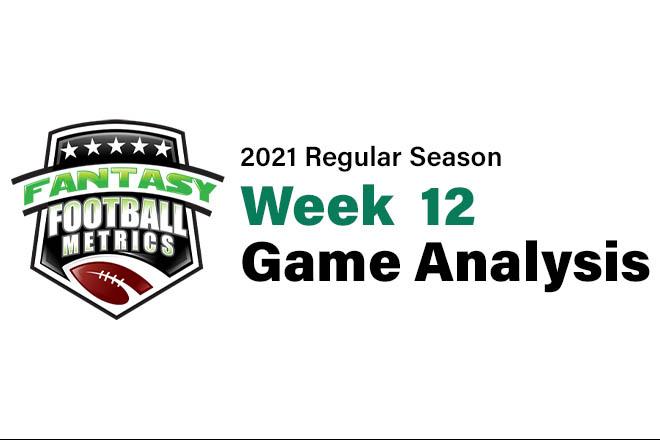 Ross Jacobs
FFM
30 November 2021
2021 Dynasty/Fantasy Game Analysis Week 12: Raiders 36, Cowboys 33
I won't bore anyone with all the details of the scoring here, but suffice it to say the Raiders came out swinging and took the fight right to the Cowboys. They were not scared or intimidated at all and jumped out to a quick lead.
Dallas didn't roll over, however, and fought back throughout the game. They had a chance to win it in overtime after tying up the game with less than a minute left, but penalties backed them up near their own goal line, and the Raiders were able to capitalize on the mistakes to kick the winning field goal.
It's an untimely loss for Dallas as they fall to 7-4 with two straight losses as Washington is surging to try and catch them. There are two games remaining between the two teams, so the NFC East is suddenly open again. I have to think Dallas pulls it out in the end, but this race is going to be a lot closer than it looked just 2 or 3 weeks ago.
For the Raiders this was a huge win to stop a 3-game slide. They pull back to 6-5 with their playoff chances still intact. They are tied with the Broncos and Chargers a half game behind the Chiefs. Winning the division doesn't seem likely, but a wildcard spot could still happen. The schedule isn't easy though with games against all three division rivals, the Colts, the Browns, and Washington still left to go. I'm guessing they finish with 8 or 9 wins and possibly sneak into the playoffs on tiebreakers depending on how those games play out. They absolutely need to beat the Chargers and Broncos to have a real chance.
Fantasy Notes
--What's going on with Ezekiel Elliott (9-25-1, 6-24-0/8)? Apparently he suffered a bone bruise in his knee against the Panthers in week 4. It's been causing him quite a bit of pain since then, but I'm not sure if that's the real cause for concern. There were multiple games in the month after the injury where he was taking 20-25 total touches and everything seemed fine.
I think he can play through the pain just fine, but there is some talk of the team scaling back his touches to allow him to rest this week. There's been no indication from the team that he will sit outright, so I don't expect that to happen. And even if the team "scales back his touches," they've already been scaled back the past 3 weeks so there's not much room for things to get worse. My best guess is he takes 10-12 carries or so plus his usual 3-5 catches. It's not RB1 work, but it's still usable.
Personally I believe the real issue with Zeke's lack of production has to do with Tyron Smith's injury. Smith missed Denver, KC, and Atlanta games with an injury and only returned here against the Raiders. I don't believe he was at 100% however as he wasn't moving as well as usual and committed multiple penalties because he kept getting beaten.
To support this argument I would have you look at Tony Pollard's stats. The perception is that Pollard has been much more effective than Zeke the past few weeks, and while there is some truth to that, it's not the entire story.
Weeks 9-12:
Elliott: 42 carries, 149 yards, 3.54 ypc
Pollard: 32 carries, 139 yards, 4.39 ypc
Week 1-8:
Elliott: 118 carries, 571 yards, 4.84 ypc
Pollard: 68 carries, 392 yards, 5.76 ypc
So we see that both players have lost about 1.3 ypc over the past month while Smith was hurt. Pollard has been the more efficient back over the season, but that can be explained as a combination of the different type runs of the two RB's (Zeke more up the middle and Pollard more edge runs) and Pollard's lesser workload. It's much easier to be efficient when you have less strain on your body.
In addition, three of the past four games the Cowboys have been losing the majority of the game. Negative game script means more passing and less carries. The one game that they did win against Atlanta was a complete blowout and there was no need for Zeke to stay in the game taking carries.
I'm not pointing this out to denigrate Tony Pollard. My point is only that Zeke's struggles are likely out of his control and don't have much to do with his injury.
It's possible that Zeke will take a few less carries on Thursday against the Saints to help him rest his knee. It's also possible Smith needs another week to fully recover. The Saints have also had one of the best run defenses in the league this year. Add it all up and there's plenty of reason to be worried about Zeke's numbers this week. Next week against Washington though, I think we're going to see Zeke bounce back in a big way with closer to his normal 17-20 carries and increased effectiveness with Smith back. Assuming Washington's defense isn't suddenly becoming a juggernaut again, Zeke could finish up the last stretch of this year very strong indeed.
--If Zeke can't/doesn't suit up on Thursday though, you almost have to start Pollard just for the sheer volume. The Saints are a tough run defense, but Pollard is one of, if not the best, backup RB in the league. If you know he's the lead dog without Zeke you start him no questions asked.
--Michael Gallup (5-108-0/8) played well here in place of Amari Cooper and CeeDee Lamb. It's honestly hard to tell the three receivers apart at times. I don't feel like the gap between them is as large as the media makes it out to be. I see no reason Gallup couldn't be a #1 receiver for a new team next year. He's likely going to make a bundle in free agency this year. I don't know why, but I have a feeling the Jaguars make a run at him.
--After Gallup leaves, Cedrick Wilson (7-104-0/10) could become the new #3 WR, but he's also a free agent and could get a deal to go somewhere else. No idea what his market could be, but I have to guess it won't be much as he doesn't carry a high draft position tag to let other teams know it's ok to pay him. What's the point of overpaying guys like Cooper and Lamb though when Wilson can step in like this and put up a 100 yard game?
--Dalton Schultz (3-46-1/7) is still a big part of this offense as I talked about last week. No need to fade him. He's still a top 5-6 TE.
--We've talked about it all year, Hunter Renfrow (8-134-0/9) is Carr's bff. He's the new Edelman and nothing is going to change that. In his last 5 games Renfrow has only caught less than 7 passes one time. He typically doesn't get a ton of yards to go with it, but he was able to get open further downfield a couple times here. Most weeks you can expect about 6 catches for 50 yards. He's still a nice ppr option but isn't worth nearly as much in standard leagues.
--Darren Waller (2-33-0/5) suffered a strained IT band in his knee here. Considering what it could have been, this is best case scenario for him. It's possible he needs a week off, but it shouldn't take much longer than that. He still hasn't been a top fantasy option since week 1 though.
--If Waller sits then Foster Moreau becomes an interesting streaming option. He caught 6 passes for 60 yards last time Waller was out and he even got 5 targets here after Waller left the game. For some reason he seems to get better usage than Waller does as the starter. I have no clue why, but it seems to be the case. Need a TE streamer this week? Moreau is as good as any and likely completely free as nobody in your league even knows who he is.
--DeSean Jackson (3-102-1/4) made a splashy play catching a deep crossing route early in the game then breaking a tackle to score the first TD of the game. He's playing the Henry Ruggs role now which means most weeks he's not usable for fantasy and some weeks he's going to catch 2-4 passes for 100 yards and a score. Good luck guessing which weeks are the good ones.
--The WR we might actually be interested in is Zay Jones (5-59-0/7). This was the first time all year I've seen an effort to get him the ball (contrasted with Bryan Edwards who plays the most useless "starter" snaps in the league) It wasn't a fluke, there was a plan. Will it hold up next week? Maybe. He's still only the second look at WR and Carr likes to spread the ball around a lot. I don't think anything serious is emerging, but it's possible you could use him if you were really desperate. Maybe he gets you 10 ppg in ppr leagues.
IDP Notes
--We've covered it for several weeks now, but Micah Parsons (5 tackles, 1 sack) has DROY all but sewn up. He is playing lights out, and after watching him for several weeks now I think I like him better as a pass rusher than as an off-ball linebacker. Go figure.
--Trysten Hill (5 tackles) was a 2nd round pick at defensive tackle in 2019. He's an incredibly talented player, athletic and very disruptive, but he fell to the 2nd round of the draft for a reason. Attitude and maturity issues have dogged him since college and it's held him back so far in the NFL. He's only started 5 games in his career so far, all of them in 2020.
He has finally worked his way back into games with his first time coming 3 weeks ago against the Falcons. His snaps have gone up each week since and reached 45% against the Raiders. You see the kinds of stats he can put up when available. This guy could be an absolute stud for the Cowboys inside.
Trouble is, he nearly ended up with a suspension here after he punched a Raider lineman in the head after the game was over. He'll be lucky to walk away with just a fine.
It's just another reminder of the issues holding him back. He finally gets his chance to play and nearly throws it away over something stupid. Unless he gets this kind of thing under control quickly, he's going to be out of the league sooner rather than later. He could be one of the best in the league if he does, but I've seen nothing to suggest that's going to happen. He's had long enough now to clean it up and hasn't yet. Why should we believe his next chance will be any different?
Snap Counts of Interest
47 = Ezekiel Elliott
31 = Tony Pollard
77 = Foster Moreau
21 = Darren Waller
64 = Hunter Renfrow
63 = Bryan Edwards (dead to me)
60 = Zay Jones
42 = DeSean Jackson
57 = Josh Jacobs
16 = Kenyan Drake