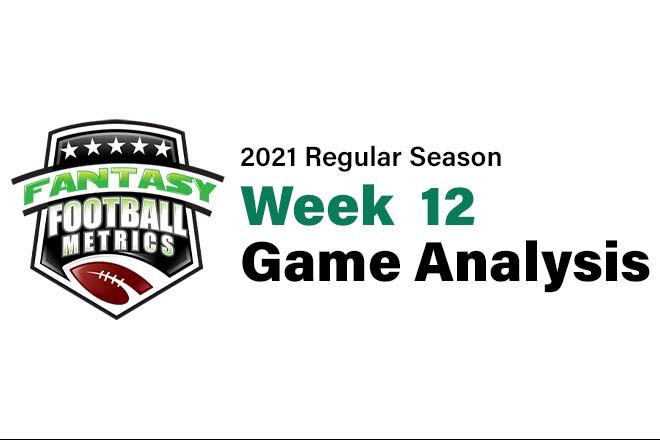 R.C. Fischer
FFM
02 December 2021
2021 Dynasty/Fantasy Game Analysis Week 12: Giants 13, Eagles 7
Weird game…a battle of two bad offenses constantly driving down into scoring territory and then throwing picks and missing kicks.
18 series in the game, 11 of them got into the other team's side of the field…4 scoring drives, 3 INTs ending drives, two drives failed on 4th-down attempts, 1 missed FG and a partridge in a pair tree.
Jalen Hurts looks terrible as a passer in his offense, and the Giants defense came to play. It didn't help that when Hurts was on the money, Jalen Reagor dropped two game winning TDs at the goal line (tough catches, but makeable catches) on two separate drives late, one the last play/gasp of the game for Philly.
The Giants win not because they're so superior to the Eagles, but because the Giants are just tougher and have a good+ defense that has the potential to be great someday. They are going to make a MASSIVE mistake getting rid of Dave Gettleman. Keep Gettleman, fire Daniel Jones. Let Gettleman have a shot at fixing the issue while he's built promise around the bad QB.
The Giants win and hang on to playoff hopes at (4-7). If they can steal a win at Miami Week 13, a huge if, they can get to five wins and then they have a mini gauntlet to make or break their season with at LAC, DAL, at PHI Weeks 14-16. If they win two of those 3 games to get to (7-8), then they can win-out at CHI and WSH Weeks 16-17. No room for error, but my new favorite team/my G-Men aren't dead yet.
What's that you say…? Daniel Jones might be out the rest of the season with a neck injury! Awesome!! Who's their backup? Oh. Well. Let's go Brandon, I mean Mike Glennon…I guess.
The Eagles fall to (5-7), and after a two-game win streak where the media accepted Hurts as a franchise QB for the moment…they just lost, so this week he's not and the Eagles need to draft a QB or trade for Deshaun Watson and Russell Wilson and anyone else available…because all QBs want to play for the Eagles. Is there any team more involved in every trade rumor that in reality players have zero interest in playing for than the Eagles?
The Eagles have four winnable games ahead, that you know they won't sweep. At NYJ, bye, WSH, NYG, at WSH. They finish with Dallas, so Philly likely winds up with 7-8 wins and no playoffs. If they do run the table, then Week 17 hosting Dallas might be for a division title? Maybe…doubtful…
Fantasy Player Notes…
 -- Miles Sanders (9-64-0, 1-0-0/1) came off the field limping in the 2nd-half but did return to the game after that. He's questionable for Week 13. Most likely he will play/start/be forced all the touches Week 13.
Boston Scott (15-64-1) came in to spell Sanders often, was the better back, as always…and he won't matter unless Sanders goes down again.
When Miles Sanders has been active/starting, the past two seasons (2020-2021), the Eagles are 5-15-1.
When Sanders is inactive, in that same span, the Eagles are 4-3-0, with one of the losses Week 17 last season that they could've won/were winning, but they tanked the 4th-quarter so Washington would win the division, or they'd be 5-2-0 without Sanders.
No matter. You should see the Eagles record when Nick Foles starts.
The Eagles hate players who help them win/are attracted to those that can help them lose…like Sanders.
 -- All week, all pregame, all in-game, all anyone could talk about was how Jason Garrett got fired, in part, because of the misuse/underutilization of Kenny Golladay (3-50-0/7)…and I think that is logical – but I guess they should fire Freddie Kitchens after this, no?
Same old 2021 Golladay…2-4 catches and no real impact. Darius Slay ate him alive on the outside and when they took end zone shots with KG.
I'm not done with KG for FF but am done with this situation for 2021…we'll see if Mike Glennon can save the day. I'd buy all the rock bottom priced shares of KG in Dynasty.
 -- Speaking of 'done', me and Evan Engram (3-37-0/6) are on a full 'break' for FF 2021. I love the talent, but this offensive plan and QB are so bad there is no hope and never any results.
The Eagles have been abused by every opposing TE/s for the past two months. If there was ever an upside event for Engram it would be this game, with the illustrious Freddie Kitchens now at O-C. Engram came out on fire, two catches for nice yards early so you're thinking the team really gets how to fight Philly -- then just one more catch the next 50+ minutes of the game.
In the immortal words of Kevin O'Leary, "I'm out!' I don't care what the matchup is, it doesn't matter for Engram here.
Maybe I should run with Chris Myarick (2-11-1/2) instead? No, please don't.
Myarick scored a TD in his debut and is now just 1 TD behind Evan Engram on the season…and one TD ahead of Kenny Golladay.
 -- Jalen Hurts (14-31 for 129 yards, 0 TDs/3 INTs, 8-77-0) is going to have these kinda duds, but mostly he's been a top producer for FF. He's the #6 QB in PPG in 4pts per pass TD leagues YTD…just a tick ahead of Patrick Mahomes. Week 13 at NYJ should be solid.
 -- Ready to freak out…a little, not a lot?
Daniel Jones (19-30 for 202 yards, 1 TD, 0 INT) has played 38 career NFL games and has thrown for two TDs or more in a game 10 times.
Mike Glennon has played in 35 NFL games in his career and has thrown for 2 or more TDs 15 times. In fact, he's done it 15 times in his 29 games where he has thrown 20 or more passes in a game…doing so over 50% of the time Glennon has started in his career, he's thrown for 2 or more TDs.
44 TDs/27 INTs = Glennon (career, 1,005 attempts)
45 TDs/29 INTs = Dan Dimes (career, 1,268 attempts)
I'm not sure it's a huge drop-off from Dimes to Glennon…it might actually be an improvement?
 -- Dallas Goedert (1-0-0/3) has started/played in 11 games this season. He has two TDs. Four games over 60 yards. Not good. Not elite. Not his fault. This passing game is the worst.
 -- My happiest moment of watching this game: I got to watch NYG rookie CB Aaron Robinson (6 tackles, 2 PDs) play 67% of the snaps (his most work of the year) and shutting down receivers and is the one who battled Reagor for those potential game winners that didn't connect.
I believe…no, I know Aaron Robinson is the best cover corner from the 2021 NFL Draft…in pure cover skills sense. Eric Stokes was the best CB prospect grade for us on his size, athleticism, and cover ability…on his future projection to be elite. Robinson was out top cover technique right away/ready made. ARob is a little more limited athletically than Stokes but is the best in actual man-to-man combat…and we got to see it here. Both are great prospects.
Robinson + James Bradberry…and Xavier McKinney coming on strong…with Adoree Jackson. This defense has the potential to be bad ass in the future.
Snap Counts of Interest:
46 = Golladay
44 = Slayton
35 = Ph Cooper
11 = J Ross
52 = Barkley
10 = Booker
34 = Scott
22 = Sanders
11 = Gainwell