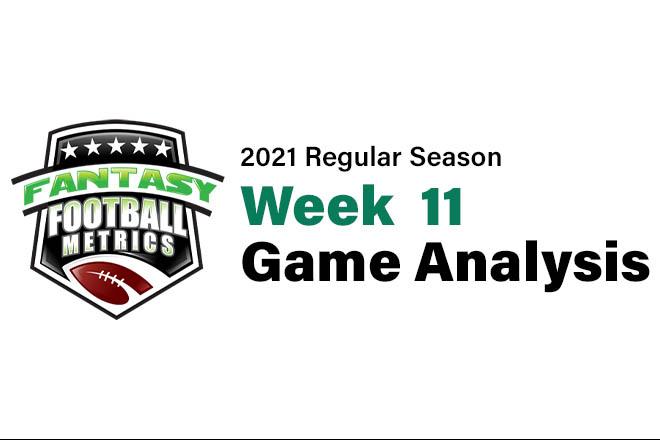 R.C. Fischer
FFM
25 November 2021
2021 Dynasty/Fantasy Game Analysis Week 11: Texans 22, Titans 13
*With the Thanksgiving week schedule complexities of the triple-header, etc., the game reports this week will be less pontificating and more 'just the facts' on players/situations we need to consider for Week 12 and beyond. I'll be back to being a blowhard next week, I promise.
Not that Tennessee played a good game or is some great team (without Henry) that should never lose a game…but the Texans whooping Tennessee here was as much luck as anything else. The only way the Texans can score a TD is by charity…and the Titans gave them that here – a red zone pick turned long INT return to the goal line for a soon-after TD. A punt landing near a Titans return man and hitting his foot while he was trying to get out of the way and the Texans grabbed it, setting up goal to go, and a soon-after TD.
The Texans got all the breaks. The Titans lost their two main WRs in the game. The rains fell harder as they tried to mount a comeback. It was just a perfect setup for a flop…and the Titans flopped.
Tennessee is now (8-3), a fall from grace from being anointed the best team in football a week ago by the mainstream. Everything in football analysis is about 'what happened last week' and 'how do I FEEL about it?' Tennessee is not close to the best team in football after losing Derrick Henry. They may not even be worthy of being thought of as a .500 team without Henry. Still, the schedule is their friend and they should get to 11-12 wins the AFC South title.
The Texans jump to (2-8)…now, (2-1) in the division! This is still a bad team with no real offense and a scrappy OK defense. They will likely win another game or two.
Fantasy Player Notes…
 -- The biggest FF news from this game was after the game, on Monday…the news that Adrian Peterson (9-40-0, 2-4-0/2) was released. I did 5+ minutes of rumor and theory on why this happened on our Video Show Tuesday, and the short version is – I think it was to clear the way for D'Onta Foreman (7-25-0, 1-15-0/1) to work as the clear, #1 lead back. Foreman is better than AP in 2021, and if Tennessee wants to get DF more reps, they know AP will throw a fit if he's not features/#1 RB…so, best to rip the Band-Aid off now.
Now, many in the mainstream think Foreman is a nobody who played little snaps in this game…so this AP move, to them, must be for some other reason…like clearing the way for any other RB. The easy RB to reach for, the only RB to reach for that is new in the equation is – Dontrell Hilliard (7-35-0, 8-47-0/10).
You look at this box score and see Hilliard with as many carries as Foreman, and 8 catches, and a 51-15 snap count advantage, and you'd be foolish not to think this is about Dontrell Hilliard. It is, to some degree (AP out and Hilliard in as a live body), but there is no way the Titans are clearing the decks for a guy to be their RB when he has been on the practice squad most of the year and played no offensive snaps all season, until this game…and only then because Jeremy McNichols had a concussion.
When Derrick Henry went down…did you see the Titans rush to make Hilliard a part of their patchwork plan? Absolutely not…despite him being rostered on the practice squad, thuis totally aware of what he can do, the Titans instead went and got Peterson and Foreman and injected them right into the lineup…not Hilliard. But now you're telling me Hilliard is their new, main plan RB…after one game of heavy usage out of necessity and game flow?
This game started as it always does, post-Henry…AP starting with the 3rd-down back (now Hilliard this week) sprinkled in on the passing game moments, and then Foreman coming in the next series and taking more of the bulk of work over AP…and working like their best back. That all happened per usual (through three games so far without Henry) to start this game.
However, unlike most Titans games, the Texans started to pull way ahead of Tennessee. The Titans got into a 2-minute drill before the half, in the pouring rain, and Tannehill dinked and dunked with his passing game back (Hilliard) and drove down the field. Nearly half of Hilliard's catches in this game came in a one-minute span before the half of dinks and dunks. The rest came in the 2nd-half as Houston expanded their lead and the Titans got more desperate and started throwing all the time to try to get back into the game.
Hilliard was fine, he's solid. He didn't do anything amazing. He was just hard-working and present for a deficit mode event. If the Titans had gotten up by 2-3 scores right away, we may not have hardly seen Hilliard in this game.
I like Hilliard just fine. Solid pro. He's just not the kind of back you build your run game around. Again, if he were, then he would have been promoted and playing ahead/with Peterson or Foreman weeks ago.
When McNichols returns, he will likely lose touches to Hilliard…or McNichols sends Hilliard back to special teams/the bench on offense.
We know Mike Vrabel doesn't see McNichols as a lead back, or he would have started that way post-Henry. He didn't.
This AP move is about Foreman…or some other RB we don't know about coming in from outer space. And it makes sense as anyone watching could see Foreman was better than AP (AP was fine, but…). Foreman is Henry-like…as Henry-like as it gets off the street for Tennessee, and all they have to do is get through the next 4-5 games and then Henry will be getting back to practice.
Foreman is now 'the heavy' in the run game for what was the most run heavy team in the league with Henry. Foreman is talented and I'm so excited for him. Not a great schedule ahead, but since this FF-cost many of us $0 to sit on…it could be a massive ROI…an RB1-2 out of the clear blue sky.
 -- The Texans aren't so lucky as the Titans…they have paved the way for Rex Burkhead (18-40-0) to be their lead back. Mark Ingram…good-bye. Phillip Lindsay…see-ya! No, we want the NFL stylings of game changing RB Rex Burkhead. They coulda had Foreman all along, but he didn't used to play for the Ravens or Patriots, so he doesn't exist in their scouting database.
It doesn't matter who the Texans RB is because the O-Line is so horrific that every RB they've tried has rolled under 2-3 yards per carry. So, why not Rex?
I have zero interest in Rex B. for my FF team.
…except, they are facing the Jets run defense Week 12…the #28 run defense in the NFL. Maybe, just maybe Rex or DJ rushes for a TD, but don't bet heavy on it. But I'd bet on DJ…because that's the purgatory I stick myself in when given the chance.
 -- QB stats of note/of interest:
Since he's returned from injury, Tyrod Taylor's (14-24 for 107 yards, 0 TD/0 INT, 6-28-2) has averaged: 56% Comp. Pct. and 173.5 passing yards per game, 25.5 rushing yards per game with 0 TD passes/3 INTs.
A mess.
Ryan Tannehill (35-52 for 323 yards, 1 TD/4 INTs) has been exposed without Derrick Henry. In his three starts with Henry gone: 69% Comp. Pct., 226.3 pass yards, 2.8 rushing yards per game with 3 TDs/5 INTs.
Neither really useful for non-Superflex leagues.
 -- With Julio-Marcus-AJB down…where did Tannehill turn to for receiving options this game?
…besides Hilliard getting 10 targets on a mass of dump passes due to the rain, and situation…
Nick Westbrook-Ikhine (7-107-0/8) saw the most WR targets. He's just a very average WR talent. But he might be the clubhouse leader if AJB is out this week…but he'd also get swallowed up by J.C. Jackson.
Rookie Dez Fitzpatrick (3-35-1/6) came out of nowhere for targets and a TD, but consider he was a 4th-round pick who Tennessee cut quickly this summer and only brought back due to the injury crisis. He's a mediocre WR for the NFL. Not a future star on the rise.
Anthony Firkser (5-26-0/7) saw a bunch of targets more than normal here, but again…this game was nothing like most any Titans game…and it was raining.
I don't think anyone is a help here as the #2 WR while Julio and Marcus are out. I'd bet a penny on Westbrook-Ikhine but that's about it. I don't like this passing game as it is, plus it's going up against the NE defense Week 12.
Snap Counts of Interest:
64 = Dez Fitzpatrick
56 = Rogers
54 = Westbrook-Ikhine
42 = AJB
41 = Firkser
38 = Pruitt
51 = Hilliard
15 = Foreman
15 = AP
35 = D Johnson
27 = Rex B