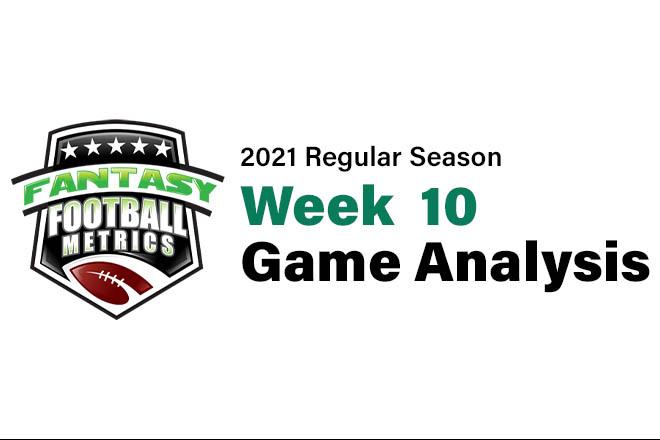 R.C. Fischer
FFM
20 November 2021
2021 Dynasty/Fantasy Game Analysis Week 10: Lions 16, Steelers 16
I think this was the first time this year that I got so disgusted watching a game tape back, that I just shut it off well ahead of the ending and didn't finish watching it. I mean, this was beyond the pale for an NFL game.
I would be scared to be a Steelers fan from here on in (and should've been for the past few years). Pittsburgh looking like hot garbage isn't new in 2021, nor am I shocked they looked dreadful in this game…but man this team/franchise is swirling down the drain – poor QB play no matter who's at QB, a terrible O-Line, Najee Harris is overrated (a lot due to the O-Line; Najee doesn't make things happen on his own). In the rain with Mason Rudolph this was an affront to quality football.
But what I'm really 'over' is the Detroit Lions and Dan Campbell and friends. Love his story…love his passion…would love for him to win a game someday but what I saw in this game, I'm done caring about him. If he is this stupid, then no amount of kneecaps consumed will save him or the franchise.
There were two moments in here that made me sick, the 2nd of the two is the most egregious thing in football in 2021, quite possibly. Surrounding these two events was some of the worst football, especially on offense, you will ever see.
‍
The two moments where I'm 'done' with this Lions regime…
1) Right before halftime, Lions down 10-7, 0:20 left 'til half, 3rd & goal from the 8-yard line, with a timeout in their pocket…they ran the ball, which is fine I guess…but they got to the 3-yard line and had 0:13 seconds left as the play was whistled dead. Instead of calling a time out to set up a play to go for the TD…or instead of hurrying up to try and catch Pittsburgh napping and go for a score, the Lions let the clock run down to call timeout to set up the chip shot field goal.
You're a winless team that is worse than every team you play every week/going into the game you're expected to lose – so, why are you playing a battle of field goals before halftime so close to the end zone? Why not go bite a kneecap and go for the 3-yards and a TD? What do you have to lose because you're probably going to lose the game anyway? Who cares if you don't convert on a 'go for it' move?
I get the mindset of you're playing an equally bad team with a backup QB in the rain, so maybe you play a chess match with playoff implications on the line…but points are so rare for the Lions, and you're that close to paydirt in a terrible season – show some guts. If you don't think you can score from 3-yards away right before the half…do you think you're going to win the 2nd-half of the game anyway?
2) Teams settling for cheap field goals happens so much, I can only get so mad…but I'd be furious at this if I were a current Lions fan. If they aren't going to try to win…why watch or support the product?
But then if you thought the scaredy-cat field goal before half was bad, the following should get Anthony Lynn and Dan Campbell fired…today. Today.
So, it's 10-10 thanks to the crucial field goal by the Lions before the half. Out they come for the 3rd-quarter. The Lions set out on their first drive of the 2nd-half.
Going back in time…the first TD of this game, for the Lions, came on a Jermar Jefferson 21-yard TD run…a run where he got his leg/ankle rolled up on as he crashed into the end zone, and he couldn't return to the game. Tough break. Jamaal Williams was already out, so now Detroit is down to D'Andre Swift…and…and Safety-turned-2021-RB Godwin Igwebuike as their RBs remaining alive.
So, in this first drive of the 2nd-half, in a few plays in, they insert Igwebuike in for an actual carry…he pops through the middle for a nice 14-yard gain. Wow! Like to see it. I'm a fan of his from the preseason. I'm not shocked he's competent. 1st-down. The Lions are into Steelers territory at their 42. Nice. Let's Gooo!!
Then the very next play…this happens: https://youtu.be/c-cJHmd06R8
Probably the longest TD run by a Lion since Barry Sanders existed. Back-to-back runs for Igwebuike of 14 and 42 yards…for an offense that absolutely sucks. Wow! What a breath of fresh air!! What a jolt of offense from this backup RB/main kick returner. The Lions take an actual lead (16-10) with 12:09 left in the 3rd-quarter. There's some real hope now. You go Lions!!
Did I mention this TD run happened with 12:09 left in the 3rd-quarter? Did you see the play/click that link? Did you see that he broke 2-3 tackles and made nice moves for a real NFL score? You got that, right?
Enjoy this math:
12:09 left in the 3rd-quarter
PLUS
15:00 minutes of shit/no points by the Lions in the 4th-quarter.
PLUS
15:00 more minutes of bonus shit/no points by the Lions in overtime.
EQUALS
42 minutes and 9 seconds. There were 42 more minutes of game play after Igwebuike made that TD run.
Do you know how many more rushing attempts Igwebuike had in those 42+ minutes after that stellar TD run?
Zero
Oh, well maybe he was hurt? No, he was returning kicks like normal the rest of the game.
A complete and utter train wreck of an offense has a guy come in off the bench and light the field up on two successive runs…and in the subsequent 42+ minutes of play, and not a point scored within that by Detroit, the coaching staff doesn't think to give Igwebuike another touch to see if maybe there's more lightning left in that bottle.
Dan Campbell can 'Let's Go Brandon' himself and take Anthony Lynn with him. If you're a Lions fan from here on in – it's your own fault. You support this utter garbage.
I'm spitting mad at this because this is a guy's/player's (Igwebuike's) career they're messing with. Who knows what Igwebuike would've done with the next few touches? Perhaps a star would have been born? Instead we get your absolute dereliction of duty…your coaching malfeasance…your mental deficiencies resulting in no one on the staff thinking to get this guy another touch in this game after he did what he just did. Why are there even coaches for the Lions...what purpose do they serve, if they can't think of seeing that TD run but then never having an urge to try it again (and again)?
It's criminal. It's criminal for the player…it's criminal for the team busting their asses to win a game, and to stop being winless...to stop being humiliated to even be a part of this franchise. It's criminal for the fans who spent money and came out to the stadium to support the team.
Don't anyone ever tell me…"They're professional coaches, they know what they're doing more than you (RC)…they see these guys in practice all the time." I've been doing this for 10+ years, and the biggest take away of my time studying the NFL is its head coaches are the worst at the their job among all us humans. Low IQ con men. And the Ivy league ones just have no common sense...and none of them with any real world experience because they have lived inside a football bubble most of their lives.
Forgive me when I don't care next month when all the media rumors start about what head coaching candidates are going to fill the likely-to-be-fired coaching spots…as we get to listen to all the 'culture change' horseshit and all the wonderful 'systems' they are going to bring to their new place of employ. They're all complete idiots…start from there, and then make them prove otherwise.
I will continue to say, Bill Belichick is the smartest man in a room full of 31 morons every season, so we shouldn't be shocked when he keeps winning division titles and Super Bowls in a logic-defying way. It's not endorsing Belichick as a genius…but he is a genius compared to his annual competition.
Other than that, I have no thoughts on this game.
Both of these teams suck and are coached by typical moronic meat head football guys.
The best summary of this game here: https://youtu.be/05IyBB56rkk
I can't follow that.
Fantasy Player Notes…
 -- Lions Fantasy notes…?
What does it matter?
You know they stink, and everything goes to D'Andre Swift (33-130-0, 3-5-0/6).
T.J. Hockenson? How about FIVE QUARTERS of play and no catches with 1 target. Enjoy that 'next Gronk'.
The only note of interest here is I bet Jared Goff doesn't play this week and Tim Boyle gets the start (late note: now confirmed he is). Boyle isn't totally terrible but gets thrown into this offensive blackhole, I'm sure it will be a mess. Boyle is like a version of Mike White…experienced, decent arm, and if he just takes what they give him…maybe something good will happen? Did you see Mike White or Trevor Siemian coming? Let's see which way Boyle breaks.
But he has these awful surroundings and nightmare coaches, so…good luck.
Boyles has to be better than Mason Rudolph (30-50 for 242 yards, 1 TD/1 INT), who could barely complete a forward pass in this game. Most of his work was short timing nonsense. If he starts again, bet it all on the Chargers this week.
 -- Jamaal Williams will likely be back Week 11, so don't even raise an FF-eyebrow at what you saw with Godwin Igwebuike (2-56-1). On field results get you nothing. Draft stock and contract status matter to braindead kneecap consuming head coaches.
 -- I'm still for trading away Diontae Johnson (7-83-0/13) as a PPR WR1-1.5…or I'll just keep/hold/pray. I'm convinced Big Ben is losing what's left of his fastball weekly, and his new easy throw is Pat Freiermuth (5-31-0/9)…his locker mate buddy.
Diontae will still see double digit targets but put in context that his catch rate is falling towards 50% because the Steelers QBs can't throw a real NFL pass to him downfield. So, you can expect a lot of eye catching 12 targets games, but they'll probably result in 5-6 catches, 50 yards, and no TD games ahead.
 -- Chase Claypool is back for Week 11, so there is nothing with Ray-Ray McCloud (9-63-0/12) to see here.
 -- The Steelers go into Week 11 without T.J. Watt, Joe Haden, and likely Minkah Fitzpatrick…so this DST is in HUGE trouble against LAC. Hopefully Herbert-Williams can get back in business together because of it.
Snap Counts of Interest:
66 = Swift
04 = Igwebuike
03 = Jermar Jefferson
48 = Trinity Benson
47 = K Raymond
43 = St. Brown
04 = K Hodge