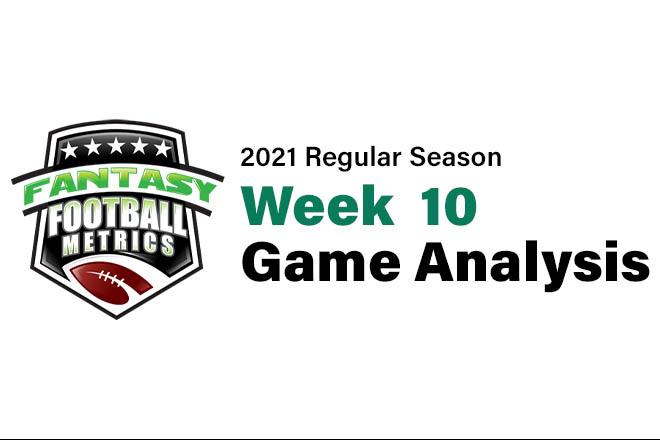 R.C. Fischer
FFM
19 November 2021
2021 Dynasty/Fantasy Game Analysis Week 10: Eagles 30, Broncos 13
Week 9, the Denver Broncos played their best game of the 2021 season…maybe their best game in years, and throttled the Dallas Cowboys, which left us all shocked and stunned…even Broncos fans. Did they follow that impressive win up Week 10? Nope, they got slapped around by the very mediocre Eagles.
Don't you love the NFL? You literally do not know what game result is coming any game, any week. If Joe Flacco led the Jets to the Super Bowl from here, it shouldn't shock any of us. What a great episodic television drama, a great mystery novel the NFL season chapter by chapter. And playing Fantasy Football within it is just as much of a thrill ride. That's the takeaway from this DEN-PHI game, apparently…Fantasy Football is fun.
Let's get back on task… The game summary here? Two weak passing offenses with decent defenses tried to out-run the ball against each other, and the one with the better O-Line and sweet running QB walked away with it.
The Eagles jumped out 10-0 in the 1st-quarter. Denver tied it 10-10 midway 2nd-quarter…and then the Eagles just beat the Broncos from there. If they played this game a thousand times it would likely result in a 500-500 win-loss record. It was Philly's day here…Jalen Hurts is the X factor, the difference. The Eagles converted on 6-of-13 (46%) of their 3rd-down attempts…Denver was 1-of-11 (9%) and 0-for-2 on 4th-downs. It wasn't Denver's day.
Philadelphia is now (4-6) and thinking about the playoffs, and before you think that is far-fetched…the Eagles play the Saints this week. After that game, they have three New York games (2 NYG, 1 NYJ) and two Washington games. If the Eagles defeat the Saints this week, a big IF, they would have 5 wins on the season -- with five winnable games ahead.
I don't think the Eagles are good enough to roll through those five nice matchups with all wins, because they aren't better than the Giants…and they are comparable to Washington. We project the Eagles lose this week, then go on to finish with 7 wins and no playoffs. If they do beat the Saints Week 11 -- Philly fans are going to get lit with playoff dreams. Lose to the Saints, and they'll be calling for Hurts to be replaced by Minshew .
Denver falls to (5-5)…if they had beaten Philly, which they needed to at home, they would have had 6 wins now and would have had a real shot at the playoffs. Instead, they botch this game and go to (5-5). They will be hard-pressed to get to 9 wins and thus have a shot at the playoffs . 7 wins likely, 8 wins tops. Aaron Rodgers sweepstakes after that…
Fantasy Player Notes…
 -- I've said/written it a couple times this week…
Will the Eagles realize that their best run game efforts in years have been the recent run here with the tandem of Jordan Howard (12-83-0) and Boston Scott (11-81-0, 2-24-0/2) the past few games? The Eagles went full scale Baltimore Ravens with designed runs by Jalen Hurts (13-55-0) in a read-option tank that just rolled over the Broncos defense – 39 rushes for 216 yards for the Eagles here with Hurts-Howard-Scott equally splitting touches.
Miles Sanders might be back Week 11, but definitely by Week 12. Will the Eagles go back to the thing/guy that hasn't been working for years, and putting what has been working on ice?
Absolutely they will. No question about it. I hope it isn't true, but my NFL experience says it definitely will be. Three years of excuses for Sanders by the team, the media, the fans…and Howard-Scott just walks in and steamrolls opponents…the Eagles are (2-1) without Sanders this season, and really could've been (3-0). They will absolutely throw that all away to prove to you that Miles Sanders was a smart draft pick.
Best case (for Philly), Sanders enters a three-headed split with Howard-Scott…make it four with Hurts. Likely/worst case (for Philly), Sanders is the main back with Howard taking 5 +/- carries and Scott as a low touch/snaps 3rd-down back. Kenneth Gainwell (2-5-0, 1-9-0/1) lost his Eagles career here. He'll be an occasional passing game back and special teams…but you can't rule out that Nick Sirianni goes back to exactly what was failing (Sanders-Gainwell) and bench Howard-Scott.
 -- Have I ever mentioned Javonte Williams (8-48-0, 2-1-0/3) is going to be the best running back in the NFL in the years to come? He is THEE guy to target in Dynasty if you're planning/prepping for 2022 already.
He had a sweet TD run here, but it got called back for nonsense.
The Gordon-Javonte split is the foreshadow of how stupid NFL head coaches are…and thus why Miles Sanders will walk in with all his career failures and supplant the best thing Philly has going (Howard-Scott) as soon as he is able, the head coach and GM pushing for it.
If I'm Vic Fangio, I'm like…screw the keeping them fresh/balanced approach, my job is about to get terminated, let me go all-in on Javonte and see if he can change the narrative. Fangio absolutely will NOT do that willingly. Only injury to MG3 can save Fangio's 2021, and there's not much time left for it.
 -- I mentioned how awful the Eagles are defending the TE going into this game week, and thus we named Noah Fant (5-59-0/6) as the upside TE of the week. It didn't work out that way, but the theory was right…because Albert Okwuegbunam (3-77-0/3) had some big plays, and the two of them combined for 8 catches, 136 yards, on 9 targets. Okwuegbunam is getting close to equal footing with Fant in this offense…not good for Fant production.
Adam Trautman has the Philly D Week 11, but Juwan Johnson could be the ticket for a TD.
Evan Engram Week 12, but Kyle Rudolph may be the ticket for a TD.
Keep an eye out for WSH playing this PHI TE defense Weeks 15 and 17…we have to see if that's Logan Thomas, Ricky Seals-Jones…or John Bates.
 -- What's happening with Courtland Sutton (2-29-0/3)?
He's great. Teddy is mediocre. It's a low volume situation where Denver wants to run the ball. Sutton gets primary coverage. The Broncos have their heads up Jerry Jeudy's (6-48-0/9) ass because he's 'their guy' (this current staff drafted him).
It's like with Terry McLaurin…and why I've had McL and Sutton on 'sell high' lists – low volume passing games that want to run heavy and they have to work with mediocre/non-runner QBs, so it's a hard thing for a #1 WR to sustain/find consistency. I have Deebo Samuel in that same boat, but he keeps defying all logic and making a huge play every week (thank God for that for those who didn't/couldn't sell).
All you can do with Sutton, McLaurin, etc., is start them in any decent matchup and pray something happens. Sutton is excellent, the situation is not (for him). It's definitely not a talent thing.
I dream of Rodgers-to-Sutton in 2022…
 -- DeVonta Smith (4-66-2/6) has similar issues as the WRs mentioned above. He's the clear #1 WR for Philly, but it's a low volume/low output passing game and defenses can key on. Smith got lucky in this game with a couple catches…he was blanketed a lot but made a catch (his first TD) or two almost beyond probability.
Smith is good…his situation is not so good for FF. I don't see 'great' yet with Smith.
 -- Jerry Jeudy (6-48-0/9) in his 4 games back from injury…
5.5 rec. (7.0 targets), 57.0 yards, 0.0 TDs…WR3 type PPR work.
I give him credit; he's catching the ball better this year…78.6% catch rate 2021 vs. 46.0% last year.
 -- Dallas Goedert (2-28-0/2) feels like he's on the verge of starting to push into the top 5 TEs in scoring. Since Ertz has gone he's been playing a ton of snaps and he looks like the best connection with Hurts not DeVonta). He had 2 catches for 28 yards here in the 1st-Q, but then got blasted to the head and concussed and out of the game.
Don't give up on him, I'm seeing signs that he's about to hit an accelerator to more consistent FF scoring. He's moving around really well (one of the most graceful TEs in the NFL)…he's getting open for Hurts, and improvising routes when Hurts scrambles away.
Goedert just signed a 4-year extension, so Tyree Jackson is very much in trouble of being buried for years.
 -- That Eagles schedule ahead that's so promising…it's quite promising for their very decent DST.
Here's the QBs they could be facing the rest of the way…
Week 11 = Siemian
Week 12 = Dan Dimes
Week 13 = Flacco/ZWilson?
Week 14 = bye
Week 15 = Heinicke
Week 16 = Dan Dimes
Week 17 = Heinicke
All games outdoors, northeast affairs.
Snap Counts of Interest:
44 = Fant
24 = Albert O
33 = Javonte
25 = Gordon
42 = Jack Stoll
27 = Tyree Jackson
13 = Goedert
24 = JoHo
20 = Scott
20 = Gainwell