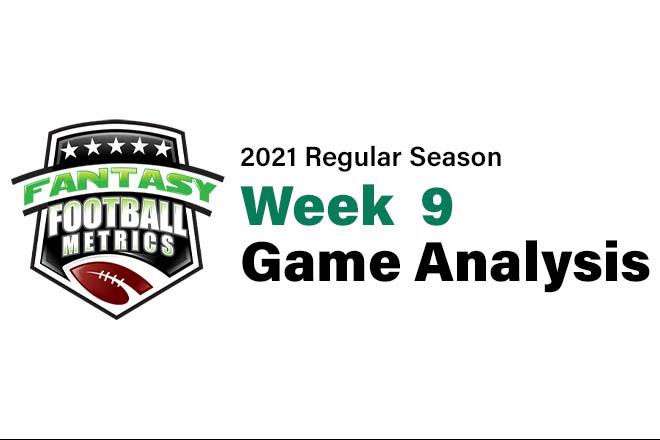 Ross Jacobs
FFM
11 November 2021
2021 Dynasty/Fantasy Game Analysis Week 9: Colts 45, Jets 30
Indy came out running the ball down the Jets throats, but NY had a new QB playing lights out football, the savior that was finally making New York football competitive and fun to watch, Mike White.
White would quickly tie the game up after the Colts took an early lead...and then he hurt his hand hitting a helmet while passing and was done for the day.
You can imagine how it went from there. The Colts just ran the ball at will and it was over in the blink of an eye...until it wasn't. Somehow, the Jets clawed their way back into the game and nearly had a chance to cover/make it a one possession game at the end, but a Josh Johnson pass was batted into the air for the game sealing interception. Ball game.
I think the mainstream takeaway from this game will be that the Colts smashed the lowly Jets and are back to being a dominant team. The Jets will get a pat on the head for beating Cincy (which does look a lot less impressive now) and be dismissed yet again. I think that's an oversimplification.
Yes, the Colts dominated here and are starting to look like a real team, but Jonathan Taylor and the run game are hiding some very real deficiencies here, namely Carson Wentz, who continues to look like the shaky QB we came to know from his days in Philly. The guy operates fine most of the time but still makes far too many completely baffling decisions that lead to turnovers. If the Colts do somehow make the playoffs Wentz is going to be the death of them. You can't count on him to play solidly enough for 3-4 straight games.
The defense isn't a problem exactly, but they aren't helping matters much either. They should have crushed the Jets without White, but instead they ultimately allowed 30 points and it should have been more.
They are now 4-5 after a disastrous start, but can't seem to make up any ground on Tennessee who keeps winning as well. A month ago I thought the schedule would take down the Titans and allow Indy to catch up, but that simply hasn't happened. I'm not sure Indy can catch them now, but it's still a possibility, especially with Derrick Henry out.
I don't think the Jets should be summarily dismissed either. They lost their QB yet again, and while it's impossible to say that they could have kept it close with him, it's hard not to believe it would have at least been more competitive. White looks like the real deal, and if they can get him back they suddenly look better than some of the other teams with similar records like Jacksonville, Philly, and Miami.
Fantasy Notes
--Mike White (7-11 for 95 yards, 1 TD/0 INT) has now played 9 quarters of football and thrown for 702 yards, 5 TD/4 INT, with a 72.7% completion percentage, and several of the interceptions weren't really his fault. It's a small sample size, but I've been impressed with what I've seen for the most part, although he did have quite a few inaccurate throws against the Patriots. That hasn't been the case in his other two games.
It's impossible to make any solid judgment on him right now, but I'm inclined to think that he can play, and I think he's earned the right to get another look over Zach Wilson. I think Saleh is going to agree. Unfortunately, the Bills are up next and are probably going to be incredibly pissed off after losing to the Jaguars, so I do not envy whichever QB gets the start. If White does start and gets beat up he's liable to lose that job and never get it back. That would be unfair and a very unfortunate turn of events for him, but that's the way the NFL typically goes for players that weren't drafted highly.
--Taking over for White was longtime NFL veteran Josh Johnson (27-41 for 317 yards, 3 TD/1 INT, 4-18-0). He's been a quality backup for various teams over the years and always an underrated player in my opinion. He had a quality fantasy day here in garbage time and very nearly got the Jets back into this at the end. If he starts against Buffalo though I don't see any chance of him repeating this performance.
--If you caught RC's stream before the game, you probably heard me opine that I was considering starting Elijah Moore (7-84-2/8) for the week. Well, I ended up not starting him and immediately regretted that decision. Moore is the top guy here now. What that's worth in fantasy is hard to say and likely depends on the QB. You ideally want White going forward. Just be careful with your expectations for Moore. He scored 2 TD's on a solo night game so he's going to be really hot now after all the preseason hype around him. To me he looks ok, but honestly I don't see special yet, just a fast guy getting good targets.
--The best WR in my eyes for NY is Keelan Cole (5-66-0/8). He came up with a couple of spectacular receptions here. Unfortunately, even though he tied for the lead in targets with Moore, it didn't look like he was the focus of the offense, just happened to be open for a lot of garbage time catches against soft zone coverages. I don't think you can count on Cole in this offense right now.
--He'll get overshadowed by the Moore performance, but Jamison Crowder (5-38-0/7) is still usable in desperation starts in ppr leagues. He's on the field a ton and still getting plenty of targets. He's averaged 7 targets, 4 catches, and about 48 yards per game over his last five games. Not many TD's, but if you need a few safe ppr points Crowder can help out there.
--Shockingly, Denzel Mims (1-20-0/5) was on the field a ton here and actually got 5 targets. He looks like an afterthought among the pass catchers, but the increase in snaps is interesting. Maybe he's working his way out of the doghouse? He's easily the biggest, most physically talented receiver on the roster, and if he can develop a connection with White that could be pretty good for fantasy. We're not there yet, but I'll be keeping an eye on this moving forward.
--The guy you can count on in this offense, if White is the QB, is rookie RB Michael Carter (13-49-0, 1-37-0/2). He is the lead back now for sure and a RB2 in ppr with White.
--Ty Johnson (4-21-0, 2-40-1/3) could also be FF usable in ppr if White comes back. He's going to take 5-8 carries most games and add 4 or 5 catches too.
--I guess I was dead wrong about Jonathan Taylor (19-172-2, 2-28-0/2). Apparently he can average 9 ypc every week! It's been a nice run and the team definitely knows now that he's their best player, but you should definitely temper your expectations just a bit. That average has to come down most games. It's just not sustainable. The good news is that the Indy offensive line is now fully healthy and are absolutely mauling people. The Jets were a particularly soft run defense, but it doesn't really matter that much. Taylor has made his case and his touches, which were a question early in the year, are now a certainty. He's going to tough the ball and produce. Top 5 RB lock.
--Michael Pittman (5-64-1/6) wasn't needed as much here in a blowout but continues to produce like a WR1 because he is now. Wentz isn't looking for anyone else the way he looks for Pittman.
--Nyheim Hines (6-74-1, 4-34-0/6) had another one of his huge games and will be a hot waiver wire pickup this week. Somebody will start him and get 3 points next week before dropping him immediately after. I wouldn't bother with him. With Taylor's emergence he's dropped in priority on this offense.
IDP Notes
--Jets safety Ashtyn Davis (10 tackles) has 24 total tackles over his last three games as a full time starter. He's playing well and could get another boost if Marcus Maye is out for a while.
--Quick, who's the leading tackler for the Colts? Did you say Darius Leonard? You would be incorrect. It's actually his partner, Bobby Okereke (11 tackles, 1 pd) that leads the team with 78, 11 more than Leonard. Leonard is making hay causing turnovers this year, but Okereke is a very solid starter himself and quickly becoming a strong producer in IDP leagues.
--The third leading tackler for the Colts is another very good FF producer this year, safety Kenny Moore (9 tackles). He's only 4 behind Leonard on the year and has at least 7 tackles in each of his 5 games. He's had less than 7 tackles only twice all year.
Snap Counts of Interest
53 = Michael Pittman
52 = Zach Pascal
23 = Ashton Dulin
43 = Jonathan Taylor
28 = Nyheim Hines
42 = Jack Doyle
38 = Mo Alie-Cox
61 = Jamison Crowder
46 = Denzel Mims
46 = Elijah Moore
38 = Keelan Cole
48 = Ryan Griffin
15 = Tyler Kroft
45 = Michael Carter
32 = Ty Johnson