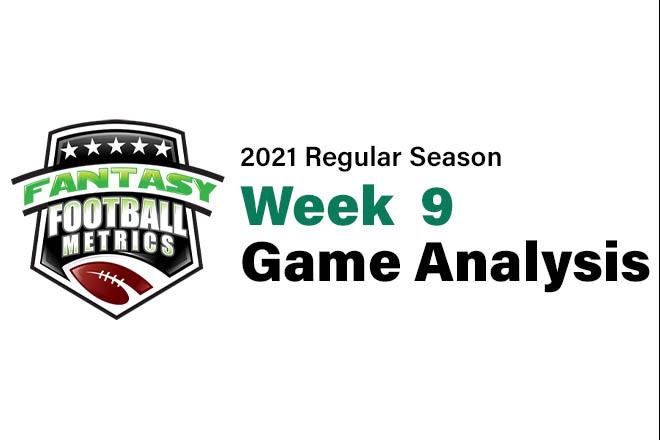 Ross Jacobs
FFM
11 November 2021
2021 Dynasty/Fantasy Game Analysis Week 9: Titans 28, Rams 16 
I've previously discussed how the Titans and Ravens have been the bane of my existence this year. Whenever I watch these two teams I just never leave impressed. I know they are decent teams, disciplined with efficient offenses and above average defenses, but it always seems to me that they don't really belong in the discussion with the best teams in the league. They seem lucky to have the records they have.
This game for instance. The narrative is that the Titans just beat down the Rams. They dominated their offensive line and forced Matt Stafford into some mistakes. This was a statement win for the Titans and proof that they are the best team in the AFC even without Derrick Henry.
Sometimes we read too much into these small moments. Sometimes players have an off day, they make uncharacteristic mistakes, or one team gets particularly lucky. Sometimes these singular games don't really mean much. Is anyone taking the Jaguars win over the Bills seriously? Of course now. So why do we assume this game was some big defining moment for the team that won?
What I saw was the Rams get backed up near their goal line twice early in the game, and Stafford threw two really stupid passes that led to TD's for the Titans. Yes, the Titans defensive line played really well this game. But those passes didn't have to occur, and they weren't solely created by the defensive pressure. Stafford isn't my favorite QB ever, but he typically doesn't make egregious mistakes like this.
But in those two simple plays Tennessee was gifted a massive lead that they just sat on. They would score again on their own soon after for a 21-3 lead that forced the Rams into playing a certain way. And it's not like the Rams weren't moving the ball. They kept getting to the redzone but just couldn't punch it in. Eventually though they got a few field goals to get the game back within reach, only for the Titans to finally embark on only their second scoring drive of the game to close it out.
The Titans won 28-16, but their first two scores were gifts that radically changed the nature of the game. You cannot overlook that fact. And outside of that it seemed to me that the Rams were the better team overall. It was just hard to see given the warped game state.
I realize all of this sounds like I'm making excuses and not seeing reality, but I truly believe that if you played this game 10 times the Rams win 6 of them. There's not a huge difference between them. I think the Titans are a good team, the same team they've been for the past few years, solid but unspectacular. But the Rams are just a bit better in my opinion.
Regardless, both of these teams are making the playoffs. The Titans should win their division barring a collapse. And the Rams just took a massive step back in the race for the NFC West. This was their chance to get a good win and hope the Cardinals lost without Kyler Murray. Instead, the exact opposite happened, and now they are going to need a good bit of luck to snatch the division last second. This team would have a much easier time getting through the playoffs with a 1st or 2nd seed. Making them go on the road as a 5th seed will likely be too much. I don't think they are tough enough to fight through cold, outdoor conditions later in the season.
Fantasy Notes
--In the competition to replace Derrick Henry we saw Adrian Peterson (10-21-1) get first crack at it, but he was completely ineffectual. They may continue to roll with him, but I think some of his carries could be in danger because it was D'Onta Foreman (5-29-0) that was the most effective back (looked a lot like a mini Henry as RC has mentioned for a couple years now) and he was getting mixed in a lot more in the 2nd half. Jeremy McNichols (7-24-0, 3-11-0/3) will likely continue to split with one of those two though because he is the passing game back.
Based on what I saw here I don't think anyone runs away with the job even though if it was up to me Foreman would be my new 15 carry a game lead back. He's the lottery ticket if you are so inclined.
--AJ Brown (5-42-0/11) is so obviously the #1 receiver here it's not even funny. Julio Jones (4-35-0/4) is a shell of himself. Brown is playing good ball. The trouble for him is that without Henry, defenses are not afraid of the run and can key on him much more. Those inside slants that he normally feasts on suddenly have a lot more linebackers crowding them, and Tannehill, while still a good QB, doesn't have the same windows to throw into now. I love the volume Brown is getting, and I think he'll be fine the rest of the year, but maybe expect more WR1.5 than the top 10 guy everyone hoped for.
--On that note, Ryan Tannehill (19-27 for 143 yards, 1 TD/1 INT) is probably out of the QB2 discussion. He's still an above average QB, but it's become clear that Henry's presence really boosted his production.
--One interesting note that RC touched on in an update, was that Tennessee receiver Josh Reynolds (also formerly a Ram) was released this week and claimed by the Lions...where he reunites with Jared Goff from his Rams days. I absolutely love this move for the Lions. Reynolds has turned into a very solid receiver and he could immediately become their best guy. It will be tough sledding to be the featured guy on a weak passing attack, but there's some hope here. You can ignore it in redraft for the moment but keep an eye out here if he starts to trend upwards. In dynasty this is a nice deep stash move.
--Matt Stafford (31-48 for 294 yards, 1 TD/2 INT) had an off game. Everyone does occasionally. He's fine, still an almost guaranteed top 5 lock at QB.
--Don't look now, but Robert Woods (7-98-0/10) is suddenly the #12 WR in ppr leagues for the year. It's not flashy production, but he's getting his usual 4-5 catches for 60 yards and a TD chance every week. This year it's been a little more inconsistent usage than in the past because he's just another cog in the machine, but it's working and he also gets a handoff or two every game to bolster his numbers. Not bad.
--The guy who gets shafted for fantasy numbers most weeks in this offense is Van Jefferson (3-41-0/7). I know Woods is better for fantasy, but Jefferson still looks more important for the offense to function at its peak. If Woods is out with injury, nobody knows the difference, but if Jefferson had to sit out suddenly Stafford doesn't have his field stretcher anymore and the range of the offense shrinks.
--Darrell Henderson (11-55-0) is still one of my favorite buys in redraft if you can still trade this late. The Rams are rarely going to be down like this where they have to mostly abandon the run.
IDP Notes
--Chris Collinsworth pissed me off again this game (he has a habit of it) when he said that Kupp versus Elijah Molden (8 tackles) in the slot was the biggest mismatch on the field and the Rams hadn't exploited it yet.
That's because it's not the biggest mismatch on the field. Molden is already one of the better slot corners in the league and he's still getting his feet under him. In the past four games, Molden has played 80% of the snaps three times, and in all three games he had 8 or more tackles each time. Guess Collinsworth didn't watch every snap of Molden's from college and his young pro career...otherwise he wouldn't have said something so idiotic.
Snap Counts of Interest
78 = Cooper Kupp
78 = Robert Woods
75 = Van Jefferson
45 = AJ Brown
43 = Julio Jones
22 = Nick Westbrook-Ikhine
42 = Geoff Swaim
27 = MyCole Pruitt
26 = Jeremy McNichols
19 = Adrian Peterson
12 = D'Onta Foreman