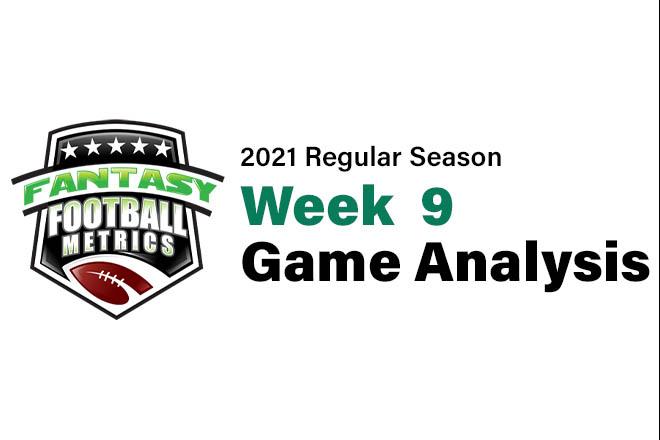 R.C. Fischer
FFM
11 November 2021
2021 Dynasty/Fantasy Game Analysis Week 9: Cardinals 31, 49ers 17
The storyline coming out/from this game is quite amazing, when you think about it.
The 49ers go into this game in a must-win…with a win they could get to .500 and be right back in the NFC West race. They caught a big break with Arizona missing Kyler Murray and DeAndre Hopkins – basically, their offensive soul was gone. Add to that, Arizona had A.J. Green out with COVID, and J.J. Watt had been lost for the season recently. Playing at San Francisco – this was the 49ers; this was Kyle Shanahan's time shine. Chase Edmonds got hurt right away – so, this looked SO good for SF.
So, it's only logical that the Cardinals would race out to a 17-0 lead enroute to a beat down…at the hands of Colt McCoy and James Conner. McCoy only completed 84.6% of his passes and James Conner ran like he was Derrick Henry. It was embarrassing for San Francisco. This 49ers defense is horrific, and their offense is OK but not great. The spirit of this team is dreadful – and that's on Kyle Shanahan.
The 49ers fall to (3-5), so not out of the playoffs at all…but looking like a longer and longer shot. A loss to the Rams this week might put them out of their misery. A win brings them to (4-5) with an easing schedule on tap the rest of the season. Likely, they lose to the Rams and finish with 6-7 wins this season, as the tougher games they do have ahead (SEA-CIN-TEN) are all on the road.
Shanahan's hand should be forced to push Trey Lance as starter after the Rams game, assuming they lose – the season will be fading, the local media is crushing him. Everyone is turning on the golden boy. A turn to Lance can change the trajectory of the season, or at least change the narrative. Week 11, after a loss to the Rams, going to Jacksonville for a favored win is probably the move to Lance moment.
By winning this game without their stars, against a decent opponent, on the road…how can we not say that Arizona (7-1) is the best team in football? They are an A.J. Green miscommunication away from being undefeated still. They should beat Carolina Week 10, without Kyler, and then maybe get Kyler back at Seattle Week 11. Arizona projects 14-15 +/- wins, the NFC West title, and in a dogfight with Green Bay for the #1 seed, along with Dallas (who they play at Jan. 2nd/Week 17).
Fantasy Player Notes…
 -- Just more thoughts on the 49ers defense…
They have allowed 28 or more points in a game in four of their last 6 games…five of their 8 games this season. Carson Wentz pushed them around…then Justin Fields was not terrible against them Week 8, then Colt McCoy pounded them this game. This defense is not good.
I think back to the Indy game, Week 7, in that torrential rain – the Colts were tackling the ball and punching it out like a pack of ballhawks. The 49ers never did any such things…instead gently grabbing jerseys that slipped through their hands on their way to 30 points allowed in the soup of a game/loss. They were so soft. Then this game…James Conner was running through them like they weren't interested in playing football.
They're not very good…and worse than that, they have no energy/spirit. Embarrassing…while people still think they're still formidable somehow.
 -- The Arizona-DST is what is good...great even. They punched the ball out a couple times on SAWFT San Francisco, which helped them jump to a lead. This is the best defense I see with my eyes every week…them and Green Bay, and Buffalo.  
The Arizona defense toyed with the 49ers. The Cardinals got up quick and then just handled/toyed with the 49ers all game.
Facing P.J. Walker this week should be a bloodbath event for them.
Week 11 at Seattle is not perfect, but I can start them with some confidence – Seattle's O-Line is horrific.
Week 12 BYE is your main concern ahead, but then we got Weeks 16-17 to worry about too – vs. IND, at DAL…two of the best O-Lines in football, which is not great for FF numbers. If Arizona is your main DST, I'd hold them…find a replacement Week 12, maybe one that looks good Week 11. Then let's reassess this during Week 13 with them at CHI. We need to see what we want to do Weeks 16-17, but so much injury can happen ahead of that…don't worry about it too soon.
Week 12 options…
CHI-DST at DET on Thanksgiving?
CIN-DST hosting PIT.
MIA-DST hosting CAR…plus, Miami at NYJ Week 11.
NYJ-DST at HOU?
LAC-DST at DEN.
SEA-DST at WSH.
Plenty of waiver Week 12 options for Arizona sit.
 -- Elijah Mitchell (8-36-0, 5-43-0/5) is an RB1 now, in case you own him and were looking over your RBs and bellyaching about how 'your RBs are killing me'.
Mitchell looks terrific. Silky smooth runner between the tackles, and then in this game showed us he has terrific hands. He has all the RB1 traits, including a top O-Line…but they just lost key OL Mike McGlinchey so that sucks, but the O-Line is still good enough to keep Mitchell going…with his 5.3 ypc average this season.
Since Week 7, his full return from injury – he's the #9 half-PPR RB in Fantasy.
No one is taking that job from him on the 49ers roster.
 -- Is Brandon Aiyuk (6-89-1/8) back? Maybe.
He definitely looked better here than he has all season. However, Deebo Samuel (5-63-0/9) is still their best/#1 WR…and then George Kittle (6-101-1/8) is arguably the true '#1'. So, you have a low volume passing game…the #29 team in completed passes this season, #22 in passing TDs – and Aiyuk is it's #3-in-the-pecking-order option…which is not that great for FF purposes. Russell Gage is his team's new #1 WR, and no one cares…but somehow a nice game from Aiyuk out of the blue, a chunk of it happening when the game was kinda out of reach/Arizona playing softer…somehow that's the signal Aiyuk is going to become a 2nd-half WR1.
The power of 'draft stock'.
The power of 'the football media pushing things…and all of us falling in line'.
I like Aiyuk just fine, but the situation is not fertile for him to be a consistent producer, and if Trey Lance takes over – even worse for pass game consistency.
 -- Eno Benjamin (9-39-1) had a nice TD run in this game, and then saw most of his touches as this game was being salted away/after James Conner did a lot of damage.  
I don't believe Eno will see much work on purpose with Edmonds out. You need Arizona to push to a lead to get Eno more touches. When it's 'a game' – then Conner is going to keep touching the ball.
If Arizona gets way up on Carolina fast, which could happen with their QB issues…Eno might see 10+ touches here, but it won't be the on-purpose plan. Conner is now the full lead and Eno there for spotty relief.
Chase Edmonds didn't matter in this offense, neither will Eno Benjamin aside from garbage time…unless Conner goes down, then it will be an Eno Benjamin/Jonathan Ward duel for touches.
 -- With DeAndre Hopkins and A.J. Green down, Rondale Moore (5-25-0/5) saw a few more snaps/touches…but he's not doing anything FF-special with them. He looks good, but he's playing a bit part in the offense…no reason to change that now, with Arizona rolling.
The winner of the starting WRs down for this game was WR Antoine Wesley (3-62-0/3)…an impressive UDFA WR who has bounced around the league, but has found a home with his former college coach back at Texas Tech.
 -- I believe if the 49ers lose this week to the Rams, then Kyle Shanahan will be forced to go to Trey Lance…just a gut feeling.
However, if the 49ers take down the Rams – then SF is right back into the mix of wild card teams and then has Jacksonville up next, for a likely win and then they're back to .500 (5-5), which means Jimmy G. gets another 2-3 weeks, minimum as starter…so Lance is pushed way off the radar.
Redraft-holding Lance and hoping for an FF-payoff comes down to the outcome of this Week 10 game hosting LAR.
Snap Counts of Interest:
55 = Aiyuk
54 = Deebo
33 = Sanu
05 = Jauan Jennings
67 = Kirk
57 = Rondale
54 = Wesley
54 = Conner
17 = Eno B
01 = Ch Edmonds
39 = Mitchell
20 = Hasty