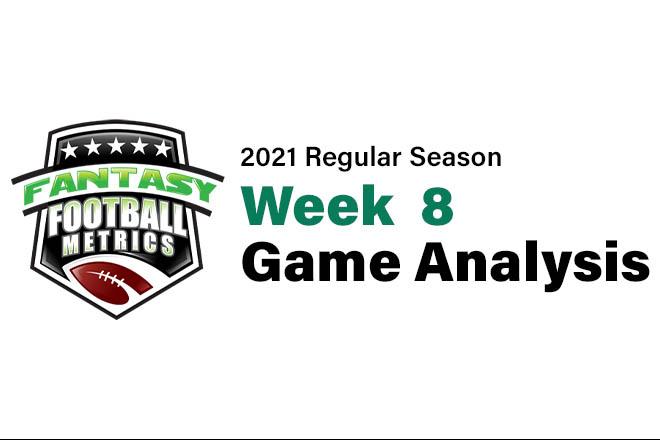 Ross Jacobs
FFM
04 November 2021
2021 Dynasty/Fantasy Game Analysis Week 8: Cowboys 20, Vikings 16 
I'm legitimately not sure how the Vikings lost this game. When I watched the game live I had the impression that the Cowboys were equal to or stronger than the Vikings, that they were the better team and just barely kept missing opportunities until the final minutes.
But after rewatching it I have the opposite impression. The Vikings were the better team here for the most part, and the Cowboys were quite lucky to come away with the win. Minnesota dropped at least two easy Cooper Rush INT's, constantly hurt themselves with dumb plays and penalties at bad times, gave up a 73 yard score to Cedrick Wilson after he beat his man and got a easy lane to the endzone, had a recovered fumble called back because of a penalty, and settled for too many field goals including a possible game-winner with 3 minutes left.
Now I say the Vikings were the better team and should have won, but that comes with a caveat, they were better than the Cowboys without Dak Prescott. The only reason they could compete is because Rush was at QB, and even then the Cowboys still needed just a little bit of luck to pull out the win. It's not like they won despite getting blown away on the field. The defense, in particular, acquitted themselves well.
This was a massive, massive win for Dallas. By getting to 6-1 here they basically just slammed the door shut on any chances of the Eagles or Giants catching them in the East. They will likely roll on to somewhere around 12 or 13 wins and a #2 or 3 seed in the NFC. As I mentioned in my Rams recap, I think they belong in the conversation for 2nd best NFC team along with the Bucs and Rams. To me the Cardinals are still the team to beat at full strength, but those three teams have the best chance at taking down the top dog.
Dallas has only lost to the Bucs so far and barely. Their only close wins were over the very solid Patriots and Chargers. Everyone else they've essentially blown out. Their offense is top 5 in the league, and the defense is middle of the pack but definitely not terrible and seems to be getting better as they go.
The Vikings needed this win to have much hope of catching the Packers in the North. That chance is probably gone now, BUT there might be hope if the Packers lose the next game or two with Rodgers out. They draw the Ravens and then the Chargers though, so it's not going to be easy. Minnesota isn't dead yet, but their division title hopes are fading. More than likely they'll have to settle for a 6 or 7 wildcard seed in the NFC.
Fantasy Notes
--How Cooper Rush (24-40 for 325, 2 TD/1 INT) had this day for fantasy I'm not sure. He wasn't terrible, per se, but he wasn't very good either. I counted at least two dropped INT's by Minnesota, and a good chunk of his yards (and the two TD's) came on the go-ahead drive and the broken play by Wilson. Rush is still a below average backup and not someone the Cowboys should be relying on if Dak gets hurt again.
--To go along with Rush's surprise stats, I was amazed to see Amari Cooper (8-122-1/13) with that stat line. It felt like CeeDee Lamb (6-112-0/8) had the better day to me while watching.
So what happens with Amari now that Dak is back? Hell if I know. Personally, I never felt like there was a ton to worry about. Dallas is running the ball really well with the two backs this year, and Schultz has become a new favorite for Dak, but to me it was just a matter of time for Amari to get his numbers. Now the trouble is I think those numbers equal a WR2 this year and nothing more. Unfortunately he's not the top dog. Lamb is. So it's Lamb that could be a back end WR1-1.5 and Amari will have to settle for a bit less.
It's perfectly fine to hold him and hope for the best, but it's not crazy to try and flip him for something better off this big game...Mike Williams perhaps? In fact, you could probably get Mike AND something else in exchange for Amari. Check with RC on that one, but I think he'll like it.
*RC NOTE: I do still like Mike Williams, but I am down for a spike back up for Amari with Dak as well. I'd rather have Williams, still, at this stage...he's shown physical dominance this season. 
--Cedrick Wilson (3-84-1/3, 1-1 for 35 yards) had a nice day as well, but it all came from the one long play. You can't remotely count on him at this point and Michael Gallup is coming back soon anyways.
--What happened to our juicy matchup for Kirk Cousins (23-35 for 184 yards, 1 TD/0 INT)? Well, turns out the Dallas secondary isn't so juicy anymore. They are getting better and better by the week. Kirk should be ok going forward, but looking at the schedule I'm starting to get a bit nervous for him. It's not a terrible schedule of pass defenses, but it's not particularly easy either, and Kirk tends to feast on easy matchups.
--Justin Jefferson (2-21-0/4) got banged up fairly early here after battling Trevon Diggs. He came back into the game early in the 3rd quarter but was clearly not 100%. We'll have to monitor his injury this week. I wouldn't say that Diggs shut him down exactly. It was a good fight, but Jefferson had him beat at least once for a possible long play, and Cousins overthrew him while wide open. The rest of the time Kirk mostly refused to even look in Diggs's direction. So long as Jefferson is healthy I think he's a terrific buy-low candidate, although his name still carries a large price tag. He's been good this year but has just missed out on several huge games.
--Look for Tyler Conklin (5-57-0/7) to have a huge game against the Ravens next week. He's really turning into a very good TE and is becoming a bigger part of the offense especially with Jefferson hurt, and the Ravens have been one of the worst teams against that position.
IDP Notes
--I heard this Micah Parsons (11 tackles) kid was pretty good...he's getting better by the week. He's pretty much a lock for DROY at this point. Hope you listened to Chris Bilello's advice early in the year!
--Harrison Smith had 6 tackles on opening day against the Bengals and has had 8 or 9 every single week since. He's as close to automatic as you can get for a DB.
‍
Snap Counts of Interest
65 = Adam Thielen
47 = Justin Jefferson
38 = K J Osborn
54 = Tyler Conklin
17 = Luke Stocker
65 = CeeDee Lamb
63 = Amari Cooper
42 = Cedric Wilson
60 = Dalton Schultz
32 = Blake Jarwin
55 = Ezekiel Elliott
19 = Tony Pollard