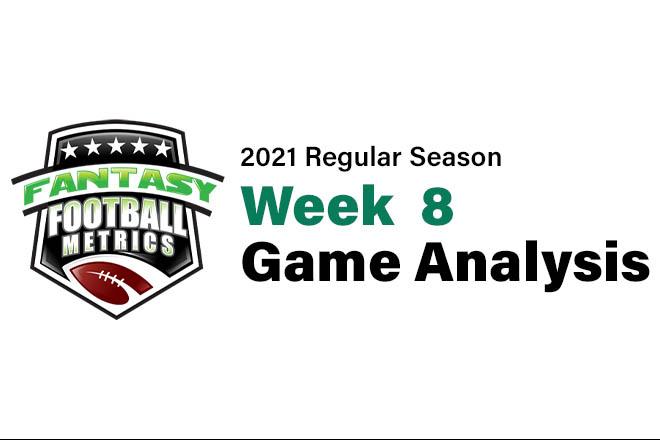 R.C. Fischer
FFM
03 November 2021
2021 Dynasty/Fantasy Game Analysis Week 8: Eagles 44, Lions 6
I'm pretty sure that 'no explanation' is required for this one… The Lions had the first chance to score in the game, missed their field goal, and then watched Philly go 41 straight points before Detroit would score in garbage time in an eventual 44-6 loss.
The players love Dan Campbell!! The fans love Dan Campbell!! The fans must be loving him from afar, because they weren't at a half+ empty Lions home game…some of them in attendance wearing bags over their heads to show how much they love Campbell. You can give all the emotional press conferences you want, but without wins…eventually, the fans…and the players, kinda give up. I'm sure Detroit will win a game somehow this season, but probably only 1-2.
The Lions have been jipped out of a few wins by the football gods this season, but now the whole Campbell thing has jumped the shark and exposed the fact that they have not a lot of talent on the roster, their problems turbocharged by an injury-riddled O-Line (their strength turned weakness).
By beating the sad Lions, the Eagles are now fixed (according to the fans and media). We put away the 'bench Jalen Hurts' and 'Sirianni is one and done' talk away until their next loss…this week. The Eagles are now (3-5), and if they can get by the Chargers this week, then the schedule flips in their favor ahead – and they can make a wild card run. They will likely flounder the opportunity and finish with 6-7 wins in the end.
My main reason to get to study this game was to get a feel for this Eagles run game, post-Miles Sanders. So, we'll start there…
Fantasy Player Notes…
 -- Boston Scott (12-60-2, 0-0-0/1) was the definitive #1 back here…started right out of the gates, played every play the entire 1st-quarter. He's the back to own for the time Sanders is out, and then he'll be the 80/20 20% sidekick with Sanders after that.
Boston Scott is really good…the best back on the Eagles roster, the East Coast Austin Ekeler. And since the Eagles are playing LAC this week, you can compare and contrast – but more importantly the Chargers have the worst run defense in the world right now, so this should be a hot game for Scott.
Jordan Howard (12-57-2, 0-0-0/1) was the 2nd back in…and he was his usual hammering, smart running self. He will be the #2 again this week facing LAC. I suspect he'll see +/- 10 carries against LAC…with a shot at a TD.
When Sanders returns, Howard goes back to being a nobody…possibly cut and claimed by another before the Eagles can stuff him back on the practice squad.
Kenneth Gainwell (13-27-0) just lost all his credibility/value in Fantasy…expected to be 'the guy' off the Sanders injury and ran as the #3 back…and then only in mop up time. RIP Kenneth Gainwell, for now. Enjoy returning kicks and not playing on offense when Sanders returns.
 -- Jalen Hurts (9-14 for 103 yards, 0 TD/0 INT, 7-71-0) staved off more 'benching' talk with a 'big' win over Detroit this week. Another loss will open the 'benching' talk back up…two losses in a row might force the change to happen. The schedule from here is pretty favorable (especially Week 13 on), so a fall might not come…unless they lose two/three-in-a-row somewhere in Wks 9-12 with LAC, at DEN, NO, at NYG.
Hurts had a bad FF game result here, but note he was sniffing 2-3 rushing TDs like usual…but he fell just short and set up easy TD runs for Scott and Howard.
 -- Just a note for nothing…
Jared Goff (25-34 for 222 yards, 0 TD/0 INT) is taking a lot of heat for the Detroit losses, as QBs tend to have happen, but just note – he is playing about as well as you could expect under the circumstances.
An injury ravaged O-Line, no time to throw most plays, and the worst WR group in the NFL. What's he supposed to do? He is fighting and making some good throws under vast pressure on most drop backs.
 -- We got to see some late-game work from two young Detroit RBs…
Godwin Igwebuike (3-18-0, 3-40-0/3) is a converted SAF to RB this offseason, and he continues to progress from his solid preseason showing. He's no threat to healthy Jamaal Williams, but he'd work in a pinch if Jamaal and Swift went down. He's like a raw Damien Harris wannabe.
Rookie Jermar Jefferson (2-6-1, 4-23-0/4) looked capable as well in his first 'real' action. He'd probably see more of the rushing work or split it with Igwebuike if both Jamaal-Swift went down. He is like a slower version of Dalvin Cook.
 -- Kalif Raymond (0-0-0/1) is the #1 WR on this team…and got all of one target in this game? He was the only WR the Eagles cared about, and it was over before it got started. Raymond is a WR3 flyer on volume hopes, but every 2-3 weeks has total dud games.
 -- Since the Zach Ertz trade…
4.5 rec. (6.0 targets), 71.0 yards, 0.0 TDs per game = Goedert
3.0 rec. (6.0 targets), 38.0 yards, 0.0 TDs per game = DeVonta Smith
Smith has not scored a TD since Week and has been under 33 yards in a game in four of his last 7 games…with the no TDs.
 -- Only one Eagles defender played more than 75% of the defensive snaps…it was SAF Marcus Epps (9 tackles, 1 PD),
Epps has started the past two games and has averaged 10.0 tackles, 0.5 PDs while playing 100% of the snaps.
-- The Eagles-DST schedule Week 10 on, in terms of starting QB and NFL rank in NFL PPG...
Week 11 = Taysom/Siemian (#10)
Week 12 = Dan Jones (#27)
Week 13 = Z Wilson (#32)
Week 14 = BYE
Week 15 = Heinicke (#21)
Week 16 = Dan Jones (#27)
Week 17 = Heinicke (#21)
‍
It's a decent Eagles-DST and if they stay in the playoff race, this is quite a great schedule stretch.
‍
‍
Snap Counts of Interest:
49 = Raymond
45 = St. Brown
45 = Trinity Benson…and not one target
16 = Hodge
44 = Swift
11 = Igwebuike
11 = J Jefferson
44 = DeV Smith
32 = Ward
12 = Reagor
04 = Arcega-Whiteside