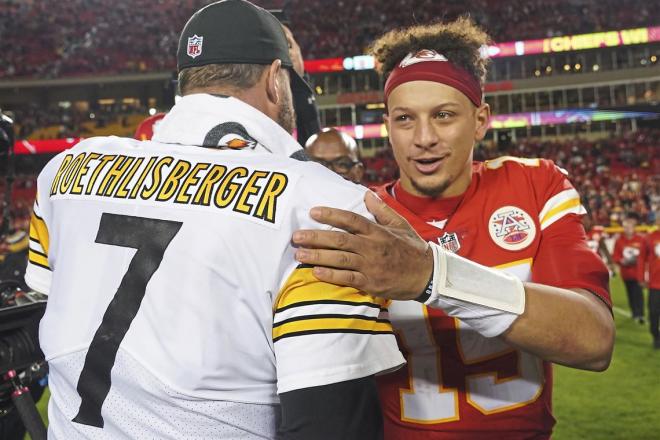 R.C. Fischer
FFM
19 January 2022
‍
2021 Dynasty/Fantasy Analysis Wild Card Playoffs: Chiefs 42, Steelers 21
I don't know of anyone who thought the Steelers were going to give any real threat to the Chiefs in this game, so the final outcome was not a shock. However, it started out like typical KC playoff football…look sloppy and get down early, but then roar back and get on a roll and win big making people forget the sluggish/sloppy start.
I almost forgot that the Steelers looked godawful to start this game, but KC looked just as bad, and 20+ minutes in it was 7-0 Pittsburgh…and I was thinking (during the live watch), "Are the Chiefs really going to blow this?". About 10 minutes of football play later it was 35-7 Chiefs embarrassing the Steelers.
The Steelers making the playoffs was embarrassing to the NFL. That had to be one of the worst teams to ever make the playoffs this decade. They got their just desserts here and were dispatched with impunity. The Steelers now enter an offseason where they are really one of the worst teams in the league and need to do a total gut and rebuild, but because they made the playoffs…they think they're 'good'…'close'…'just need a tweak'…just 'need a replacement QB'. They are delusional…but then again, so are most of the teams in the NFL.
The Chiefs get a big win that the public will overreact to. The public thinks the Chiefs are the best, so their Vegas line/spread is always bumped too high because of it…and now we have the memory of this blowout in their recent memory banks…drowning out the Bills (their next opponent) blowout win the day before. In all actuality, the Chiefs played terribly here…they just got lucky their opponent was incapable of offense on purpose. The Chiefs are one of the worst coached, worst executing 'good' teams I watch every week this season. There's no way they're getting to the Super Bowl. When they don't get to the title game, questions should be asked but they won't…it'll actually go the other way with months of complaining about why no one wanted Eric Bieniemy as their head coach.
Why doesn't anyone want Bieniemy as an HC? Just watch the first 20 minutes of this game…and watch any game this season where the Chiefs played a legit playoff team. KC played all of the other three top 4 seeds this season. Their record against them? 0-3. The Chiefs are very overrated…but are as capable as any to emerge alive from the AFC tournament. All the AFC teams have issues.
Fantasy Player Notes…
 -- The illustrious career of Ben Roethlisberger (29-44 for 215 yards, 2 TDs/0 INT) is over. It was over about Week 1 of this season, but now it's likely officially over.
Say what you want about Big Ben…he did get two Super Bowl rings before a decade+ of disappointment after. Drew Brees and Aaron Rodgers (so far) only have one Super Bowl title before a decade+ of not after that. Ben won his 2nd title in 2008, and then went (5-8) in the playoffs since.
Who will replace him?
My gut reaction is…Mike Tomlin thinks he has something with Dwayne Haskins, supposedly. At least, that's the rumor…but I think that is a smoke screen in front of going and getting a QB in the next few months.
Will it be via the draft or free agency?
My lean is free agency…because the Steelers will be delusional in thinking they have all the pieces, but they just need a better QB. So, they'll be rumored to be trading for all the typical QB names, but no good/talented/passing QB wants to play in Pittsburgh or for Mike Tomlin, on purpose…so it will have to be a lower tier, unwanted by most free agent – like an Andy Dalton type, if Dalton himself is let go by Chicago (likely)…or a Ryan Fitzpatrick…or a Jacoby Brissett, etc.
The Steelers 2022, in free agency, will be like the Giants a few years ago…they think everyone thinks they're a great franchise everyone wants to play for. Problem is…they aren't, and the franchise itself (and it's fans) are the last to know/realize it.
When the Steelers settle on a lower-tier free agent QB, then they'll be extra motivated to chase a QB in the draft…to make it seem like this was their plan all along. They'll want Kenny Pickett, because they share a facility with the Pitt Panthers and they get extra intel on their players…and because Pickett is going to be seen as a throwback Big Ben-kinda (only in better shape) QB…perfect for the Steelers 'tough guy' image.
The problem is the Steelers don't have a lot of draft capital to trade to get into the Pickett sweepstakes, so they'll probably miss out on their desired Plan B. The Steelers media/fans/front office will spend the offseason talking Russell Wilson and Aaron Rodgers with Kenny Pickett hopes, but they'll wind up with Jameis Winston and/or some overrated college QB who falls from grace, like a Malik Willis.
If the Steelers were a stock, you should see it all…now…ASAP…whatever price you can get.
 -- If the Steelers botch the QB replacement for Ben, which I think is likely…then it's a problem for the related weapons for Fantasy…
There is no way Diontae Johnson (5-34-1/10) is going to have the same connection with a new QB in 2022 as he had with Ben the past two seasons. It's just not possible. I don't know that Diontae will fall off the face of the earth, but he can't be a WR1 projection for 2022. He has to be more of a WR2…a WR2 with issues. Did you see the 'drops' resurfaced in this game/the last few games? I've said it all year – use Diontae for all it's worth in 2021, a legit WR1, and we're gonna run from that in 2022 when Ben is gone. Well, here we are.
Chase Claypool scored 4 TDs in Week 4 of his rookie 2020…and has slowly died ever since. He's got a problem in Pittsburgh regardless of the QB. Something is up between he and Tomlin. Claypool could mature and turn it on in 2022 or 2023, but stuck in this offense, with this coach, with a flimsy QB ahead…it's a lot of headwinds against his upside.
Najee Harris (12-29-0, 2-0-0/2) needs two things…one more important than the other. First and foremost, he needs a real O-Line to open up space for him to run. He's not a star or stud or elite RB, but he can be really good if he sticks to straight head running and has some cracks to run through. The problem is the Steelers have one of the worst O-Lines in the league and if they pay too much for a free agent and/or rookie QB…then they won't have as much arsenal to draft or sign an O-Line.
I assume Tomlin will try to build around Najee, so he'll skimp at QB (plus he won't be able to land a big-ticket item anyway) and then he'll invest in the O-Line. The problem is…he created this current O-Line mess. Do you trust he'll work his way out of it?
How good will Najee be in 2022 if the O-line is still bad and Dwayne Haskins is starting Week 1?
 -- OK, so we got a whole season and Jerick McKinnon (12-61-0, 6-81-1/6) barely played…but then has a good game Week 18 versus an injury and COVID-ravaged Broncos team…and he is now the starting/best RB on the Chiefs? Why wasn't this explored earlier in the season? You can't get in the way of RBs with NFL Draft status/stock. It's not allowed. CEH got pushed every time they could.
In case you're keeping score at home, the RBs who have played in the same offense with the same blockers and who looked better than Clyde Edwards-Helaire at playing the position this season are: Darrel Williams, Jerick McKinnon, and Derrick Gore. Good thing for CEH that Darwin Thompson wasn't forced to play off the practice squad.
 -- Tyreek Hill (5-57-1/5) is starting to piss me FF-off…
And you know how much I love the guy.
No targets for the first 20 minutes, as the KC offense flailed away to start the game…down 7-0 to a far inferior team. If that was a one-time aberration, then no big deal…but this is happening like every week now. Hill has had 5 or fewer targets in five of his last 7 games (and one of them he was hurt in). How the H is this possible?
Does this happen to Davante Adams? Or Justin Jefferson? Or damn rookie Ja'Marr Chase?
Tyreek Hill has one 100+ yard game in his last 14 games. How is that possible? You watch the games…he hasn't lost a step. Mahomes hasn't forgotten how to play QB. Don't give me 'well, teams have learned to play way back on KC's passing game'! So, defenses haven't learned to do that with Davante Adams? Or Justin Jefferson? Or a damn rookie who just had 200+ yards and 3 TDs in KC's face a few weeks ago?
This happens when you coach it that way…when you allow this to happen…allow via incompetence, because you should know that you have to get Tyreek the ball as much as you can in every way imaginable. The great offensive mind of Eric Bieniemy doesn't get that. How can Bieniemy be there for years, and the offense gets worse with the same key personnel? Demarcus Robinson had the same number of targets as Tyreek in this game.
I hope Bieniemy gets hired for an HC job so this KC offense can IMPROVE once they're rid of him.
The great Andy Reid coaching tree, Ladies and Gentlemen. Bieniemy will get hired away, and then an even worse nightmare…Matt Nagy is rehired for his old job back.
Let's see what happens at O-C and we'll reevaluate what to do with Tyreek for Dynasty this offseason.
FF-Preview for KC (v. BUF)…
 -- It's probably safe to bet on Tyreek having under 100 yards…under 70 yards and not scoring a TD in this game, because that's been his trend lately and I bet on Andy Reid to not change. There's rarely-to-never any despair to get Tyreek the ball.
Byron Pringle is as likely to be the best KC FF WR this week as Tyreek is…a very sad statement but true the past several weeks.
 -- Jerick McKinnon, on the other hand…a star is born, gotta get him touches out of nowhere. I assume he'll lead the backfield unless CEH returns to create a split (with CEH starting, because…of course).
Snap Counts of Interest:
51 = McKinnon
08 = D Williams
06 = Gore
60 = Diontae
52 = JuJu
44 = Claypool
23 = J Wash