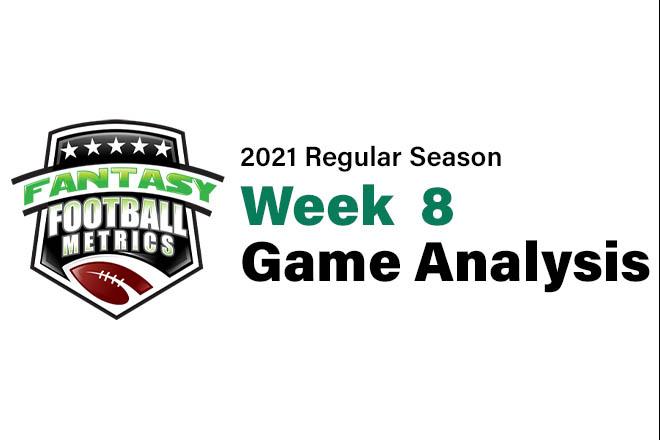 R.C. Fischer
FFM
04 November 2021
2021 Dynasty/Fantasy Game Analysis Week 8: Seahawks 31, Jaguars 7
I thought this would be a relatively boring, low note rewatch/study – but it ended up being a bit more eye-opening than I expected. I was really just wanting to see how Jamal Agnew was used in this game. The Jags losing by 24 was not surprising…although I thought Jacksonville would beat Seattle, or at least cover the spread…I wasn't surprised Jacksonville played poorly and lost. But rewatching this game this week, there was much more to it…things to learn about both teams.
Three headline takeaways:
1) Seattle isn't very good, especially with Geno at the helm. And their O-Line is a disaster – the Jags had 7 TFLs and 3.0 sacks in this game. Seattle could not run the ball at all.
The score looked like a blowout, but this was pretty back-and-forth (bad) the 1st-half, and they needed miracle catches from their WRs to move the ball (and atrocious pass coverage by JAX) because they could not run the ball at all.
To some degree, this was a 'lucky' blowout by Seattle…given how bad Jacksonville is, and how much Seattle had to scrap and get lucky to get a big lead.
Obviously, things are better with Russell Wilson – but just know this a really bad team with Russell as the safety net from them not being as bad as the Jacksonville's, etc. If Seattle gets to the playoffs, Russell Wilson should be league MVP unanimously.
After their bye, Seattle has at GB and then hosting ARI…so, they will then fall to (3-7) and have an easier schedule from there but likely they would finish with 7-8 wins (if Russ is back).
2) Jacksonville is THEE worst team in the NFL. Not Houston. Not Detroit. Not Chicago. Not even the Chiefs…it's Jacksonville as the worst.
The thing is, they have a really nice offensive line…and that's usually enough to get a team by for some wins/playing decent, but Trevor Lawrence is non-generational, their backfield is 'meh' (despite the OL advantage). Their defensive game plan and secondary is the worst. They play with no real energy or competence for any consistent time.
The biggest reason why the Jags are the worst team in football? See #3…
3) Urban Meyer is quite possibly the worst head coach to ever patrol the sidelines in NFL history. Apologies to such luminaries as Rich Kotite, Hue Jackson, and Steve Wilks (among many others).
You wanna talk 'generational' on Jaguar things? Meyer is a generationally awful head coach. Pointing to his stupidity of cheating on his wife in public…beyond the moral aspect, just the sheer stupidity to do such things in public…shows how dub he really is. However, it's easy to point to that but it's not where we should focus. Let's just ignore that it ever happened for a moment – let's look at his awfulness beyond that.
He's made the worst roster moves and trades (value exchanges) in the league, by far, in 2021. His team and coaching staff hate him…and now the public and the fans do too. It's come out that he doesn't really coach anything, he just leaves things to his assistants. He's useless…a highly paid figure who was hyped up by the media…a sucker's bet by the Khan family, who should be embarrassed – but they constantly run the team into the ground, so shitty peanut butter has found moldy chocolate to come together for a hot garbage product with Urban and the Khan's.
If you want to know how awful Urban Meyer is at coaching – watch this game. It's a clinic on bad coaching. They should show this game (this season) for generations to come on what bad coaching looks like.
Urban Meyer goes through this (or any other) entire game barely interacting with anyone…no one comes near him or wants to have anything to do with him…it's almost comical to watch. He is worse than the Coronavirus…he has a 10-foot separation around him at all times. He should just build a plexiglass structure with wheels on it to stand in and a little remote control option…or maybe like on a Segway, and he just leans to where he wants the 10' by 10' plexiglass booth to move towards and everyone gets out of his way. Perhaps, Urban should get that ridiculous Booger McFarland Monday Night Football crane and coach from there -- that way so he's as far from human contact as possible.
But the real crime here…down 24-0, the Jags hurry up and go down the field for a score with 1:39 left. If the Jags could convert the 2-point attempt, they cut it to a two-score game and if they can get the onside kick, maybe this gets interesting. It's not much of a chance, but it's a chance. However, instead of going for two…Urban decides to kick the XP. Why? I have no idea. It doesn't make sense on any level at all. No one in the world would kick the XP there…but Urban did. Nice message sent to the team.
So, if Urban was just wanting to end the game. If he was quitting – then why bother to do an onside kick next? But he did…and his half-hearted/defeated special teams quit because Urban already had, and Seattle took the onside kick back for an untouched TD.
The Detroit Lions are terrible…a corrupted O-Line and defense devastated by injury and poor personnel choices. But the Lions are always fighting. The Jags have some talent and a good/healthy O-Line…and with those advantages, they look utterly terrible and disinterested. That's on the coach.
There is no way this gets any better. No way Urban earns the trust of the team back EVER, because he never had it to begin with and he won't try/he's incapable of it because he's an insufferable, NFL-incompetent a-hole. And yet a billionaire owner is going to continue to support him and pay him more money next week than I will make in the next decade+.
Fantasy Player Notes…
 -- Like I mentioned prior, I came to this to watch Jamal Agnew (6-38-1/12) – the guy I was pushing even harder last week.
What I saw…
Agnew is working as a slot WR, which is short routes in front of Trevor…which is all Trevor is good for, so this works – that's why Agnew is suddenly the target leader the last few weeks.
Also, Agnew is the best offensive skill position player they have. The only one with juice, so they try to get him on tunnel screens and quick slants, etc. Agnew and Trevor just missed out on 2-3 more catches for 40+ yards, due to miscommunication…that should improve as they go.
The Jags are almost always going to be way down, so little dump passes and a high volume of passes against prevent defenses will help Agnew be FF-productive. He's a WR2-3 in PPR.
 -- Dan Arnold (8-68-0/10) had his best game as a Jag…probably his best game in the NFL. Arnold was running a bunch of simple short routes and Trevor is only good at throwing to that, so Arnold was a nice easy throw into the flat and let him try and scratch out a few extra yards after the catch.
Arnold has a hands issue (to me), but in this game he caught everything he reasonably could. A PPR TE1 potential for Arnold going forward.
 -- Jaguars in big deficits = higher passing volume, and when Trevor Lawrence (32-54 for 238 yards, 1 TD/1 INT) has to throw a lot (or a little) it's all short throws. If you assume Buffalo is going to blow the Jags' doors off Week 9…then sudden emergency starter Carlos Hyde (4-32-0, 6-40-0/8) is likely to have a similar game as he had here – 8 targets, safety valve throws, Trevor trying to work safe in a deficit. Hyde has hope to be a PPR RB2 this week because of the game script.
 -- Not much to mention about Seattle, because playing against Jacksonville is not reality, but two things…
1) I take back what I said about Rashaad Penny (7-7-0)…that he's done because look at his terrible output the past few games. He looks fine…he looks good…it just looks like the worst O-Line in the NFL in the run game. It may be Geno exacerbating the issue, but whatever it is – it's not good. Alex Collins (10-44-0) is scuffling around it too.
When Russ returns, maybe Collins is an RB2, and Penny has hope on a Collins injury. But with Geno at QB…forget it.
Jags DE Josh Allen (6 tackles, 2 sacks, 4 TFLs) is good but he was 'lit' by how bad this Seattle O-Line was.
2) Tyler Lockett (12-142-0/13) had a monster game because the Jags coverage was so disastrous. Urban Meyer is in love with rookie CB Tyson Campbell (4 tackles, 1 PD), but he sucks – if Geno Smith is working you…then you really do suck. They rotated Campbell on Lockett, and then as that was a nightmare, so they then put a slower safety on Lockett…and Lockett destroyed that too.
I didn't like Campbell's cover ability when scouting him for the 2021 NFL Draft…good body, nice athlete, crappy cover ability. The NFL people thought he was better at Georgia than Eric Stokes…and I passionately pleaded that such a scouting take was nonsense. I win.
Again, Urban Meyer is a disaster as a game manager, a personnel decision maker, and with his NFL Draft scouting eye.
Snap Counts of Interest:
69 = Marvin Jones
55 = Agnew
52 = Shenault
50 = Hyde
15 = Ogunbowale
08 = JRob
55 = Arnold
18 = Farrell
27 = Collins
17 = Homer
11 = Penny
44 = Everett
36 = Dissly
08 = Parkinson