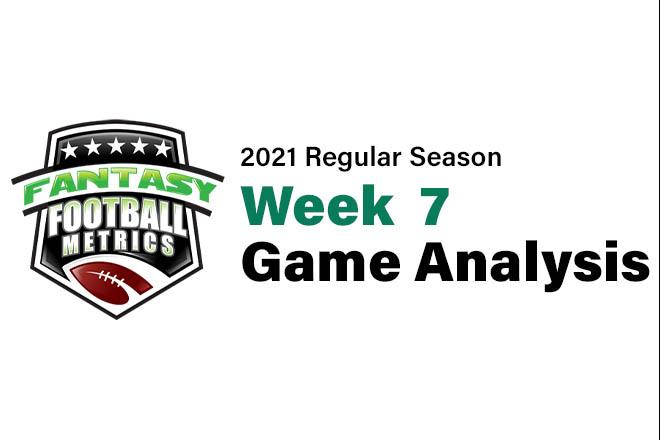 Ross Jacobs
FFM
29 October 2021
2021 Dynasty/Fantasy Game Analysis Week 7: Patriots 54, Jets 13 
I'm not sure what all to say about this one. The Patriots were the more disciplined, solid team and they kicked the crap out of the Jets. Apparently Belichick really hates them because he kept piling on late after the game was more than over.
Don't let the score fool you, the Patriots are not that great a team. They are just better than the Jets. Everyone is better than the Jets. It's not that they aren't trying either. They are. They just suck on both sides of the ball. That spunky young defense that was showing signs early in the year? Gone. The offense has never been good because the offensive line is corrupt without Becton and now Zach Wilson looks like he'll be out a while. I would absolutely take the Texans and Lions and Jaguars over this team right now. That's how terrible they look.
The Patriots are an average team. They are disciplined and play safe, controlled football. They are going to wreck bad teams like this, but they aren't going to be able to hang with playoff caliber squads due to the talent disparity, particularly on offense. I see this team finishing somewhere around the .500 mark and missing the playoffs.
Fantasy Notes
--Well Wilson got knocked out in the late 2nd quarter and looks like he'll be out for a while. The Jets turned to 4th year QB Mike White (20-32 for 202 yards, 1 TD/2 INT) and he wasn't terrible. They immediately traded for Joe Flacco, and there was some speculation that Flacco might start against the Bengals but the Jets announced it would be White.
So what can we expect from White? The closest comparisons I can think of would be Mason Rudolph and Mike Glennon. Big guy, decent but not overpowering arm, wants to attack downfield but can be a bit scattershot with his accuracy. He's the kind of guy that might have been a halfway decent starter 10-15 years ago but in today's game he's just another so-so backup. He's not terrible but definitely not some hidden gem either, and unfortunately his first start is going to come against a feisty Bengals defense. I don't think this is going to end particularly well.
--Even though White wants to go downfield with the ball, he isn't afraid to check it down either which is why both Michael Carter (11-37-0, 8-67-0/9) and Ty Johnson (5-6-0, 6-65-0/7) caught 6+ passes. Both guys are going to struggle getting anything on the ground with this terrible offensive line but will get some decent ppr work. Johnson probably won't be consistent enough to matter, but Carter is the lead now and in the mix as a desperation option at RB.
--The Jets WR's are all completely unusable this year. It's a 3-way split between Davis, Crowder, and Moore. Of the three Davis is getting the most consistent work and the TD opportunities and Moore is the guy they would like to get going. He's also the future slot receiver for Wilson after Crowder moves on. I finally saw a little spark from him on his 19 yard TD run. He took a reverse and looked like he would be tackled in the backfield, then suddenly put his foot in the ground and blew past multiple Patriots defenders. I still don't see a true WR, but his physical gifts are starting to show a little. I would be interested in him as a deep stash in dynasty for next year.
--I know it doesn't matter for this year, but I have to say this: Zach Wilson is really damn good and easily the best rookie QB. I don't care one bit what the stats say. He is dealing with a pathetic offensive line that's allowing him to get instantly pressured every snap, bad WR's that can't separate, and he still looks completely calm as he surveys the field and whips passes with a flick of his wrist. You know who he looks like? Kyler Murray without the long speed. If, and this is a big if, the Jets can fix this offensive line and get him some real receivers in the next year or two, Wilson is 100% going to be a good QB, and he is basically free in dynasty right now. If you don't have him as your 3-4-5th QB you should absolutely go get him at the end of the year.
--As good as Wilson looks, I just cannot say the same thing for Mac Jones (24-36 for 307, 2 TD/0 INT). He's fine, I'm not saying he's a bust. But there's just nothing to get excited for here. He's Jimmy Garoppolo but even safer with the ball. He is the essence of the words "game manager." And I know everyone said that about Brady his first few years, but do we really think Mac is going to turn into Brady? I don't see it. I don't see the fire, the drive that Brady had even as a young QB. I see a glorified backup, a slightly better Case Keenum. Could be worse...they could have traded up for Justin Fields.
--You can't take too much away from the RB numbers from this game. The Jets have a terrible run defense and the game got out of hand quickly. Damien Harris (14-106-2) is still the lead. JJ Taylor (9-21-2) was his primary backup on the ground and got his two TD's in garbage time. Strangely they aren't using Taylor as a receiving back like I would have expected. It's Brandon Bolden (2-0-0, 6-79-1/7) that's the primary receiving/3rd down back right now. I want to think that he's the new James White, but his disappearance last week was strange. I don't think we can count on anything with this backfield right now. If you desperately need points Bolden is a decent try though.
Rhamondre Stevenson had a big game last week out of nowhere which led to many people proclaiming that he had arrived and was going to be featured more moving forward. Oops. I couldn't find a lot of information on why he was a healthy scratch, but it's apparently going to be Belichick's call every week between him and Taylor for the 3rd spot, whichever guy he thinks practiced better or worked harder.
--There's still no WR you want to be using from NE. Jacobi Meyers (5-44-0/7) is the closest thing in ppr, but he doesn't score TD's. Mac just spreads the ball around too much for any one guy to be dependable. The only thing that's been consistent so far is Hunter Henry (2-23-2/4) in the endzone. He's the Patriots' version of Mo Alie-Cox. Henry took almost all the TE snaps after Jonnu Smith left the game with an injury. If Smith is out then Henry suddenly becomes a nice potential option at TE and should be battling with a million other guys in the 6-15 range at the position.
IDP Notes
--As the Jets defense completely dies two guys stand to benefit for IDP purposes. The two safeties Marcus Maye (12 tackles) and Ashtyn Davis (11 tackles) are going to get a ton of numbers as teams run the ball against a leaky front seven. In Maye's four healthy games this year he's averaged 8.75 tackles per game, and Davis got 11 in his first game as a full-time starter after playing less than 50% of the snaps in weeks 4 and 5. The one concern here would be if Maye is traded before the deadline.
Snap Counts of Interest
60 = Hunter Henry
17 = Jonnu Smith
35 = Damien Harris
21 = Brandon Bolden
20 = JJ Taylor
59 = Jakobi Meyers
43 = Nelson Agholor
41 = Kendrick Bourne
52 = Jamison Crowder
47 = Corey Davis
37 = Elijah Moore
47 = Michael Carter
21 = Ty Johnson