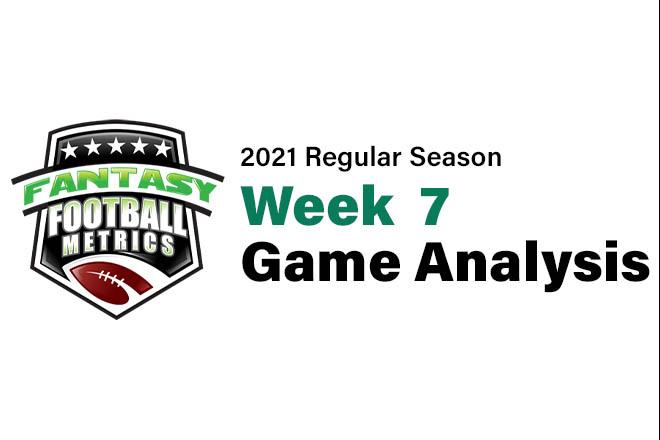 R.C. Fischer
FFM
26 October 2021
2021 Dynasty/Fantasy Game Analysis Week 7: Giants 25, Panthers 3
For a game probably no one cared about, including fans of both teams, this is my choice for my lead-off game report for Week 7 reporting – the game with the most football and Fantasy intrigue.
From the Carolina perspective, in this game, we have the Sam Darnold benching…and I'll get into that in the player segment.
From the NY Giants perspective, I have the fact that I want to discuss that this is a secret good-to-great team forming – just hiding in the weeds. A contender for my new favorite team emerging, getting in on the ground floor. I'll discuss that but first a game overview…
The Panthers took the first drive, went down into FG range and grabbed the early 3-0 lead. For the next 53-minutes, the Giants won the game 25-0…beating a team that had wild card aspirations, beating them at their place, and beating them while missing their own starting left tackle, franchise RB, franchise linebacker, and two franchise WRs, and Sterling Shepard.
It would have been so easy for the Giants to mail this in. Losers of four of their first 5 games. Blown out and banged up in the last two weeks of huge losses to Dallas and the Rams. Missing almost all of their big players, especially on offense…the season is over, fellas, right? Wrong.
You wanna know why it was wrong thinking that the Giants would flop (and I thought CAR was a best bet on an NYG flop this week)? Because the Giants are secretly, at full strength, one of the better teams in football. And, more importantly, they are one of the best coached teams in the league.
Let that settle in for a second. I'll wait.
D-C Patrick Graham is one of the best defensive coordinators in the league considering his work in his first two years with NYG. This defense is stout/tough…and if it had Blake Martinez, it would be a top 10 unit coming on right now. The front line is really starting to develop – one of the best/deepest front lines/pass rushes developing in the NFL. I thought, and many analysts thought it was Washington with the best young emerging pass rush…but Washington is not even the best pass rush team in the NFC East…and probably not the 2nd-best either (Dallas).
I have never liked, personally, Jason Garrett…with my only experience was him as the HC in Dallas. I thought he was an empty pair of coaching sweatpants, but as I watch the 2021 Giants -- I see one of the savviest, most clever offenses going in the NFL (not radical, just better than most dull/repeating offenses). And I don't know how much of it is on Garrett, but Daniel Jones has transformed from 'joke' to solid 'C' grade QB. I thought Dan Dimes was toast…watching all the NYG games live and back again on tape so far this year, I know that is not true. He still has issues, but he's not a negative thing anymore…that's better than where he was.
Joe Judge – you have to give him credit for holding this ship together…going TO Carolina as an underdog and missing all his firepower on offense and dealing the Panthers a beatdown. A win here saved the season, for the time being…they go forward to next week where they have hope some of their weapons are back to take on suddenly awful KC.
Don't forget GM Dave Gettleman…
The Leonard Williams trade is working out fine.
2018 Draft: Took a layup with Saquon (not his fault he's always hurt), but one should NEVER take a running back in the 1st-round…but Saquon has his place.
2019 Draft: Three 1st-rounders… Dan Jones improving and Dexter Lawrence, solid. DeAndre Baker not so much.
2020 Draft: Andrew Thomas contributing, Matt Peart contributing. Nothing special bit not a total disaster draft.
2021 Draft: One of the best drafts of the year…Azeez Ojulari is showing flashes. Kadarius Toney could be the best WR from this draft…or goes all OBJ and ruins his career with his mind/actions. And they have, who I think is, the best CB from this draft outside of Eric Stokes…Aaron Robinson, who is on IR.
But it's just not decent/OK/better-than-nothing drafts…the real brilliance is what Gettleman is doing in free agency. He rebuilt the defense with his ace 2020 offseason (Blake Martinez, James Bradberry). Adding Graham Gano was quietly brilliant. Grabbing off waivers and sticking with Dante Pettis is starting to show signs. He outright stole EDGE Quincy Roche from the suddenly comatose personnel department of the Pittsburgh Steelers.
The Giants were screwed out of the division title by Doug Pederson throwing a game Week 17 last season. If the Giants were mostly healthy now, they'd be like (4-3) and emerging right now…a strong wild card and possible NFC East winner.
This team is being built the right way. Giants fans…you gotta be patient and give the team a 'pass' for the moment due to all the crazy injuries. You should be proud and encouraged by what the Giants did here…not slamming them for whatever things you think they should've done. There are things to critique but this team is building something, it's got something trying to hatch out of the proverbial egg. All I know is…this team is on the right track. Dan Jones may hold them back from the pinnacle, but he might not in another year or so…
The Giants are (2-5) and now go to KC this week, not great timing for that. If they lose, the mission would be to beat Las Vegas Week 9 to get to (3-6), get to the bye week and try to have everyone possible healthy for the final kick. It's likely too far a hole dug, but we don't know how good the Giants will be if they get Saquon-KG-Toney-Shepard on the field at the time with Andrew Thomas back on the O-Line.
Carolina is doing many of the things the Giants are…building a great pass rush and a solid defense and dealing with an ever-hurt franchise RB. Only the Panthers purposefully went with Sam Darnold, and it's destroying them…and the Carolina WRs are a shell of what the Giants' are.
The Panthers are (3-4), on a four-game losing streak…and there's no way they'll rise with Darnold at QB, so they are doomed to a losing season and a giant gap at the most important position = QB. I would like to pitch a rumor, to get on record with it first – watch out for Jalen Hurts being traded to Carolina (or Houston) pre-deadline.
Fantasy Player Notes…
 -- Let's talk Sam Darnold (16-25 for 111 yards, 0 TDs/1 INT)…
Sam got benched. The mainstream will try to spin it that it was not a big deal, but it pretty much just put a dagger straight through the heart of his career. The Jets quit him. Now the Panthers have. I'm glad they did, because I was getting sick of hearing 3-hour Sunday discussions on how Darnold just needed a new place to play, a new offense, a new whatever…whatever excuse they can give because the mainstream absolutely believes Sam is great, and therefore his issues have to be everything else.
It's over.
The problem for Carolina is they have no other option…which calls into question Matt Rhule's decision-making as a coach/talent evaluator. They went all-in on Teddy, then paid a ton to then quickly give up on him…then they brought in an even worse QB solution, Sam Darnold. And knowing what a problem Sam might be, their backup plan was P.J. Walker (3-14 for 33 yards, 0 TD/0 INT).
You're getting Sam or P.J. ahead, the rest of the season, if Deshaun refuses a trade to Carolina. And there will be nothing but losses and bad FF output to come.
It's a shame. Carolina has built a decent team otherwise…not a great team, but pieces are being put into place for a playoff team and future of the NFC South. But it can't go anywhere with Darnold at the helm. Sam's career effectively ended this game. I just don't know when the funeral is officially.
The Panthers may try to trade for Nick Foles, or my super-rumor long shot trade for Jalen Hurts, but they need to see how the Deshaun Watson thing is going to play out first. The Panthers season is effectively over…and Matt Rhule is to blame, because he has to be the one OK-ing/desiring these QBs. He deserves all the heat he's about to get...a trade for another QB is only going to magnify how bad Rhule's QB decisions have been so far..
 -- Sam Darnold never has gotten 'good' in four seasons. He's gotten to serviceable and 'bad', but never 'good'. Daniel Jones (23-33 for 203 yards, 1 TD/0 INTs, 8-28-0) has found his way to near-good in year three…you'll take it. It's not optimal, but it's progress. And Jones looks a lot better when Saquon is in the backfield taking a ton of heat to open up the pass game (the same effect Dalvin Cook and Derrick Henry have for their QBs). And we don't know how good Jones will be when he has KG-Toney-Shepard all on the field at the same time. There's now some hope with Dan Dimes.  
 -- Speaking of those NYG WR weapons…
1) Dante Pettis (5-39-1/5) was one-time thought to be the emerging #1 WR for the 49ers just a few years ago. Then he was cut. Then the Giants gave him a shot in 2020, they stuck with him, and with his first real chance to play – he was the best WR on the field this game.
Sadly for him, and amazing for NYG, Pettis will be a #4-5 WR when all the other NYG WRs get healthy. NYG's #5 WR is better than all the Detroit and NY Jets WRs on their roster right now.
*Side Note: Pettis…Aiyuk…boy, don't question that Shanahan genius!
2) Kadarius Toney wasn't put on IR…that's good news. Nothing major wrong, it appears, but I am thinking he will miss Week 8…but because it's suddenly a so-or-die NYG season game vs. KC…maybe Toney pushes to get back on the field.
3) I'm assuming Kenny Golladay is pushing to get back for the KC game too. He was not put on IR either, and Week 8 was the target return game. We'll see about his practice report his week, but he's expected to be practicing this week.
I thought Golladay looked great with Jones…with Barkley playing, especially.
Dan Jones could have KG and Toney back this week…it's looking better and better. And Saquon Barkley has a shot as well.
 -- Sam Darnold's issues are not being helped by Robby Anderson (3-14-0/9), who is dropping everything…he's catching 36.1% of his targets so far this season – and most of it his fault.
The WR to watch here…former Matt Rhule/Temple player, Keith Kirkwood (3-16-0/5). He looks like their best WR to me, or at least a legit starter over Robby Anderson – KK has height, hands, and grit. He just cannot stay healthy. Nothing for FF because the QBs are awful, and Kirkwood is buried here.
 -- Royce Freeman (3-18-0, 1-1-0/2) saw a lot more snaps here than usual (29) because Chuba Hubbard (12-28-0, 4-28-0/5) is struggling to run the ball and is a worry to drop passes as well (had one here). 34 snaps for Hubbard and 29 for Freeman breaks with the norm…and it wasn't all garbage time. Freeman was in early and took chunks of series here and there.
The Panthers desperately need CMC back, but that's at least two weeks away…and maybe more if the Panthers continue to lose.
 -- We all got excited about the Panthers building an arsenal at cornerback, but that's not really paying off…
Jaycee Horn is done for the year.
A.J. Bouye looks like he's nearing 'the end'
C.J. Henderson played minimal snaps (12)…he may be falling out of favor with the new team.
Stephon Gilmore is nowhere close to returning, apparently.
The best Carolina CB that I see is rookie Keith Taylor (3 tackles)…that wasn't supposed to be.
The supposedly very good Panthers defense has allowed 36-21-34-25 the past 4 weeks…and the offense is no help to them for field position.
 -- The Giants defense looks way better to me than the Panthers-DST now…
When facing weaker QB-led teams the past 5 weeks, vs. Ryan-Winston-Darnold…they've allowed 17-21 and 3 points. In this game, 6.0 sacks and 10 QB hits here for the NYG defense.
Rookie EDGE Azeez Ojulari (5 tackles, 2.5 sacks, 3 TFLs, 4 QB hits) is showing sparks…5.5 sacks this season.
The Giants STOLE rookie edge Quincy Roche (3 tackles) after the Steelers cut the 2021 6th-rounder in the preseason…he is already contributing to the DL rotation, one of the better defensive front lines in football.
You can't use this DST until Week 13 at MIA. Otherwise, they have a bunch of terrible/tough matchups the rest of the way. This is a Dynasty Stash defensive prospect.
Snap Counts of Interest:
44 = Slayton
37 = Ross
35 = Pettis
62 = DJ Moore
61 = Robby A
29 = Kirkwood
20 = Shi Smith
34 = Hubbard
29 = R Freeman