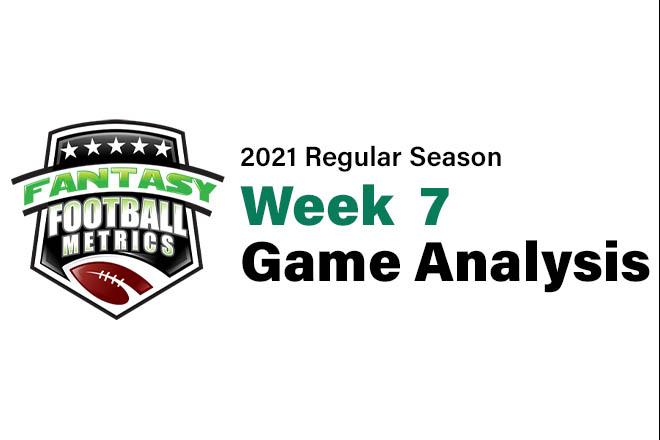 R.C. Fischer
FFM
26 October 2021
2021 Dynasty/Fantasy Game Analysis Week 7: Titans 27, Chiefs 3
By no means am I suggesting the Chiefs are any good, but this game was a little more on the 'lucky' side of a win…in this blowout win by the Titans.
I'm not defending the Chiefs with the typical football analyst's cry of: 'Oh, they have Mahomes…you know they'll be fine'. No, they won't be fine. Their overrated head coach and terrible O-C combo is starting to catch up to them – taking an 'A+' opportunity team and coaching it down to a 'B+' student…still better than most but underachieving maximum potential. We've seen that a million times throughout NFL recent history…
Sean Payton wins one Super Bowl with Drew Brees a decade+ ago and hasn't been back since.
Mike McCarthy won just ONE Super Bowl with Aaron Rodgers, a decade ago, and Green Bay has not been back since. How do you win just one Super Bowl with Aaron Rodgers in his prime?
Pete Carroll…one Super Bowl with Russell Wilson.
Sometimes an NFL team, given enough time, will have a Hall of Fame QB who has that one season where the team avoids major injury, the schedule lands right, key opponents have those injuries, and the ball bounces just right enough to where the team stumbles into the Super Bowl and wins it off the back of the ace QB. When 10+ years go by with that QB performing at a high level, and you can't get back for another and another title run, when you have losing records in the playoffs other than the Super Bowl run outlier  – it's a coaching issue as much as anything else…in that there is no coaching, just randomness going on around the QB, who has to overcome it.
You really have to respect what Tom Brady and Joe Montana and their coaches did in their respective dynasty eras.
Andy Reid has coached 23 years and has a 14-15 playoff record outside of the 2019 Super Bowl run. I think just about anyone with half a brain could be a head coach for 23 years and stumble into ONE Super Bowl win through some random chance of the universe.
The Chiefs were on top of the world in 2019 (after a furious comeback late to avoid a Super Bowl loss to SF)…got back to the Bowl in 2020, and got destroyed by Tom Brady. And now the team is literally falling apart right in front of our eyes – becoming that post-Super Bowl Packers team of the McCarthy-Rodgers era (outside of the Super Bowl run, McCarthy went 6-8 record in the playoffs otherwise). The Chiefs are becoming the random 'any given Sunday' team because they have Mahomes.
I'll tell you how the horrific Andy Reid decisions are causing the 2021 issue…
1) Trading for Orlando Brown…a big, slow run blocker that the top run game in the NFL (BAL) didn't want was traded for and installed as the left tackle for a team with the most dynamic passing QB in the NFL. Huh…the Titans only had 4 sacks and 9 QB hits in this game…
2) O-C Eric Bieniemy is a horrific offensive coordinator. No one wants him as their head coach in an era where any idiot from a team that was good last year can get a head coaching job. Everyone knows this is all Mahomes, and nothing to do with Reid-Bieniemy…it's done in spite of them. I listen to Eric Bieniemy press conferences and marvel and what anyone sees in him.
3) The O-C issue manifests itself in the fact that NFL defenses are just dropping back deep into coverage and daring KC to throw short…and idiot Bieniemy keeps sending everyone medium and deep right into it.
A big reason why Mahomes is under such pressure – no one is open because everyone is headed downfield into a spiderweb. Notice how much you see Mahomes having to move out of the pocket to buy time this year…notice how many yards Mahomes runs for in games now…because everyone on defense is chasing medium and deep and there's chunks of yards for him to get for free running because all his receivers are downfield, too often covered, as well.
4) Reid-Bieniemy's idiocy rolls right into watching game after game where Tyreek Hill doesn't have a catch in the 1st-half…not even a target hardly. Cooper Kupp and Davante Adams and Derrick Henry ALWAYS get the ball…Tyreek goes whole halves of games without a target.
The entire opposing defense drops into deep coverage on the snap, and if anyone had any brain in Kansas City they'd counter that with quick passes to Tyreek behind the line of scrimmage to make the defense come up, but no…they do the defense a favor by sending Tyreek deep right into it and then Mahomes has to scramble due to everyone covered or dumping passes to Williams-Pringle-Hardman occasionally. The defense BEGS Kansas City to dump passes to not-Tyreek and to not throw medium to Kelce, and KC obliges because no one else is open and KC never adjusts until they're way down and playing against a prevent defense.
Hill has produced 20-251-1 in the 1st-half of games this year, and 32-390-4 in the 2nd-half.
If Eric Bieniemy ever adjusted Andy Reid's terrible game plan for this specific KC team…I'd fall over watching on a Sunday. He won't, I'd almost guarantee he won't…because he's not going to do something forced by dumb fans complaining. He's smarter than you.
5) KC's big answer to help the offense this year…sign Josh Gordon! You have a Super Bowl team, and you don't add one interesting WR despite the fact you have nothing but CFL guys after Tyreek?
6) You wonder why Matt Nagy is a terrible head coach and terrible offensive mind…straight from the Andy Reid tree.
The worst two coaching trees in football: (1a) Bill Belichick's, (1b) Andy Reid's.
Back to this game…
Tennessee jumped right out to a 7-0 lead. On the ensuing drive, KC was moving…but a strip sack by Bud Dupree as cement shoes Orlando Brown never touched him rushing off the edge. Tennessee turns that into a 14-0 lead. Followed by a KC three & out, Tennessee then held to a FG…17-0 Titans. First play for KC after that, a deflection turned diving INT…Titans turn that into a 24-0 lead soon after. KC driving again to try and close the gap before halftime, Mahomes flushed and running for a 1st-down, got hit from behind, fumble…27-0 lead.
The rest of the game, KC 'won' 3-0.
Not that KC played well, but as things were happening…KC tried to respond but turnovers started to happen, and the ball bounced the wrong way and they it just got out of hand…KC pressing…then Mahomes kneed in the head and then 'ball game'.
I'm not taking everything away from Tennessee…they won, they were/are the better team…but when you see KC as a .500 team, not THE BEST TEAM EVER, then this is just a good solid win for the Titans…don't make too huge a deal about it. The problem trying to take away 'things' from this game is, until you adjust your world view that KC is a poorly coached .500 team with a great QB…then you only ever react by talking about 'What's wrong with KC?' all week and everything that follows from it. It's like people's Sam Darnold scouting – everything is asked as: What's the staff and line and everything doing that is causing Darnold not to be great…because we know he is?!? If you start out by realizing Darnold has sucked since USC…then everything that has happened after makes a lot of sense.
Kansas City is now (3-4) and is on their way to 8-9, max 10 wins unless KC adjusts their offense by simply going all-in on an early short game with Tyreek.
Tennessee is now (5-2) and is on their way to 11-12 wins with a very easy schedule ahead. They might go 13+ wins and grab a #1 seed with wins over BUF and KC already.
Fantasy Player Notes…
 -- Patrick Mahomes (20-35 for 206 yards, 0 TDs/1 INT, 6-35-0) will ultimately be fine. Had they not lost fumbles and had a weird ricochet pick in the game…he probably would have flirted with 300 yards passing and had at least 2 TD passes, like his usual 'bad' game. If he just finished the game/not injured, he might have had 300+ and a TD in garbage time. But things went against KC on turnovers early, then the injury, all allowing the great run team to just possess the ball (TEN 36/24 time of possession).
I'm a buyer of Mahomes on any radical dip in pricing.
 -- Let's walk through the KC weapons/my notes on them…
1) Byron Pringle (5-73-0/6) is becoming the Chiefs #2 WR by default…and he is the best talent they have after Tyreek at WR.
Over his past 4 games, Pringle has caught 12 passes on 12 targets.
In his last two games: 4.0 rec., 64.0 yards, 0.0 TDs per game.
In another week or 3, barring a trade for a WR, it could be Pringle as that bye week WR/Flex where you go – I'll just cross my fingers with the elite QB's #2 WR.
2) …and you don't keep thinking that the bye week Flex/WR hopeful is Mecole Hardman (4-28-0/5). Has any WR floundered in any better situation in the modern era? Another Andy Reid special…and they won't quit him, but they should.
3) Josh Gordon (0-0-0/1) was the WR target on the forced throw/can't get open WR with the tipped/ricocheted up target to him that ended up a diving interceptions grab/play that broke the final straw here in the 1st-half meltdown.
Gordon has two targets in three games played, so far, and is playing 9-11-8 for snaps in games so far. SWEET!
4) Darrel Williams (5-20-0, 3-30-0/4) doesn't strike fear into anyone's hearts on defense, so the defense begs KC to use him as much as they can. No big usage here because the game got out of hand, but I'm sure they'll go right back to him heavy as fast as they can.
Marlon Mack showing up here is making more and more sense to me.
5) I'd say Travis Kelce (7-65-0/12) is a buy low, but he really isn't. Kelce and Waller rarely dip in value because all the other tight end names are not respected (except Kyle Pitts now). You can get Tyreek Hill (6-49-0/9) in a deal when you give a flashy WR name back in that deal. But you try to get Kelce with ___ + Knox or Schultz or Uzomah or even Mark Andrews…and it doesn't feel right to the Kelce owner. Kelce is one of the toughest players to trade for in FF.
 -- Hat's off to Ryan Tannehill (21-27 for 270 yards, 1 TD/1 INT, 2-6-1), he's turned into one of the lowkey best QBs in the NFL…as long as he has Derrick Henry (29-86-0, 2-16-0/2) to hide behind.
The numbers on Kirk Cousins without Dalvin Cook are a huge drop-off. Ditto Daniel Jones and Saquon. It would be the same for Tanny without Henry.
We often quip about how dumb it is to draft a running back in the NFL because they are all the same. That's really going too far with the joking around/quip. If you have an elite runner that defenses fear, then you can make your QB a +1 (min.) grade bump with it. The issue is there are only a handful of elite runners at RB. There are a million good ones, but rare few great ones/hype ones everyone fears.
 -- Two Titans WR notes…
Julio Jones (2-38-0/4) just does not look like he really matters in this offense. Had a decent start to this season but since then has been hurt and just 'covered', a non-factor…and limited in snaps. It might be the injury…or it might be time to face reality. He's still good…just not 'Julio' anymore.
I don't care if he's a nobody for FF…I swear I see something in Josh Reynolds (3-23-0/3). But in this passing game, only A.J. Brown matters consistently.
 -- Two hot rookie IDPs on display here…
Chiefs LB Nick Bolton (15 tackles, 4 TFLs) had his best game of 2021, but he's been emerging for weeks – now 9 TFLs in 7 games and not playing 100% of the snaps (more 70-80%).
The upside = Bolton is a tackle machine.
The downside = KC takes him off the field on 3rd-downs/the passing downs, which puts him at some risk of loss of numbers depending on game script – when KC is flying on offense and the opposing defense is in all-pass mode, Bolton may play fewer snaps/have lesser numbers in those games...maybe.
Titans rookie DB Elijah Molden (8 tackles) is such a nice young NFL defender…the better Tyrann Mathieu. He's started the last two weeks and averaged 8.5 tackles, 0.50 TFLs playing 95% of the snaps. He'll be a long-time starter for Tennessee ahead.
Snap Counts of Interest:
42 = AJ Brown
30 = J Reynolds
29 = Westbrook
29 = Marcus Johnson
29 = Julio
50 = Henry
10 = McNichols
06 = Darr Evans
52 = Tyreek
49 = Hardman
34 = Pringle
08 = Gordon
46 = Darrel Williams
22 = McKinnon