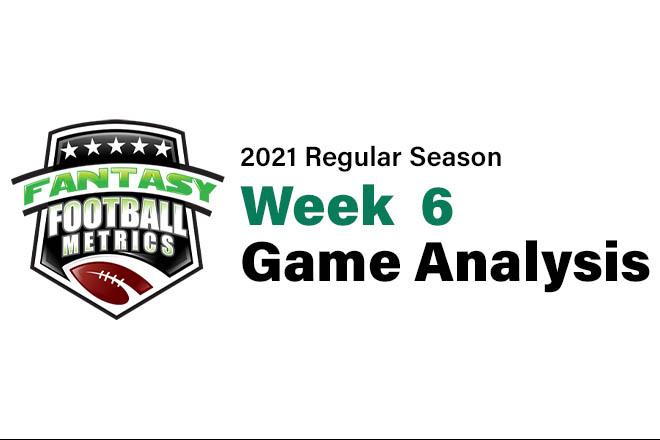 Ross Jacobs
FFM
23 October 2021
2021 Dynasty/Fantasy Game Analysis Week 6: Jaguars 24, Dolphins 21 
In a battle of two of the worst teams in the league, the Jaguars took the victory. Congratulations on your moral victory Jacksonville. Tell em what they've won Johnny! It's worse draft position and at least another week of Urban Meyer!
You want to know how bad it's gotten for Jacksonville? Coming off the 2nd longest losing streak in NFL history, the Jaguars, almost to a man, avoided Meyer after this game. Nobody doused him in Gatorade, they didn't shake his hand, hug him, nothing. One guy very quickly slapped Meyer on the back and that was it. There was a ring of empty space around Meyer after this game. You'd have thought we were back to the height of the pandemic and social distancing.
I cannot overstate this enough: I don't see how Meyer survives this year. The players want nothing to do with him, don't want to be seen with him at all. He's got no respect left from anyone other than the owner, Shad Khan. You can't effectively run a team this way.
Make no bones about it, this is a bad team, and they are not about to magically make a turn. They will likely struggle to get a mere 3 or 4 wins on the year, and I, personally, expect that Meyer is fired before/at the end of the year.
*RC NOTE: There are reportedly/rumored a 3rd video...worse than the other two and some possible text exchanges -- which would really kill Urban off soon. 
The Miami side of this game isn't a whole lot better. They are 1-5 with a godawful QB, and the head coach has to be feeling the heat right now. But...we may be hours away from a saving grace. If the Dolphins had started this season 3-3 or at least seemed respectable I highly doubt we would be talking about them possibly trading for Deshaun Watson right now. But because Brian Flores knows he's on the hot seat, he might be willing to mortgage the future and sign a deal with the devil to save his job.
If Watson does indeed get traded then it's a monumental shift for fantasy that will have ripple effects across the league, assuming he gets to play, although I doubt Miami would make the deal without getting approval from the league to start him. If it happens, Waddle, Gesicki, and Fuller instantly get a boost. Watson himself suddenly has a decent supporting cast, and we all saw how well he worked for fantasy with limited resources in Houston.
In addition, the Dolphins suddenly become a lot more dangerous, particularly for their AFC East rivals. Buffalo, especially, could be looking at the difference between the #1 overall seed and the 2nd seed which is huge for them. They need home field advantage all the way through the playoffs.
We will have to see if this all manifests, but I feel like this might finally be the time, and the desperation surrounding the Miami franchise is what will finally get it done.
*RC NOTE: My current prediction on this from conversations and just trying to think it through… 
Watson is traded to Miami and it's last second of the trade deadline/with the understanding that Miami will not use Watson vs. Houston Week 9 (if they even can). Watson will likely be suspended for 4+ games anyway...but in all this I believe Brian Flores will get fired either right as Watson is eligible to play this year, or definitely gone for next season -- to get a fresh coach in for Watson. 
Fantasy Notes
--So Tua Tagovailoa (33-47 for 329 yards, 2 TD/1 INT, 3-22-0) was back this week and did his usual dink and dunk game fairly effectively. He's really not a terrible QB for fantasy despite his real world flaws. You can spot start him against weaker defenses if absolutely needed.
--Can't really say the same for Trevor Lawrence (25-41 for 319, 1 TD/0 INT, 2-11-0)...yet...I do think his day for fantasy will come, but it might not be in 2021. Lawrence is a sneaky good runner, and once they have a better offense he's going to get 5-6 rushing TD's a year to help juice his stats. I say 'pass' this year, but I can almost guarantee he'll be on my short list of cheap, running QB's for 2022 unless his ADP is too high.
--James Robinson (17-73-1, 3-28-0/4) keeps chugging right along as an RB1. He actually looks better this year than he did last year. He's not the most athletic runner I've ever seen, but he's got a bit of that slippery quality that Jordan Howard does where he always seems to find an extra couple of yards. Don't think he'll finish top 5 this year, but I see no reason why he won't finish as an RB1 on this volume.
--As I said in my last Jaguars report, Marvin Jones (7-100-1/10) is definitely the Jacksonville WR to own. He is Lawrence's first look in the passing game and the guy working the juicy intermediate routes.
--Laviska Shenault (6-54-0/10) bounce back a little this week on 10 targets. I don't think that keeps up. He's still being used on too much underneath stuff and doesn't get enough scoring opportunities to make up for it. He's a random WR4-5 option in ppr.
--I really thought Dan Arnold (2-17-0/5) might have a huge game here, but it was a little more muted than I expected. Lawrence was definitely trying to get him the ball though. They just missed a couple of close ones. It will get better as they build more chemistry. For now Arnold is just another TE hopeful trying to get into that weekly top 12 range. I like his chances, but I'm not dying on a hill waiting for a breakout.
RC NOTE: Huge disappointment as Arnold dropped a sure TD pass and dropped another pass later in the game. He really set himself back here. 
--Last week I said Jamal Agnew (5-78-0/6) was an afterthought, and he was. This week he was not an afterthought. He's involved in the offense, and honestly looks like Jacksonville's most dangerous player. He's got a level of burst and speed that nobody else has, and it seems like they've figured that out. Agnew was in the game from the start and even got the first two catches. He's coming on fast. Not sure we can get too excited as Lawrence still isn't great, but this development definitely has my interest peaked. Agnew has a little Cordarrelle Patterson type ability if deployed properly. He's taken a couple of carries on the year, but I really want to see them start giving him 2-3-4 a game. If we see that then it could be game on. Until then he's probably just another WR4-5 like Shenault.
--I talked a good bit about Jaylen Waddle (10-70-2/13) last week and how he was obviously the top look for Tua. Whoever the other WR starting is, whether it's Parker or Hollins or Fuller, they'll get 4-5 catches for 50 yards or so, but the juicy ppr stats are with Waddle. He is working these short routes for Tua quite well, and of course that's all Tua can throw, so it's working.
Waddle is WR27 on the year despite playing several games with Brissett. He's just ahead of Christian Kirk, Marvin Jones, and Michael Pittman, and just behind Tyler Lockett, Keenan Allen, and Robert Woods. He's got a juicy matchup with the Falcons this week but will likely get shut completely down the following week against the Bills.
If Watson does wind up in Miami, there's an argument to be made that Will Fuller would be the biggest beneficiary due to their Houston connection, but since Fuller is always hurt and the staff is already so high on Waddle, I suspect it could be Waddle that benefits the most. Right now his speed is going to waste on these short routes. Watson could unlock him as an intermediate and deep threat. It's impossible to say with any certainty how this all shakes out, but I'm looking into acquiring Waddle cheap where possible.
--After Week 1 people were already dropping Mike Gesicki and alleging that he's a terrible receiver, always has been, can't live up to the athleticism...blah blah blah. Have you watched this guy lately? He's developed into one of the better receiving TE's in the league (although that's not quite accurate because he's really just a jumbo WR. All his snaps come from out wide). He doesn't drop passes anymore, literally catches everything thrown his way, and he's using that athleticism to get so wide open even Tua can find him down the field. 
From weeks 2-6 he's gotten 40 targets and turned them into 30 catches for 342 yards and 1 TD (14 ppg), the #5 TE over that time frame. He's up to TE8 on the season and might be even higher if he could get a few more scoring opportunities. If Watson ends up here then Gesicki is going to explode into the top 2-3.
--Durham Smythe (5-59-0/6) actually played more snaps than Gesicki and had a decent game, and it's not the first time this year that he's outsnapped Gesicki. But to that I say...I don't care. Gesicki isn't really a TE anyways. He's a gigantic WR with the TE tag for fantasy. He plays almost exclusively from the slot because he can't block worth a damn. Smythe is the true TE on the roster, but I don't see anything emerging here. He's an ok player, nothing special, and he's way down the list of lead targets in Miami. You can safely pass on him.
--RC was wondering what's going on with Salvon Ahmed and the Miami backfield...nothing, same as every week. It's just a pure Belichikian rotation, nothing more. Gaskin is still the starter and lead guy if you want to describe it that way. Brown and Ahmed rotate in with no discernible pattern. Nobody is grabbing the lead here, and you wouldn't really want them even if they did because the offensive line is terrible and there are so few scoring chances. Please just avoid this mess. It's the worst backfield in the league.
--Mack Hollins (4-61-0/5) was quite involved here and looked pretty good doing it, but I don't think he's suddenly going to become the starter across from Waddle. Parker will be back soon and send him back to the bench.
IDP Notes
--Josh Allen (7 tackles, 1 pd) is coming on fast if anyone is watching. He's been a menace the past few weeks both rushing the passer and getting his hands up to knock down passes. Bet he gets a pick 6 soon on one of those stupid quick throws where they leave the end unblocked.
Snap Counts of Interest
68 = Mack Hollins
65 = Jaylen Waddle
23 = Albert Wilson
58 = Durham Smythe
49 = Mike Gesicki
25 = Malcolm Brown
25 = Myles Gaskin
19 = Salvon Ahmed
57 = Marvin Jones
52 = Laviska Shenault
39 = Jamal Agnew
41 = Dan Arnold
30 = Chris Manhertz