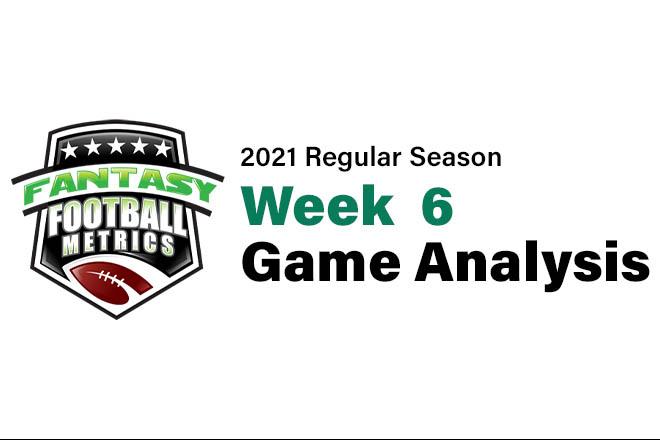 R.C. Fischer
FFM
20 October 2021
2021 Dynasty/Fantasy Game Analysis Week 6: Raiders 34, Broncos 24
Another chapter in the files of…head coaches don't matter/they actually suppress performance…as we had the Raiders going out and scissor-kicking the Broncos in their minus-Gruden debut. Wow, what a distraction! How could the team ever go on without Jon Gruden!?!? Pretty easily it appears. These guys aren't five years old, and Jon Gruden has many former players and co-workers have been trying to tell us all along that this guy is a car salesman, and a bad football coach – but it's the NFL, and ESPN, so these things get covered up and you get the Gruden Grinder shoved down your throat and you will like it.
Is it always going to be myopic, no-business-sense, no real-world experience people and/or weirdos among us as NFL head coaches?
I guess it's the same we get for politicians and CEOs, so what's the sense in complaining? I'll just sit back and roast them for pleasure year-after-year, as they give me a never-ending supply of material.
So, because the Raiders were so distraught and distracted by the loss of beloved Gruden…they got the opening kick and went down the field and scored a TD. Then Denver responded to tie it. The next thing you knew it was 31-10 Raiders going into the 4th-quarter. Denver added a bunch of nonsense against a prevent defense to make it seem closer than it was.
Denver is dying, and I warned after the (3-0) start…that something wasn't right. The Computer was flashing signals. The Computer flashed Cleveland and Denver problems/warning signs after Week 3…and the two teams have a combined (1-5) record since (after starting a combined 5-1). The Computer sees Cleveland starting to pull out of the danger zone, but is not seeing as much hope for Denver to do the same…but some minor blips of hope. Now those two teams face each other this week with A LOT on the line.
Denver may have gotten a break this week on TNF with the Browns missing their entire starting backfield and possibly their main two starting WRs (ignoring DPJ, who is their best…but they don't think so). If Denver can steal a win at Cleveland this week, and then beat Washington Week 8…they would be (5-3) and needing to win four of their final 9 games to slip into the playoff picture at the end – but their schedule is not going to allow it. If we push them to (5-3) after Week 8, then the Computer sees them still finishing (7-10)…going (2-7) down the stretch.
The Browns are (3-3) but are a top 5 NFL team at full strength. They are like a Fantasy team that is (3-3) and having lost their last two and are facing all kinds of injuries – it's sad when you know you're team is really good but circumstances and schedule are killing you – the Browns job, your FF-job in that similar/near-to-it position, is to just try and win one of next 2…two of the next 4…tread water to buy time for your team to get healthy and for you to get lucky on waivers. It's not a make a five for six player swap/wild trade to try and solve all the issues in one week (which you won't). Sometimes, you gotta take these FF-punches…lose a round or two in the fight while wearing your opponent down, preserving your energy and learning about your opponents – and then at the right time, you get healed up/rested up and go on the offensive.
If the Browns can go (1-1) the next two weeks, stay at .500 (4-4), while getting Baker-Chubb-Hunt-Landry-OBJ healthy…then they can go on the offensive again starting Week 9 at Cincy. And maybe they only get a wild card instead of the division because of this bad luck…but Cleveland getting to the playoffs fully healthy is a dangerous thing. Your job in Fantasy, if you're scuffling now to things out of your full control…keep treading water, healing up, landing a surprise find in the next 1-2-3 weeks, and hit a stride in the playoffs. There's a lot of season left…get to the playoffs is the priority…winning the division would be nice, but you gotta get to the playoffs and you still have plenty of time to heal and to maneuver your way there – you gotta believe it and not panic into it.
We project Cleveland to finish with 9-10 wins and a wild card at this stage. The Ravens have caught all the breaks for the AFC North race, the Browns have not.
Fantasy Player Notes…
 -- What a game for Courtland Sutton (8-94-1/14)! About 2.5 quarters in, I thought he was going to be a dud. But Denver went on a tear against a prevent defense, led by Sutton.
The thing about this game was – Sutton left 4 more catches for 100+ yards and another TD on the table with just-missed throws/attempts. Key thing is…the attempts, the intent is HIGH.
Sutton is a WR1 talent that I worry has a WR1.5-2.0 future in this offense. So, I'm willing to explore trading Sutton (if he's excess) to fill any other needs or sell high and make a big move for upgraded talent/depth.
I'm not dumping him. I don't fear a fall for him as much as I do Deebo. I'm just exploring my sell options to see if I get what I WANT, or I just stick with him.
 -- Big game for Noah Fant (9-97-1/11)…a bit in the same way Sutton did – got rolling as the defense softened off a big lead/cushion, but it still counted nicely for FF.
Since Week 2, Fant is averaging 10.2 half-PPR PPG and Darren Waller (5-59-0/5) is at 9.0 PPG in that same stretch. Watching them work, Fant looked as athletic and important, or more so, than Waller here.
My great fear from last year, and into this season on Waller is coming true – that he'd be just a good option for Carr/Vegas, not the elite one…he was just a nice top 6-10 TE in FF last year for a half a season, then finished real strong to puff his final numbers (which is fine but it all came in a small stretch late). This season, the huge Week 1 and then a bunch of TE2 work the last five weeks. It's not a Waller issue, it's a Carr issue. Carr is spreading it around and no one receiver is predictably prospering for FF.
Most people would kill to have Waller over Fant, which makes Waller a great sell high. I'm not sure I wouldn't rather have Fant…and if that's the case, knowing I could get Fant (or Schultz) + ___ for Waller, I'm into that redraft upgrade. Nothing against Waller, everything against his usage/output pattern. I'm fine sticking with him, but I wouldn't hesitate to trade him hot either.
Since Week 2, Waller and Fant both have been targeted 34 times…the 4th most among TEs. You know who #1 is (Kelce), but did you know #2 is Mike Gesicki (40)?
 -- Just a quick aside…I'm a fan of WR Kendall Hinton (5-37-0/5), since scouting him as one of the 10 best WR talents from the 2020 NFL Draft. That statement seems ludicrous, unless you know how good a scout I am…and I am. Well, Hinton finally is getting a shot (after mass WR injury) and he's playing great football. He's working the slot and making clutch catches (has great hands) – he's kinda becoming that Curtis Samuel 3rd-down assassin-like that Teddy had/made in 2020 with Carolina.
Not sure that FF gold is coming from it, but just know Hinton is rising in snaps and catches every week the past three weeks with Hamler gone. But when Jerry Jeudy comes back…it's over.
 -- If you ignore the game where Teddy played a half and left with injury, in his other 5 games…he's thrown for 260+ yards in four of the 5 games…11 TDs in those five games.
 -- Not for nothing, but I'm not sure there's a running back I enjoy (as a scout of such things) watching run the ball more than Javonte Williams (11-53-0, 3-15-0/3). The guy is going to be a workhorse star of the future…I just wish that future was soon.
However, because it's not happened yet…he's getting 'obtainable'. And for Dynasty, I want to obtain. For redraft, I do want him as well…but only on the cheap. His redraft price is sliding away, down…and that's a good time to buy. But his touches are only RB2.5 stuff right now. But he'll pop one day, and then there's no looking back.
 -- Speaking of run games…
We have a new internal O-Line grading system we're playing with this year. The Computer says there are four 'F' grade O-Lines for the run game right now…
#4) Las Vegas (F+)
#3) New England (F)
#2) Houston (F)
#1/the worst) NY Giants (F)
The Patriots and Texans are getting there through injury, as you could say NYG has as well (a little bit) but the Raiders have earned this through offseason mismanagement. The other three have hope that they get injured OL assets back soon. Las Vegas just stinks.
Josh Jacobs (16-53-1, 1-29-0/1) yards per carry in each of his 4 games this season: 3.4, 3.1, 3.2, 3.3. Wow. That's no Bueno…but goes to reflect the pool O-Line grades we have.
 -- Bryan Edwards (2-67-0/4) had his typical game. He did the following in the 4th-quarter, on 3rd & 6 which really blew Denver's comeback hopes with this dagger: https://youtu.be/gsAmA54Ws8Y
Still, Edwards is a ghost for 3+ quarters then makes his 4th-quarter gem play and leaves on a high note but a low game for FF. https://youtu.be/f3ALoSiJaEE
No progress for Edwards becoming anything stable, hopeful, relevant for FF still.
Snap Counts of Interest:
72 = Patrick
72 = Fant
71 = Sutton
51 = Hinton
43 = Gordon
38 = Javonte
06 = Boone
36 = Jacobs
12 = Drake
08 = Richard
46 = Waller
43 = Edwards
37 = Ruggs