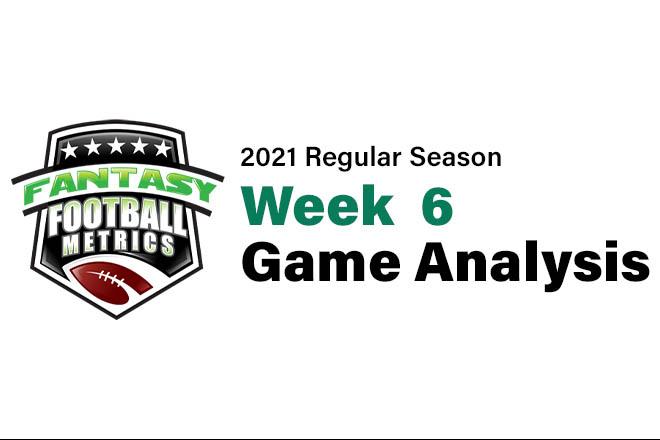 R.C. Fischer
FFM
22 October 2021
2021 Dynasty/Fantasy Game Analysis Week 6: Cowboys 35, Patriots 29
I still don't know how Dallas won this game. The Cowboys were down 21-20 with 6+ minutes remaining after a Pats TD for them to take the lead. The Pats halted Dallas and got the ball back with 2+ minutes left to try and ice it. But there would be no icing at all…it was about to get crazy.
Simple over the middle pass by Mac Jones went off Kendrick Bourne's hands and right to the INT magnet Trevon Diggs for a pick-six. 26-21 Dallas.
First play after the pick-six: a simple medium ball floater from Mac Jones turns into a coverage gaffe and a 75-yard catch-and-run TD. They get the 2-pointer. 29-26 Pats
Dallas drives down in a desperate hurry up and hits on a 3rd & 25 pass over the middle to get into FG range…they hit the 49-yarder for a 29-29 tie and on to OT.
Dallas halts the first Patriots drive in OT, then goes on offense and scores a deep ball TD to CeeDee…ballgame.
The Patriots play not-to-lose…a lot of running and quick/safe passes, and hope the defense comes through. Dallas looked good but had some odd-ball moments…not their finest hour. There were several fluke plays in this game, so I'm not sure who played better or if either played well…but the better team won.
The Patriots fall to (2-4)…could be (5-1)…could be (1-5). They are a .500 or less team type of feel. The schedule is about to turn on them as well. We project NE to finish (6-11).
Dallas is trying to show they are a top NFC team, but I think they are just shy of the Cardinals still at this point. It's coming down to ARI v. DAL, for the NFC, for me. Green Bay not in that discussion fully. Minnesota could try and sneak into the club but probably won't. We see Dallas winning 12-13 games this year if they stay healthy.
Week 16…Arizona at Dallas. FYI
Fantasy Player Notes…
 -- The Patriots are a 1980s team, which is why no one wants to really play there, and they have to overpay mediocre free agents to come be a part of it…and it's why they probably won't be a playoff team this year…and if they are, somehow, they'll never make it past round-one.
However, going with their 80s theme, they have found some more power run game help with rookie Rhamondre Stevenson (5-23-1, 3-39-0/3), who had his 'breakout' game here.
Stevenson had 11 carries in Week 5 (for just 23 yards) but pounded in a short TD here – logical for a guy known to be a short game specialist, a good end-of-game pounding back. But the surprise was…he was involved in the passing game 'heavy'…3 targets, 3 catches and one of them a downfield throw. He has good enough hands. He's a bully after the catch. Brandon Bolden (1-0-0, 1-3-0/1) was stripped of that James White role from his prior few weeks of pass catching numbers…and Stevenson took on some of that role, in a sense.
It's a Damien Harris (18-101-1, 1-7-0/1) led backfield splitting 65/35 with Stevenson ahead. Harris looks good running the ball, but the Pats O-Line is so bad…because they've been missing 3-4 starters. If they get the O-Line back together, this might be a bully RB-duo that gets the Pats into the .500+ discussion and long shot wild card hopes…and Harris as an RB1 threat in non-PPR…and Stevenson a Flex flyer.
…and if Harris goes down, it's going to be the Stevenson show at that point.
 -- The Pats are a running team because Mac Jones (15-21 for 229 yards, 2 TDs/1 INT) is playing 'game manager'. He would have had less than 150 yards passing and a TD had the fluke 75-yard TD not happened late.
I don't see Mac getting a whole lot better as we go…he's just safely game managing.
The perfect QB for a 1980s style offense.
 -- Hunter Henry (2-25-1/2) has a TD in three-straight games, but not much excitement outside of that…but the TDs are a good thing.
Jonnu Smith (1-9-0/2) has 1 TD this season…averaging 1.8 catches per game the last 4 games. He's become a kinda nobody in this offense.
 -- Amari Cooper (5-55-0/8) continues to put up WR2-3 numbers each week since Week 2. Targets per game since Week 2 = 5.2 targets.
Not being treated like a #1 WR. Tough matchups and just Dak spreading it around. If it's schedule based…Amari should shoot up the next 3 games: MIN-DEN-ATL. If he doesn't, then we have an Amari problem. I'm not sure which it is. The data say 'target worries'.
Michael Gallup returning soon doesn't really matter – Cedrick Wilson (4-42-0/7) has been a fine replacement for Gallup.
 -- Gallup returning is scaring the mainstream on Dalton Schultz (5-79-0/6), between that and his bye week…it's a good time to buy low on Schultz if needed/possible. He's working like a top 3 PPR TE…and that sounds good…but after Kelce, every TE has been randomly hot and cold about 10+ TEs deep every week. Schultz is trending like a top 3 PPR TE…but that may not be super far ahead of the #8-10 TEs, over time.
I just think Schultz's work, the way he's used…it looks like he'll be up with the top 5 PPR TEs all year, but people give him away because they think he's dull or fear Gallup or fear whatever.
 -- The Patriots have two hot IDPs trending the past few weeks…
Since Week 4, SAF Kyle Dugger (8 tackles, 1 PD) is the #4 PPG DB in IDP…and he's a real talent/a guy who could finish at #1 among DBs this season.
LB Ja'Whaun Bentley (13 tackles, 1 TFL) is playing about 45-65% of snaps but racking up the tackles…7.2 tackles per game so far this season.
 -- The Patriots-DST hasn't been great this year, except that one 4 INT game vs. NYJ Week 2. They get NYJ again Week 7, but then Justin Herbert Week 8…then Darnold Week 9 is good…but then Weeks 10-14 are not good/time to say good-bye – CLE-ATL-TEN-BUF-BYE.
 -- The Dallas-DST has been scoring well for FF, but they've been a mixed bag on the field…19th in PPG allowed. 29th in yards per game allowed.
BYE Week 7…at MIN Week 8. No reason to be holding them through the BYE.
Their Weeks 13-16 is where they get interesting: NO-WSH-NYG-WSH
Snap Counts of Interest:
39 = Jonnu
37 = H Henry
26 = Dam Harris
18 = Stevenson
11 = Bolden
63 = Elliott
26 = Pollard