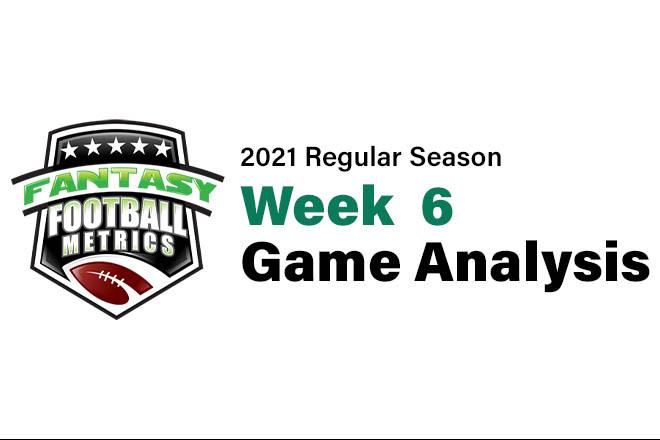 R.C. Fischer
FFM
20 October 2021
2021 Dynasty/Fantasy Game Analysis Week 6: Chiefs 31, Washington 13
I don't think anyone was shocked by the 18-point win by KC over dying Washington. What was shocking, and maybe missed by those not watching this game – Washington led 13-10 at halftime. The Chiefs were looking as sloppy as ever, again, and were down. Washington came out of the half, stopped KC right away…then drove down for a field goal…missed it and then the Chiefs decided that maybe throwing passes to Tyreek Hill would be a good idea, better than an offense based on DeMarcus Robinson, and suddenly they started moving the ball and lighting up the scoreboard.
Washington is now (2-4) and are on the brink. Another loss, and this season has probably officially gotten away from them…but if they can somehow beat Green Bay, then maybe they can beat Denver the following week and get to their BYE and maybe get Ryan Fitzpatrick and Curtis Samuel + Logan Thomas back and Antonio Gibson some time to heal, and perhaps this defense gels a bit.
I'm not saying that as a wishful Washington-thinker. I think they're terrible. I am just noting that the current regime thinks they still have wild card hope if they can win at least one of their next 2 games. There's a path to 8-9 wins but I think they're headed for 5-6 wins.
Kansas City moves to (3-3), and it's deserved. They are not the best team in football, not even close. But they are still very viable/good…can win a Super Bowl if you let them into the playoffs. The Chargers getting whacked Week 6 re-opened the door for KC to win the AFC West. A lot of weeks to go. We project 11+ wins for KC right now, a dogfight with LAC for the division.
Fantasy Player Notes…
 -- What's the deal with Antonio Gibson (10-44-0, 2-0-0/3)?
He's got the shin issue. He reaggravates it with any good hit to his legs…and players get tackled with human missiles to the shin area all the time, and don't think the opposing defense isn't aware of Gibson's shin. It's a ticking time bomb with a giant target painted on it.
Here's what I know: Having an MRI on the shin this week. If he's OK, they'll play him because of what I wrote above – Washington likely thinks they are still in the playoff hunt with a little luck. Week 7 and 8 are huge for the Washington 2021 season. But it is possible Gibson is just too bad off and is shut down the next two weeks (and then a BYE) and returns after a three week rest/healing.
Gibson looks fine running the ball every week. He doesn't look like a guy favoring his shin. But it is an issue for real/pain tolerance.
If Gibson plays Week 7, his reps will be managed and J.D. McKissic (8-45-0, 8-65-0/10) rises to power. And it will be J.D. as the FF guy to have, not Jaret Patterson (1-5-0, 1-0-0/1). Sure, Patterson will be involved if Gibson goes down – but McKissic is their main guy to try and win with right now. Patterson will see more work when the season is out of control – likely Week 10 (after their Wk9 bye) and beyond.
McKissic without Gibson is an RB1 threat in PPR. If you're looking for RB help, instead of chasing Alex Collins or Khalil Herbert or whatever 'lead back' name of the moment – maybe go after a cheaper McKissic. He's never seen as 'the guy', but he can be for a stretch…people respect him, so he's not dirt cheap but he's cheaper than he should be in PPR. And if Gibson goes out for a while…McKissic's value explodes.
 -- Speaking of worthy backup RBs…Darrel Williams (21-62-2, 3-27-0/4) had a solid game with CEH out. He was clearly the lead back here. Very little Jerick McKinnon (3-10-0, 1-5-0/4)…although he did get 4 targets, but only connected on one of them.
McKinnon had a play early in the game where he muscled through a tackle and carried a defender forward to get a tough-run first down and I thought it would get him more looks, but he got ignored pretty much the rest of the way…because Eric Bieniemy is a genius and should be hired for every NFL job opening every year.
I don't know that Williams won't see more split/hot hand time with CEH when he returns. The offense seems more solid with Williams's steady hand and blocking, but CEH has draft stock and Eric Bieniemy is an offensive genius, so what to do I know.
 -- Mecole Hardman (4-62-0/5) had a lot of targets last week…in a big loss to Buffalo…because Eric Bieniemy is an offensive genius not to be questioned. Did Hardman follow that up and is breaking out?
Of course, he didn't. He sucks.
I don't know what allure this guy has with everyone, but we're gonna fixate on his 9-catch game Week 5…and ignore the catch counts in his other five games (3-5-3-2-4). Never consistent…never breaking out, but always a 'sleeper' for Fantasy analysts. Always, "Now may be the time…" How many years is it going to take for the 'now' part? He's only working with the best QB of our lifetimes for three years now!
Speaking of eternal/wasted hope…Josh Gordon (0-0-0/0) in 11 snaps. Memba him? Wow, 11 whole snaps and no targets!
Remember 2013!!!
Remember his time as a Zapper in 2021? Those were good times: https://youtu.be/5LXhENdO9Es
 -- Ricky Seals-Jones (4-58-1/6) is getting a good run at TE with Logan Thomas back. I don't trust it will keep up…it won't keep up when Thomas returns. I don't trust Thomas when he returns either. This is a sinking ship. I want Fitz + Logan, but not sure I'm ever going to get it.
 -- Taylor Heinicke (24-39 for 182 yards, 1 TD/1 INT, 0-0-0/0) keeps declining in output week after week. He had those couple nice games Weeks 2-3-4 but has been dying off since. I'd think he would give this job back to Fitz in a few weeks, but Ron Rivera is so in the tank with Heinicke it may not be true.
 -- Nick Bolton (9 tackles, 1 TFL) is putting up great tackles and TFLs per snap this season…one of the best graded IDP LBs I see in my data (for output). He's only playing 60-80% of the snaps in games…if/when he gets to 100%, he's going to be a 10+ tackle a game guy and TFL leader among LBs. He's just a really solid, classic hard hitting, instinctive linebacker…patrolling the middle for a team that opponents ALWAYS try to establish the run against, which favors Bolton for IDP tallies.
Snap Counts of Interest:
36 = McKissic
23 = Gibson
02 = Patterson
56 = McLaurin
47 = Dyami
12 = D Carter (I thought he might have a nice follow up from a positive Week 5…but, no…we need more Dyami drops)
59 = Darrel Williams
23 = McKinnon
67 = Kelce
38 = Noah Gray