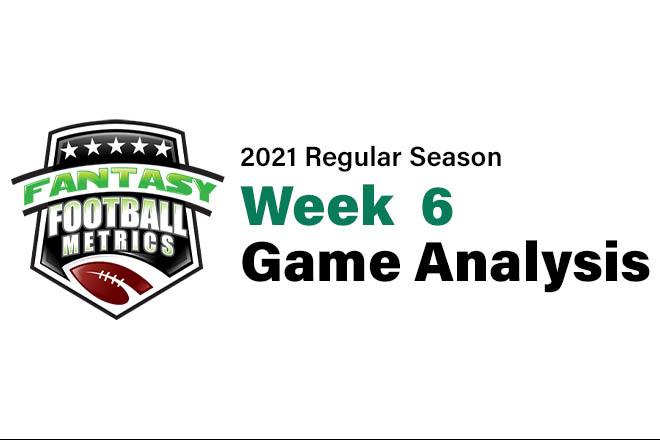 R.C. Fischer
FFM
22 October 2021
2021 Dynasty/Fantasy Game Analysis Week 6: Packers 24, Bears 14
I don't think anyone is shocked by this outcome…the Packers win by more than a score.
What struck me in this was the general malaise, the drabness Green Bay is playing with/winning by…not just here but the last few weeks. It may be the competition is dull or it might be something slightly off with the Packers, but this is a (5-1) team that muddled by Chicago…should've lost to Cincinnati the week prior…lucky they didn't lose to San Francisco. In recent weeks, they've beaten bad Chicago and Pittsburgh, but didn't really put them away…they let the weak opponent hang around. I dunno…something seems off/not like the Packers you expect. A vulnerable Packers team.
They have a VERY tough schedule ahead. We see GB finishing (10-7) but 11-12 wins are not out of consideration. They're down 2-3 key O-Linemen every game so far but if they get them all back in the 2nd-half of the season – maybe they spike up. Right now, I see a team that is good but not Dallas or Arizona good…a team that could get overtaken by Minnesota if they're not careful.
The Bears could've really made a statement with a win here, but they lost as expected. They just don't have a chance to overperform because Justin Fields is not ready for this yet. Maybe someday…maybe in a few games…but not now. He's a drag on the offense today. Their (3-3) record is about what it should be. Like most of the NFC North, the schedule ahead is brutal – we see the Bears finishing around 7 wins.
Fantasy Player Notes…
 -- The Fantasy lead story from this game, the only real fresh info…Khalil Herbert (19-97-1, 2-15-0/3) showed, once again, that the 2nd and 3rd-string RBs from teams are as-good, better-than the starters. So, when these injuries hit – D'Ernest Johnson and Khalil Herbert and 50+ other guys could walk right in and throw down 100+ yard games and look like a stud.
Why NFL teams, outside of Tennessee, continue to insist on wasting payroll on 'name' RBs, or high draft picks (like idiotic Pittsburgh) – I have no idea, but NFL teams have been run poorly for decades…no reason for it to change as it only gets more incestuous/nepotistic and media-driven as we go. Anyway…
Khalil Herbert is really solid/good, and probably works a split with Damien Williams upon his return from COVID because Williams would have had the same game as Herbert just did…we just think it's better by Herbert, because he's a magical unicorn rookie and you-don't-know that he isn't the next Gale Sayers.
The Gale Sayers comps will end when the Buccaneers wreck the Bears run game Week 7, but it's fun for Bears fans right now.
 -- Justin Fields (16-27 for 174 yards, 1 TD/1 INT, 6-43-0), at his best, is better than Mac Jones in the NFL. If there are 60 plays in an NFL game (let's say), the best/top 5 plays comparison of the two…Fields wins hands down. Fields looks better, moves better, is more dynamic. The problem is the other 55 boring plays where Mac Jones is doing proper game management and matriculating the offense slowly/steadily…where Fields is missing on throws and scrambling into sacks and not matriculating the offense enough.
The Patriots are 12th best in 3rd-down conversions. The Bears are #28.
Fields can look majestic on plays…so smooth/fast when running on the loose. When he has time and open receivers, he fires bullets. Fans and scouts tend to remember those few wow plays, but most football games are not 'wow' plays – they're executing regular plays competently, successfully, consistently.
Aaron Rodgers looks WAY better, at his best…aesthetically, than Tom Brady…but Tom Brady will go down as the FAR superior historical QB. Fields is not Aaron Rodgers, but I think we're all being tempted by our eyes on a few plays here…but most of Fields plays are useless. Much better on the move than in the pocket…and it's hard to always have a QB on the move/rolling out, defenses can plan for that. And Fields is athletic but not as much/dynamic as Lamar Jackson or Trey Lance…Fields is a lesser Jalen Hurts, with a better pure arm, at best.
But fans and scouts remember the rare athletic/good plays of Fields, so when he only throws for 150 yards a game and no TDs…it will be blamed not-on-Fields, but something else has to take the blame – and that's the coaching staff. Matt Nagy is TERRIBLE as an offensive mind and QB manager, but this is not his fault…but it's going to be.
 -- Because Fields is so challenged throwing the ball (yards passing in games as a starter: 68, 209, 111, 174), you can't trust the WRs (or TEs) for FF purposes.
The only thing I know about this weak Bears passing game – Darnell Mooney (5-45-1/8) is the new #1 WR with Justin Fields. It's not even debatable.
Since Fields became starter:
3.3 rec. (5.3 targets), 43.8 yds, 0.0 TDs per game = Allen Robinson
3.5 rec. (6.0 targets), 53.5 yds, 0.3 TDs per game = Mooney
Neither that spectacular for FF.
Neither a buy low candidate.
 -- Aaron Rodgers (17-23 for 195 yards, 2 TDs/0 INT, 7-19-1) still has the quick trigger arm, but his 2021 self doesn't look like the 2020 MVP guy. Rodgers is basically looking for Davante Adams (4-89-0/5) most plays and then randomly everyone else.
…and the Davante Adams part isn't firing on all cylinders like 2020 either. Not that he's bad, but 18 TDs in 14 games last season…2 TDs so far this season. However, if you can invest in a falling/cheaper Davante Adams…using a hype WR of the moment (Deebo, etc.) plus another item to leverage into a paper hand holding owner, you do it…you go for the gold. Davante is still a gold standard WR.
The FF gold standard WRs (as of now):
Davante Adams
Tyreek Hill
Cooper Kupp
-----------------
Diontae, Jefferson, and Diggs on the outside looking in…trying to get in.
 -- Allen Lazard (3-27-1/5) looks so good…got a TD here, nearly had a 2nd TD…but you can't really trust him for FF.
6 games played this year, no games over 50 yards…all games 5 or fewer targets, four games 3 or fewer targets, no games over 45 yards receiving.
Lazard should already be a star. The fact that he or Robert Tonyan have been left for FF-dead by Aaron Rodgers…it worries me on just how good Rodgers is for FF things anymore.
The schedule is not easy ahead either.
 -- The Packers-DST has held three of it's last 5 opponents to 17 points or fewer. It's a decent defense hanging in without their ace CB (Jaire). If they get Jaire Alexander back (a big IF), then this is a decent DST for when they have favorable matchups…only thing is they just have one good matchup from Week 8 on (Week 14 v. CHI).
 -- The Bears-DST has been running as a top 5-10 scoring FF DST, but they don't look like a top 5-10 NFL defense. They aren't bad, but they aren't great. Like most NFC North teams, the schedule is going to clip their wings.
Snap Counts of Interest:
57 = Mooney
56 = ARob
29 = Goodwin
54 = Herbert
03 = Pierce
50 = Lazard
50 = Adams
23 = Cobb
35 = A Jones
25 = Dillon