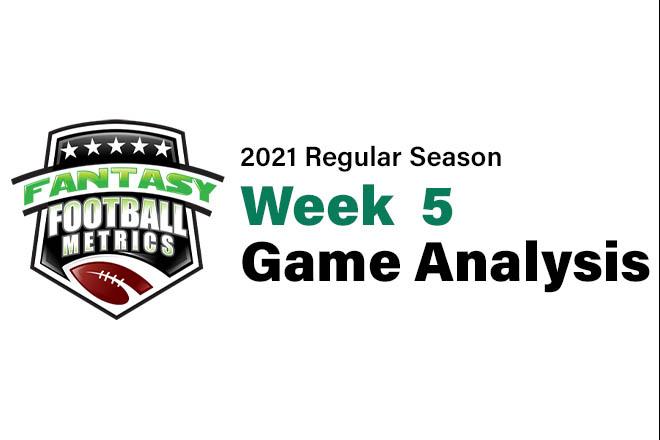 Ross Jacobs
FFM
15 October 2021
2021 Dynasty/Fantasy Game Analysis Week 5: Ravens 31, Colts 26
Where to start with this one? There's so much to sort out.
I've seen plenty of storylines written about this game, and I don't believe any of them truly capture what happened here, so I'm going to do my best to paint this picture as accurately as I can.
The Colts jumped out to an early 7-0 lead after Jonathan Taylor broke a simple screen pass for a 73 yard TD. On their next drive, Indy was moving the ball well and looked to take an even larger lead, but the drive was halted by a sack and fumble on Wentz.
The two teams would drive crappy drives for the next several minutes until Baltimore was finally able to get on the board with a FG during a 2-minute drive where Indy was playing a soft zone coverage. But Baltimore left too much time for the Colts and they managed to get a FG of their own to make it 10-3 Colts at the half.
Indianapolis got the ball after halftime and promptly scored to take a 16-3 lead after Michael Pittman made an amazing catch on a poorly thrown ball in coverage, broke a tackle, and got into the endzone. The Colts missed the extra point.
On the next possession, Baltimore finally put together a good drive, but were stopped at the 1 yard line when Lamar fumbled the ball. The Colts picked it up and nearly scored but a penalty was thrown for an illegal forward lateral.
The Colts again took the ball right down the field with more help from Pittman and Taylor and scored again to make it 22-3. They went for 2 and didn't get it. Things were looking very bad for the Ravens.
Baltimore got the ball back and scored on their next drive after a backup corner was beaten on a double move by Marquise Brown. The Ravens also went for 2 and didn't get it. 22-9 Colts at the start of the 4th quarter.
Indy once again went right down the field but stalled and kicked a FG for a safe 25-9 lead. This is where the trouble began.
With 12 minutes left in the game and only a 16 point lead, the Colts coaching staff apparently felt comfortable enough to start running a prevent defense to keep the Ravens in front of them. They had been moving the ball well so far and likely felt like even if the Ravens scored that they could just run the clock down afterwards.
They did manage to keep the ball in front of them, but Lamar just took checkdown after easy checkdown and marched right down the field in short order to make it 25-17 after a Mark Andrews TD and 2 point conversion.
Indy got the ball back and proceeded to run the clock down as planned. Things were looking good until they stalled and had to attempt another FG. Their kicker had been dealing with a hip injury all night and held his own, but the Ravens blocked the kick to give themselves a chance with about 6 minutes left.
Right down the field went the Ravens as Lamar was able to just pick apart the soft defense of the Colts. He nearly fumbled the ball again at the 1 yard line but was luckily ruled down. Andrews would score yet again and also convert a second 2-pt conversion to tie the game.
40 seconds to go and the Colts had one last chance to win the game. A stupid penalty by a Baltimore defender would give them a 1st down and a couple plays later they lined up for a 47 yard FG attempt to win the game. But the injured kicker missed again and the game was headed to OT.
Baltimore won the coin toss to receive and went right down the field against another soft defense, and a TD pass to Marquise Brown sealed the win.
It was a wild game and trying to sort out what happened is complex.
Most people naively look at the box score and the huge comeback and attribute all of it to Lamar Jackson's brilliance. There is a large faction of NFL analysts that believe he can do no wrong and that he's perpetually underrated as a QB and player in general.
That isn't really a correct view of these events in my opinion. Baltimore really struggled to move the ball against a decent but not great Colts defense all night...until Indy had a huge lead and started playing soft to try and run out the clock. It's a theme we've seen more and more in recent years. Sometimes getting too large of a lead early is a curse because it almost forces you into a certain style of play that is too passive and helps the opposing team come back.
All these passing yards that Lamar piled up...he doesn't remotely do that under normal circumstances. He's an ok NFL passer, not bad, definitely not great...ok. If his legs weren't so dangerous he would struggle even more, but since teams are worried about him taking off he is afforded more time to throw and wide open lanes. I'm not knocking him for that. It's part of his game and the massive benefit of having a mobile QB. But that doesn't automatically mean he's a great passer and can hang with the Herbert's and Mahomes's of the world. Of course, brain dead football society that we have these days, I'm sure the fans and voters will give him an MVP because they equate fantasy stats with real life success. Sad but true.
Now having said all that I should also point out that while Baltimore was very fortunate to win this game after they got down (two scores, two 2-pt conversions, multiple missed Indy FG's, and getting the ball first in OT), Indy was very fortunate to have gotten a huge lead. They were playing even with the Ravens but not that much better. Their first two scores were a long screen pass that Taylor broke and a wild catch and score by Pittman off of a terribly thrown ball. They got a Lamar fumble at their 1 yard line that turned into another score for a 14 point swing. This wasn't domination by the Colts so much as it was them getting fortunate.
Then the luck swung the other way. That's life and football for you.
So to sum it all up, I would say that the Ravens are a good but not great team. They have had to come back on two not great teams in the Raiders and Colts, came back on a suddenly vulnerable Chiefs team, barely survived the pathetic Lions, and smacked the struggling Broncos. They are currently 9th in the NFL in scoring (with a lot of help) but they've played several really weak defenses so far to prop them up. They are tied for 14th in defensive ppg and again have been fortunate in the schedule so far. The schedule is about to get a lot harder, and I don't think the Ravens are going to handle it very well. They look like a 9-8 team to me or somewhere in that range.
The Colts are now 1-4 and falling farther behind the Titans in the AFC South race. They are 21st in points per game and 23rd on defense, but unlike the Ravens, they have been very unfortunate in their early schedule. They've had to play the Seahawks, Rams, Titans, and Ravens, all .500 or better teams, and they've had to do it while struggling with injuries, particularly to their offensive line.
They are not a bad team. I caution anyone against thinking playing against the Colts is a free win. It is not. They are essentially the same team as last year, only now they have had some bad luck go against them in various ways. The schedule is about to get significantly easier, and I expect the Colts to start to bounce back especially if they can get their offensive line healthy again. I'm not sure they can catch the Titans, but I am quite sure that they'll at least close the gap a little.
Fantasy Notes
--I hammered Lamar Jackson (37-43 for 442 yards, 4 TD/0 INT, 14-62-0) quite hard for how overrated this performance was in real life football, but as a fantasy QB he is usually gold. Just don't get used to passing numbers like this. It was a fluke event and one not likely to repeat.
Before this game, in his last 20 appearances Lamar had only thrown over 300 yards once...the prior week against Denver. He had exactly 1 TD pass in every game this year until he got 4 here. In these past two games he's attempted a combined 80 passes (40/g). In his first 3 games of the year he averaged 29. Last year he averaged 23.5 attempts per game and only threw more than 30 passes twice.
The higher number of pass attempts is likely to stay actually because Baltimore's running game absolutely sucks with all these decrepit RB's taking carries. So Lamar is having to throw more to try and keep them in games. Unfortunately I think his efficiency is about to take a nose dive as he plays better teams and they realize that they don't have to fear the running game anymore. Once defenses start forcing Lamar to pass into tight windows he's going to struggle.
I'm afraid all of the "Lamar is an elite passer" people are in for a rude awakening in a few weeks. Bet they don't have anything to say when he starts to struggle though. They only come out feeling like they can yap when he garbage times his way to the only 400 yard game of his career.
--Mark Andrews (11-147-2/13) was due for a big game, but this was ridiculous. Again, this is mostly the product of a very strange game flow. Andrews isn't the new Darren Waller. Well, maybe he is considering Waller only has one big game this year and a bunch of duds too...
--Marquise Brown (9-125-2/10) now has 5 TD's on the year, a TD in every game but one so far (where he dropped 2-3 more), and 11 TD's in his last 11 games. This is the guy you want from this offense. He's Lamar's BFF in the red zone, the #6 WR on the year in ppr, and a couple dropped TD's away from being a top 2-3 guy. Some of his numbers here were also pushed by the high number of pass attempts and going into OT (where he scored one of his TD's), but all that is beside the point. The guy is just scoring constantly now, and there's no sense nitpicking it. I doubt he finishes this quite this high, but he should be able to maintain his WR1 pace regardless.
--If I haven't already made it clear since week 1, you don't want any part of this running game. These guys are all atrocious. Ty'Son Williams is the only guy I have any interest in, but he's been marginalized and pushed to the side. You could even tell here that he's now running very tentatively, as if the coaches have hammered him to hold onto the ball at all costs. It's robbing him of his explosiveness. I have no respect for how Harbaugh and the Ravens staff has handled the offense this year. They are about to get their just desserts and they deserve every bit of what's coming.
--Carson Wentz (25-35 for 402 yards, 2 TD/0 INT) went over 400 yards here, but it was quite fluky. He didn't do much to help push those numbers. It was a couple of ridiculous catch and runs by Taylor and an utterly ridiculous catch by Pittman that helped push him this high. He's still playing reasonably smart, safe, game manager football though, and as I talked about a couple weeks ago, he's a decent #2 to have right now as a safety blanket.
--Jonathan Taylor (15-53-1, 3-116-1/4) was the Colts fantasy star of the day after breaking a screen pass for 73 yards. As always though I want to caution people that think this can keep up. It won't, not unless something changes. He's still not getting the touches he deserves, and he doesn't have much room to work when he does get the ball. Things broke right for him here, but I worry about him going forward a bit. If the offensive line gets healthy he could finish strong against a weak schedule however. You just have to wait and pray with him for now.
--RC and I have been pushing the rise of Michael Pittman (6-89-1/7) for weeks now. He looks fantastic, a true #1 receiver for Indy. If you haven't seen his TD catch from this game, do yourself a favor and go look it up. There aren't many receivers in the league that can go over top of coverage like this, snatch the ball away from the defender with the ball well behind him, break a tackle, and score. He is probably a WR1.5 rest of the schedule with some outside hope of climbing higher.
--Outside of those two guys I don't think you want another piece of this offense. There's not a ton of volume to be had and Wentz is spreading the ball around pretty well. Parris Campbell (4-56-0/6) was back and had a decent game, but I still don't see the old explosiveness from him. He's just ok now and with TY Hilton coming back he probably goes back to being WR4 on this offense.
IDP Notes
--Rookie Jayson Oweh (3 tackles, 1 sack), who apparently is going by Odefe now, now has 3 sacks on the year, and I can confidently say this was his first impressive one. He got a great jump off the snap and blew past the tackle for a sack and fumble that stopped an important Colts drive. I still haven't seen the athleticism shining through as much, but he's starting to put the pieces together a little and impact the game at moments.
Snap Counts of Interest
66 = Marquise Brown
64 = Devin Duvernay
50 = James Proche
20 = Sammy Watkins
36 = Latavius Murray
20 = Devonta Freeman
14 = Ty'Son Williams
50 = Jack Doyle
31 = Mo Alie-Cox
36 = Jonathan Taylor
26 = Nyheim Hines
10 = Marlon Mack