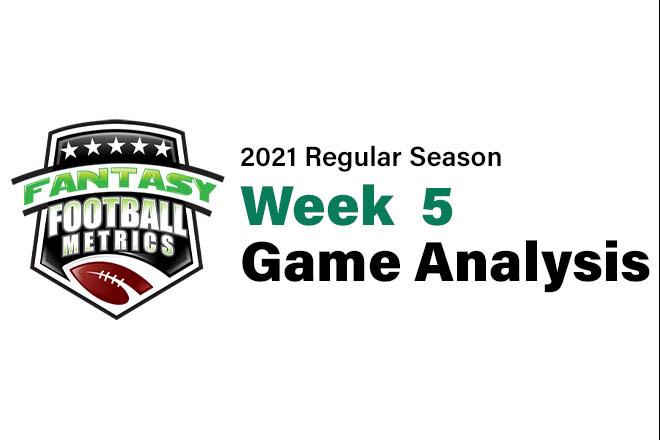 Ross Jacobs
FFM
16 October 2021
2021 Dynasty/Fantasy Game Analysis Week 5: Titans 37, Jaguars 19 
The score says this game was a one-sided blowout, but I'm here to tell you that the Jaguars played their best game all year and were at least equal to the Titans if not better. Surprised? So was I.
Things were going wrong for Jacksonville almost immediately. They lost a catch and fumble on the very first drive that Tennessee returned for a TD. 7-0 Titans.
On their next drive, James Robinson got a wide open hole and busted off a 58 yard run that would set the Jaguars up for a TD. They missed the extra point and it was 7-6.
Tennessee got the ball and Tannehill nearly threw a pick 6, but Shaq Griffin dropped the ball. A terrible roughing the passer call would save the Titans drive and they scored to make it 14-6. The Jaguars came right back with another score themselves and the game was 14-13.
The Titans would score yet again to extend their lead to 21-13, but the Jaguars weren't done. They drove down the field yet again, but failed to capitalize by missing a FG. The Titans, however, now had good field position and drove for a field goal of their own right before the 1st half ended. The Jaguars were down 24-13, but it was only bad luck that the score wasn't closer. Could they mount any sort of comeback?
They certainly didn't quit and it looked like they might build some momentum in the 2nd half when Chaisson sacked Tannehill and thought he got a fumble, but a Tennessee challenge upheld the incomplete pass call and the Titans retained possession. Henry would eventually score on the drive and the Titans were up 31-13. The game looked over.
Jacksonville still wasn't done though and put together a nice drive capped off by a Lawrence run for a TD. They missed the 2-point conversion and it was 31-19 Titans. The Jaguars stopped Tennessee's next possession, got the ball back, and drove down to the 1 yard line. An inaccurate pass, a dropped pass, and a baffling rush attempt to Carlos Hyde would see the Jaguars turn the ball over on downs.
It was an incredibly stupid decision to give Hyde the most important carry of the game with a chance to get back within a score, despite the fact that Robinson had been the far superior back all game and all year. Just the latest misstep by the genius Urban Meyer.
The last Tennessee score would come with under 2 minutes left as the Titans just tried to run out the clock.
The Jaguars absolutely did not give up at any point in this game although they obviously have plenty of reasons to. It was just not their day, and a combination of bad luck events kept them from winning here. Unless they fall apart because of Meyer, I think this team might actually be getting their legs under them. The defense is on the come (they really had Henry bottled up for most of the game and were getting after Tannehill). The offense isn't a terrible mess anymore and are starting to put some things together. Don't sleep on them this week against Miami.
As for the Titans, I really don't see a good team here. They are 3-2 with their wins coming over a beaten up Colts team, a somewhat lucky win over the lowly Jaguars, and a come from behind win over the Seahawks. They got spanked opening day by the Cardinals and beaten by the Jets somehow. Three of their next four weeks are the Bills, Chiefs, and Rams. If they lose to the Colts in the middle of that then it's entirely possible they are looking at a 3-6 hole with the Colts coming on fast. Things are about to get ugly in Tennessee over the next month.
Fantasy Notes
--I still don't particularly like Trevor Lawrence (23-33 for 273 yards, 1 TD/1 INT, 7-28-1), but he's starting to settle in a little bit. He still throws some really dumb passes, but I've seen fewer of them in recent weeks. I still think of him as a combination of a young Alex Smith and Carson Wentz.
--James Robinson (18-149-1) has been on an absolute tear recently. Hopefully everyone was able to get in on him before the blowup with the early warning from RC. His situation hasn't changed at all.
--The new kid on the block in Jacksonville is Dan Arnold (6-64-0/8) and boy does he look good. I was complaining about his usage in Carolina the first few weeks, and that doesn't seem to be an issue here. Jacksonville went and got him with a purpose, and I'm shocked how quickly he's gotten integrated. This was no fluke. He was the main look for Lawrence all day long. I see no reason to fade this connection, so if you're dying at TE and can't get in on Schultz or Knox then this is where to go. Arnold could be a top 8 TE the rest of schedule.
--Sorry RC, but much as I wanted there to be a Jamal Agnew (6-41-0/7, 1-8-0) uprising, it isn't happening yet. Agnew is involved with the offense, at least he's on the field a lot, but not involved to the degree we want to see. He's just a random option right now. 4 of his 6 catches came in the final minute of the game as Jacksonville was trying to score a grace TD. There was no real move to have him involved to a significant degree early in the game. He does look as fast and strong as I've ever seen him though. He looks like a jacked up version of Deonte Harris. If Meyer has any sense at all they will start giving him a couple more carries and a few bubble screens.
--The WR that was more involved, despite seeing far fewer snaps than Agnew, was Tavon Austin (5-54-0/5) for whatever reason. He's the same player he always was. Small and reasonably quick. I guess you could try to use him as a desperation WR3 play, but I wouldn't.
--If you want a Jacksonville WR it has to be Marvin Jones (1-25-0/6). He and Lawrence couldn't connect here, but Jones is definitely the guy Lawrence looks for at WR. He's a decent WR2.5 most weeks.
--Laviska Shenault (1-58-0/3) showed off his strength on a long catch and run where he broke multiple tackles. He isn't heavily involved right now and can't really be used for fantasy, but it looks like the Jaguars are changing how they use him. Previously he was a short ball player, lots of bubble screens and drags. Now he's starting to work more medium range and is running actual routes. He might be better off this way as more of a possession receiver than trying to work the short stuff with his lack of burst. Think of him like a big Terrace Marshall, something like that.
--Why are we still fading Derrick Henry (29-130-3) in the year 2021? Henry is an institution at this point. He has 141 carries on the year for an average of 28.2 per game. He's taken at least 28 carries in every game but the Arizona game where they got smacked. He's on pace for 479 carries. The all-time carry record is 416 by Larry Johnson. Now I'm sure that's going to come down a little bit as the season wears on, but come on, you can't deny this any longer. He IS the Tennessee offense.
--Ryan Tannehill (14-22 for 197 yards, 1 TD/0 INT, 3-21-0) had another muted day, and that was for two reasons. 1) Jacksonville's defensive line was all over him. And 2) They didn't need to throw very much. Nearly everything he connected on was a simple drag route over the middle. He's still playing the same smart, safe football he has for the last two years. So far it's just been a larger dose of Henry and less passing. I do think he will trend up a little, but don't expect massive gains, just a bit closer to his averages from 2019 and 2020. 220-250 yards and 1-2 TD's per game.
--Ok time for a rare point of departure from RC. After watching this game I think that AJ Brown (3-38-0/6) actually is a good buy-low candidate. I saw nothing wrong with his knees. He was moving fine. Caught the ball well. The missed connections had nothing to do with Brown and everything to do with Jacksonville's defensive ends hanging all over Tannehill. Tennessee knew they didn't have to do much here. They just needed to keep feeding Henry with the lead and let Jacksonville hang themselves. They will have to throw a lot more in the coming weeks to try and keep themselves in games. With Julio out, Brown is far and away their best option, and I don't think he'll be double covered because teams are so hell-bent on trying (and failing) to stop Henry right now.
You can't overpay though. We want him cheap because that's what his owner thinks he's worth right now. He only has name value, but he's been "killing" his owner so you can bet they are ready to dump him and only haven't because of last year. We want to take a nice cheap look to see if he's got bounce back WR1.5 potential. There might not be enough value if his owner is being stubborn, but I think it's worth a shot at least. There aren't a ton of deals to be had right now, but this looks like one potential one to me.
*RC NOTE: I'll disagree with Ross's disagree. I went and rewatched AJB's Week 5 again, just him, to get another look. I'm more down on AJB after than I was before. He doesn't look the same. He's not moving with the same burst. The results are way down. The connection rate is terrible. I'm not paying a still too-high price for this buy low...who is not a buy low because everyone thinks he'll turn around. 
Something is wrong. He may be secretly hurt and playing through it and is 70% effective...and will improve with time. Could happen...then you got a buy low discussion, but all I can do is see what I see...and I see an entire 2021 where the output in every game is off, he looks slower on tape. I don't want to buy into a potential problem...for the price it would cost. I'll just run with Tim Patrick if I have to. If he makes a turn soon, and I missed out on the upside...I'll be able to live with myself in the morning. Something isn't right here, to me. 
‍
IDP Notes
--This Jacksonville defensive line is starting to come on. Josh Allen (7 tackles, 0.5 sack, 1 pd) and K'Lavon Chaisson (6 tackles, 1 sack, 2 tfl) were all up in Tannehill's grill all day even if they didn't always get the sack themselves. Two weak offensive lines coming up for them against the Dolphins and the Seahawks with Geno. Just keep in mind that Tua is probably back this week and likes to dump the ball like a hot potato, so the sacks might be limited there.
Snap Counts of Interest
66 = Marvin Jones
52 = Laviska Shenault
45 = Jamal Agnew
24 = Tavon Austin
48 = James Robinson
18 = Carlos Hyde
52 = Dan Arnold
22 = Chris Manhertz