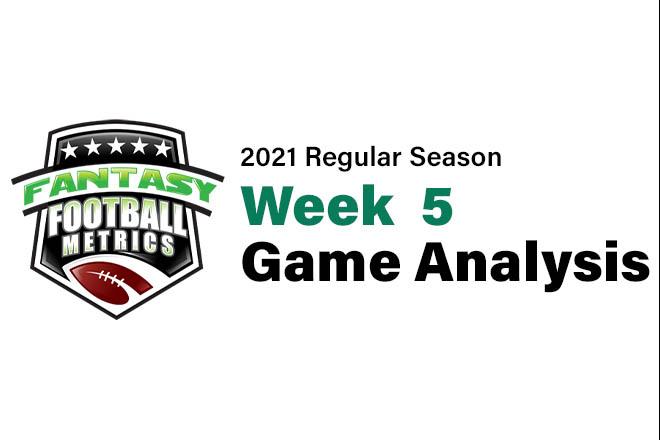 R.C. Fischer
FFM
14 October 2021
2021 Dynasty/Fantasy Game Analysis Week 5: Eagles 21, Panthers 18
I'm not sure how the Eagles won this game. They were getting thoroughly outplayed for three quarters. They were down 15-3 at one point…and the offense looked stuck in mud. But then they woke up a bit…aided by Sam Darnold going back to being old Sam Darnold and throwing easy picks for DBs like he was tossing beads at Mardi Gras, and then an Eagles blocked punt setting them up in the red zone with 4+ minutes left down 18-13 was the full turn…Eagles go onto score and win the game because Darnold can't get a 2+ minute drive to get into position for a tie or snatch the win – he throws a pick right away and ended any real hope of a comeback. Darnold sucks. Better than he was -- but still sucks. Davis Mills is playing better football.
The Eagles are not a bad team, but they are like the Ravens – on purpose they kinda suck because of their lineup of weapons (by coach's choice) and several OL injuries, but then the elite mobile QB just improvises them back into games and gives them a chance. Huge game hosting TB on TNF this week…a game they can win.  If they do, they have a real shot at playoff hopes. We see them finishing 7-8 wins at this stage, but 9 wins is on the table as NYG and WSH fade away (and they play them 4 times from Weeks 12-17, with NYJ wedged in there).
Carolina has a very good team/roster; except they have a bottom five QB…so they will fall short. We are projecting Carolina for 7-9 wins but could be 10+ wins if they traded for a real QB right now…but they won't.
Fantasy Player Notes…
 -- First things first, let me tell you how dumb Miles Sanders (11-45-0, 5-6-0/5) is…
Usually, I am howling about how overrated he is…but now add to it he's a dope, and almost cost PHI this game…AND may have kicked open the door for Kenneth Gainwell (2-16-0, 1-8-0/3)…
So, the Eagles took the lead with 2:38 left…kicked off to CAR, and then quickly picked off Darnold, setting themselves up with the ball at the CAR 43 with 1:56 left. Just one first down and they can then run out the clock…the Panthers had all their timeouts left, so Philly was going three straight run plays (likely) to strip CAR of all their timeouts.
1st & 10 = Pitch sweep to Sanders, who goes off tackle…but it's congested so he kicks it outside and keeps going to the sideline. Greg Olsen (on commentary) is saying GET DOWN but Sanders doesn't even try he just jumps a defender and goes ignorant-of-the-time/situation out of bounds. Olsen almost loses it. The clock stops, Carolina preserves a timeout…still with three.
2nd & 4 = Handoff off tackle to Sanders, and he breaks through for a 1st-down but starts aiming towards the sidelines but is tackled before we see what he would have done if faced with going out of bounds again.  
Sanders got the first down, the prior play with Sanders going out of bounds is forgotten/forgiven. Carolina is forced to use their first timeout…so this is all under control for Philly now. Run two plays safe, make CAR use their last two timeouts and then run a 3rd play and get a field goal, likely leaving CAR with about :20 seconds to go the length of the field for a TD with no timeouts after the ensuing kickoff.
1st & 10 from the CAR 18 = Sanders pitch to the right, he tries to avoid a tackler and goes out of bounds again. Greg Olsen went apoplectic, eventually saying 'they gotta take him out, right?' And they did…Sanders was pulled off the field. The RB coach was talking to Sanders for the next minute+ on the sidelines. The other announcer says…the Sanders basically gave Carolina five timeouts to try and stay in the game. Gainwell closed out the game…being sure to run/stay/fall down in bounds.
If there wasn't enough frustration with Sanders going into this game, he just added more heat to the fire.
I don't know if Philly will make the move to Gainwell, but it would likely begin with Sanders ceremonially starting and then Gainwell playing more snaps than him after that… but if we see Gainwell starting on TNF, then the move has been made. Bad first start facing the Bucs, however.
I would like to daydream that Gainwell leaps Sanders on the depth chart, but Sanders played 50+ snaps here and Gainwell 16…and if not for the stupidity at the end the gap would have been wider. So, if Gainwell is coming on for this coaching staff…you coulda fooled me on that the first 58+ minutes of the game.
The bizarre Sanders end of this game is a reason for some hope Gainwell is going to move into more of a 50-50 split with Sanders with the potential of taking over…whatever that means, for FF the lead PHI RB hasn't been great…but maybe KG changes that? I know there is a lot of smoke the past few weeks and months of anti-Sanders, pro-Gainwell coming from the staff (supposedly) and local media.
 -- Carolina's RB situation isn't changing…Christian McCaffrey (DNP) will be the guy all the time, when healthy. I believe he plays Week 6. And I will tell you why in the next few paragraphs…
Chuba Hubbard (24-101-0, 5-33-0/6) was just the runner in Week 4, but here in Week 5 he was the runner/pass catcher as well. What changed? I don't know. Rodney Smith went for 5 catches last week…but this week/game, no Smith touches and then Smith was cut by the team Tuesday. You likely do that if CMC is going to return.
Hubbard has shaky hands, so Smith had the catches last week…but Royce Freeman (3-2-0, 1-6-0/2) was in on 3rd-down quickly here as 'that guy' but he is so slow now that they just kept feeding Chuba in all phases and it worked OK enough.
CMC is very likely back Week 6…and Chuba is his for-sure handcuff.
 -- All the odes written about Sam Darnold (24-37 for 177 yards, 1 TD/3 INTs) after 3 games…they're all drying up. He was THEIR (the media) MVP candidate after three weeks, now we see articles about what a mistake it was to trade for Darnold. The media lives in a world one week at a time only…whatever just happened is everything for forever, with THEIR guys.
Darnold is getting to a tougher schedule, and teams now see what he's doing with his new team (it's a new playbook, etc.)…so, this whole situation is going downhill to more losses as he drags Moore-Anderson with him. CMC back will help some. Darnold is playing better than the past versions of himself, but all the other QBs are so much better or are improving so much faster that it leaves Darnold as arguably the worst 1-2-3 starting QB in the league any given week.
Jalen Hurts (22-37 for 198 yards, 0 TD/1 INT, 9-30-2) is 10x the QB Darnold is, but Hurts still gets the obligatory `Is Hurts the long term answer at QB for Philly' national article every week. Dak used to get that too, years ago, as they discussed how Wentz was better in division for the future. That 'take' aged well…
 -- Watching the Hurts-DeVonta Smith (7-77-0/9) connection in this game…yaawwwnnn. I always expect to see some excitement, some sweet Justin Jefferson like work from DeVonta, but all I'm getting is vanilla Jakobi Meyers type work…he's open occasionally, Hurts throws it to him (because…would you throw to Reagor if you had a choice?), DeVonta makes a solid catch and is quickly tackled.
I don't see any 'wow' factor from DeVonta at all.
The 'wow' factor WR for Philly is Quez Watkins (3-48-0/3) but they use Quez as more deep ball decoy than purposed weapon.
 -- Speaking of dull…Zach Ertz (1-7-0/6). One catch on 6 targets. Ertz is aging fast. My only interest, and not even that interesting perhaps, is Ertz playing without Dallas Goedert (2-28-0/3) on TNF this week. If Goedert can go…then far less interested in an Ertz spot start.
 -- MVP of this game for Carolina…Jeremy Chinn (4 tackles). His IDP numbers are way down as he plays coverage more, not quasi-linebacker as much, but he was everywhere pressuring plays and sniffing out near-turnovers. He's an excellent player who has been 'meh' for IDP results this year after blowing them up last year.
 -- When the Eagles-DST plays bottom half of the league teams, they are not bad. Held ATL to 6pts, SF to 17 and Carolina to 18pts. KC and DAL popped 40+ on them.
This week with Tampa Bay/Brady…probably closer to 30+ allowed.
Snap Counts of Interest:
46 = Chuba
14 = Freeman
11 = R Smith
45 = Ian Thomas
27 = Tremble
50 = Sanders
16 = Gainwell
45 = Goedert
40 = Ertz