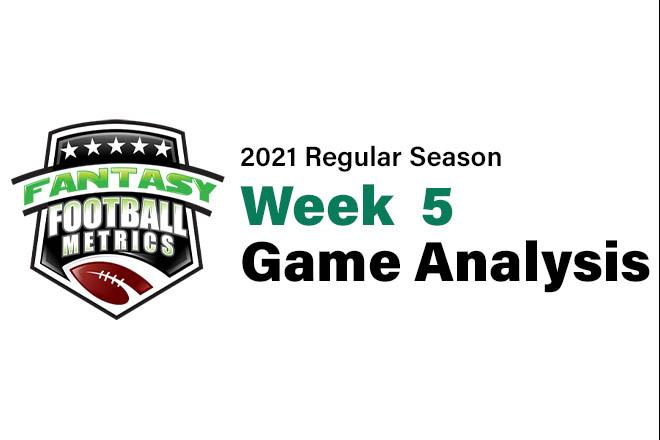 R.C. Fischer
FFM
15 October 2021
2021 Dynasty/Fantasy Game Analysis Week 5: Packers 25, Bengals 22
This will be known (for a few weeks, until we forget completely) as the game with all the missed field goal attempts to win it. And it was a crazy ending…because football is the best TV drama in all the world. That and 90-Day Fiancé. I digress…
What all 'crazy missed FG attempts' storyline will hide is – we have entered a period of time where the Cincinnati Bengals are as good as the Green Bay Packers. Cincy played right with Green Bay…and shoulda/coulda won. This wasn't just a blip, a fluke…this was the Bengals being as good as the Packers. Welcome to 2021. It's not that the Packers are bad…it's that Cincy is that good…not great…good.
The Bengals are (3-2)…they should be (4-1)/(5-0). Two close losses so far this season. They also are lucky to not be (2-3)/(1-4) as well. But (3-2) fits them right now…this is a 10-win team that has a shot to make a wild card this year. We're projecting 8-10 range for wins now looking out over their schedule. Four games with BAL and CLE ahead, with LAC and KC on the schedule ahead as well…not easy.
The Packers are also good, but beatable…for now. When/if they get LT David Bakhtiari and Jaire Alexander (and he's an if) back then they are better than the Bengals. If the Packers make it through the first 6 games at (5-1) and then get Bakhtiari back Week 7…the Pack are one of the true powers in the NFC, especially if Jaire can get back…which means like the 5-8th best team in the AFC. A tough schedule ahead, The Computer is projecting 10-11 wins for Green Bay right now.
Fantasy Player Notes…
 -- This is going to be an odd way to start this player analysis…
Davante Adams (11-206-1/16) had a MONSTER game, per usual. The Bengals top CB is Chidobe Awuzie (6 tackles, 1 TFL, 2 PDs). Awuzie was on Adams quite a bit. So, process this statement: I think Awuzie played Adams as well as anyone I've seen in a while. Awuzie is a Pro Bowler, or should be, and possible Defensive Player of the Year candidate (but he won't even be on the ballot, most voters don't know he's a real NFL player…they think he's a made name).
He'll get as many DPOY votes as the amount of laughs I get out of the incessant Sunday NFL game's Kate McKinnon Verizon commercials = which is zero (which is a shame because she's wonderful on SNL).
The reason the Bengals are 'good' now, the resurgence of Cincy is not just Joe Burrow…it's the defensive makeover. Awuzie was a big get in free agency. The Bengals have allowed the 5th lowest TD passes against this season (6 TDs). They are #7 in sacks so far this season. Top 10 against the run (yds allowed). #7 best in PPG allowed. This is a very good defense and Awuzie is a big reason why.
So, how is Awuzie so great and allowed 206 yards to Davante? Two reasons…
1) There was a stretch where Awuzie left the field for a drive…and Rodgers went right to work and worked Adams the whole drive, including for their lone TD.
2) Sometimes Awuzie was not on Adams, and Rodgers went right at that. But Rodgers was mostly avoiding Adams when Awuzie was straight up on him. But sometimes Awuzie would start on Adams, but hand him off to the safety going deep and then Rodgers would work that too.
Straight up, Awuzie allowed 6 catches for 54 yards and no TDs officially…with a pick. And the big yards on a late game semi-miracle throw and Adams catch was tightly covered by Awuzie.
Fear Awuzie for your WR matchups…until he hands them off to burn their safeties. Respect Awuzie as one of the top corners in the game.
Imagine if Dallas kept Awuzie…?
 -- Onto WRs that I don't respect…
Ja'Marr Chase (6-159-1/10) caught another long TD pass…so the gold jacket is being fitted for him among the football social media.
On Chase's TD play, Burrow escaped a sack, scrambled around and coverage broke down. He heaved it to Chase deep, the DB came over and covered it nicely as he dove/reached out with a big fly swat to knockdown the incoming floater…but he whiffed on it, so it landed in Chase's hands as a surprise and Chase then turned around and walked the extra 20+ yards into the end zone.
Chase is not doing anything special that I see, still…but I have to respect that luck keeps going his way. It will dry up but it's working now. Side note: Rookie CB Eric Stokes (4 tackles, 1 PD) ate Chase for lunch in this game when he was on him. History will show Chase was a stupid draft pick at #5…not taking Sewell, but also not taking Stokes (for a lot of teams) in the top 10.
When I watch this Bengals passing game, I am impressed way more with Tee Higgins (5-32-0/7). And because Higgins missed two games with minor injury and then returned Week 5 and didn't score a TD…his FF-stock price is dropping. I'm all-in on him at a discount. He trades like a WR2…I think he's a WR1 all day long. Buy him for WR2-2.25 valuations …or try.
 -- Joe Burrow (26-38 for 281 yards, 2 TDs/2 INTs) has been pretty efficient and winning this season, but it still doesn't look like he's back to his old self yet. If he ever gets back in the groove fully…Cincy is a playoff team.
 -- I'm not going to comment deeply on the RBs in this game…they did what anyone would expect…
A.J. Dillon (8-30-0, 4-49-1/4) is the best backup RB in football and is now catching passes like a beast.
Samaje Perine (11-59-0, 4-24-1/5) fills in just fine as needed if Mixon is ever down.
 -- Many of you know I like Bengals rookie PK Evan McPherson (2/2 XP, 0/2 FGs) but I got a few emails post-game/week on whether it's time to give up on McPherson .
He missed two game-winning FG attempts, yes…but note that one was from 57 yards and it was good from 70 but fully smacked the post. No shame there. His next one, he thought he made…kicked it so high it went near the top of the post so it was a judgment call, and McPherson and his holder and some teammates were celebrating the make…but the refs disagreed.
Snap Counts of Interest:
61 = Chase
55 = Boyd
47 = Tee
56 = Uzomah
21 = Sample
41 = Perine
19 = Mixon
44 = A Jones
21 = AJ Dillon
38 = Tonyan
29 = M Lewis