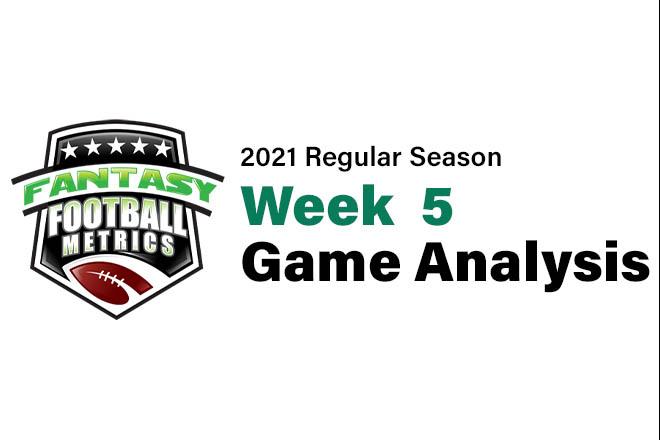 R.C. Fischer
FFM
15 October 2021
2021 Dynasty/Fantasy Game Analysis Week 5: Vikings 19, Lions 17
The Vikings were cruising along 16-6, trying to go up 19-6 with a few minutes left but their FG-attempt fell a yard short. Didn't seem to matter…the Lions were struggling on offense all game, so a 10-point lead with 4+ minutes left should've been fine (in their minds). The Lions drove down the field after that and had to settle for a field goal to cut it to 16-9 Vikings with 2:30 left.
On the ensuing Vikings drive, Alexander Mattison was stripped of the ball and a turnover in Vikings territory. The Lions scrapped for the TD to make it 16-15 Minnesota, and then went for two…and got it. An amazing turn of events…17-16 Lions with 0:37 remaining. I thought it was over.
It wasn't.
Kirk Cousins hit on three passes downfield, used his timeout wisely, got into long FG-range…and Greg Joseph nailed the 54-yarder as time expired for the win.
It wasn't pretty, but the Vikings won and pulled to a lucky (2-3). The Vikings have had a couple unlucky losses, so they were owed this. I think the Vikings are one of the best 10 or so teams in football…a sleeping giant. Their defense is coming on hot and they have a nice offense, especially when Dalvin Cook is a full-go. Minnesota should be (4-1)…they should be the NFC North favorites today…they also should've just lost at home to the Lions.
Massive game for MIN against Carolina Week 6…a win gets them to (3-3) and thus having a tiebreaker chip over Carolina for the wild card race. The Vikings dug themselves a hole to start the season, but we see them scrambling to 9 wins…and possibly getting hot and challenging the Packers for the division down to the wire. Week 17, MIN at GB could be interesting.
You have to feel for the Lions…or more specifically, for Dan Campbell.
I watched his post-game press conference…where he was crying. I think most people probably saw a 10-second clip of him in tears, and you either felt sorry, proud, or thought he was a wuss. You and I made a snap judgment off what the media showed us.
I set out to watch the entire 9-minute post-game, because coaches crying is rare…especially a 'tough guy' like Dan Campbell. And I'm won over. For several reasons…
1) You rarely see a grown man/football coach cry. Campbell was crying over a football loss. To an outsider (non-Lions fan) it can seem he's deranged, and maybe he is sometimes – but that Lions team has been so close all year, not given up in any games, were overmatched here (and every week), they were very ineffective on offense…but kept grinding and made the late comeback with a key strip turnover, gutty TD drive, the gutsy 2-point conversion…then to have the win ripped away by a 54-yard boot – when you're passionate about your thing, that makes you wanna cry.
In a world where coaches fight the media and/or bullshit them nonstop (because 99% of them are pure idiots, so they deserve it), and where these coaches shine on fans, sine on the league, and shine on their own players with talk of 'family' (what family do you know kicks half of the people in the family out to go to another family every 2-3 years?) – typical NFL coaches are grown men playing a role of 'leader' like an actor in a movie/TV show…in a world filled with corporate coaches saying whatever is needed to keep getting paid – Dan Campbell wanted his team to have their hard-fought win, and it was ripped away, and he was sad for them. It was genuine. Nobody is as passionate as Campbell.
2) Campbell's genuineness is going to pay dividends…he's going to attract Dan Campbell type players over time and win with them someday if he can stay employed long enough. The modern athlete wants paid…but also wants to enjoy their workplace. Campbell's style is not for everyone, not for most people, but he's a unique business in that he's the only business of its kind (in the NFL) potentially. Mike Zimmer is a tough guy coach too, but he's an a-hole no one wants to really play for. Not with Campbell, he's offering something different. He connects with people.
3) During the presser, Campbell answered all the questions as openly as he could. He cried in a spot…he came into the post-game presser teared up, so the team saw his emotion ahead of the presser. Most coaches mumble words and leave at these things, after a loss. Campbell stood with his head-up and had a normal conversation like a normal human being…not fake excuses and complaints/cliches like a Mike Tomlin or Kyle Shanahan might give.
4) At one point, halfway into the 9-minutes, with Campbell sniffling up his runny nose from the crying…while listening to the next incoming media question, he grabbed the bottom of his shirt and pulled it up to his face and wiped his tears and snot for relief.
When do you ever see that? A grown man, low-key crying, in-front of a media throng – and he just grabs his shirt and uses it as a Kleenex? Campbell isn't an act – he's real…a real human, who does real things, and isn't afraid of what people think in the NFL…in life? He just wants to win football games…i.e. be successful at his job. Everyone thinks they want to be successful but then don't 'live it', they just talk about it…Campbell is living his words. All that will pay off in time if they let it.
Most NFL teams are losers/not Super Bowl winners. Dan Campbell, and R.C. Fischer, have one less Super Bowl win as head coaches than Sean Payton, Mike McCarthy, and Andy Reid (among others). If you can't be boastful/proud of your team winning games/titles, at least you can be proud of the fight and genuineness of the coach of the Lions (as a Lions fan). You never go to sleep thinking Campbell isn't giving all that he's got to win on your behalf. Campbell might sell his kidney to get a win…and you have to respect that at a certain level.
Beware of the Lions for the upset this week hosting a very good Cincy team. Be wary of betting against Detroit in any Survivor Pool pick, etc., any week because they are biting kneecaps now.
Fantasy Player Notes…
 -- Notes on the QBs (and defenses) here…
The two defenses were attacking the offenses…this was a defensive battle, for sure.
Jared Goff (21-35 for 203 yards, 0 TDs/1 INT) had his worst day as a Lion. Prior to this, Goff was flirting with a 100-range QB rating (if you're into that). But he ran into two problems here:
(1) He lost his best OL, Frank Ragnow the prior week and it's going to hurt them big time the rest of the season. Weeks 1-3, Goff was sacked 2.0 times per game. The last two games, without Ragnow…4 times sacked each game.
(2) The Vikings defense is really coming into its own. Three games in a row holding opponents to 17 or fewer points…including Russell Wilson and the Browns. This defense is boosted any time they're at home…the loudest crowd in the NFL.
It doesn't get any easier for Goff ahead…Cincy Week 6 is a very good defense, then Week 7 at LAR should be 'interesting' for revenge (or not).
Kirk Cousins (25-34 for 275 yards, 1 TD/1 INT) was white hot Weeks 1-3 but has fizzled the last two weeks. Blame a very good Browns defense Week 4. And credit a try-hard, aggressive Lions defense here. But mostly blame 'no Dalvin'. This was a very good defensive effort by Detroit. A few weeks ago, the Lions D shutdown Lamar Jackson. They gave Aaron Rodgers some fits Week 2 before losing some defenders to injury in-game and fading off.
The Lions-DST is middle of the pack in a lot of defensive metrics…they are not pushovers by any means.
 -- Because Jared Goff doesn't have the protection he needs in the pocket, he's turning into a version of the Steelers offense/Big Ben – gotta get rid of the ball quickly. Thus, D'Andre Swift (11-51-1, 6-53-0/6) is going to become Austin Ekeler Midwest…a top receptions per game RB. But, also emerging is the quick toss to the slot WR Amon St. Brown (7-65-0/8)…who is becoming the Midwest Jakobi Meyers, nice catch counts…no TDs. Of the two, I like Meyers' talent better…but St. Brown might be in a better spot for spike catch-count games with Detroit in constant deficit and playing in a dome a lot. 8 targets in each of the last two games for Amon-Ra.
The short passing game also means that medium-deep WRs like Kalif Raymond (0-0-0/2) are going to be feast or famine…unless he gets more bubble screens (but he ran more medium-deep here), then it's going to be lower volume for Raymond…and Benson, Tyrell, etc.
T.J. Hockenson (2-22-0/3) is fading off…needing to stay in more for blocking but also gets attention in coverage as a noted top target to worry about (erroneously) by defenses. Plus, he's just not that good…as I've been saying since his pre-Draft.
 -- What is happening to Adam Thielen (2-40-0/3)? His two catches in this game…both happened in the final 0:37 to setup the win.
Thielen dropped a 15-yard midgame. He also had a 20+ yard catch-and-run, near TD, called back due to an offensive shift.
Thielen was hot Weeks 1-3. Faded off Weeks 4-5 with Cousins, with the defenses being better. I like a buy low on Thielen…I like it a lot, because owners are predisposed to thinking he's dull and aging. He's not aging out/getting slower. He just didn't have the impact he normally does for a game…it happens. He's a great add on the cheap right now…like acquiring as a WR2-2.25.
 -- Is Tyler Conklin (2-25-0/3) going to go back to FF-viability? Probably not. We have had five games…five cards dealt, one ace (Week 3, 7-70-1/8) and four discards/crap. The data says…the Vikings don't make TEs for FF. I thought Conklin could catch a ride here as a back-end TE1…but he's just a random event week-to-week. Have fun guessing which week is the good one.
Snap Counts of Interest:
62 = Thielen
60 = Jefferson
40 = Osborn
47 = St Brown
46 = Raymond
44 = Hodge
22 = Cephus
21 = Benson
50 = Swift
22 = J Williams