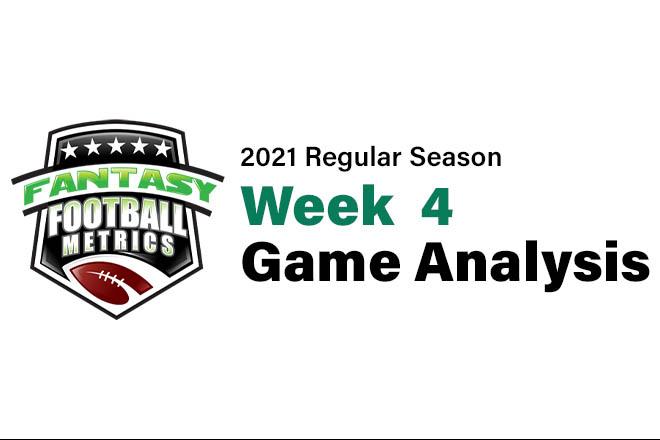 Ross Jacobs
FFM
08 October 2021
2021 Dynasty/Fantasy Game Analysis Week 4: Buccaneers 19, Patriots 17
The much ballyhooed reunion between Tom Brady and Bill Belichick did not go the way most people expected. All week there was talk that Tom was going to try and roll up 50 points on the Patriots, that the Patriots couldn't hang with the better team, etc etc.
Well, turns out they can do more than hang with them. The Patriots controlled this game for the most part and darn near pulled off the win. The two teams looked even, hard as that is to believe.
The Patriots had a fantastic game plan in place that seemed to frustrate Brady all night. He was off his game and struggled to even complete a pass at times. Eventually Brady was forced to just hand the ball off to Fournette over and over to try and grind out the win, and the Patriots still had a chance on a last second drive but they missed a long FG attempt in the pouring rain as time expired.
The Buccaneers got the win, but Belichick arguably got a notch in his belt here in the eternal debate about who mattered more to the Patriot dynasty, him or Brady.
Tampa moves to 3-1. Week 1, the Bucs hung on versus a feisty Dallas team that suddenly looks very good. They tussled with a bad Falcons team for 3.5 quarters before a couple of pick sixes put the game away. They got smoked by the Rams, and now they just struggled with an average Patriots team. The offense is good, coming in at 5th in points (with some turnover help) and 7th in yards. The defense is not so good. They are 23rd in points allowed and 20th in yards allowed with most of that coming through the air. This is still pretty much the same team that won the Superbowl last year, but now they are banged up in the secondary and a bit better on offense. Yes, they won the Superbowl, but they also were a bit shaky through the regular season and didn't go into the playoffs as a favorite. They were beneficiaries of a rather weak schedule last year, and they have another easy schedule this year. I do expect their record to be very good at the end, but I'm not sure this team is as strong a contender as we think they are.
The Patriots, meanwhile, are 1-3 with their only win coming over the Jets. They did fight the Bucs well here, but it doesn't look like they have the firepower to really compete. They are a bottom 8 team on offense and a top 8 team on defense (by the stats, I'm skeptical though as they've played 3 bad QBs so far). They should be a tough out most weeks for a lot of better teams as they play strong defense and a ball control offense, but it's hard to win games when you don't score points. I definitely overestimated this team to start the year. They are going to struggle to get to .500.
Fantasy Notes
--Mac Jones (31-40 for 275, 2 TD/1 INT) is getting a lot of props in the media for being not-terrible, but being a game manager doesn't really impress me. All he's doing is throwing curl routes all day. Who cares what his completion percentage is when the team can't even score 20 points? It's a good start I guess. There's hope for him 3-4 years down the road to develop into more of a downfield passer, but I see nothing today that gets me excited about his prospects.
--Damien Harris (4-(-4)-0, 2-30-0/2) had an awful day unsurprisingly. It's still really hard to run on Tampa. He should be ok moving forward, but note that New England started to get Brandon Bolden (1-0-0, 6-51-0/6) more involved here although that may have been more as the James White replacement. If Bolden is taking over for White instead of JJ Taylor, then he may be useful for ppr moving forward as Mac loves his dump passes.
--Jakobi Meyers (8-70-0/12) is averaging over 10 targets a game for around 7 catches and 60 yards or so. He also has not caught a TD in his professional career despite bringing in 112 passes for 1,334 yards over three years. If he ever does start catching TD's he could find himself going from solid ppr WR2-2.5 to maybe a WR1.5. He's safe points if you need them.
--Leonard Fournette (20-91-0, 3-47-0/5) took the bulk of the carries over Ronald Jones here. I'm not sure if we can count on that going forward (I would probably bet against it), but it is something to monitor as Fournette could likely be pried away from his owner without too many problems. He could be a sneaky buy low on here provided we know he's going to be "the guy." I'm still in wait and see mode though.
--Good luck trying to predict which two receivers Brady is going to pepper each game. Seems like it's matchup dependent, but I have no idea what the pattern is. Here's how they stack up for the season:
Mike Evans: 37 targets (9.25/g), 23 catches (5.75/g), 280 yards (70/g), 2 TD's (0.5/g) = 15.75 ppg
Chris Godwin: 30 targets (7.5/g), 22 catches (5.5/g), 296 yards (74/g), 2 TD's (0.5/g) = 15.9 ppg
Antonio Brown: 21 targets (7.0/g), 13 catches (4.3/g), 201 yards (67/g), 1 TD (0.25/g) = 13.0 ppg
I'm not even sure those numbers reflect the true balance either as Brown has missed one game and had another where he was almost completely unused for whatever reason. All three guys are getting good work for fantasy, but given the cost AB has arguably been the most valuable as he was a late round pick while the other two went much higher. It seems like they can all coexist, but it will get really interesting if one of the three gets hurt. It doesn't hurt that Gronk has been out with injuries the last couple games either.
A final note about the receivers: we expected Evans to be the primary deep ball guy, but the numbers and my eyes both say that when Brady wants a big play down the field he's actually looking to Brown for it. I'm not sure if that's useful to know or not, but it's something to keep in mind.
--Since starting the year with 9 TD's in his first two games, Tom Brady (22-43 for 269, 0 TD/0 INT) has only managed 1 in his last two games, and he has another tough passing matchup against the Dolphins this week. They have been terrible against the run however, so we could see another muted game from Tom. He's QB4 through four games.
IDP Notes
--Richard Sherman (7 tackles) is old and just signed with the Buccaneers this week, and yet with almost no practice or time to learn the scheme, he waltzed right in and did just fine. Tell me again how much practice and the playbook matters.
--For those of you keeping track, Devin White (5 tackles) now has 28 tackles on the year, an average of 7 per game, no sacks, no INT's, no FF's, and only a single PD. Where is this amazing playmaking LB I heard so much about last year? Not so easy to put up numbers when you don't have an elite defense around to let you run free to the ball. I'm going to keep hammering this point until I'm blue in the face. White is a good athlete and decent LB, but he is NOT elite and needs a ton of help to be at his best. Lavonte David is the superior linebacker on this team.
Snap Counts of Interest
73 = Godwin
69 = Evans
40 = Brown
64 = Fournette
13 = Ronald Jones
36 = Damien Harris
19 = Brandon Bolden
4 = JJ Taylor