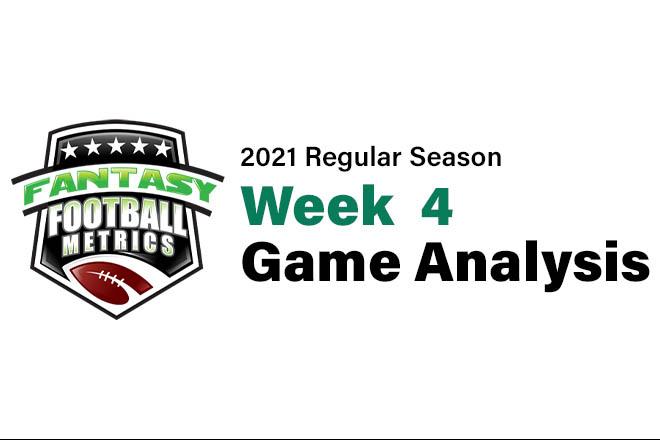 Ross Jacobs
FFM
09 October 2021
2021 Dynasty/Fantasy Game Analysis Week 4: Bills 40, Texans 0 
I mean, what do you want me to say here? A great team played a bad team and beat the pants off of them. I have nothing particularly clever or insightful to add about this one. I will say I thought Houston fought extremely hard given the circumstances. They could have easily rolled over and died, but they kept coming after Buffalo.
Houston just isn't talented enough to compete right now, but I've been quite impressed with their performance these first 4 games considering the state of the franchise over the last year or two. We'll see how long that energy stays high when the losses start to mount though.
Just another ho hum beatdown by the Bills. They aren't the most talented team top to bottom, but they are so disciplined and well coached. It's no secret that they'll be in the mix for the top seed in the AFC and a Superbowl favorite. They have a really nice schedule the rest of the way, but a win over the Chiefs this week would be massive for their chances at the top seed and a huge blow to the Chiefs who are falling behind in the AFC West race.
Fantasy Notes
--It's been a slow-ish start for Josh Allen (20-30 for 248 yards, 2 TD/1 INT, 6-41-0) in the fantasy department because they've mostly been crushing teams every week and thus running out the block late in the game, but I have no concerns about him and would even advise people to look at him as a buy-low candidate. He just missed out on a couple of rushing TD's to pad his stats here. They will come. The schedule is a dream, and I expect Allen to finish as a top 3-5 QB by year's end.
--The only knock I have on the way this Buffalo team is run is their baffling RB usage. You cannot watch Devin Singletary (14-79-0, 1-7-0/1) and Zach Moss (14-61-1) on the same field and tell me that Moss is better than Singletary. It's no contest. Singletary looks fantastic, quick and fast, while Moss looks like his typical James Conner-esque self. He's powerful but that's literally it. He needs perfect blocking or else he's falling down for 1-2 yards. This should be a backfield dominated by Singletary, but McDermott thinks otherwise, and so for fantasy we are stuck with a frustrating split, and one where the lesser talented player is getting all the TD's. I don't like it, but Moss is the guy to own out of the two because he gets the goalline opportunities. I wouldn't want either ideally though.
--Another week, another somewhat quiet event for Stefon Diggs (7-114-0/11). Yes, he got 100 yards, but the TD's haven't come yet and thus he's flying a little under the radar. He's still difficult to trade for after last year's breakout, but you could possibly pry him away with the right deal. He's still a WR1 all day.
--I've seen some enthusiasm for Dawson Knox (5-37-2/8) this week because people are dying at TE, and I can't argue against it. His snaps and usage rate have really jumped in recent weeks, and Josh Allen is looking for him often around the endzone because he's a big, reliable target. Looks like another year of lower catches and yards for Knox but will be fantasy useful because he catches 10 TDs.
--Davis Mills (11-21 for 87 yards, 0 TD/4 INT) took an absolute beating here...but he didn't look as bad as I was expecting. A large part of this is just that the Bills are far more talented as a team than this pathetic Houston roster and Mills was just in way over his head. But after watching it back I was impressed with how Mills handled the pressure. He was hanging in the pocket while taking a pounding and was trying to make a play, but the Bills were just suffocating on defense. It should also be noted that at least 2 of his INT's were not his fault. One ricocheted off a receiver's hands to a defender and another was batted into the air at the line and again went straight to a defender.
Overall, Mills still isn't that talented a QB, but he's not as bad as he looked here. He's got a level of poise and enough arm talent to make it as a backup, but he belongs on the bench and not starting, certainly against one of the league's best defenses.
--The only other player you could even think of using from Houston is Brandin Cooks (5-47-0/7), but he really needs Tyrod Taylor back. I would lump him in, maybe a step or so behind, Michael Pittman and Kenny Golladay as WR1.5-2's hiding in plain sight. You could probably get him much cheaper than what he's worth if you need WR help.
IDP Notes
--Has RC mentioned how good Desmond King (9 tackles, 1 tfl) is? Because he's pretty good.
‍
Snap Counts of Interest
58 = Dawson Knox
53 = Stefon Diggs
51 = Emmanuel Sanders
36 = Cole Beasley
40 = Zach Moss
32 = Devin Singletary