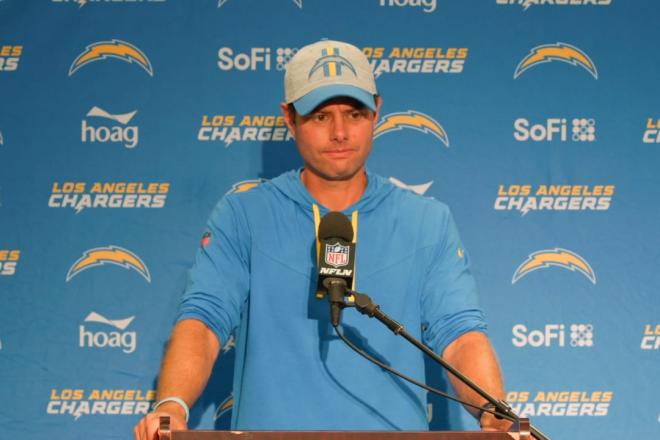 R.C. Fischer
FFM
04 July 2022
‍
2022 REWIND: 2021 Dynasty/Fantasy Game Analysis Week 14: Chargers 37, Giants 21
I've started re-reading back through my 2021 game reports looking for good and bad scouting instincts on things I might have lost track of, whether for Fantasy or just the team in general. I especially wanted to focus on the L.A. Chargers' 2021 season…because my first computer simulation of the season showed them as the 2022 Super Bowl champs. From not making the playoffs in 2021 to the Super Bowl in 2022.
The Chargers didn't change their coaching staff this offseason and they didn't overhaul much of their offensive core, but they have dramatically boosted their defense this offseason. So, in theory, this team should be gelling and taking a step forward from a 9-win team last season to what I think will be a division winner and serious Super Bowl contender this season. At a minimum, it's a playoff team (if Herbert stays healthy). 
For some summer reading material, I'll be looking back at my Chargers' game reports from last season week-by-week and writing/typing some instant reaction notes (forgive any typos) to what I'm re-reading and then publishing that full 2021 game recap for LAC from each week of 2021 season WITH the 2022 reaction notes. 
We'll start with Week 1 and go through each game week, one game post per day for the next 16-17 days.
24-7 LAC at halftime.
37-7 LAC with 4+ minutes remaining.
But then some garbage, a botched onside kick recovery…and suddenly it's 37-21 with 1+ minute left and NYG driving. LAC buckled down and shut NYG down and got out of there with a 16-point win that was more like a 50+ point win turned into a 16-point affair via end of game malaise. It was never really close. NYG is a defeated group – still trying on defense but no offense at all.
The Chargers are now (8-5), and they are still only going as far as Justin Herbert takes them, because otherwise this team has a ton of holes. I'd love to see them solidify/gel and beatdown KC Week 15, but we'll see. KC has the experience…but a ton of holes themselves. The Chargers are pretty locked for 9 wins, more likely 10 wins by season end, with a shot at winning out for 11-12 wins and an AFC West title. We project 10 wins because they've been sloppier than KC this season. LAC is headed to the playoffs either way.
The Giants (4-9) are not headed to the playoffs and are now entering a phase where they will be subject to incessant rumors on a coaching and GM change. I've mentioned it a few times – they should stick with this management team at least one more season. Injury and bad luck have doomed them as much as anything. They have a good core…they just need a real QB. NYG will finish with 5-6 wins and who knows what coach in 2022.  
*2022 JUNE NOTE = Well, NYG did ditch their entire staff...another rebuild underway.
Really, re-reading this, I can't help but think how many times (during this LAC series) that my theme, when I wrote up the analysis, was LAC looking good, on the verge of a win or a blowout...but then something happens to hold them back. So many time last year the Chargers were showing greatness...and then they'd figuratively fumble it away.
In 2022, the LAC offense is intact/improved and the defense is VASTLY improved. Everything is there for the Chargers to kick arse in 2022. They should be the predominant AFC West favorites and legit Super Bowl opportunist.
Why do I feel like Joe Burrow is not going to ever let them fulfill their destiny/promise?
‍
Fantasy Player Notes…
 -- The big question from this game for Week 15 is – is Austin Ekeler (12-67-1, 2-170/4) going to play, and if not…who is taking his touches?
My guess, right at this moment, is that Ekeler will play and be fine. Brandon Staley has said Ekeler could have gone back in Week 14 if needed. I buy that…this game was so far out of hand it was easy to pull Ekeler off the field and keep him safe in the 2nd-half.
If Ekeler is a scratch for TNF Week 15, it seems clear to me that Justin Jackson (9-35-0, 1-7-0/1) is the guy they would trust in the Ekeler role, and he'd take a 70/30 or better share splitting with Joshua Kelley (10-33-0, 1-5-0/1).
When this was still a game, JJax was in taking relief/split touches with Ekeler. Kelley didn't really get his work in until later when this was getting out of hand.
Jackson could be an RB1-2 projection for Week 15 with Ekeler out of the way. I just don't believe it will happen that Ekeler is out.
*2022 JUNE NOTE = Our Justin Jackson call was a Week 16 savior move (not Week 15). Ekeler was still hobbled Week 15, and Jackson had an OK game...we didn't go hard starting JJax Week 15...it was Week 16 with Ekeler out that we went 'all-in' and JJax had 8 catches, 160+ total yards and 2 TDs.
Where is JJax now? Still a free agent/no one has inked him yet. Not good for him. He could go back with LAC as a #3...he should.
‍
 -- No Keenan Allen (DNP-COVID) gave us a good dose of/preview of Josh Palmer (5-66-1/7)…and we now see he belongs. He's like if you took Keenan and Mike Williams and mashed them together – good-to-great hands and physical, not a blazer/speedster and just normal height for a WR.
Palmer was a debated prospect going into the 2021 NFL Draft – was he athletic enough to matter in the bigs? He's not speedy, but he's a good football playing WR. He may allow LAC to just let Williams go in free agency 2022.
Speaking of Big Mike (6-61-0/6)…once again the best-looking (eye appeal) WR on the field in this game/in the NFL…and just a ho hum FF result. Big Mike is becoming the Kyle Pitts of WRs. He gets all the defensive attention, so Herbert just smokes the defense with all his other options – which is great for the NFL, sucks for Big Mike for FF.
Jaylen Guyton (3-87-1/3) has back-to-back weeks with a TD. My knee-jerk reaction is…he's not very good, so I'm looking past him -- but my reaction now should be/will be…it's good to be the #3 WR working with Justin Herbert. Anyone on the field with Herbert has FF hope. Guyton might be becoming Marquez Valdes-Scantling west coast edition.
*2022 JUNE NOTE = Palmer starting as the #3 WR in 2022 would give Herbert a hell of a talented trio. I think he will start, but I'm not 100% sure...so much Jalen Guyton bluster.
‍
 -- Justin Herbert (23-31 for 275 yards, 3 TDs/0 INTs) is starting to play lights out again…playing like 2020 where despite all the other issues (lack of blocking, unimaginative play calling, a weak run game) Herbert just out-talents the obstacles and gives the team a chance to win. He was so low-key great here.  
Herbert is now #3 in FF PPG and #2 in total yardage among QBs, less than a hundred behind Tom Brady.
My mind says KC beats LAC on TNF this week, but Herbert there makes me think they got a chance to take the mantle of best team in the AFC West…and best QB in the AFC away from KC Week 15.
*2022 JUNE NOTE = LAC had KC in the palm of their hands...and like all 2021, they let them off the hook...and LAC got beat and their season tanked from there.
‍
 -- And then there was Mike Glennon (17-36 for 191 yards, 2 TDs/1 INT)…the anti-Herbert…
Actually, he's not playing terribly…it's just this offense, this team is so miserable, and the receivers drop so many passes. I'll just note, for time sake, that every receiver related to Glennon is not worth your time in FF.
Sterling Shepard (2-27-0/4) is only a thing with Dan Dimes.
Kadarius Toney (DNP) could be something, but I'd guess this offense, this whole team vibe is going to put a lid on anything Toney could do…if he ever returns to action.
 -- I've been bragging about the LAC-DST and this finishing schedule (Week 14, and 16-17). Well, we almost got a gem here…only 7 points allowed with 4 minutes left…then a bunch of bullshit happened/they laid down just trying to get out of there.
The Chargers are an average defense…it's just playing against garbage offenses puts them on the DST map. Week 16-17 v. HOU-DEN should…SHOULD…be good but you'll hold your breath. Having lost Derwin James (COVID) right before this game did not help matters here. He'll be back for TNF.
*2022 JUNE NOTE = Such a beautiful FF game from the LAC DST...wasted in the final 3 minutes of football follies/just trying to end the game. Story of the 2021 LAC DST...they'd always find a way to ruin a good thing.
‍
Snap Counts of Interest:
33 = Ekeler
20 = JJax
19 = Kelley
62 = Palmer
59 = Mike Williams
42 = Guyton
33 = McKitty
31 = Cook
29 = Parham
38 = Barkley
28 = Booker
‍