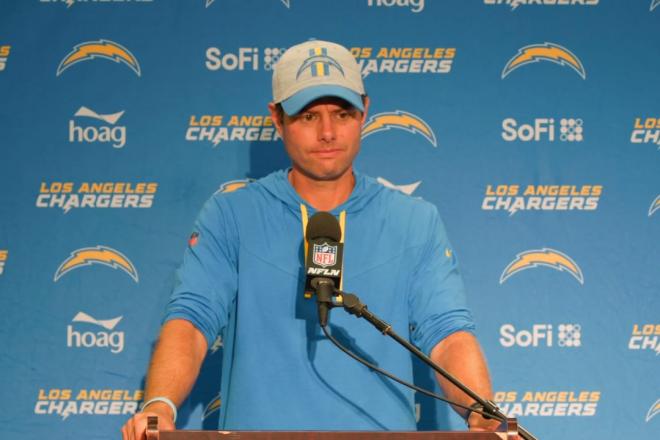 R.C. Fischer
FFM
02 July 2022
‍
2022 REWIND: 2021 Dynasty/Fantasy Game Analysis Week 13: Chargers 41, Bengals 22
I've started re-reading back through my 2021 game reports looking for good and bad scouting instincts on things I might have lost track of, whether for Fantasy or just the team in general. I especially wanted to focus on the L.A. Chargers' 2021 season…because my first computer simulation of the season showed them as the 2022 Super Bowl champs. From not making the playoffs in 2021 to the Super Bowl in 2022.
The Chargers didn't change their coaching staff this offseason and they didn't overhaul much of their offensive core, but they have dramatically boosted their defense this offseason. So, in theory, this team should be gelling and taking a step forward from a 9-win team last season to what I think will be a division winner and serious Super Bowl contender this season. At a minimum, it's a playoff team (if Herbert stays healthy). 
For some summer reading material, I'll be looking back at my Chargers' game reports from last season week-by-week and writing/typing some instant reaction notes (forgive any typos) to what I'm re-reading and then publishing that full 2021 game recap for LAC from each week of 2021 season WITH the 2022 reaction notes. 
We'll start with Week 1 and go through each game week, one game post per day for the next 16-17 days.
Big win for the Chargers!
And I'm not impressed at all.
The Chargers raced out to a 24-0 lead, getting several breaks along the way and then Cincy watching one of their top defenders get carted off (Logan Wilson)…it was just NOT the Bengals' day. It looked like it might be 50-0 Chargers by halftime.
And then the next thing you know the Bengals are mounting a comeback, cutting the game to 24-22 despite Burrow throwing the ball with 4 good fingers and 1 bad one. It was an embarrassing display by LAC…one of the worst performing teams in the NFL, considering all their talent. They let an injured, bewildered Cincy team waltz right back in this game that they had them down by 24-zip in.
As the Bengals were about to take the lead, in the 3rd-quarter (potentially), there was an Mixon fumble that went right to a speeding LAC defender who grabbed and kept running and that kinda broke the momentum. LAC scored another TD soon after to put it out of reach. The Bengals kept fighting…they just dug themselves so many holes, and Burrow wasn't 100%.
If they played this game again with a healthy Burrow…I'd take Cincinnati without hesitation. The Bengals are a better executing, tougher team than the Chargers. The Chargers have more talent, the Bengals have more grit and heart.
The Chargers get a win to jump to (7-5). Facing NYG this week and HOU Week 16…LAC should have 9 wins in the bag. They just need one win vs. KC-LV-DEN to get to 10 wins and a wild card. They should do that. Week 15 they face KC in a game where the winner has control of the division…the game at LA on TNF. That's going to be a great watch…I'm not sure which sadder, underperforming team will win – LAC or KC. I hope LAC, but I assume KC.
This loss hurt Cincy, now (7-5)…with a win they could've taken over 1st-place in the AFC North. No easy games ahead for Cincy, and now Burrow with a sore hand…if the Bengals can slip by SF this week, I think they can take the AFC North at 9 wins, possibly getting to 10 wins to lock it up. But Baltimore still looms large at 8 wins…but the Ravens could seriously lose out with their schedule.
*2022 JUNE NOTE = So many things to unpack here.
1) This is where the world got back on LAC...and easy opponent next week and then the showdown with KC. This was also where the world turned on Cincy...for losing in a humiliating way.
But...this is where we went the opposite way. This was where I realized the Bengals were one of the best teams in the AFC, and definitely better than LAC despite the big loss and we were ahead of that curve on the Cincy run the rest of the season.
2) The loss of Logan Wilson was so big for Cincy...arguably their heart & soul of the defense. They shook that off and went on a run ahead (and eventually getting Wilson back later season) all the way to the Super Bowl.
3) I noted that the Ravens' schedule might have them lose out from Week 14 on...they lost their last 5 games and went from first to worst in the AFC North.
Fantasy Player Notes…
 -- I'm worried about Joe Burrow's (24-40 for 300 yards, 1 TD/2 INTs) hand for Week 14. Hell, I'm not sure he's even going to be able to play Week 14.
I will say this – Burrow is one tough son of a bitch. He took his battered hand out there series after series and gave it all he had. He tried taping his fingers, and just ripped it off and threw it away. Ditto trying a glove. He just went out and took hit after hit and dove headfirst into tacklers on running plays, etc., trying to will this team to victory. 11 QB hits. 6 sacks. Shaking his hand off to try and shake away the pain in-between plays most of the 2nd-half. It was a tough day at the office for Burrow.
And he almost pulled off the win too.
Burrow was not able to put all the mustard on the ball he could but then he just switched gears to throwing softer with anticipation of where the receiver would be versus firing rockets. One of the low key most impressive QB performances of 2021.
I know Justin Herbert (26-35 for 317 yards, 3 TDs/1 INT) is bigger physically, with a bigger arm, and plays in super cool LA and in a dome…he's fantastic and the better Fantasy asset, but he ain't a better QB/football player than Joe Burrow.
Burrow probably should take a week off, but I suspect we'll see Burrow out there Week 14 because he's a gamer.
If Brandon Allen does play instead of Burrow, just know he isn't a bad QB at all. There's a drop off but it's not like a Jake Fromm, etc., nightmare. Allen is very capable.
*2022 JUNE NOTE = Burrow grinded in an OT loss to SF the following week and then he won his next 6 starts, leading Cincy to the Super Bowl.
‍
 -- Everything about this game could be summed up on a play early in this game…
The Bengals down a couple scores and a bit shell shocked right away, and then Burrow unleashed a bomb on the money, in stride to Ja'Marr Chase (5-52-0/8) with him having a 2-yard lead on the CB to catch it in stride and race for the score. Chase clutched it, tried accelerating too soon, bobbled the ball out of his clutches…bobbled it right to the cornerback like he was soft tossing it to him – a 50+ yard TD strike turned interception. That's the kind of day it was for the Bengals.
I'm telling you the Bengals were the better team here. Don't get down on Cincy and don't think LAC is 'fixed' from this game.
 -- Tee Higgins (9-138-/14) is becoming Burrow's go-to, because Joey B. is not dumb. He knows who can catch the ball.
Last two games for Higgins: 7.5 rec. (11.0 targets), 126.0 yards, 1.0 TDs per game.
*2022 JUNE NOTE = Higgins had stretches where he carried the WR group and he finished as a WR1 in PPG PPR, along with Chase.
‍
 -- Justin Herbert may be without his top two WRs Week 14, due to COVID. Who will he turn to in a worst-case scenario (both out)?
Jalen Guyton (4-90-1/4) has been the #3 WR all season, so he has the time/relationship…and he had a nice FF game here – but it was bolstered by a jump ball, 50/50 heave by Herbert…to Guyton for some reason, who actually got position on the DB, and the CB mistimed the incoming pass, and Guyton wound up with it in his hands already in the end zone for a 44-yard score. That type of thing isn't normal for Guyton.
Josh Palmer (0-0-0/1) is CLEARLY the better WR but he's a mostly ignored #4 WR. However, they can't ignore him if Allen-Williams are gone. I like Palmer to emerge with the better FF game, if the nightmare scenario happens…but that's a gamble not a guarantee.
The reality is, it would probably mean more catches spread to the TEs and Guyton may get another homerun ball TD, but Palmer leads in catches with no TDs. It's a gamble on what really will happen, there's no precedent for it.
Side note: Mike Williams (5-110-0/7) continues to be the most physically dominant WR of 2021. How his numbers are not double what they are is an indictment of this fledgling O-C.
 -- Justin Jackson (6-15-0) got a lot of touches for a #2 RB…he's today's 'handcuff' for Ekeler. We'll see who it is tomorrow. The fact that LAC isn't scouring for veteran RBs or poaching them off practice squads, so that they don't burn out Ekeler…it just shows the negligence the team is being run with.
If they are done with Josh Kelley, and Rountree/Bradwell are nothing, and JJax is always hurt…then they could go to the Saints and pluck Josh Adams away. They could go to the Panthers and snatch Reggie Bonnafon, to name a few…do something…anything but stick with the fledgling lot they've been rotating all season. Do they want to win the AFC West or not? What if Ekeler goes down?
LAC is going to blow a golden opportunity to win the West because of bad management blowing this very good roster.
*2022 JUNE NOTE = I forgot about the week LAC thought they'd play without Keenan/Mike. Williams got cleared last second and Guyton and Palmer had nice games and scored a TD with Keenan out.
‍
 -- The Bengals lost Logan Wilson for the season in this game, a huge blow…the linebacker leader. Germaine Pratt (9 tackles) is probably the 'winner' for more snaps/playing time in his stead. Joe Bachie (9 tackles) might kinda come out of nowhere to play a lot more snaps.
*2022 JUNE NOTE = Pratt ripped off a string of high tackle counts with Wilson out: 9-9-15-6 total tackles from Weeks 13-16...then he got hurt and was lost for the season, but Wilson returned just as Pratt disappeared and saved the day on defense.
‍
 -- I like the LAC-DST schedule ahead, but is this a good defense to try and rely on?
This defense is…
#7 best in pass yards per game allowed
#6t in passing TDs allowed
#17 in sacks
#6 in QB pressures
Their problem is…
#31 in rushing yards per game allowed
#28 in rush ypc allowed
#30 in rushing TDs allowed
#31 (worst) in missed tackles
Hard to pass on/good pass defense metrics, somewhat due to teams bypassing the air and just attacking them via the ground. But they're much improved against the run the past 4 weeks as guys get healthy, and they make changes.
You know what their biggest issue is? They have not faced a team with a current losing record this season. The Giants (4-8) Week 14 will be their easiest matchup of 2021…14 weeks into the season. It's like some of your FF teams that scored high but constantly played the week's top scoring teams and you wound up scrambling to get into the playoffs, or out of the playoffs…all due to schedule. Schedule has a lot to do with all the metrics and analysis in football, but it's rarely broached…instead, all data is lumped in the same/equal weight by opponent most often.
LAC-DST gets NYG Week 14, HOU Week 16, and DEN Week 17…those are all good matchups…especially if Jake Fromm and Davis Mills Weeks 14 and 16. That's why I'm pushing this defense…gambling blind a bit – we don't know how they'll do with easier matchups.
LAC-DST held down WSH Week 1. Did fairly well vs. DEN Week 12. Just 14pts allowed to LV Week 4. Gave up 37 points to PIT on SNF Week 11 but allowed just 300 total yards in a fluke fest for PIT scoring.
I believe there is DST hope here with LAC, but I will be holding my breath like the rest of us watching them in my starting lineup.
‍*2022 JUNE NOTE = LAC would have a nice game v. NYG but gave up late garbage scores to ruin it. They would get squashed by Davis Mills, but then squash the Broncos Week 16. Overall, too wobbly a finish to rely on.
‍
Snap Counts of Interest:
73 = Chase
60 = Tee H
57 = Boyd
56 = Big Mike
53 = Keenan
34 = Guyton
22 = J Palmer
35 = J Cook
22 = Stv Anderson
16 = Parham
16 = McKitty
47 = Ekeler
16 = JJax
02 = Kelley
‍
‍